July December 2008 - Sharing the faith… in English:
Christmas Eve 2008. He is coming, he is here !
We celebrate the birth of Jesus the Christ and we proclaim today the paradox of his historical birth 2000 years ago and thousands of miles away and his very real and active birth tonight in our hearts and our souls. One one hand, the global level of peace and joy and love in the world can be lifted up one notch higher tonight because of this amazing truth; on the other hand, since it is being played out in each individual soul and mind and heart as part of the biggest possible interactive drama, we may (or not) be part of it and see its impact, but remember, there is more than meets the eyes. In a very practical fashion, I can say I love you and I thank you to the ones on my right and the ones on my left and let gratitude and kindness flow through my hands. It's been a great year. What a ride. And I am ready for tonight, for welcoming Him anew.
Merry Christmas and Joyeux Noel to all.
Here is a link to my favorite song for Christmas Eve Minuit Chretien on YouTube by Roberto Alagna. It is a very good interpretation although the very best one yet was a few years ago, at NDV in SF, when we all sung it together, while the procession would slowly go around the Church, the Priest leading the procession with one young girl carrying baby Jesus in her arm, the full Choir leading all of us in the French cantique, all of us, the parishioners, the old-timers, the new-comers and the visitors, and we all fell to our knees at "peuple à genoux" and the little girl gently put Him in the manger in the crèche and we all stood up again at "peuple debout, chante ta delivrance"...

The Morning prayer, from the Liturgy of the Hours, Monday December 22.
I am the Lord and there is no other,
there is no God besides me.
It is I who arm you, though you know me not,
so that toward the rising and the setting of the sun
men may know that there is none besides me.
I am the Lord, there is no other;
I form the light, and create the darkness,
I make well-being and create woe;
I, the Lord, do all these things.
Let justice descend, O heavens, like dew from above,
like gentle rain let the skies drop it down.
Let the earth open and salvation bud forth;
let justice also spring up!
I, the Lord, have created this.

The moment that your greeting reached my ears,
the child within my womb leapt for joy.

Come, Lord Jesus!
You came to heal the contrite of heart,
heal the weaknesses of your people.
You came and saw fit to reconcile the world,
when you come again in judgment, free us from the torment of punishment.

Praying with a work of art. Even if you only have a rudimentary knowledge of the French language, I recommend that you check this French Jesuit site on Ignatian spirituality and works of art and praying, especially the Gospel of John in 12 paintings here on Our Lady of the Web.
Here is a clear paper on when life begins and it begins at conception! There are many rumors and myths, hoaxes and heresies floating around nowadays and they are the source of bad reasoning, poorly constructed thinking and dire analysis and the consequences are enormous, in life, in politics, in the business world. One of them says that an embryo is a little cluster of cells just like clipped nails although everyone knows that if you keep clipped nails in the very best possible environment with the right fluids and the right temperature, it will never, ever and I mean NEVER develop into anything else than clipped nails… But when we are talking about an embryo, it has been designed and it contains in itself everything needed to develop into a human being from the very moment of sperm-egg fusion, when a new cell, the human zygote, comes into existence and "when it immediately initiates a complex sequence of events establishing the molecular conditions required for continued embryonic development". Read more here by Maureen L. Condic.
The 3 stages of life. I have been thinking a lot about this and this is how I see it: there are basically 3 stages of life... Read more here my own reflection on the time-line of our life, on the big picture!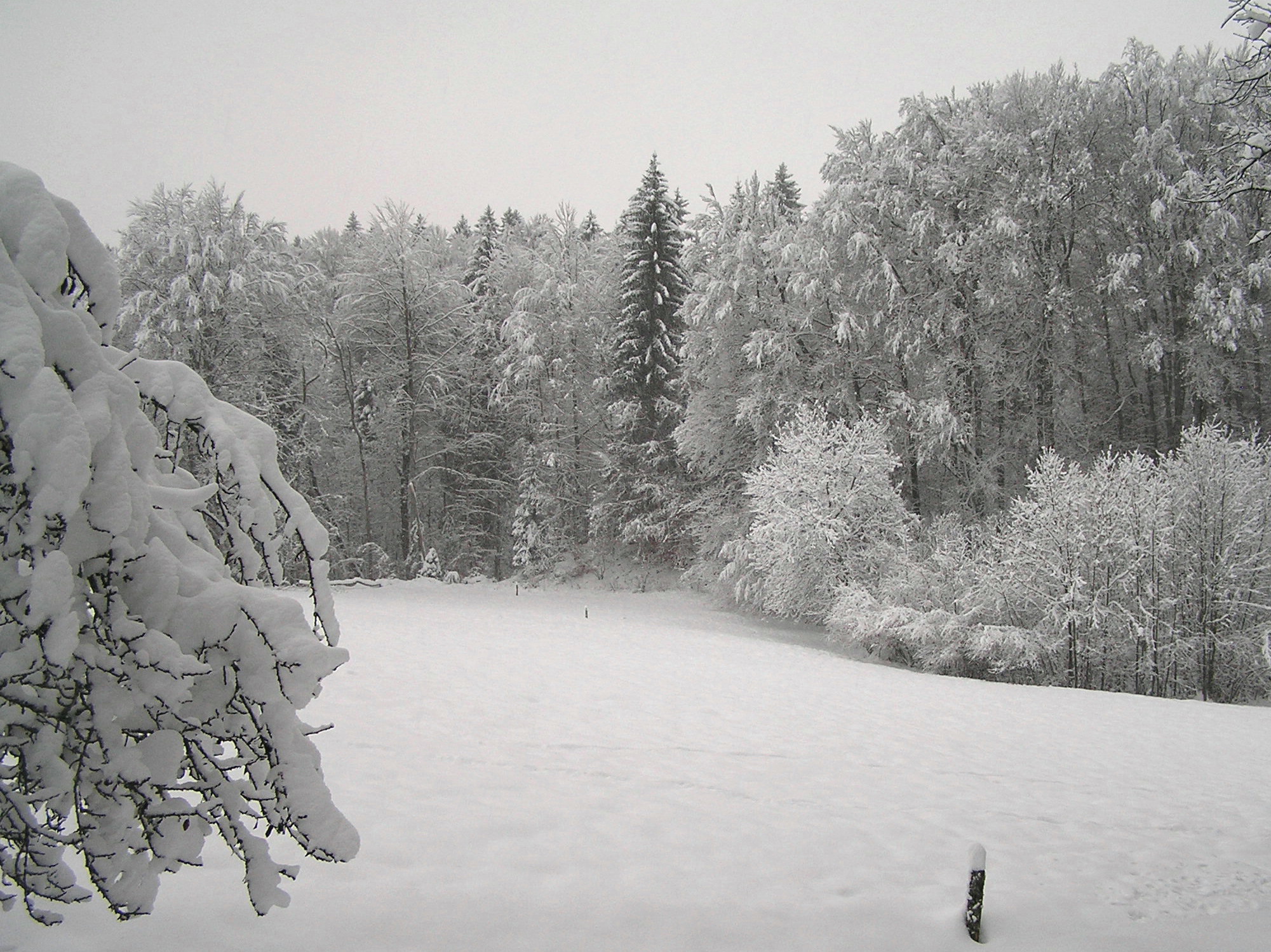 It is snowing in the French Alps and this is the view from my window!
Father Barron Against the YouTube Heresies. Father Barron says that his YouTube videos "draw reams of responses that are overwhelmingly negative. Broadcasting about faith and culture on YouTube is a bit like Paul's venturing forth onto the Areopagus in Athens. Every point of view is on display. Some people are thoughtful. Others are ignorant and rude. But beneath the surface of the comments lurk four major "heresies" that make the proclamation of the Christian message difficult." See more here from the Word on Fire ministry.
Blessed are the peacemakers for they will be called children of God.
In his January 2007 World Day of Peace message, Pope Benedict XVI noted that "peace is both gift and task."
Do you know abou The 1,000 Years of Peace Story? Check their web site here for ideas on bringing peace:
PRAY regularly for justice and peace.
LEARN more about Catholic social teaching and its call to protect human life, stand with the poor and care for creation.
REACH across boundaries of religion, race, ethnicity, gender and disabling conditions.
LIVE justly in family life, school, work, the marketplace and the political arena.
SERVE those who are poor and vulnerable, sharing more time and talent.
And many more ideas here .
Alexy II, patriarch of the Russian Orthodox Church for 18 years, has died. May his soul rests in peace with the Lord. He was both "hope and obstacle in dialogue between Catholics and Orthodox" said Franco Pisano. Alexy II guided the Russian Orthodox Church "in a period of great change," making it capable of "facing the challenges of transition from the Soviet era to the present one," and his "personal commitment to promoting relations with the Catholic Church, in spite of the difficulties and tensions that have emerged from time to time," "was never brought into question." See here on AsiaNews.it site.
Mortimer Adler: a Philosopher, a Jew who converted to the Catholic Church What Mortimer Adler sought to do was to diffuse as widely as possible the great achievements of the human mind. He failed to have much influence on public education, just as he and Robert Hutchins failed to change the University of Chicago. But over the course of a long life, Adler preached and exemplified the merits of a liberal education. And in doing so, he touched the lives of millions. Read In Memoriam Mortimer J. Adler by Ralph McInerny here
Saint Ephrem. I just started Pope BENEDICT XVI's book on "The Church Fathers" (which I highly recommend!) and I found right away a wonderful chapter on Saint Ephrem. Pope Benedict starts with the spreading of Christianity in the world, then he introduces Saint Ephrem (historically, geographically, and his poetical theology) and quotes parts of his most beautiful hymn to the role of Mary in salvation history and to the mystery of the Incarnation:

Common opinion today supposes Christianity to be a European religion which subsequently exported the culture of this Continent to other countries. But the reality is far more complex since the roots of the Christian religion are found in the Old Testament, hence, in Jerusalem and the Semitic world. Christianity is still nourished by these Old Testament roots. Furthermore, its expansion in the first centuries was both towards the West - towards the Greco-Latin world, where it later inspired European culture - and in the direction of the East, as far as Persia and India. It thus contributed to creating a specific culture in Semitic languages with an identity of its own. Today, I would like to talk about St Ephrem the Syrian, who was born into a Christian family in Nisibis in about 306 A.D. He was Christianity's most important Syriac-speaking representative and uniquely succeeded in reconciling the vocations of theologian and poet. He was educated and grew up beside James, Bishop of Nisibis (303-338), and with him founded the theological school in his city. He was ordained a deacon and was intensely active in local Christian community life until 363, the year when Nisibis fell into Persian hands. Ephrem then emigrated to Edessa, where he continued his activity as a preacher. He died in this city in 373, a victim of the disease he contracted while caring for those infected with the plague. It is not known for certain whether he was a monk, but we can be sure in any case that he remained a deacon throughout his life and embraced virginity and poverty. Thus, the common and fundamental Christian identity appears in the specificity of his own cultural expression: faith, hope - the hope which makes it possible to live poor and chaste in this world, placing every expectation in the Lord - and lastly, charity, to the point of giving his life through nursing those sick with the plague. I cannot present much of his writing here, partly because his poetry is difficult to translate, but to give at least some idea of his poetical theology I would like to cite a part of the hymn: On the Nativity of Christ. Ephrem expressed his wonder before the Virgin in inspired tones:

"The Lord entered her and became a servant; the Word entered her, and became silent within her; thunder entered her and his voice was still; the Shepherd of all entered her; he became a Lamb in her, and came forth bleating.

"The belly of your Mother changed the order of things, O you who order all! Rich he went in, he came out poor: the High One went into her [Mary], he came out lowly. Brightness went into her and clothed himself, and came forth a despised form....

"He that gives food to all went in, and knew hunger. He who gives drink to all went in, and knew thirst. Naked and bare came forth from her the Clother of all things [in beauty]".

Read the whole catechism on Saint Ephrem here .
You can order Pope Benedict's book on the Church Fathers at Ignatius Press here .
See my page on Saint Ephrem with his most famous prayer: here .

The persecuted Church. I just read the most interesting account of the life of Joseph Mindszenty, the famous Hungarian Cardinal, his resistance and suffering and imprisonment under Nazism first then Communism. He had written in 1942: "New persecutors of the Church are replacing the old ones, swollen with pride at their whirlwind victories, they are temporarily on top, but the Church always outlives them."
Then in 1945: " The Catholic Church does not hide when a storm is coming but is everywhere with and for the Hungarian people. It does not seek temporal but only divine protection. Bleeding Hungary is drowning in the maelstrom of the worst moral, legal and economic collapse in our history. Our psalm is the De Profundis; our prayer is the Miserere; our prophet is Jeremiah; our world is the Apocalypse. We sit at the waters of Babylon and captors are trying to teach us alien songs… I want to be a good shepherd who, if necessary, will give his life for his sheep, for the Church and for our homeland… Hell has never before mobilized such power. An officially atheistic dictatorship, with 5 ½ million atheist Communist agents fight unitedly and relentlessly with red-hot hatred against God, religion and the Church. They carry their fight in the schools, radio, newspapers, literature, the theater, art, advertisements, cartoons, and caricatures, and even through robberies and sacrileges in the churches."
At his inaugural speech, he exhorted: "Let the nation storm Heaven with prayers now! If we begin to really pray again, we will gain renewed strength and confidence. My trust is in a campaign of prayers by millions of the faithful, and in my mother's rosary, now held even more tightly in her hands."
Losing my job. These are difficult times we live in. Stormy times. Out there in the financial markets and closer to home, in my work. I'm in the process of losing my job and I'm witnessing the whole firm disappearing. "Dissolution" is the word they use. It's tough, it's heartbreaking. Who would have guessed? It certainly was a good place to work, a place that for us was actually a source of pride. But we've been unhinged, we've been displaced and forced to move on and now we are all scrambling around trying to land on our feet somewhere else. It's tough, it's like being "work-refugees", uprooted and forced to go…It's a challenge. But in the midst of the turmoil, there is an underlying current to do this as properly as possible and there are many people (from top to bottom and in every corner) who are reaching out to help each other and willing to spend time updating someone else's resume, sharing information, making phone calls, explaining options, listening and comforting, using their own connections to help a co-worker. So although these are difficult times, they are also fascinating and they are certainly very revealing.

I wondered to which Saint I should turn to, for help for myself and for everyone at my work? And since I could not decide which Saint had special experience with unemployment, I have been asking, for months now, for their help to every Saint that I met in the morning prayer of the Liturgy of the Hours. And it downed on me after a while that everyone of them was faced with challenges and unforeseen turns of event, that they are all specialists in adjustment and experts in coping with turmoil, that they certainly knew how to obey unexpected orders from their superiors and go to unchartered territories and they even did it with zeal! All of them raising to the occasion and giving more and more of themselves in the process and not for their own satisfaction but all for the glory of God. I found this so encouraging that it greatly helped me recognize the little saintly moments that I witnessed within my work environment in the last few months, and for this, I am very thankful. I also absolutely delighted in the wonderful surge of kindness and support and prayers that came from my own circle of friends and family and for this too, I am most grateful.

For some reason, I could not write about it. Talked a lot about it and with many people here and there and everywhere but could not find one line to type on the keyboard.
Pascal for Today by Peter Kreeft. From the Preface to "Christianity for Modern Pagans: Pascal's Pensées". I know no pre-twentieth-century book except the Bible that shoots Christian arrows farther into modern pagan hearts than the Pensées. I have taught "Great Books" classes for twenty years, and every year my students sit silent, even awed, at Pascal more than at any other of the forty great thinkers we cover throughout the history of Western philosophy and theology. Read more here
Praying with C. S. Lewis, by Charles C. Taliaferro: Through his own study of religious experience and the arguments for and against a belief in God, Lewis came to think of the longing for joy as something that echoes and reflects the reality of God. By his lights, the search for a joy that is wider than this world is bound up with a search for the God who made us and all worlds.
"The settled happiness and security which we all desire, God withholds from us by the very nature of the world, but joy, pleasure and merriment He has scattered broadcast. We are never safe, but we have plenty of fun, and some ecstasy. It is not hard to see why. The security we crave would teach us to rest our hearts in this world and oppose an obstacle to our return to God: a few moments of happy love, a landscape, a symphony, a merry meeting with friends, a bath or a football match, have no such tendency. Our Father refreshes us on the journey with some pleasant inns, but will not encourage us to mistake them for home. (C. S. Lewis "The problem of pain" p 115)
Bishop N. T. Wright asks: What are we waiting for? And what are we going to do about it in the meantime? Those two questions shaped his book "Surprised by Hope". In his intervention at the Synod of Bishops, earlier this month, he spoke about the "fourfold reading of scripture. We are to love God with heart, soul, mind and strength". And he reminded us of the key moments in the life of Mary: Fiat, Magnificat, Stabat and Conservabat. See the full text of his intervention here
The Gospel Commentary of this Sunday by Father Raniero Cantalamessa, is about: "Give to Caesar what is Caesar's , and to God what is God's." It is about the separation of church and state and he reminds us that "The Christian is free to obey the state, but he is also free to resist the state when it goes against God and his law. Before obeying men, in fact, you must first obey God and your own conscience. You cannot give your soul, which belongs to God, to Caesar".
Fr. Cantalamessa then makes an important point on how to behave as Christians in politics: "There is also another sphere in which Christians must make a contribution to politics. It does not have to do with the content of politics so much as its methods, its style. Christians must help to remove the poison from the climate of contentiousness in politics, bring back greater respect, composure and dignity to relationships between parties. Respect for one's neighbor, clemency, capacity for self-criticism: these are the traits that a disciple of Christ must have in all things, even in politics. It is undignified for a Christian to give himself over to insults, sarcasm, brawling with his adversaries". Read the article on Zenit news here .
One of the most intelligent conversation that I have seen on the topic of our economy can be found at Godspy.com on "Business - Alan Greenspan, Ayn Rand and the Libertarian God that Failed" here . And check this one too "Thinking Catholic: European leaders blame crisis on "speculative capitalism"" here and The Right's Hypocritical Crusade against Wall Street. here. In each case, read the articles and check out the comments, it is so refreshing to see them combined reason and faith when assessing the news of the day and the global shifts happening under our watch.
Avoiding polarization. A few weeks ago, George Wesolek wrote a great article on the compartmentalized split between supporters of pro-life vs. the workers of justice and peace. He lamented that these ministries have existed side by side on parallel lines but were never able to work together as one, that they hold different world-views and they "don't' even like each other." It was painful to read, but I must admit it is true. And in the recent outbreak of comments over the handling of Catholic doctrines by certain politicians, we see the consequences of "not even liking each other."
And I am talking about members of the same faith!
George's article was good at presenting the history of each group since Vatican II and how they ended up in opposite trenches of the culture war. How is it we can believe in the same God, worship in the same Church and still find a way to criticize and denigrate our neighbor so quickly? Why is it that we lord it over them, holding tight to our own corner of the culture-war blanket? I think the answer is multi-layered. If the first layer is the structural one within the Church, as George said, another layer has to rest outside the Church at the foot of the political parties fanning the flames of cultural separation and the media gorging themselves on the resulting tension - reaching a cyclical high pitch every four years.
But there is a deeper layer within ourselves, within our own selfishness and shortsightedness. How can we rise above the polarization? How can we turn off the culture-war mode to concentrate on the building of the Kingdom?
The answer can only come from a source higher than ourselves.
To hear it, we need to be quiet, respectful and prayerful. Capuchin Father Raniero Cantalamessa contrasted Pentecost and Babel as opposing examples of the love of God vs. the love of selves. He says that only the unitive power of the Holy Spirit can build up out of love and out of obedience.
Who are the builders of Babel?
Father Cantalamessa says, "We, alas, are one of them, the passage from Babel to Pentecost must be carried out spiritually every day in our lives, just as we need to pass continually from the old man to the new man." Since the hunting season of political campaigning is far from over, I am begging the Holy Spirit to help us waver the storm.

"Avoiding polarization"was my letter to the Editor of the Catholic San Francisco and it was published September 26, 2008. The Wesolek article that I mentioned "American Catholic structural polarization" is here
My "Catholic antennas" have picked up the following stories in the press recently:

In the San Francisco Chronicle, a very good article on the new Oakland Cathedral: "Oakland cathedral's glory in its modesty" by John King, Chronicle Urban Design Writer. "The most revolutionary thing about the design of the Cathedral of Christ the Light in Oakland may be that it looks so subdued. .. intended to serve as the spiritual home for the 500,000 or so Catholics within the Diocese of Oakland... Bishop Allen Vigneron emphasized that "we hope people of all beliefs will find a welcome here". The Cathedral of Christ the Light …wants to offer shelter and quiet, balm, a personal retreat in these too-turbulent times. That's no easy task. The fact it succeeds so well is a reason to give thanks". Read full article here: here .

The resurgence (or re-appearance) of Catholicism in Kosovo: "Out of hiding, some Kosovars embrace Christianity" By Fatos Bytyci. 2008 Reuters. "Turning away from the majority Muslim faith imposed by the Ottoman Turks centuries ago, these worshippers are part of a revival of Catholicism in the newly independent Balkan state…. Many mosques in Kosovo were destroyed during the 1998-99 war between Serb forces and the Kosovo Liberation Army. Since 1999, ethnic Albanian mobs destroyed many Serb Orthodox churches…Roman Catholic churches were not destroyed, however, and most of Kosovo's towns have a square named after Nobel Peace Prize winner Mother Theresa". Read more here .

Found in the New York Times: "French Muslims Find Haven in Catholic Schools" By KATRIN BENNHOLD Sept. 29, 2008. "In France, which has only four Muslim schools, some of the country's 8,847 Roman Catholic schools have become refuges for Muslims seeking what an overburdened, secularist public sector often lacks: spirituality, an environment in which good manners count alongside mathematics, and higher academic standards. …"Laïcité has become the state's religion, and the republican school is its temple," said Imam Soheib Bencheikh. "It's ironic," he said, "but today the Catholic Church is more tolerant of - and knowledgeable about - Islam than the French state." Read more here .

And then there is the terrible "Ongoing Persecution of Christians in India": By Fr. Augustine Kanjamala, SVD 8/29/2008 (found on Catholic.org). An Indian Catholic Priest addresses the motives behind the ongoing wave of violence against Christians by Radical Hindu fundamentalists. According to Father Kanjamala a plan to cleanse Orissa of its Christian population has been in the making for years. Read the article here .

We need to pray for the faithful in India who are greatly suffering persecution right now.

And then I just read this article on the "Senate Approves India Nuclear Treaty " and I wonder how wise we really are…. "The United States opened a new chapter of cooperation with India on Wednesday night as Congress gave final approval to a breakthrough agreement permitting civilian nuclear trade between the countries for the first time in three decades." Read it here .
Plenary indulgence announced for the Nuova Porziuncola ! I am extremely grateful for having access to one plenary indulgence, right here in my City and right now, in the middle of a frantic political campaign and numerous national (and global) turmoils in the down-ward economy, the financial markets, the real estate bubble, the energy crises etc. If you seek the indulgence with the proper disposition, you will be spreading peace and hope, the love of God and the love of neighbor, in many ways and most of them are invisible to the naked eye... That's what I love about indulgence: it is the convergence of the visible and the invisible world and it is resting on the eyes of the soul, on the communion of saints, on us doing our part in prayers and sacrifices. What a blessing. What a lesson in trust and humility.
Here are some excerpt from a very good article by Dan Morris - Young in "Catholic San Francisco":
An indulgence nearly identical to the "Pardon of Assisi" has been authorized by the Church for the new San Francisco landmark. It will be available to the faithful who visit the site and who fulfill the customary requirements - see list below:

Requirements for obtaining the Porziuncola plenary indulgence :
1 - To visit the Porziuncola Chapel between Sept 27 and Dec 31 2008;
2 - To spend time in prayer at the Chapel,
saying the Lord's prayer and the Creed;
3 - To celebrate the sacrament of reconciliation within a week;
4 - To receive the sacrament of the Eucharist within this time;
5 - To pray for the intentions of the Holy Father,
which are, for November 2008 :
General Intention: Love of God and Neighbor.
That the testimony of love offered by the saints may fortify Christians in their devotion to God and neighbor, imitating Christ who came to serve and not to be served. This month Pope Benedict XVI points us to the saints of the Church, that all Christians may imitate them in their imitation of Christ. For this is the love of God and neighbor, to serve and not to be served.
Mission Intention: Church in Asia.
That the Christian communities of Asia, contemplating the face of Christ, may find the most suitable ways to announce Him, in full faithfulness to the Gospel.
5 - To be free of any attachment to sin, even venial sin. This is perhaps the most challenging requirement; however, if one still has some attachment to sin the indulgence would be partial not plenary. A plenary indulgence can remove all the temporal punishment due to forgiven sin.
The granting of an indulgence has nothing to do with the forgiveness of sin. God forgives us when we are truly sorry for our sins, and Christ instituted the sacrament of reconciliation as the ordinary means by which our sins are forgiven. If God forgives us freely, why must we do penance? To undo the harmful effects of sin on ourselves and others. We might think of sin as a kind of spiritual pollution Works of generosity restore the spiritual environment that has been damaged by selfishness. Prayer, fasting and works of mercy are traditional forms of penance and have always been central to Christian discipleship.

Excerpt from the Catechism of the Catholic Church re: Indulgence.
1472 To understand this doctrine and practice of the Church, it is necessary to understand that sin has a double consequence. Grave sin deprives us of communion with God and therefore makes us incapable of eternal life, the privation of which is called the "eternal punishment" of sin. On the other hand every sin, even venial, entails an unhealthy attachment to creatures, which must be purified either here on earth, or after death in the state called Purgatory. This purification frees one from what is called the "temporal punishment" of sin. These two punishments must not be conceived of as a kind of vengeance inflicted by God from without, but as following from the very nature of sin. A conversion which proceeds from a fervent charity can attain the complete purification of the sinner in such a way that no punishment would remain.
1473 The forgiveness of sin and restoration of communion with God entail the remission of the eternal punishment of sin, but temporal punishment of sin remains. While patiently bearing sufferings and trials of all kinds and, when the day comes, serenely facing death, the Christian must strive to accept this temporal punishment of sin as a grace. He should strive by works of mercy and charity, as well as by prayer and the various practices of penance, to put off completely the "old man" and to put on the "new man."
1478 An indulgence is obtained through the Church who, by virtue of the power of binding and loosing granted her by Christ Jesus, intervenes in favor of individual Christians and opens for them the treasury of the merits of Christ and the saints to obtain from the Father of mercies the remission of the temporal punishments due for their sins. Thus the Church does not want simply to come to the aid of these Christians, but also to spur them to works of devotion, penance, and charity.
1479 Since the faithful departed now being purified are also members of the same communion of saints, one way we can help them is to obtain indulgences for them, so that the temporal punishments due for their sins may be remitted.
See more details on the Plenary indulgence announced for the Porziuncola Nuova here.
René Girard. I just got back from a lecture "Inspiring a wholehearted faith in a half-hearted age" at St Patrick Seminary in Menlo Park and Rene Girard was the guest speaker. I found him (in his comments and in his writings) to be so inspiring and instructive that it leaves me stunned each time. His insights on the "cultural uniqueness of Christianity" are very challenging - and energizing - because he uses a new vocabulary (at least new to me). It always sounds to me that he is standing in a different place than most of us and he is telling us what he sees - and it's different from our regular horizon. His unique understanding of violence and its cycles; his theory of "mimetism", of the constant rivalry of desire, of sacrifices and scapegoating, is absolutely fascinating. And he is articulating it in the language of anthropology, since "the language of science is the language of the day". I have only read bits and pieces here and there (and I often think I only get 20% of it!) but still he has greatly influenced me. I make grand statements to my friends, such as "the whole world is Catholic, some of it just don't know it yet" and they come from reading his books.
You can google his name and find many remarkable articles and interviews. Here are excerpts of a recent one: Intellectuals as Castrators of Meaning: An Interview with Réne Girard:
The avant-garde, at one time relegated to the artistic field, today extends to the scientific, which thinks about the origin of man. In a certain sense, science has become the new mythology: man has created life. For this reason, I welcomed with great relief the explanation of Joseph Ratzinger of 'biological reductionism'- the new form of deconstruction, the biological myth. I find myself having recourse to the distinction the ex-Cardinal made, between science and scientism."
The only great difference between man and other animal species is the religious dimension:
"This is the essence of human existence. It is the origin of the prohibition of sacrifices and the prohibition of violence. Where religion has dissolved, there is the beginning of a process of decomposition. Micro-eugenics is our new form of human sacrifice. We no longer protect life from violence. Rather we smash life with violence. We seek to appropriate for ourselves the mystery of life for our own benefit. But we will fail. Eugenics is the culmination of a school of thought initiated two centuries ago and which constitutes the greatest danger to the human species.
Giulio Meotti - 08/29/08 Read more here on First Principles.
The Letters of Saint Paul = A Biblical Study course by Father David Anderson. The Location of the class is in Marin Catholic High School in Kentfield, from September 18 to December 18, every Thursday (except for Oct 9, 16 and Nov 27) at 7:30PM. Come for a class visit, bring your Bible and be prepared to be encouraged, enriched and challenged! See more details on the class here .
Pope Benedict XVI was in France from September 12 to 15 and his visit brought much joy and excitement to the faithful and because of his kindness and clear use of reason in reaching out, because of his exceptional teachings and strong witnessing to the Christian hope, he even brought much encouragement and challenges to the ones who are not part of the faithful, who are not part of the fold or also to the many who do not know exactly where they stand or what they are seeking… You can find much information on the following French sites: Conférence des évêques de France here or on the French Catholique magazine : La Croix : " Les surprises du voyage de Benoit XVI " here. Many pictures on the site esprit-photo.com at the page: here And all the texts in English on Chiesa.com or on Zenit.com.

In his first speech, to the French Government, Benedict XVI spoke of the two distinct separated spheres of influence - and responsibility - the religious one and the secular one - and how they need to work together, to enrich society and culture, for the common good. He said that the Pope is here to sow "charity and hope". Any society needs hope "and this need is even more necessary in today's world which offers so little to our spiritual needs and which brings such uncertainty even to our material needs". (my translation).

In his wonderful speech to the College of Bernardin, the Pope talked to great lengths to the universal search for God, to the legacy of monasticism, which did so much to transmit our cultural heritage along the transmission of the faith. He explains so well how us, Christians, we are not "people of the Book" but "people of the Word"! Here are some excerpts:

From the perspective of monasticism's historical influence, we could say that, amid the great cultural upheaval resulting from migrations of peoples and the emerging new political configurations, the monasteries were the places where the treasures of ancient culture survived, and where at the same time a new culture slowly took shape out of the old.
They were searching for God. God himself had provided signposts, indeed he had marked out a path which was theirs to find and to follow. This path was his word, which had been disclosed to men in the books of the sacred Scriptures. Thus, by inner necessity, the search for God demands a culture of the word.Thus it is through the search for God that the secular sciences take on their importance, sciences which show us the path towards language. Because the search for God required the culture of the word, it was appropriate that the monastery should have a library, pointing out pathways to the word. It was also appropriate to have a school, in which these pathways could be opened up. the formation and education of man - a formation whose ultimate aim is that man should learn how to serve God. But it also includes the formation of reason - education - through which man learns to perceive, in the midst of words, the Word itself.

Then Pope Benedicts spoke about how listening to God, seeking the Word of God, helps us be attentive to each other, how it brought about "libraries" and "schools" how prayers brought us to music. Then he has the most wonderful passage on the importance of NOT using an individual and fundamentalist approach to the Sacred Scriptures: " Therefore the Catechism of the Catholic Church can rightly say that Christianity does not simply represent a religion of the book in the classical sense (cf. par. 108). It perceives in the words the word, the Logos itself, which spreads its mystery through this multiplicity. This particular structure of the Bible issues a constantly new challenge to every generation. It excludes by its nature everything that today is known as fundamentalism. In effect, the word of God can never simply be equated with the letter of the text. To attain to it involves a transcending and a process of understanding, led by the inner movement of the whole and hence it also has to become a process of living. Only within the dynamic unity of the whole are the many books one book. God's word and action in the world are only revealed in the word and history of human beings. The whole drama of this topic is illuminated in the writings of Saint Paul. What is meant by the transcending of the letter and understanding it solely from the perspective of the whole, he forcefully expressed as follows: "The letter kills, but the Spirit gives life" (2 Cor 3:6). And he continues: "Where the Spirit is … there is freedom" (cf. 2 Cor 3:17). The Spirit is Christ, and Christ is the Lord who shows us the way. With the word of Spirit and of freedom, a further horizon opens up, but at the same time a clear limit is placed upon arbitrariness and subjectivity, which unequivocally binds both the individual and the community and brings about a new, higher obligation than that of the letter: namely, the obligation of insight and love. This tension between obligation and freedom, which extends far beyond the literary problem of scriptural exegesis, has also determined the thinking and acting of monasticism and has deeply marked Western culture. It presents itself anew as a task for our generation too, vis-à-vis the poles of subjective arbitrariness and fundamentalist fanaticism. It would be a disaster if today's European culture could only conceive freedom as absence of obligation, which would inevitably play into the hands of fanaticism and arbitrariness. Absence of obligation and arbitrariness do not signify freedom, but its destruction. "

Then Pope Benedict XVI speaks how studying brings us to "working" and he has these beautiful words about "the work of God in the world" God is working; he continues working in and on human history. In Christ, he enters personally into the laborious work of history. "My Father is working still, and I am working." God himself is the Creator of the world, and creation is not yet finished. God is working. Thus human work was now seen as a special form of human resemblance to God, as a way in which man can and may share in God's activity as creator of the world. Monasticism involves not only a culture of the word, but also a culture of work, without which the emergence of Europe, its ethos and its influence on the world would be unthinkable. Naturally, this ethos had to include the idea that human work and shaping of history is understood as sharing in the work of the Creator, and must be evaluated in those terms. Where such evaluation is lacking, where man arrogates to himself the status of god-like creator, his shaping of the world can quickly turn into destruction of the world.

The Pope goes on to explain the 'need to communicate the truth" The classic formulation of the Christian faith's intrinsic need to make itself communicable to others, is a phrase from the First Letter of Peter, which in medieval theology was regarded as the biblical basis for the work of theologians: "Always have your answer ready for people who ask you the reason (the logos) for the hope that you all have" (Logos must become Apologia, word must become answer - 3:15).and the universality of the Good News.

Here is the conclusion of his speech: ". A purely positivistic culture which tried to drive the question concerning God into the subjective realm, as being unscientific, would be the capitulation of reason, the renunciation of its highest possibilities, and hence a disaster for humanity, with very grave consequences. What gave Europe's culture its foundation - the search for God and the readiness to listen to him - remains today the basis of any genuine culture.

This is what happens when a very good theologian becomes Pope! It brings much joy to us and much good to the world. Thanks be to God!
Once when asked if some of the more educated brothers who had joined the Order should continue their studies of Sacred Scriptures, Saint Francis' answer was: "I do not mind providing that they do not neglect prayer, after the example of Christ, of whom we are told He prayed more than He studied."
From St Francis of Assisi and the Conversion of the Muslims by Frank Rega.
Blessed Mother Teresa's Quotes on Abortion. "Any country that accepts abortion, is not teaching its people to love, but to use any violence to get what it wants." "It is a poverty to decide that a child must die so that you may live as you wish." . Read more quotes here . I found them on "A Catholic Mom in Hawaii".
Buffalo Bill & Indians on Ocean Beach. To me, born and raised in France, who came to the US as an adult, the whole Wild West narrative is a mix of historical facts and western movies, where the lines of truth and bluff are often overlapping but where the figure of Buffalo Bill stands tallest and is casting such a long shadow that it is even reaching today! the beach at the end of my street where there is a very unusual art display. Buffalo Bill: an army scout, an Indian fighter, a showman, an adventurer, the propagander of the Wild West, extremely famous in his days and ever since, both in the States and in Europe, and maybe you wonder why is he mentioned on a Catholic site? Well, as I have said before, I love conversion stories and I found this wonderful page explaining his turn to God, especially in his later year, after 1905, and his baptism in the Catholic Church just before dying. There was a thread of faith running through his life from his devout mother to his charitable acts and finally his struggle to truly put God in his daily life. Read it all here
The Front View
and the Back View
juillet decembre 2008 - Le partage de la foi… en français:
La veille de Noel 2008. Il arrive, il vient !
Quel moment merveilleux que de l'accueillir dans nos coeurs.
Merry Christmas and Joyeux Noel to all.
Pour ecouter ma chanson preferee en cette veille de Noel, voici un lien avec Minuit Chretien par Roberto Alagna sur YouTube. . Et je me souviendrais toujours des Noels ou nous avons chantés ce cantique ensemble, à Notre Dame des Victoires, à SF, à la messe de minuit.

Minuit chrétien, c'est l'heure solennelle
Où l'homme Dieu descendit jusqu'à nous,
Pour effacer la tache originelle
Et de son père arrêter le courroux :
Le monde entier tressaille d'espérance
A cette nuit qui lui donne un sauveur
Peuple, à genoux attends ta délivrance,
Noël ! Noël ! Voici le Rédempteur !
Noël ! Noël ! Voici le Rédempteur !

De notre foi que la lumière ardente
Nous guide tous au berceau de l'enfant
Comme autrefois, une étoile brillante
Y conduisit les chefs de l'Orient
Le Roi des Rois naît dans une humble crèche,
Puissants du jour fiers de votre grandeur,
A votre orgueil c'est de là qu'un Dieu prêche,
Courbez vos fronts devant le Rédempteur !
Courbez vos fronts devant le Rédempteur !

Le Rédempteur a brisé toute entrave,
La terre est libre et le ciel est ouvert
Il voit un frère ou n'était qu'un esclave
L'amour unit ceux qu'enchaînait le fer,
Qui lui dira notre reconnaissance ?
C'est pour nous tous qu'il naît, qu'il souffre et meurt :
Peuple, debout ! chante ta délivrance,
Noël ! Noël ! chantons le Rédempteur !
Noël ! Noël ! chantons le Rédempteur !


Prier à partir d'une oeuvre d'art.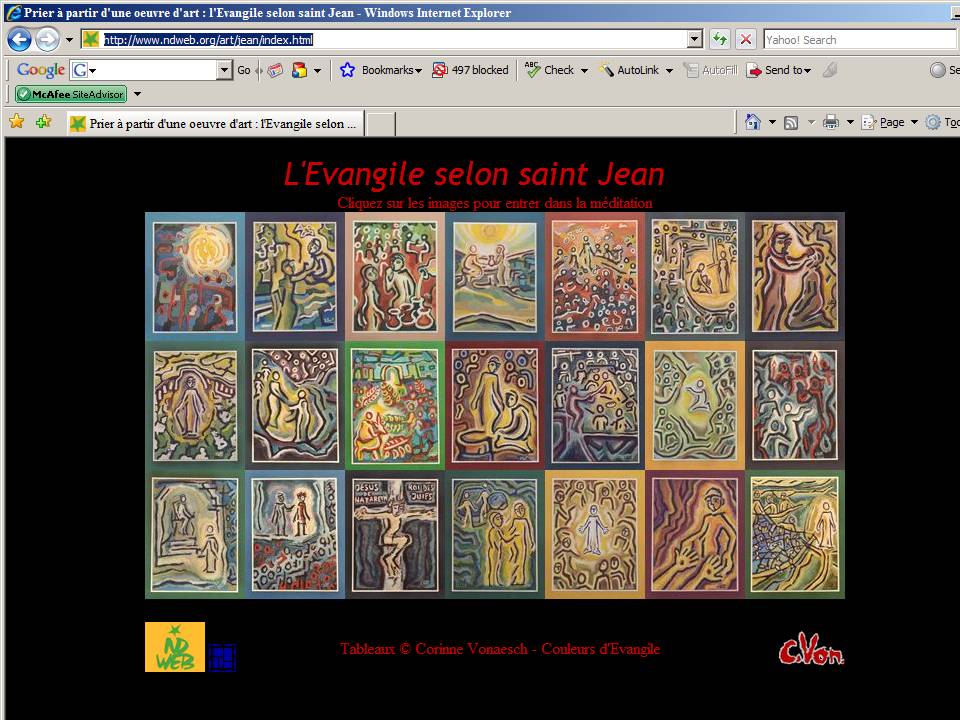 Vous trouverez sur NDWeb plusieurs oeuvres d'art qui vous seront proposées pour nourrir votre prière. L'Evangile selon saint Jean en 12 tableaux ici sur le tres beau site Notre Dame du Web - Centre spirituel ignatien sur internet.
Un dossier sur les hérésies. Interview du père Denis Biju-Duval. Faut-il avoir peur des hérésies ? Les hérésie, un sujet toujours d'actualité ? En elles-mêmes et sur le coup, les hérésies sont toujours un drame. À plus long terme, elles stimulent l'Église, elles l'obligent à affiner l'expression de la foi. Elles l'amènent aussi à un discernement. Les hérésies proviennent souvent des limites des cultures humaines : au lieu de se laisser enrichir par la foi, celles-ci cherchent à la soumettre à leurs propres préjugés. Ce faisant, elles la déforment et l'aplatissent... Depuis 2000 ans, l'Église veille amoureusement sur l'orthodoxie de la foi transmise par le Christ à ses apôtres.
En lire plus ici sur le site Il est vivant!
De l'autre coté de cette page, en anglais, j'ai mis récemment un lien sur le meme sujet: la vidéo du Père Barron répond éxactment aux hérésies les plus en vogue en ce moment sur YouTube.
Le 13 décembre: c'est la fête de Sainte Lucie! Vierge et Martyre (+ 305) Lucie, jeune fille de Syracuse, vint à Catane, au tombeau de sainte Agathe, avec sa mère qui souffrait d'un flux de sang incurable. Après avoir prié un instant, Lucie s'endormit et vit en songe sainte Agathe qui lui dit : "Lucie, ma soeur, pourquoi me demander ce que ta foi a pu obtenir par elle-même ? Ta mère est guérie. Tu seras bientôt la gloire de Syracuse…" Lire plus ici le récit de son martyre ou bien ici ou vous verrez une photo d'une painture murale de Sainte Lucie.
Sainte Lucie, symbole de lumière, de courage et de foi, priez pour nous!
Sainte Lucie est une sainte italienne qui est bien plus fêtée en Suède qu'en Italie... voir les jolies traditions pour les jeunes et les enfants en Suède ici
Aujourd'hui, 8 décembre, c'est la tres belle fête de l'Immaculée conception, solennité. Vous êtes toute belle, ô ma Bien-Aimée ! et il n'y a point de tache en vous !... Voici la fête privilégiée de Marie, celle qu'elle aime entre toutes ses fêtes, celle qu'elle veut voir célébrer par ses enfants avec le plus de ferveur et de zèle, et à laquelle sont attachées les plus précieuses faveurs. Marie, devant porter dans son sein l'Auteur même de la sainteté, ne pouvait être souillée d'aucune tache. La croyance à l'Immaculée Conception, de tout temps autorisée et approuvée, a été déclarée dogme de foi, et l'Église prodigue ses plus riches faveurs à ceux qui l'honorent. Lire plus ici sur le site missel.free.fr/Sanctoral.

Alexis II, patriarche de Moscou est mort ce matin dans sa résidence de Peredelkino. Elu en 1990 à la tête de la plus grande Eglise orthodoxe du monde, il avait été le premier patriarche de l'ère postsoviétique : un homme de transition, pour tourner la page de soixante-dix années de régime totalitaire « athéiste ». Lire ici le blog de Patrice de Plunkett.
Tendre vers la prière continuelle … La prière de Jésus et le saint rosaire Désirant mettre en pratique le commandement de Jésus de prier sans cesse, les premiers moines ont emprunté pour leur prière les mots des Psaumes qu'ils ont prolongé par l'invocation du Nom de Jésus : «Seigneur Jésus, Fils du Dieu Vivant, aie pitié de moi, pécheur» - c'est devenu ce que l'on appelle la «prière du cœur». L'invocation du Nom de Jésus et la prière du rosaire se rejoignent … Lire plus ici sur le site de La COMMUNAUTE DES BEATITUDES.
Dans des vieux livres de famille, j'ai trouvé un petit Abrégé de l'Histoire Sainte (qui date de 1878).
Qu'est que l'Histoire Sainte?
Réponse: L'Histoire Sainte est l'histoire de notre religion. Elle nous apprend les grandeurs de Dieu, et les merveilles qu'il a opérées pour nous. Le livre qui renferme toutes ces merveilles est le plus ancien livre du monde : la Bible, Dieu nous y fait connaître d'une manière également claire et certaine ce qu'il est, ce que nous sommes et a quoi il nous a destinés.
De quelle utilité est l'étude de l'Histoire Sainte?
Réponse : L'utilité en est si grande que quiconque saura s'y appliquer avec foi et humilité apprendra tout ce qu'il faut savoir pour être honnête homme et bon chrétien.
Etre honnête homme et bon chrétien ! C'est simple et c'est clair.
Ah ! si seulement les chefs financiers et les manipulateurs de l'économie avait suivit ce programme….On ne serait pas en pleine pagaille comme on l'est aujourd'hui et je n'aurais pas perdu mon boulot.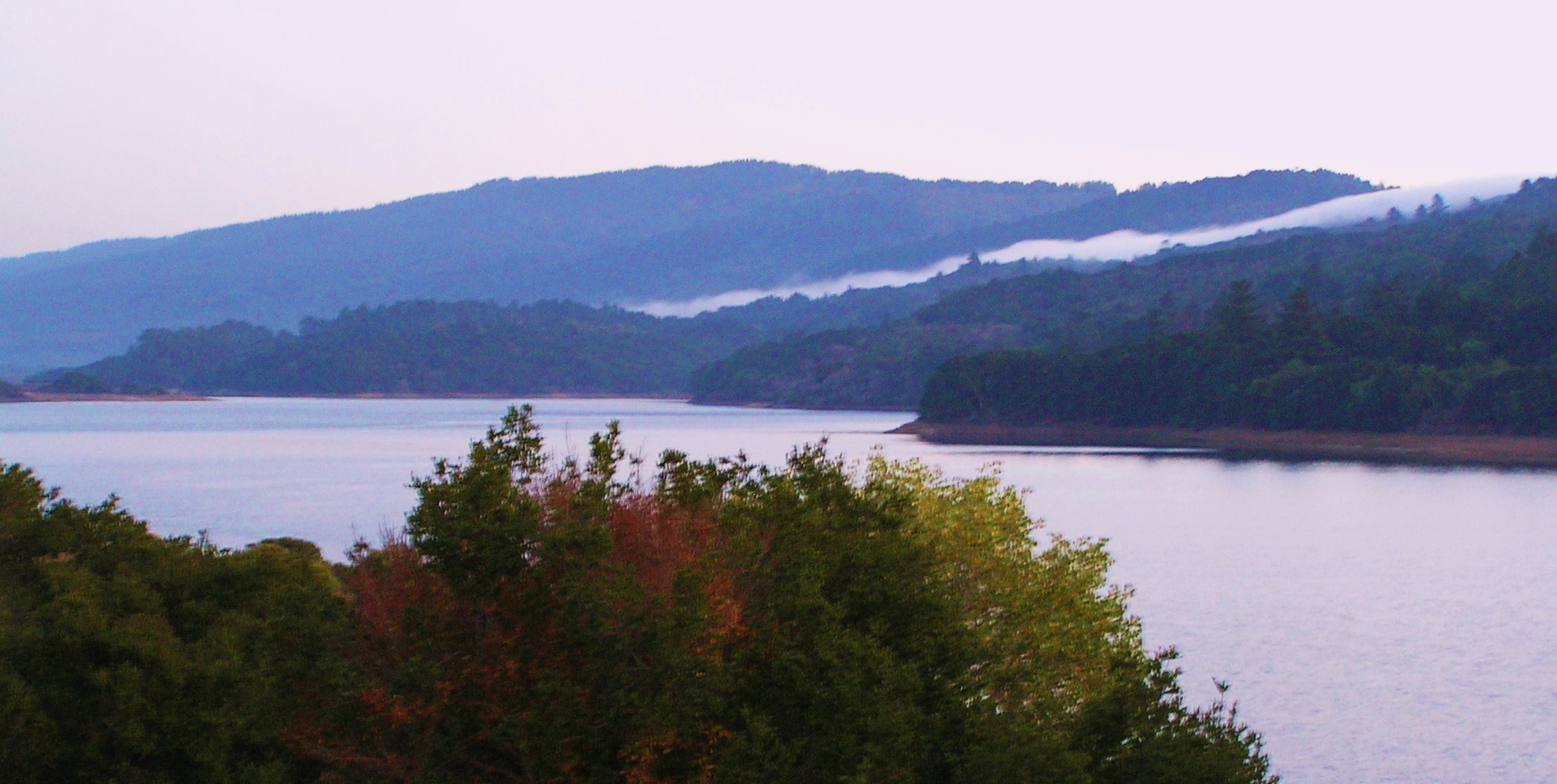 Henry Quinson: "Moine des cités". Un catholique, ex-trader, a donné ses millions et quitté les salles de marchés pour fonder une communauté monastique éducatrice. Il y a près de vingt ans, ce Franco-Américain abandonnait une augmentation de 30 % et un confortable bonus offerts par la banque Indosuez où il travaillait, pour se retirer dans un monastère.
Lire plus ici sur le blog de Patrice de Plunkett.
"C'est quand le mal fait le plus de bruit que nous devons en faire le moins, tels sont la tradition et l'esprit d'un ordre comme le nôtre, voué à la contemplation.
Oui, c'est quand le pouvoir du mal, qui n'est d'ailleurs qu'apparence et illusion, se manifeste avec le plus d'éclat que Dieu redevient le petit enfant de la Crèche, comme pour échapper à sa propre justice, aux exigences de sa propre justice et pour ainsi dire la tromper".

Dit la Prieure, forcée de quitter le couvent avec les autres religieuses, leur baluchon à la main, pendant que se continue le sac de la maison. Dialogue des Carmélites, scène XVI
RÉCIT DE PAUL CLAUDEL, CONVERTI PENDANT LE CHANT DU MAGNIFICAT
A dix-huit ans, je croyais donc ce que croyaient la plupart des gens dits cultivés de ce temps. La forte idée de l'individuel et du concret était obscurcie en moi. J'acceptais l'hypothèse moniste et mécaniste dans toute sa rigueur; je croyais que tout était soumis aux « lois », et que ce monde était un enchaînement dur d'effets et de causes que la science allait arriver après-demain à débrouiller parfaitement. Tout cela me semblait d'ailleurs fort triste et fort ennuyeux.
Lire le recit en entier ici
René Girard Je trouve les théories de René Girard fascinantes et, si j'ai parfois du mal a les suivre et a en comprendre toute leurs portées, (j'ai souvent l'impression que je n'en retiens que 20%...) j'avoue que plus je reviens a ses écrits et plus je les apprécie. Je viens juste de l'entendre parler ce soir a St Patrick Seminary, a Menlo Park. Il a une manière de montrer la révélation chrétienne dans le monde, son influence et son action dans les cultures, passées et présentes, et la résistance qui s'y oppose continuellement, qu'il me donne beaucoup a réfléchir… C'est enthousiasmant! Voici un extrait de " Celui par qui le scandale arrive ":
Il y a deux grandes approches modernes de la violence. La première est politique et philosophique; elle tient l'homme pour naturellement bon et attribue tout ce qui contredit ce postulat aux imperfections de la société, a l'oppression des classes populaires par les classes dirigeantes.
La seconde est biologique. Au sein de la vie animale, qui est naturellement paisible, l'espèce humaine seule est vraiment capable de violence. Freud parlait d'un instinct de mort. De nos jours, on recherche les gènes de l'agressivité.
Ces deux approches sont restées stériles. Depuis des années, j'en propose une troisième, a la fois très nouvelle et très ancienne. Lorsque j'en parle, un certain intérêt s'éveille, tout de suite remplacé par le scepticisme lorsque je prononce le mot clé de mon hypothèse, imitation.
Aux appétits et aux besoins déterminés par la biologie, communs aux hommes et aux animaux, dotés d'objets fixes, toujours les mêmes par conséquent, on peut opposer le désir ou la passion qui sont exclusivement humains. Il y a passion, désir intense, a partir du moment ou nos aspirations vagues se fixent sur un modèle qui nous suggère ce qu'il convient de désirer, le plus souvent en le désirant lui-même. Ce modèle peut être la société tout entière, mais c'est souvent aussi un individu que nous admirons. Tout ce que l'humanité dote de prestige, elle le transforme en modèle. C'est vrai non seulement des enfants et de adolescents, mais aussi des adultes.
En observant les hommes autour de nous, on s'aperçoit vite que le désir mimétique, ou imitation désirante, domine aussi bien nos gestes les plus infimes que l'essentiel de nos vies, le choix d'une épouse, celui d'une carrière, le sens que nous donnons a l'existence.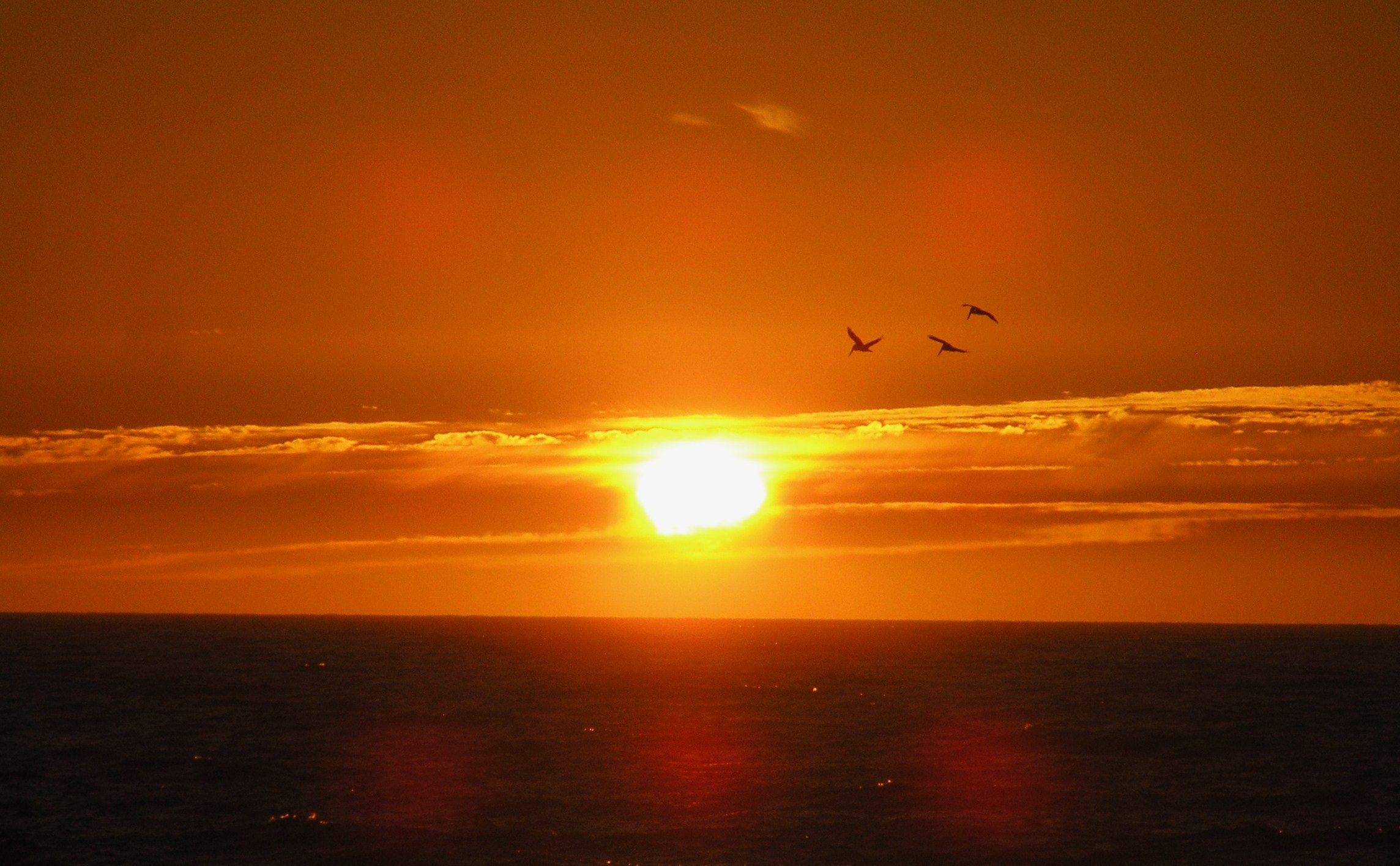 Du 12 au 15 septembre 2008: la visite du Saint-Père en France. La Conférence des évêques de France offre un très bon site avec des vidéos de la visite, les discours et les commentaires ici. Beaucoup d'information aussi sur le site du journal La Croix : " Les surprises du voyage de Benoit XVI " ici Et beaucoup de photos sur esprit-photo.com sur la page : ici Lisez tous les textes sur le site de l'homme nouveau ici.

Au début de sa visite, dans le discours a l'Elysée, Benoit XVI a parle des deux sphères d'influence - et de responsabilités - de la religion et de la laïcité et de leur besoin de travailler ensemble et d'enrichir ainsi la société, la culture, pour le bien de tous :
En ce moment historique où les cultures s'entrecroisent de plus en plus, je suis profondément convaincu qu'une nouvelle réflexion sur le vrai sens et sur l'importance de la laïcité est devenue nécessaire. Il est en effet fondamental, d'une part, d'insister sur la distinction entre le politique et le religieux, afin de garantir aussi bien la liberté religieuse des citoyens que la responsabilité de l'État envers eux, et d'autre part, de prendre une conscience plus claire de la fonction irremplaçable de la religion pour la formation des consciences et de la contribution qu'elle peut apporter, avec d'autres instances, à la création d'un consensus éthique fondamental dans la société. Le Pape, témoin d'un Dieu aimant et Sauveur, s'efforce d'être un semeur de charité et d'espérance. Toute société humaine a besoin d'espérance, et cette nécessité est encore plus forte dans le monde d'aujourd'hui qui offre peu d'aspirations spirituelles et peu de certitudes matérielles À travers ses nombreuses institutions et par ses activités, l'Église, tout comme de nombreuses associations dans votre pays, tente souvent de parer à l'immédiat, mais c'est à l'État qu'il revient de légiférer pour éradiquer les injustices.
Lire le texte en entier ici.

Dans le discours au Collège des Bernardins, Benoit XVI nous a donné une réflexion profonde sur le monasticisme, sur la naissance de la culture et sa transmission et sur "la recherche de Dieu ". Le désir de Dieu comprend l'amour de la parole dans toutes ses dimensions et en retraçant ses développements, le Pape met l'accent sur l'importance de "la bibliothèque" et de "l'école" et la recherche constante que cet amour pour Dieu a suscité chez les moines. La parole de Dieu nous rend aussi "attentifs aux uns aux autres", la parole nous amène a la prière et la prière a la musique.
La Bible et l'interprétation de la Bible: le discours de Benoit XVI a un passage merveilleux contre la seule lecture individuelle et fondamentaliste de la Bible: C'est pourquoi le Catéchisme de l'Église catholique peut affirmer avec raison que le christianisme n'est pas au sens classique seulement une religion du livre . Le christianisme perçoit dans les paroles la Parole, le Logos lui-même, qui déploie son mystère à travers cette multiplicité. Cette structure particulière de la Bible est un défi toujours nouveau posé à chaque génération. Selon sa nature, elle exclut tout ce qu'on appelle aujourd'hui "fondamentalisme". La Parole de Dieu, en effet, n'est jamais simplement présente dans la seule littéralité du texte. Pour l'atteindre, il faut un dépassement et un processus de compréhension qui se laisse guider par le mouvement intérieur de l'ensemble des textes et, à partir de là, doit devenir également un processus vital. Ce n'est que dans l'unité dynamique de leur ensemble que les nombreux livres ne forment qu'un Livre. La Parole de Dieu et Son action dans le monde se révèlent dans la parole et dans l'histoire humaines. "Le Seigneur, c'est l'Esprit, et là où l'Esprit du Seigneur est présent, là est la liberté" (2 Co 3, 17).
Et le Pape continue et revient a l'Europe et a la culture : "Cette tension entre le lien et la liberté, qui va bien au-delà du problème littéraire de l'interprétation de l'Écriture, a déterminé aussi la pensée et l'œuvre du monachisme et a profondément modelé la culture occidentale. Cette tension se présente à nouveau à notre génération comme un défi face aux deux pôles que sont, d'un côté, l'arbitraire subjectif, de l'autre, le fanatisme fondamentaliste. Si la culture européenne d'aujourd'hui comprenait désormais la liberté comme l'absence totale de liens, cela serait fatal et favoriserait inévitablement le fanatisme et l'arbitraire. L'absence de liens et l'arbitraire ne sont pas la liberté, mais sa destruction.
Et le Pape a ces mots merveilleux sur la main de Dieu a l'œuvre dans le monde aujourd'hui : Dieu travaille, Il continue d'œuvrer dans et sur l'histoire des hommes. Et dans le Christ, Il entre comme Personne dans l'enfantement laborieux de l'histoire. "Mon Père est toujours à l'œuvre et moi aussi je suis à l'œuvre."
Puis le pape parle de " la culture de la parole et la culture du travail ". Puis il parle de " la nécessité pour la foi chrétienne de se rendre communicable aux autres e le besoin de la transmission de la parole, de la transmission de la vérité : L'universalité de Dieu et l'universalité de la raison ouverte à Lui constituaient pour eux la motivation et, à la fois, le devoir de l'annonce. Pour eux, la foi ne dépendait pas des habitudes culturelles, qui sont diverses selon les peuples, mais relevait du domaine de la vérité qui concerne, de manière égale, tous les hommes.
et finalement la conclusion de son discours qui délimite clairement les dangers modernes :Une culture purement positiviste, qui renverrait dans le domaine subjectif, comme non scientifique, la question concernant Dieu, serait la capitulation de la raison, le renoncement à ses possibilités les plus élevées et donc un échec de l'humanisme, dont les conséquences ne pourraient être que graves. Ce qui a fondé la culture de l'Europe, la recherche de Dieu et la disponibilité à L'écouter, demeure aujourd'hui encore le fondement de toute culture véritable.
Lire le texte en entier ici sur le site Chiesa.
Et voila ce qui se passe quand un theologien devient Pape! Quelle joie pour nous, quelle chance pour le monde.
- Vous semblez beaucoup plus religieuse qu'avant votre enlèvement.
J'étais il y a quelques heures avec mes enfants et mon premier mari et ils m'ont dit: "Arrête de parler de religion, on va croire que tu es devenue une espèce de grenouille de bénitier." Ce n'est pas vrai mais, ce qui est certain, c'est que j'ai une foi immense. Je pense que ma libération est un miracle, je le pense vraiment. J'avais la foi avant mais c'était une foi de rituel. On y croit mais on peut s'en passer. Dans la jungle, je ne pouvais pas m'en passer. Ça a été ma force, puis c'est devenu une présence absolue. Pour moi, c'est une réalité plus que réelle. Comme je vois cette table, et que je la touche.
- C'est une rencontre avec Dieu?
Oui, bien sûr. Pas mystique: je n'ai pas entendu de voix, je n'ai pas vu d'image. Mais j'ai une profonde conviction de son amour.
J'ai trouve cet extrait d'un interview avec Ingrid Betancourt ici
Ingrid Betancourt a rencontré la Communauté de Sant'Egidio à laquelle elle a voulu exprimer sa gratitude pour le travail accompli en sa faveur au cours de ses longues années de captivité.
Lire la suite et voir les photos ici sur le site de la Communauté de Sant'Egidio.
Benoît XVI reçoit Ingrid Betancourt et sa famille . Benoît XVI a reçu Ingrid Betancourt et sa famille, ce lundi matin, 1er septembre, commme la Franco-colombienne en avait exprimé le désir le jour de sa libération, le 2 juillet dernier...« La voix du pape a été une lumière et depuis ma libération je voulais le voir et l'embrasser ». Le jour de la libération. A son arrivée sur le tarmac de la base militaire colombienne de Catam, mercredi 2 juillet, Ingrid Betancourt avait eu un geste significatif et silencieux, avant même d'avoir un micro pour parler : le signe de la croix. Autre geste significatif : elle a d'abord voulu s'agenouiller pour prier, avec sa mère, agenouillée à sa droite, et quelques autres personnes, dont des compagnons de captivité. L'aumônier militaire a guidé la prière. Tout en remerciant ses libérateurs, elle avait ajouté : « Dieu nous a fait ce miracle, ceci est un miracle ». Lire l'article en entier sur Zenit ici.
St. Clare's Retreat: un centre de retraite tenue par des Soeurs Franciscaines, dans les collines au dessus de Santa Cruz, en Californie. Un oasis de paix et de recueillement, de simplicité et de prières.
"Regardez donc les lis des champs, disait Jésus a ses apôtres, ils sont beaux, et c'est Dieu qui les a faits." " Regardez donc les oiseaux du ciel, ils sont insouciants et joyeux, et c'est Dieu qui les nourrit. " Les apôtres, qui voulaient apprendre a prier, se doutaient-ils que Jésus leur apprenait ainsi la plus belle des prières ? Le grand émerveillement de l'homme au milieu du monde de Dieu, émerveillement qui est a la fois la grand tache de l'homme et la forme la plus belle et la plus pure de la prière parce que c'est pour cela d'abord que Dieu a fait l'homme.
Extraits des Chemins de la prière, par G. Brossard, Prêtre de l'Oratoire.
Utiliser ses fautes pour mieux s'humilier.
La thèse admirablement démontrée dans la Somme de saint Thomas : " L'orgueil est, par nature, le pire de tous les péchés, plus grave que l'infidélité, le désespoir, l'homicide, la luxure, etc.… " La raison en est, continue-t-il, son aversion de Dieu. Dans les autres péchés, l'homme se détourne de Dieu par ignorance, par faiblesse, ou par le désir d'un bien quelconque. Mais l'orgueil détourne de Dieu, uniquement parce qu'il ne veut pas se soumettre à Dieu et à sa loi. C'est pourquoi, dit Boece, pendant que tous les vices fuient Dieu, l'orgueil seul lui tient tête. Si nous ne pouvons acquérir beaucoup de vertus, disait sainte Chantal, ayons au moins l'humilité. " C'est précisément sur cette absence de vertus sincèrement reconnue, c'est-à-dire sur la vraie notion que nos fautes nous donnent de notre pauvreté spirituelle et de notre néant, que nous pouvons asseoir la vertu mère de toutes les autres. L'humilité est appelée fondement de l'édifice spirituel, parce que Dieu, à qui seul appartient de bâtir, comme dit le prophète (Ps 126), n'édifiera jamais que sur le grand vide que nous aurons creusé par la vraie connaissance de nous même. "
Extraits de "L'Art d'utiliser ses fautes d'après Saint François de Sales" par Joseph Tissot.
Le Père Patrick Byrne, Secrétaire General de l'Association de la Sainte Enfance, annonce la sixième "Heure Sainte Eucharistique pour les Enfants du Monde".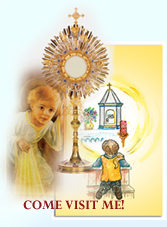 C'est aussi le 100ème anniversaire du Bienheureux Francisco ; l'un des trois petits bergers de Fatima.


Venez vous joindre a moi et avec le Bienheureux Francisco et les enfants des écoles qui seront rassemblés au Sanctuaire National de la Basilique de l'Immaculée Conception a Washington DC, le premier vendredi d'octobre, le 3. Nous aurons une procession magnifique avec une belle statue de Notre Dame de Fatima et nous prierons en face du Saint Sacrement et nous nous joindrons a un chapelet de la mission du monde. La chaine de télé EWTN transmettra cet événement dans 40 pays différents, unissant spirituellement tous les enfants du monde pour prier pour la paix dans nos familles et dans le monde. Le Saint Père Pape Benoit XVI compte sur les prières des enfants, venez vous joindre a nous !


Pour plus d'information, venez voir ici at wwww.childrenoftheeucharist.org
Comme tout autre problème concernant la vie humaine, le problème de la natalité doit être considéré, au-delà des perspectives partielles - qu'elles soient d'ordre biologique ou psychologique, démographique ou sociologique - dans la lumière d'une vision intégrale de l'homme et de sa vocation, non seulement naturelle et terrestre, mais aussi surnaturelle et éternelle. Et puisque, dans leur tentative de justifier les méthodes artificielles de contrôle des naissances, beaucoup ont fait appel aux exigences soit de l'amour conjugal, soit d'une " paternité responsable ", il convient de bien préciser la vraie conception de ces deux grandes réalités de la vie matrimoniale.
L'amour conjugal révèle sa vraie nature et sa vraie noblesse quand on le considère dans sa source suprême, Dieu qui est amour, " le Père de qui toute paternité tire son nom, au ciel et sur la terre ". Le mariage n'est donc pas l'effet du hasard ou un produit de l'évolution de forces naturelles inconscientes: c'est une sage institution du Créateur pour réaliser dans l'humanité son dessein d'amour. Par le moyen de la donation personnelle réciproque, qui leur est propre et exclusive, les époux tendent à la communion de leurs êtres en vue d'un mutuel perfectionnement personnel pour collaborer avec Dieu à la génération et à l'éducation de nouvelles vies.
De plus, pour les baptisés, le mariage revêt la dignité de signe sacramentel de la grâce, en tant qu'il représente l'union du Christ et de l'Eglise. C'est avant tout un amour pleinement humain, c'est-à-dire à la fois sensible et spirituel. Ce n'est donc pas un simple transport d'instinct et de sentiment, mais aussi et surtout un acte de la volonté libre, destiné à se maintenir et à grandir à travers les joies et les douleurs de la vie quotidienne, de sorte que les époux deviennent un seul cœur et une seule âme et atteignent ensemble leur perfection humaine.
C'est ensuite un amour total, c'est-à-dire une forme toute spéciale d'amitié personnelle, par laquelle les époux partagent généreusement toutes choses, sans réserves indues ni calculs égoïstes. Qui aime vraiment son conjoint ne l'aime pas seulement pour ce qu'il reçoit de lui, mais pour lui-même, heureux de pouvoir l'enrichir du don de soi.
C'est encore un amour fidèle et exclusif jusqu'à la mort. C'est bien ainsi, en effet, que le conçoivent l'époux et l'épouse le jour où ils assument librement et en pleine conscience l'engagement du lien matrimonial. Fidélité qui peut parfois être difficile, mais qui est toujours possible et toujours noble et méritoire, nul ne peut le nier. L'exemple de tant d'époux à travers les siècles prouve non seulement qu'elle est conforme à la nature du mariage, mais encore qu'elle est source de bonheur profond et durable.
C'est enfin un amour fécond, qui ne s'épuise pas dans la communion entre époux, mais qui est destiné à se continuer en suscitant de nouvelles vies. " Le mariage et l'amour conjugal sont ordonnés par leur nature à la procréation et à l'éducation des enfants. De fait, les enfants sont le don le plus excellent du mariage et ils contribuent grandement au bien des parents eux-mêmes ."

Extraits des paragraphes 7, 8 et 9 Humanae Vitae.
Le site de l'année jubilaire consacrée à saint Paul : www.annee-jubilaire-saint-paul.fr ici . Une année avec saint Paul : commentaire de versets choisis des épîtres de l'Apôtre; des pelerinages, des voyages, des livres et des sermons, et beaucoup de liens et d'information sur cette annee de saint Paul.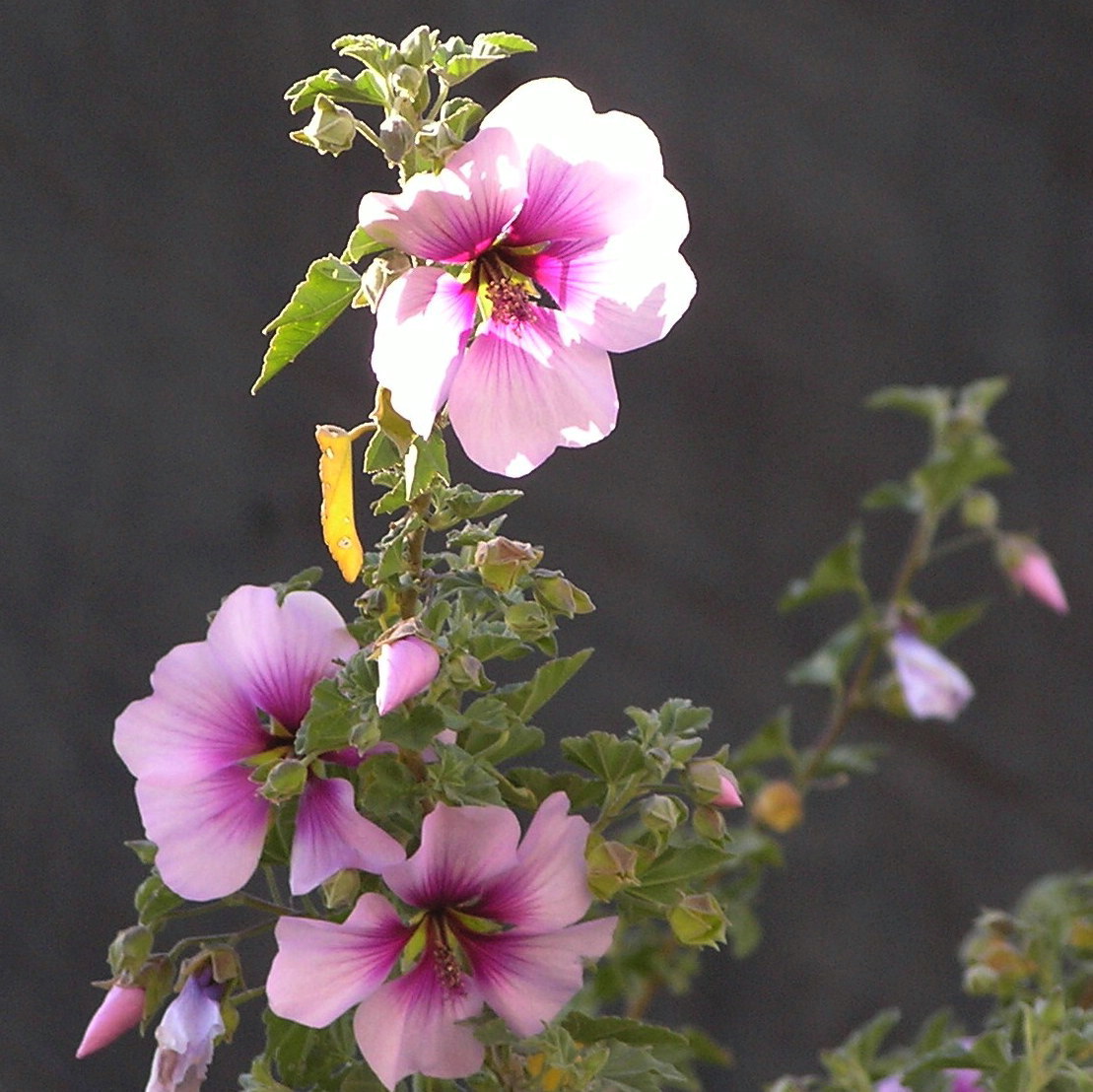 Tout est pur pour les purs.
Mais pour ceux qui sont souillés
et qui n'ont pas la foi,
rien n'est pur.
(La lettre de Saint Paul a Tite 1:15)
Car ce n'est pas nous que nous prêchons, mais le Christ Jésus, Seigneur ; nous ne sommes, nous, que vos serviteurs, à cause de Jésus. Car tout cela arrive à cause de vous, pour que la grâce, se multipliant, fasse abonder l'action de grâces chez un plus grand nombre, à la gloire de Dieu. Nous sommes donc ambassadeurs du Christ ; c'est comme si Dieu exhortait par nous. Nous vous en supplions au nom du Christ : laissez-vous réconcilier avec Dieu.
Saint Paul. Extraits de la Second Lettre aux Corinthiens, chapitre 5. La Bible de Jerusalem
La brume sur la baie. C'est l'été.
Les JMJ en Australie! Sydney vient de vivre une semaine exceptionnelle, un moment privilégié…
En voici des extraits :

Homélie du cardinal André Vingt-Trois, Archevêque de Paris : Vous l'avez entendu dans le livre du prophète Isaïe : à défaut de convertir les cœurs, on convertit les chants, les cantiques. On organise de grandes fêtes, des fêtes monstres, où l'on fait étalage de nos bons sentiments. Si cela peut passer à la télévision, c'est encore mieux. A défaut, on fait confiance à Dieu qu'il jette un œil là-dessus quand même et se dise : " C'est pour moi qu'ils font tout cela ". Seulement, vous l'avez entendu : " Très bien, profitez de vos fêtes, mais ce que je veux, ce qui me plaît, ce ne sont pas vos fêtes, ce sont vos cœurs.". Dieu veut bien recevoir nos fêtes et nos chants et nos danses et nos offrandes, à condition que nous ne lui refusions pas la seule offrande qui lui plaise, c'est-à-dire nous-mêmes. … Entendre la question : " Que veux-tu faire de ta vie ? Veux-tu la garder, la défendre, la protéger, ou es-tu prêt à la donner ? "

Homelie de la messe d'ouverture, par le cardinal Pell, Achevêque de Sydney: Je commence par accueillir et encourager tous ceux, où qu'ils soient, qui se considèrent égarés, en détresse profonde, sans espérance ou même épuisés. Jeunes et vieux, hommes et femmes, le Christ continue d'appeler ceux qui souffrent à venir à lui pour être guéris, comme il le fait depuis deux mille ans. La cause de la blessure est quelque chose de secondaire, qu'il s'agisse de la drogue ou de l'alcool, des divisions familiales, des désirs de la chair, de la solitude ou de la mort. Peut-être même de la vacuité du succès…. La seconde lecture de la lettre de St Paul aux Galates nous montre la bonne direction, nous rappelant tous que chacun doit prendre position dans la lutte séculaire entre le bien et le mal, entre ce que Paul appelle la chair et l'Esprit. Ce n'est pas suffisant d'être seulement un passager, d'essayer de vivre en zone neutre entre les parties qui s'affrontent. La vie nous force à choisir et finit par détruire la possibilité de neutralité. Nous donnerons de bons fruits en apprenant le langage de la Croix et en l'inscrivant dans nos coeurs. Le langage de la Croix nous apporte les fruits de l'Esprit qui sont énumérés par Paul , nous permettant d'être habités de la paix et de la joie, et d'être gentils et généreux envers notre prochain. Suivre le Christ a un coût, n'est pas toujours facile, car cela requiert de combattre ce qui St Paul appelle " la chair ", notre ego implacable, notre bon vieil égoïsme. C'est toujours un combat, même pour un senior comme moi ! Ne vivez pas votre vie sans prendre position, mais posez des choix car seulement l'engagement apporte la plénitude.

RENCONTRE AVEC DES JEUNES EN DIFFICULTE : DISCOURS DE BENOIT XVI:
Les faux " dieux ", quels que soient le nom, l'image ou la forme que nous leur attribuions, sont presque toujours liés à l'adoration de trois réalités : les biens matériels, l'amour possessif, le pouvoir.
Les biens matériels, en soi, sont des choses bonnes. Nous ne survivrions pas longtemps sans argent, sans vêtements et sans logement. Pour vivre, nous avons besoin de nourriture. Mais, si nous sommes avides, si nous refusons de partager ce que nous avons avec l'affamé et avec le pauvre, alors nous transformons ces biens en une fausse divinité. Combien de voix, dans notre société matérialiste, nous disent que le bonheur se trouve en s'appropriant le plus grand nombre possible de biens et d'objets de luxe ! Mais cela signifie transformer les biens en fausses divinités. Au lieu de donner la vie, ils donnent la mort. L'amour authentique est certainement quelque chose de bon. Sans lui, la vie serait difficilement digne d'être vécue.
L'amour réalise notre aspiration la plus profonde ; et quand nous aimons, nous devenons plus pleinement nous-mêmes, nous devenons plus pleinement humains. Mais comme il est facile de transformer l'amour en une fausse divinité ! Souvent, les gens pensent aimer alors qu'en réalité, ils tendent à posséder l'autre ou à le manipuler. Parfois, les gens traitent les autres comme des objets pour satisfaire leurs propres besoins plutôt que comme des personnes à apprécier et à aimer. Comme il est facile d'être trompés par les nombreuses voix qui, dans notre société, défendent une approche permissive de la sexualité, sans prêter attention à la pudeur, au respect de soi et aux valeurs morales qui confèrent aux relations humaines leurs qualités ! C'est là adorer une fausse divinité. Au lieu de donner la vie, elle donne la mort.
Le pouvoir que Dieu nous a donné de façonner le monde autour de nous est certainement quelque chose de bon. Utilisé d'une façon appropriée et responsable, il nous permet de transformer la vie des gens. Toutes les communautés ont besoin de bons dirigeants. Mais combien est forte la tentation de s'attacher au pouvoir pour lui-même, de chercher à dominer les autres ou d'exploiter le milieu naturel pour ses propres intérêts égoïstes ! C'est là transformer le pouvoir en une fausse divinité. Au lieu de donner la vie, cela donne la mort. Le culte des biens matériels, le culte de l'amour possessif et le culte du pouvoir conduisent souvent les gens à " se comporter comme Dieu " : chercher à assumer un contrôle total, sans prêter aucune attention à la sagesse et aux commandements que Dieu nous a faits connaître. C'est là la route qui conduit à la mort. Au contraire, l'adoration de l'unique et vrai Dieu signifie reconnaître en lui la source de tout ce qui est bien, nous confier à lui, nous ouvrir à la force de guérison de sa grâce et obéir à ses commandements : là est la route de la vie….
Lire les textes en entier sur Zenit.org ici .
La prière est le cœur de la Communauté de Sant'Egidio et elle est sa première œuvre. La force faible de la prière: Rien n'est possible sans la prière, tout est possible par la prière faite avec foi. Les habitants de Nazareth, avec leur incrédulité, empêchèrent même au Seigneur de faire des miracles. Lire plus ici . Et lisez leur section sur LA PAIX: "Ces dix dernières années, la Communauté Sant'Egidio est obtenu une reconnaissance internationale pour sa contribution à la construction de la paix dans le monde. Dans les médias, on parle de "l'ONU du Trastevere" ou des "diplomates de Sant'Egidio". Dans l'Eglise catholique et dans les autres Eglises, on regarde la Communauté comme une référence où souffle fort l'esprit d'unité entre Chrétiens.
On ne peut pas aimer quelqu'un qui vous veut du mal mais on peut trouver, et moi je le trouvais dans le Christ, une assise, comme un tremplin. Je me disais: "Pour Toi, Seigneur, je ne vais pas dire que je le deteste." Le fait de ne pas avoir ces mots de haine dans la bouche etait comme un apaisement.
Ingrid Betancourt dans l'interview de La Croix ici
expliquant comment elle a put s'élever au dessus de la haine pour ses cruels géoliers pendant sa captivité.
J'ai écrit une Lettre Ouverte a Ingrid Betancourt, car je l'admire beaucoup et je la remercie pour tout ce qu'elle nous a déjà apporté… beaucoup de joie, d'espoir et un message de paix. C'est énorme et c'est merveilleux! Lire ma lettre ici et voir ma meditation/diaporama sur La Tres Sainte Marie.
Ingrid Bétancourt est libre! Quelle bonne nouvelle, j'en suis si heureuse. Finalement, après toutes ces années de captivité, elle retrouve la liberté, elle est réunit avec sa mère et ses enfants, avec sa famille et ses amis. Une operation de sauvetage impeccable, 15 personnes libérées en tout, dont 3 americains, le tout sans bavure, c'est une grande joie, un grand soulagement: Merci, Seigneur! Voir plus sur le site lefigaro.fr ici ou bien sur le site de La Croix: ici la-croix.com