January to May 2009 - Sharing the faith… in English:
Northern California, March 2009 Flowers in the Parkside neighborhood of San Francisco; the Golden Gate Bridge viewed from 101 South; a farm in Sonoma county in the hazy afternoon light; the fields with mustard flowers along the Russian River; low tide in Gallinas Creek in Marin; birds facing the sunset in Bodega Bay; Point Bonita Lighthouse; the Pacific Ocean at the entrance of the Golden Gate. See my slide show here
Mary, the New Eve. Mary was never going to be a mother either. She was born to aged parents who never quite gave up the hope of children, and, reminiscent of Hannah with her son Samuel, they committed her to the Lord and took her to the Temple. There she was to live, undefiled. The priests knew there was something special about her ... Read more here on today's challenges and today's joys of being a woman, a wife and a mother. A very pertinent and funny article by Sarah Reinhard on Catholic Exchange: Today's Catholic Woman.
Some beautiful images and icons to ponder re: the Passion and the Cross... found on a very interesting blog "Stranger in a strange land"... here
The Deification of Desire In our day and age, the deification of desire still occurs. Jesus tells us, "Where your treasure is, there will be your heart also." (Luke 12:34). Many people are still willing to practice idolatry by the attention and craving for money, power and sex. Read more on the blog "Love Undefiled" here
Today is the feast of Saint Joseph, protector of the Holy Family, Guardian of the Redeemer, patron of carpenters and all craftsmen, Joseph is prudent, humble and quiet but strong, steadfast and just!
"May Saint Joseph become for all of us an exceptional teacher in the service of Christ's saving mission, a mission which is the responsibility of each and every member of the Church: husbands and wives, parents, those who live by the work of their hands or by any other kind of work, those called to the contemplative life and those called to the apostolate". JPII Read more here
Are you familiar with the Franciscan Friars of the Renewal and Fr. Groeschel? They are doing terrific work in NY and here is a short and beautiful video on them. It is called "The Joy" See here . "Welcome to the official web site of the Community of the Franciscan Friars of the Renewal. While having a web site, we do not have computers or internet in our friaries - a franciscan paradox! Please contact us with any suggestions or problems with the site via telephone or snail-mail. We wanted the site to have a "Rebuild My House" theme both visually and informationally. You may notice the small stone chapel which is a replica of the Portziuncula (small portion), Our Lady of the Angels chapel which was rebuilt by Saint Francis after Christ spoke to him from the San Damiano Crucifix. "Francis, Rebuild my house, which you see is falling into ruin..." This experience of Saint Francis is at the heart of the franciscan charism…" Read more here
Why the popularity of Twitter? Because God designed us for relationships and connectedness …
The creation is all about love (the love of God and the love of neighbor) and even a one-line personal comment (trivial or not) on Twitter re-enforces the bonds between us. A very interesting perspective in Jesse Carey's article: The Twitter manifestation. Read it : here
The text of the Pope's Letter to the Bishops, with his reasons and explanations and his recommendations so he will "contribute to peace in the Church". Here are some passages of the Letter:

"An unforeseen mishap for me was the fact that the Williamson case came on top of the remission of the excommunication. The discreet gesture of mercy towards four Bishops ordained validly but not legitimately suddenly appeared as something completely different: as the repudiation of reconciliation between Christians and Jews, and thus as the reversal of what the Council had laid down in this regard to guide the Church's path. That this overlapping of two opposed processes took place and momentarily upset peace between Christians and Jews, as well as peace within the Church, is something which I can only deeply deplore.

Was this measure needed? Was it really a priority? Aren't other things perhaps more important? Leading men and women to God, to the God who speaks in the Bible: this is the supreme and fundamental priority of the Church and of the Successor of Peter at the present time. A logical consequence of this is that we must have at heart the unity of all believers.

In our days, when in vast areas of the world the faith is in danger of dying out like a flame which no longer has fuel, the overriding priority is to make God present in this world and to show men and women the way to God. Not just any god, but the God who spoke on Sinai; to that God whose face we recognize in a love which presses "to the end" (cf. Jn 13:1) - in Jesus Christ, crucified and risen. The real problem at this moment of our history is that God is disappearing from the human horizon, and, with the dimming of the light which comes from God, humanity is losing its bearings, with increasingly evident destructive effects. "

(Recently) "I had to interpret and comment on Galatians 5:13-15. I was surprised at the directness with which that passage speaks to us about the present moment: "Do not use your freedom as an opportunity for the flesh, but through love be servants of one another. For the whole law is fulfilled in one word: 'You shall love your neighbour as yourself'. But if you bite and devour one another, take heed that you are not consumed by one another." But sad to say, this "biting and devouring" also exists in the Church today, as expression of a poorly understood freedom. Should we be surprised that we too are no better than the Galatians? That at the very least we are threatened by the same temptations? That we must always learn anew the proper use of freedom? And that we must always learn anew the supreme priority, which is love? "

Read the full text on Chiesa here
The Beatitudes commented by Saint Thomas. The gospel blessings. We say a goal is within our grasp when it is close enough for us to have sure hope of attaining it. What brings us close to the blessing of eternal happiness is exercise of the virtues and especially the gifts. So the blessings pronounced by Christ in the gospels and called beatitudes are not disposition distinct from the virtues and gifts but actions exercising them. Certain actions are proposed in these blessings as deserving happiness and disposing us to possess it, either tentatively or perfectly; and what is presented as reward for those actions is either the perfect happiness of the life to come, or some inchoate beginning of it found in perfect men here and now.
Thus the kingdom of heaven can be taken to mean the start of the reign of the Spirit in wise men,
the possession of the earth to mean the heart's repose in desire of a sure and everlasting inheritance and so on.
All of which will be perfectly realize in our heavenly home.
A life devoted to pleasure is a false happiness which hinders the true happiness of the life to come. But the happiness of a life active in doing good prepares for true happiness and the happiness of a contemplative life is already true happiness beginning.
Blessed are the poor in spirit dissuades us from seeking an abundance of external goods.
Blessed are the meek dissuades from aggressive emotions
Blessed are those who mourn from affective emotions; the life of doing good is chiefly one of paying dues and spontaneous giving to our fellowmen;
Hence blessed are those who hunger and thirst after justice and blessed are the merciful.
The contemplative life does not so much deserve blessing as constitute it, but those effects of the active life which dispose us to contemplation, both in ourselves and in relation to our fellowmen, are mentioned:
blessed are the clean of heart and blessed are the peacemakers.

Mother Teresa See these wonderful reflections on Mother Teresa. Many pictures and souvenirs and quotes and texts. Check it out! I fond these beautiful pages dedicated to her on EWTN. As far as I am concerned, I found her dedication to serve Christ very inspiring, even if I'm only able to do about 1% of what she did... But that does not change the fact that seeing pictures of her or reading about her always inspire me to turn to Christ again, today even more than yesterday. "Mother Teresa marked the history of our century with courage. She served all human beings by promoting their dignity and respect, and made those who had been defeated by life feel the tenderness of God.'' Pope John Paul II. Read more here
Photos of Ash Wednesday There is a very good photos album of Ash Wednesday observants, with pictures taken here in San Francisco and around the world. Found here in the San Francisco Chronicle website.
Are you familiar with the apparitions at La Salette in France? "Make this message known to all my people." These words were first spoken by Our Lady on September 19, 1846 to two little children, Maximin and Melanie, near the small town of La Salette, close to Grenoble, France. See many beautiful and recent pictures of the Basilica built on the apparitions site (pictures taken in January 2009, with much snow, and older pictures taken in 1960) and with the complete text of Our Lady's message. Keep scrolling down and the many pictures will give you a very good idea of the site, the history, the Basilica, the surrounding mountains, etc… Most of the site is in French but with some English translations. Check it out here (photo published with the owner's permission).


Or read a detailled account of the apparitions at La Salette here on the Catholic Encyclopedia: New Advent.
Tomorrow is the beginning of Lent 2009! Tomorrow is Ash Wednesday and it is a day to practice humility and simplicity, to concentrate exclusively on worship and work and love of neighbor, to turn away from ourselves and from the avalanche of distractions that usually keeps us forever busy and entangled in ourselves and in our own needs. It is the beginning of a crucial journey and it starts with a day of fasting.

The Church goes right to the point and says: "Turn away from sin!"

In subtle ways, I have changed the way I used to look at fasting. I used to look at it more as an exercise of the will, an effort in detaching myself from food and offering this effort to God. But slowly over the years, I started to look at it as a gift more than an effort, the gift of a certain "freedom" and using this freedom (interiorly and exteriorly) as a blessed moment, a moment that will clear up a special space to better welcome God in my life…. In practicality, fasting is still very hard for me and I would struggle even more on my own but thanks to the fact that I am a member of the Church, I am supported and encouraged by others, in visible and invisible ways, and for this, I am very grateful. Here are some more thoughts on fasting from a variety of sources:

We can fast for many reasons, for dieting and improving our self-image, for medical tests or even for political reasons but "in religious fasting, the focus is always away from ourselves and centered on God. Religious fasting - going without food temporarily in order to enhance one's relationship with God - is primarily focused on God and it is linked to prayer and almsgiving. Far from being disciplinary drudgery, fasting in the Christian tradition has been undertaken for the spiritual freedom and heightened awareness of God's loving presence that may accompany it. But "fasting" is not an end in itself, neither is the kind or degree of fasting, what matters most is the intention: Christian fasting is always motivated by a desire for conversion of the heart. (Fasting: A Positive Approach by Mark Neilsen).

Since all of us are weighed down by sin and its consequences, fasting is proposed to us as an instrument to restore friendship with God… Saint Peter Chrysologus writes: "Fasting is the soul of prayer, mercy is the lifeblood of fasting. So if you pray, fast; if you fast, show mercy; if you want your petition to be heard, hear the petition of others. If you do not close your ear to others, you open God's ear to yourself" … In our own day, fasting seems to have lost something of its spiritual meaning, and has taken on, in a culture characterized by the search for material well-being, a therapeutic value for the care of one's body. Fasting certainly bring benefits to physical well-being, but for believers, it is, in the first place, a "therapy" to heal all that prevents them from conformity to the will of God. At the same time, fasting is an aid to open our eyes to the situation in which so many of our brothers and sisters live. In his First Letter, Saint John admonishes: "If anyone has the world's goods, and sees his brother in need, yet shuts up his bowels of compassion from him -- how does the love of God abide in him?" Voluntary fasting enables us to grow in the spirit of the Good Samaritan, who bends low and goes to the help of his suffering brother. By freely embracing an act of self-denial for the sake of another, we make a statement that our brother or sister in need is not a stranger. (Pope's Lenten Message for 2009 Zenit.org) here

According to the Bible, it is through food that Satan conquered man and became his master. Man has tasted of the forbidden fruit, and in doing so has become enslaved to food, so that his whole existence depends on it. This is why fasting, in this biblical perspective, is not to be equated with a mere moderation in eating, with a kind of elementary hygiene. The genuine fast, the true abstinence, the one which the Church glorifies in her holy "fasters," is indeed a challenge to the so called laws of nature and through them to Satan himself. For nothing hurts him more, nothing destroys his power more than this transcending by man of the laws, of which he has convinced man that they are "natural" and "absolute." Without food man dies therefore his life depends entirely on food. And yet by fasting, i.e., by refusing voluntarily food man discovers that he lives not by bread alone. And then fasting becomes the denial of what has become "necessary," the real mortification of that flesh which depends entirely and exclusively on the "unescapable laws of nature." In fast, man reaches that freedom which he has lost in sin, recovers in the cosmos the Kingship he had annihilated by transgressing the will of God. Fasting is a free return to the fulfillment of that commandment which Adam has transgressed. Accepting it, man again receives food as a Divine gift, food ceases to be a "necessity" and becomes the very image of the messianic banquet, for "eat in order to live" has become again "live in God." This idea of fasting rooted in Christ's forty days of fasting and His encounter with Satan, is the foundation of the ascetical fast, which one must distinguish (but not separate) from the eucharistic fast, defined above as a state of preparation and expectation. (Fast and Liturgy by Alexander Schmemann) here
A wonderful video testimony, in French. I am putting the link here (and also in the French column) regarding the wonderful testimony of a young French woman, her conversion, and her newly found love and understanding of the Mass. She speaks very eloquently and movingly about the Lord, what the Church teaches, about chastity and marriage... See here the video (in French) on the site Jeunesse-Lumiere.
I love conversion stories! And the reason why I love them is because it is all about love, the love of God that touches us first and then the love within us that bubbles up in response once we realize what is going on.... Stephanie wrote in details about the very early stages of the various pulls and tugs within her mind - and her heart - that made her become attentive to the Church and finally see it as the Body of Christ. Read more here on la vie catholique.
"The Figure of St. Paul Is Magnified Beyond His Earthly Life, he has left in fact an extraordinary spiritual heritage". Pope Benedict XVI gives a concise historical and theological outline of Saint Paul's death and legacy in Christianity. It is certain that in St. Paul, the centrality of the Kingdom of God, determinant for the proclamation of Jesus, is transformed in the centrality of Christology, whose determinant point is the Paschal mystery. And from the Paschal mystery, come the sacraments of baptism and Eucharist, as a permanent presence of this mystery, from which the Body of Christ grows, and the Church is built. Read more on Zenit: here
The current crises is a crises of morals. In his chapter on Virtues, Saint Thomas said:
"Activities like buying and selling raise the question of what is due to others and require a virtue of their own (justice) to control this.
(Summa Theologiae, page 238 of "A Concise Translation" by Timothy McDermott). Justice? And its twin sister Honesty? The recently revealed debacle of ethics in the banking, financing, investing, speculating and other money making affairs underscore the fact that when some of us abandon the virtues of justice and sincerity, everyone ends up suffering; that when there is a certain laissez-faire toward stuffing you own pockets or gorging yourself on pyramids of fluff, then a general fiasco is right around the corner. We are forced to re-learn the important lesson that, for free-markets to be sustainable and flourish, what is even more necessary than freedom, is the practice of integrity and justice.
Metropolitan Kirill is elected to the Moscow Patriarchal Throne. See text and pictures on the official Moscow Patriarchate here. Kirill is a charismatic and popular figure in Russia, with a wide following as the presenter of a weekly television programme on religious affairs. He is regarded as a moderniser and the Church's most able diplomat, having led its powerful department for external relations since 1989. His election is likely to strengthen efforts to heal the 1,000-year-old schism between Russian Orthodoxy and Roman Catholicism. He has said "There are values which are no less important than human rights. These values include faith, morality, and the sanctity of holy objects and one's homeland" according to Times on line here . On the current crises, he has also said that "the social-economical models we have now must be transformed and aim at greater political justice for the common good... the classic understanding of socialism is just as outdated as the classic one of capitalism." I read about Metropolitan Kirill on various sites and news reports and there is now a more hopeful outlook for better communications and more fruitful exchange between the Christians of the East and the West. May God bless Metropolitan Kirill!
Love and Welcome children! There is a very obfuscate and manipulative agenda nowadays that tells women that, on one hand, they should have "no limits on their dreams" and that, on the other hand, the quickest way to this dream is to promote more and more contraception and easy abortion (which is viewed as the best answer to get rid of "the crises") and it sends the clear message that children are a burden, that they are a problem, that they infringe on our personal freedom and that they are also a threat to society by sucking out too much of our resources (which would be better spent on ourselves)…. This children-denying agenda is in complete contradiction with the duty to live responsible and loving and caring lives and to share our resources (children being our first and most valuable resources). It is also true that it is up to women to counter this negative and selfish agenda by promoting true love and lasting commitment and by welcoming children as gifts of hope, as the biggest adventure of one's life, and to do it one mother at a time, one grand-mother, sister, daughter and girl-friend at a time. If we do it, consistently, lovingly and relentlessly, then men will espouse this agenda too (as many of them have always done, especially within the ranks of the responsible and loving and terrific ones!).
See the wonderful article by Genevieve Kineke on Catholic Exchange on Nancy Pelosi: Wayward Genius here .
Saint Francis of Sales Born in the French Alps in 1567, he was a gifted student and a wise man, he became a lawyer, decided to devote his life to Christ and preached His Good News to all; Francis was ordained a priest, became the Bishop of Geneva, counceling and preaching everyone in his path, dedicated to helping the poor, bringing back to the fold all who had turned astray, he was a terrific apologist and a true spritual leader and wrote many books; he died in Lyon and his body was brought back to Annecy (as was his wish) and along the way, the crowds gathered and tried to touch his coffin, showing how beloved he was; he was buried officially on January 24, 1622, in the Church of the Visitation in Annecy. He is a Doctor of the Church. The Salesian spirituality is based on a journey of humility combined with trust and joy. It is a combination of constantly growing in the virtue of humility, as far as our human power is concerned, but coupling it with a growing and total trust in the grace of God, and when these two poles are held firmly in our hearts and in our souls, then joy and charity will flow through our words and actions. I love Saint Francis of Sales! I found his words of advice always very inspiring. He loved the mountains of the Northern Alps. He preached charity and poverty and obedience and gentleness for the love of Christ. And, like him, I love the mountains and villages of Haute Savoie and I love Annecy, the city and the lake! Dear Saint Francis, pray for us in Northern California, help us turn away from material temptations and from selfish obsessions and help us hold strongly and firmly to the Word of God.
The Walk For Life West Coast 2009 = See pictures here !
Walking for Life is the opportunity to take a stand for life issues and family values, for going against the grain and walking for the sanctity of life, of every life. Because the truth is that there is no such thing as an unwanted life, every life is a gift. Trust that there will be along the way another family member or a dedicated teacher or a true friend who will see beyond the surface of things and treasure this life, even if its beginnings seemed rocky. That's the history of the people of the world! Things can change, blessings will follow hardships and moments of silence will follow moments of elated singing. Every life holds so much promise! We need to know this clearly in our own minds and hearts and to encourage and support the ones who cannot see it, that is what working for the common good is about, that is exactly what loving our neighbor should be. Choose Life!
What a beautiful sight! A Pro-Life billboard in San Francisco. One of the biggest lie of my generation, an obfuscate and malicious lie for that matter (although I must admit it is a very cleverly crafted one and it can appear so practical!) is the lie that abortion is a question of choice. Read more here
The Holy Spirit and The Gift to Choose by Mother Nadine. It is dawning on us more and more in these past few years at Bellwether, the power that God left to us after the fall. We lost everything in the garden but not our free will, not the power, not the gift to choose. Read more here on the "Holy Spirit Interactive" site, a charismatic "Catholic apostolate founded by Aneel Aranha, under the authority of the Vicariate Apostolic of Arabia, HSI believes in mutual respect between people, nations, and cultures"... A very interesting site and it comes from Dubai.
Money isn't the problem We can come up with billions of dollars to fund wars and bail out Wall Street and US car-makers. Even our presidential candidates collectively raised and spent over a billion dollars campaigning the past couple years. Yet, people struggle to obtain affordable healthcare, even going into bankruptcy as medical bills pile up. Or, people go without basic healthcare because they can't afford it, and end up getting sick and seeking expensive treatment in hospital emergency rooms. Read more here on Steve Bogner's blog.
Calling for a Day of prayer tomorrow, for peace in the Holy Land!
The observance has been called for by the churches of Jerusalem. Public demonstrations have been canceled, and only religious ceremonies remain. The custodian of the Holy Land and the Latin and Greek-Melkite patriarchs are renewing their appeal with a video message. As the conflict drags on, Fr. Pizzaballa says that "the factor of time is very important. The longer this situation goes on, the more difficult it becomes to resolve it, partly because hatred and the desire for revenge become stronger. So it is important to stop this immediately. Read more on the AsiaNews site here or read the joint statement by the Custodians of the Holy Land here .
It is urgent to pray and to demand peace, an immediate cease-fire and that humanitarian aid be allowed access.
Open Letter to my Guardian Angel for the Hour of my Death. My dear Angel, I know not when or how I shall die. It is entirely possible that I may be carried off suddenly and that before my last sigh I may be deprived of intelligence. Yet how many things I would wish to say to God on the threshold of eternity! In the full freedom of my will today, I come to charge you to speak on my behalf at that fearful moment. You will say to Him, O my dear Angel: that I wish to die in the Roman Catholic Apostolic Church in which all the Saints since Jesus Christ have died, and out of which there is no salvation; that I ask the grace of sharing in the infinite merits of my Redeemer and I desire to die in pressing to my lips the cross that was bathed in His Blood; that I detest my sins because they displease Him; that I pardon through the love of Him all my enemies as I wish myself to be pardoned; that I die willingly because He orders it and that I throw myself with confidence into the mercy of His sacred heart; that in my desire to go to Heaven I am disposed to suffer everything it may please His sovereign Justice to inflict on me; that I love Him before all things, above all things and for His own sake; and that I wish and hope to love Him with his Blessed Mother and the Saints and the Angels for all Eternity. Do not refuse, O my Angel, to be my interpreter with God and to protest to Him that these are my sentiments and my will. Amen.
On friendship between believers :
" It is not surprising if, despite being far apart, we are present to each other and, without being acquainted, know each other, because we are members of one body, we have one head, we are steeped in one grace, we live on one loaf, we walk on one road and we dwell in the same house."
Saint Paulinus of Nola writing to Saint Augustine
from Church Fathers, from Clement of Rome to Augustine, by Pope Benedict XVI.
Saint Stephen, pray for us! In my collection "There is more than meets the eyes" I thought today of the martyr of Saint Stephen, who was stoned to death about 2000 years ago (and I understand that this type of death is not instantaneous, it takes a little while, it takes more than one blow, it takes repeated blows to the head and the chest to bring about death) and who prayed for his assailants while dying under this attack, Stephen prayed for his enemies asking for blessings on their heads. His request brought about the conversion of one of the witnesses of his stoning, a young Jew, Saul, who was watching it from a small distance. Then Saul himself became Paul after meeting Jesus and experiencing a complete metanoia, a life-transforming event, a full conversion. Paul became the Great Apostle to the Gentiles and here we are, 2000 years later, celebrating globally the Year of Saint Paul! Thanks be to God who can reach and touch anyone with his grace! Thanks be to Stephen who turned a blow into a blessing.

In the news, there is much talk about "ze crisis" and I personally think that, more than a real estate or a financial crisis, we are really going through a global moral crisis where we have blurred the lines between good and evil, we lulled ourselves into thinking that right and wrong was relative and could be stretched and we have speculated again and again that this evil was not that bad afterall and that we could get away with it ... but we are now facing the dire consequences of our foolishness and the only possible answer lies in individual metanoia and the willingness to turn blows into blessings.
The Devil's Doctrine. By Brother André Marie. "There is a doctrine so diabolical, so sinister and wicked that it deserves, in this author's opinion, a unique claim to the name "The Devil's Doctrine." This teaching is sheer poison to the soul which embraces it. Like a spiritual AIDS, it kills the soul's built-in immune system, the conscience, and it convicts the sinner in his sins and errors almost without hope of conversion. It either throws the sinner into a bottomless despair for his sins, or (more often today) it forces him into another sin against the virtue of hope: the deadly sin of presumption. The doctrine is none other than the familiar Calvinist one of "perseverance of the saints," commonly expressed by that snidely presented query: "Are you saved, brother"? The teaching is totally unbiblical and untraditional. In other words, it isn't Christian." Read more here
The Monastery of Christ in the Desert. Stories from the Desert Fathers: one story on the damages of "an uncontrolled tongue, the mother of all the passions" then a second one on the importance of the prayer to God and finally, the last short story on anger. Read more here and check out their web site: http://christdesert.org/About_Us/index.html
The love of God and the True Faith. "Reading more on the life and teaching of St. Silouan of Mt. Athos, I found it interesting that what he thought of as "true faith" was the manifestation of the love of God in us towards all the world. " Read more here
"Caritas In Veritate" Within the next week or so will be published " Caritas In Veritate " and I can hardly wait! According to my antennas, it will be a re-evaluation of capitalism (the free market economy so dear to the West) and it will be a very rational, logical and instructive account (because that's how the author works!) on the fact that the AIM OF THE MARKET HAS TO BE THE COMMON GOOD, sharing resources and exercising solidarity with all (because that is the heart of Catholic social doctrines). The timing is absolutely perfect. Thanks to the internet, we will be able to read (and comment) this encyclical right away. I told you, I can't wait! Stay tuned.
Not for Lightweights . A Baptist preacher attends the Divine Liturgy at the Orthodox church of Saint Anthony the Great. Read his account of this different experience of worship, of this "challenge" to the faithful: " Shelby tried to tough it out. We were following along in the 40 page liturgy book that was only an abbreviation of the service we were experiencing. I got lost no less than 10 times. After 50 minutes Shelby leaned over and asked how much longer the service would be. I was trying to keep from locking my knees because my thighs had gotten numb. I showed her the book. We were on page 15. I flipped through the remaining 25 pages to show her how much more there was. Her mouth fell open. I made it through the entire 1 hour and 50 minutes of worship without sitting down, but my back was sore". Read more here .
The Caves of Cappadocia by Thomas Colyandro. Standing in the middle of this roughly 1,500-year-old Church I couldn't believe I was physically touching one of those ancient sites made holy by Christians who understood what it meant to believe. These people of Asia Minor knew in the pits of their stomachs that God became man; that He lived, died and rose again. At the very center of their lives - and often at the very cost of their lives - they believed that "God so loved the world that he gave his only Son". These people - who cut through rock with the most basic tools in order to build a temple for the Lord - knew without questioning. They knew their job was to honor Jesus and model themselves after Mary. They knew then by practice what we know by definition: that true worship is standing forever before God with your mind in your heart. Read more here on Catholic Exchange.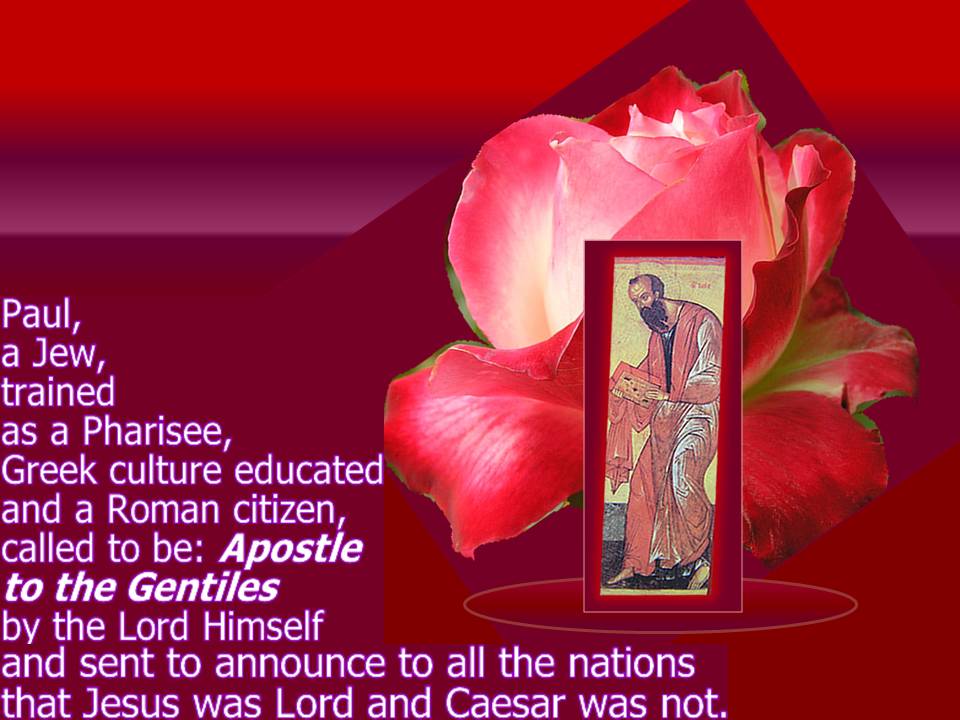 "Paul, in fresh perspective" a book by N.T. Wright here
My comment in the picture above is derived from this very good book and I believe that the message "Jesus is Lord and Caesar is not" applies to TODAY! You can replace "Caesar" by the name of any famous and powerful leader, whether they are President, King or Queen, or climate guru, famous scientist past of present (such as Darwin or Dawkins) or by any one of the powerful billionaire Good Club (whether it is Bill Gates or Buffett, Rockefeller, Soros or Turner), any one of them should remember to say to the person that they see every morning in the mirror: "Jesus is Lord and I am not"... "Saint Paul, pray for us!"
It is Pentecost ! May the fruits of the Holy Spirit bring us peace and justice, wisdom and charity, may these fruits blossom through us, in our actions and in our voices, in our hearts and in our minds and in our souls. We need you, Holy Spirit!

I found these most beautiful Litanies here . It's interesting to see that the French version of this prayer is fuller, it is a bit more detailled. But anyhow, whether in French or in English, it is a beautiful prayer and it is much needed in our divided world.
The Rose Garden in the Golden Gate Park is in full bloom at this time of the year. It is really a lovely spot, quiet and sheltered from the wind, it is like a little retreat in the center of the City and it is free. Bring a book, sit on a bench, and "befriend" the roses... Talk about Slow Food for the soul! See my own slide show of the roses of 2009 here
I just finished a wonderful book about the lives and faith of Benedictines nuns in England in the early sixties. The story starts when one highly successful business woman, a leader, a widower, leaves her career to enter the Abbey. The book will cover the next ten years, her vocation development, her faith maturity. The story of the whole abbey is told in the process, and it is wonderfully told, with much love and respect and a keen understanding of the Church as the Body of Christ. The story includes young postulants, the period of testing, the ones who make it and the ones who do not, the working of the abbey, how it is run, what it needs to survive, the relationships between the nuns, the young and the old ones, with their impact on their own families and friends and the world at large. It is amazing how much happens in one monastery with silent cloistered nuns! Death and life, suffering and struggling, joy and happiness and forgiveness, friends vs rivals, devotions or doubts, artists, writers, zeal and faithfulness from a far away country (Japan), and the constant singing and praying forming one huge symphony for the love of God! The book is: In this house of Brede, by Rumer Godden. Here are some excerpts:
On the Liturgical Year:
In the Benedictine Monastery, Dame Clare told the novitiate: "Our Cardinal has said the liturgy entertains as well as feeds us." "Entertains?" Hilary was so flatly dubious that all the others laughed. "Yes, we're not angels but humans", said Dame Clare, "and human nature is made so that it needs variety. The Church is like a wise mother and has given us this great cycle of the liturgical year with its different words and colours. You'll see how you will learn to welcome the feast days and the saint's days as they come round, each with a different story and, as it were, a different aspect; they grow very dear, though still exacting."
On the life of prayer:
Phillippa, attempting to explain the life of the Benedictine nuns to her friend Richard: "Have you ever tried to pray for fifteen minutes, even five, without letting your attention wander? The Office at Brede takes six hours, and we have private prayer as well." "But what use is it?" Richard had been exasperated. This had been in the days when Phillippa had first told him of her intention, and been involved in endless and fruitless arguments; how strange that two people, both speaking English, should yet be using different languages. "What use?". "Man, you always want everything to be immediate and apparent." McTurck, who had often come in on these arguments, had tried to help. "There are things visible and invisible". "Nowadays there's a tendency to make everything utilitarian - even the things of the spirit, beware of this. That wasn't the way of the saints, they did not set out to be of use". "And you needn't worry about being useful", said Dame Ursula. "When you have become God's in the measure He wants, He, Himself, will know how to bestow you on others." She was quoting Saint Basil. "Unless He prefer, for thy greater advantage, to keep thee all to himself". That does happen to a few people. Yet, paradoxically, they have the greatest influence". "Like a lay sister quietly saying her rosary". "Yes, because what is really apostolic, what really speeds God's glory, said Dame Ursula, is not the time given to work but the holiness of the worker." "Prayer has power". Phillippa had said to Richard.
On the dedication of a church:
The dedication of a church is the most important of all our rites," said Dame Agnes. "A ceremony so full of beauty and meaning that I pray it won't be robbed". The consecration puts the whole building, the roof, walls, and the spaces between them into a state of holiness. People often say they can feel the atmosphere in a church; so they should; it is, as the lesson from the Dedication Mass tells us, "God's tent pitched here on earth'. "Before its consecration the church is locked, empty; it stays locked while the Bishop circles it three times, three for the Blessed Trinity; only then is the door opened and he, representative of our Lord, signs it with his cross. "Veni Creator" is sung, the invocation of the Holy Sprit, who unfolds all mysteries to us; Greek and Latin letters are traced in ashes on the floor by the Bishop's staff, ashes for the humility needed to accept the teaching to be given here. The altar, the symbol of Christ, is signed in five places, for his five wounds, with Gregorian water which holds ashes for death, salt for resurrection, wine for Christ; then the whole church is sprinkled. Relics are brought, representing the members of Christ, and are enshrined and sealed with chrism in a hollow in the altar and altar stone, then the whole altar is covered with the oils, signifying the anointing, the fire of the Holy Spirit, charity, is lit on it, four piles of incense burnt at the corners. "Twelve crosses with candles are anointed too and put on the walls; twelve for the twelve apostles; those crosses are the sign of a consecrated church. It is now the expression of all the mysteries which make the essence of the Church Militant, God's vast temple on earth, and too, the vision of the Church Triumphant, which is eternal." Eternal, militant, but imperturbable: "Upon this rock I shall build my church and the gates of hell shall not prevail against it."
In this house of Brede, by Rumer Godden.
The Ascension. Andrew Burgess: The Ascension in Karl Barth: "For Barth, "the ascension informs a dynamic of presence and absence – Jesus Christ's coincident presence and absence during 'this time between'". The church is the community that exists in this "time between," in the dialectical space between Christ's presence and absence. Burgess thus highlights the significance of ascension in Barth's conception of time. Through his lordly agency, Jesus "reaches into the lives of His people … in such a way that they are now made to share His time". Barth's whole account of ecclesiology and Christian life is thus structured by this view of the church's existence in the "time between." You can read more here on Faith and Theology, the blog of Ben Myers.
Catholic Vote Org has come up with another terrific video! It asks the question what is the common thread between such different people as: Babe Ruth and John Lennon, Bill Clinton and Nancy Reagan and many more? I won't tell you the answer, I will let you find it out. The song is lovely, the content is developed in an intriguing manner and the punch line is great. It's all about cherishing life! It is not your standard pro-life message (although it is definitively about it) but it is different, it does not address abortion directly and I think by focusing like this on the great possibilities of every life, it will reach more people, it is certainly done in such a way that it should "talk" to any one. In the next few days, it's going to be viewed by millions of viewers on TV. Be the first one to see it here .
Paul "When we tie together the multi-coloured threads of Paul's theology, an place them within not only the Jewish but also the Hellenistic and Roman worlds in which he lived, we ought to be struck (though many have not been!) by a world of meaning which would have been obvious, second nature we might say, to Paul and his hearers. By hailing Jesus as king, as son of God, as the world's true Lord; by declaring that with his coming God's new age had begun, so that the "good news" of his accession to world sovereignty must ring out round the world; by announcing that one day his "royal presence" would appear and call everyone to celebration and to account; by insisting that through this Jesus were to be found salvation, justice and peace - in all these ways and more, Paul was saying that Jesus was Lord, and that Caesar was not." ("Paul" by N T Wright)
"The task is the challenge to cultivate for the good, in the context of faith and truth, the vast potential of human reason." said Pope Benedict XVI to Muslim religious leaders Saturday May 9, 2009, in Jordan .
Pope Calls for Universal Recognition of the Natural Law as the Basis of Human Rights Pope Benedict XVI strongly reaffirmed the position of the Catholic Church that there is a Natural Law and that this Natural Law can be known by all men and women through the exercise of reason. He affirmed that this Natural Law has also made known to all men and women the existence of fundamental human rights which are binding upon all Nations and for all time: "The Church has always affirmed that fundamental rights, above and beyond the different ways in which they are formulated and the different degrees of importance they may have in various cultural contexts, are to be upheld and accorded universal recognition because they are inherent in the very nature of man, who is created in the image and likeness of God. If all human beings are created in the image and likeness of God, then they share a common nature that binds them together and calls for universal respect." Read more here on Catholic On Line.
It's All Crazy, It's All False. By Joel Hartse "I think I'll just have to tell the truth: the first time I woke up in a Muslim country, I was terrified. And not of fundamentalist militias or mujahedeen, but music... this is the same way I felt the first time I hear the Pennsylvania rock band mewithoutYou, driving home from work in Seattle some years ago. On my Subaru's radio, Aaron Weiss came unhinged, bleating "Why pluck one string when you can STRUM THE GUITAR! STRUM THE GUITAR! STRUM THE GUITAR! STRUM THE GUITAR!" Read more here Found on the site: Image - Art/Faith/Mystery at http://imagejournal.org/
Read this very moving story of love and suffering and the intricate consequences of witnessing to this love. the premise of the book is that each of us is connected to other people and affects other people profoundly, often without even realizing it. And after reading the story, I began to think about people who had touched my life. I'm a nurse, and I work with patients undergoing bone marrow transplantation… Read more here on the Catholic blog Acts 17 verse 28.
May 1rst, Feast of Saint Joseph The Worker "Whatever you do, work at it with your whole being. Do it for the Lord rather than for men, since you know full well you will receive an inheritance form him as your reward. Be slaves of Christ the Lord". (Col 3:23-24). Jesus devoted many years of his life on earth at the carpenter's bench in Joseph's workshop. Jesus condemned the behavior of the useless servant who hides his talent in the ground (Mat 25:14-30) and Jesus praises the faithful and prudent servant whom the Master finds hard at work (Mat 24:46). He describes his own mission as that of working: "My Father is working still and I am working". (Jn 5:17) Although there is great dignity in work, Jesus also teaches not to be enslaved by work and to be concerned about our soul before all else (Mk 8:36).
Let's turn to Saint Joseph the Just Man, the Protector of the Holy Family and ask for his prayers!
Anima Christi
Soul of Christ, sanctify me
Body of Christ, save me
Blood of Christ, inebriate me
Water from the side of Christ, wash me
Passion of Christ, strengthen me
O good Jesus, hear me
Within your wounds, hide me
Let not me be separated from you
From the enemy defend me
In the hour of my death call me
And bid me to come to you
So that I may praise you
With your saints forever and ever
Amen

The prayer Anima Christi here in English, in French and in Latin.
See a video of the prayer Anima Christi
with music, in French, here on a French Jesuit site.

Saint Paul Outside-the-Walls, the Papal Basilica A very good site with the history of the Basilica, with numerous pictures, with many texts on the different stages of Saint Paul's journey, the calendar of The Year of Saint Paul, and all this in various languages. Check it out here
Today is the Feast Day of Saint Mark The Evangelist! Mark, who accompanied Barnabas and Paul on their missionary journeys, who turned back for some unknown reason and therefore angered Paul although he reconciled with him later; Mark, who may have been Peter's interpreter or secretary, who performed many miracles himself and who wrote his Gospel while imprisoned in Rome, where the Golden Legend says that they put a rope around his neck and dragged him through the streets and the stones were drenched with his blood. Mark's Gospel is the shortest of the 4 Gospels, the first one written, the most fast-paced and breathless one, with a great sense of urgency for repentance and conversion and faith; Mark wrote many details about Jesus miracles and stressed the importance of the mystery of God's reign breaking into human life with its reversal of values :

1 The beginning of the gospel of Jesus Christ, the Son of God. 2 As it is written in the prophet Isaiah: "Behold, I send my messenger before you who shall prepare your way. 3 The voice of one crying in the wilderness: "Prepare the way of the Lord, make his paths straight." 4 John the baptizer appeared in the wilderness, preaching a baptism of repentance for the forgiveness of sins. 5 And there went out to him all the country of Judea and all the people of Jerusalem; and they were baptized by him in the river Jordan confessing their sins. 6 Now John was clothed with camel's hair and had a leather girdle around his waist, and ate locusts and wild honey. 7 And he preached saying: 'After me comes he who is mightier than I, the thong of whose sandals I am not worthy to stoop down and untie; but he will baptize you with the Holy Spirit."
My God,
send me your Holy Spirit
to teach me what I am
and what You are!
Saint John Vianney
Here is a wonderful video which shows what you can do with one song: "Stands by me" and a global team working together for the love of music; it gives such a sense of brotherhood and peace, of true harmony and cooperation going beyond geographical and cultural borders. See the fascinating result of achieving peace through music: on vimeo here. As of today, it has been played more than 5 million times on vimeo and it has been seen by more than a million people on YouTube.
Gary Anderson wrote a terrific article on "Faith & Finance". In it, he showed very clearly and pointedly how trust is "the glue that binds the whole systems together" and how the problem "of trust - of faith - appears in places beyond the current credit crises". He develops his first point (the importance of trust and confidence in financial and credit transactions) with numerous examples and comments and Scripture quotes and, in the process, he cleverly introduces his second point which is about the two values of the works of mercy to the poor, whether the value lies in social justice (restoring the balance of social justice in the world) or whether works of charity to the poor are "a full service ATM" for our own salvation; "a direct conduit for transferring funds to a heavenly account" since "gifts to the poor are really loans to God". Each of these points are complex and profound and with numerous consequences for the life of the world and for the life of our souls. Misunderstandings and misinterpretations of these very issues were (one of the) reasons for Luther to break away from the Church and I wondered if Gary Anderson gets many Protestant students in his classes at Notre Dame and maybe that is why he is very cautious in developing his arguments and anchoring them in quotes from OT and NT passages.
In this wonderful and challenging article, Gary Anderson asks many questions: "How should we respond to the lack of confidence"? "How real is money?" "If the State assumes responsibility for feeding the poor in place of us, how will we be redeemed?" In his conclusion, he reminds us that, on one hand, hoarding is not the answer since "nothing is certain" but, on the other hand, there is "in the marketplace no substitute for morality" and (here comes my favorite sentence!) "in extending charity to our neighbor, we participate in the act of charity that brought creation into being. By doing this good work, we enact the faith that our lips profess. Just as important, we make claims about what the world essentially is and about the character of the God who created it".
Isn't it beautiful? Read the whole article on First Things: here
Very interesting article on Twitter and our moral compass on the numbing and deadening dangers of streams of information received too fast…. "Rapid-fire TV news bulletins or getting updates via social-networking tools such as Twitter could numb our sense of morality and make us indifferent to human suffering" scientists say. "For moral decision-making about other people's situations, we need to allow for adequate time and reflection". Read more here . Twenty years ago (before the age of email and Facebook and Twitter) Neil Postman had said: "The problem is not that television presents us with entertaining subject matter but that all subject matter is presented as entertaining" in Amusing ourselves to death.
Easter! The wonderful and amazing Holy Days of the 2009 Triduum: Holy Thursday and the Washing of the Feet and the Institution of the Eucharist; Holy Friday and the Way of the Cross through North Beach, then the Good Friday service at Notre Dame des Victoires; Holy Saturday and the great silence, the stillness and the waiting; then the very moving Easter Vigil and the newly Baptized entering the Catholic Church (7 adults and one child in my parish; in the US, it is a total of 150 000 people joining the Church…) and finally Easter day is here!: see pictures and icons, scriptures and reflections here
The current crises and the next crises. I have written an article on the current crises and the next one, linking the current financial mess that we are in now with the very messy decisions taken nowadays in bio-ethics, both situations being the result of a lack of moral standards, of putting greed and fame, personal gains and personal comfort before reason, the truth and the common good. If it is now obvious to all how something went terribly wrong in our economy and the consequences it is having on all of us, on our jobs, our houses, our 401Ks, there is another critical field where ethics (or the lack of) could really mess up the whole fabric of our society and affect our future and that is the field of science and medicine. Bio-ethics is a wide-open field largely unregulated for now.... From eugenics to euthanasia, from abortion at all terms of gestation to organ trafficking to medical tourism, from fetal farming to human-animal hybrid work, from assisted suicide to designer babies, the temptations are that much stronger because of the new technological and scientific advances and because of a precipitous decline in our moral ethics. here
"The story of a friendship" or How God will lead us on surprising detours... Read this moving story of how much more we receive when we allow ourselves to give more: "Remember the kids who were ringing my doorbell and running? They kept doing it. I talked to them about it again, as kindly and calmly as possible, and yet they kept at it, usually waking up my children and shattering my free time in the process." Read it here on Jennifer's blog: Conversion diary.
African Catholics show their support for the Pope. A group of about 100 African Catholics were in Saint Peter's Square waving African flags and banners that read "Africa Loves the Pope". Faithful from various African countries during Pope Benedict XVI's Angelus noon prayer in St. Peter's Square, at the Vatican, 29 Mar 2009. Pope Benedict has said the Catholic Church teaching of abstinence and fidelity is the only way to combat the AIDS problem. Read more here
de janvier à mai 2009 - Le partage de la foi… en français:
La moitie du monde Une courte vidéo fascinante sur la moitié du monde, la moitié invisible aux yeux du corps mais pourtant la plus importante ici sur Croire.com. J'ai entendu ce texte de Paracelse et je l'ai appliqué de suite au mystère de la foi, de la partie seulement visible aux yeux de l'âme. Mais peut-être que le docteur lui-même pensait a autre chose? De toutes façons, allez voir, c'est très bien dit et j'ai surtout aimé l'analogie entre l'impossibilité de voir les couleurs a la lumière de la lune par rapport a la lumière du soleil et tout de suite m'est venu en tête que, lorsque nous aurons finalement atteint notre but dans la vie éternelle, en pleine lumière du Christ, cette vie d'aujourd'hui nous paraitra bien pale en comparaison, comme étant éclairée par la lune...
Pour une liste alphabétique des articles & prières sur ce site: Site Map
La fin de la vie de Paul: "la figure de saint Paul a un rayonnement qui va bien au-delà de sa vie terrestre et de sa mort ; en effet, il a laissé un extraordinaire héritage spirituel". Le Pape Benoit XVI nous retrace les grands points historiques et les developments theologiques de Saint Paul. "Il est vrai que chez saint Paul, le caractère central du Royaume de Dieu, déterminant pour l'annonce de Jésus, est transformé dans le caractère central de la christologie, dont le point déterminant est le mystère pascal. Et du mystère pascal découlent les Sacrements du Baptême et de l'Eucharistie, comme présence permanente de ce mystère, à partir duquel croît le Corps du Christ et se construit l'Eglise". Lire la suite sur Zenit ici .

Il fait tres beau ici, en ces derniers jours de janvier.
Quelle douceur dans l'air, ici, au nord de la Californie.
Découvrir la vie monastique en Suisse A quelques kilomètres de Fribourg, une communauté cistercienne propose plusieurs stages de découverte de la vie monastique. Dans un magnifique cadre, c'est l'occasion de partager la vie de prière, de travail et ses questions avec les frères. Lire plus ici .
L'amour du prochain. Il faut bien nous rendre compte que ce qui fait que la charité fraternelle est un vertu théologale qu'on ne peut pas séparer de l'amour de Dieu, c'est tout simplement que, par la grâce, l'homme est étroitement uni a Dieu. " Puisque tous les hommes ont cette même dignité, nous les aimons aussi comme nous-mêmes ". Pourquoi ? parce que l'âme de nos frères est unie à Dieu, et c'est pour François de Sales le principal motif de la charité fraternelle.. " Les caresses même et signes d'amitié que nous faisons contre notre propre inclination aux personnes pour lesquelles nous avons de l'aversion, sont meilleures et plus agréables à Dieu que celles que nous faisons attirés par l'affection sensitive ".
" Saint François de Sales : La spiritualité de l'Amour, Prière et Ascèse " par Père Jean Derobert.
La Marche Pour La Vie, côte Ouest des Etats-Unis aujourd'hui a San Francisco. Il y avait beaucoup de participants, 30 000 parait-il, et c'était très sympa et très encourageant de voir tous ces gens se réunir autour d'un même but : témoigner pour la vie, pour la famille et se dresser contre l'irresponsabilité de certains qui encourage a avorter, a se débarrasser de ce qui nous gène et nous encombre, sans respect pour la vie des plus petits parmi nous. L'ambiance était très bonne et chaleureuse; bonne journée, pleine d'espoir. (voir plus de photos ici ).
Madeleine Delbrêl Si nous sommes responsables que Dieu ait été perdu par des hommes, nous devons peut-être en souffrir, nous devons surtout leur rendre Dieu. Nous ne pouvons pas donner la foi, mais nous, nous pouvons nous donner ; la foi a mis Dieu en nous, nous pouvons le donner en même temps que nous : à la ville. La question n'est donc pas de nous en aller n'importe où, ayant au coeur le mal des autres, il s'agit de rester près d'eux, avec Dieu entre eux et nous. Lire la suite ici .


Faire avancer la paix au Moyen Orient. L'option militaire n'est pas une solution en Terre Sainte, réaffirme Benoît XVI qui souhaite pour les nations du Moyen Orient des « dirigeants capables » de faire avancer la paix. En outre il encourage le dialogue entre Israël et la Syrie, et une négociation sur le programme nucléaire iranien. L'option militaire n'est pas une solution » et « la violence, d'où qu'elle provienne et quelque forme qu'elle prenne, doit être condamnée fermement ». Une telle situation « complique » la recherche d'une issue au conflit entre Israéliens et Palestiniens «vivement désirée par beaucoup d'entre eux et par le monde entier».
Lire la suite ici sur le site de Zenit News.
L'Adoration en plein coeur de ville. "L'adoration est un temps de prière silencieuse devant la présence réelle du Christ. Dévotion très ancienne, la contemplation de Jésus-hostie a pris de l'importance au Moyen-Age, sous l'influence de mystiques comme Sainte Gertrude et Sainte Dorothée. Lire plus ici .
Il est urgent de prier pour la paix en Terre Sainte! Un appel a été lancé par les patriarches, les évèques et les chefs des églises chrétiennes de Jérusalem pour que demain, dimanche 4 janvier, soit un jour de prières pour la paix. L'appel vient des gardiens des Lieux Saints de Jérusalem. Voir les détails (en anglais) sur le site de AsiaNews ici et le site Custodia Terra Sanctae ici . Nous pouvons prier et demander la paix, un cesser-le-feu immédiat et que l'aide humanitaire ait finalement la permission d'entrer.
Nous qui sommes forts,
nous devons supporter les faiblesses
de ceux qui ne le sont pas,
et ne pas nous complaire en nous-mêmes.
Epitre aux Romains (15:1)
Je suis forte parce que j'ai la foi, je suis faible parce que je suis humaine et chaque matin apporte le début d'une sorte de lutte quotidienne, un vrai challenge, entre ces deux pôles. Mais ce qui me frappe dans le verset de Saint Paul, c'est le mot: "supporter" et je l'entends comme un appel a la solidarité entre nous, une solidarité qui se joue sur le plan économique et politique, intellectuel et spirituel. Il aurait put nous rappeler que nous devons nous aider les uns les autres, mais non, il a choisit de dire que nous devons "supporter leurs faiblesses", les accepter, les tolérer; c'est donc aussi un appel a exprimer chaque jour un peu plus de patience, persévérance et générosité.
" La terre a étendu un grand tapis de neige sous les pieds du Roi Notre Sire.
Et nous de la Loire jusqu'a Rheims, il faut que nous étendions un grand tapis de prières ".
Jeanne Au Bucher, de Paul Claudel.
Comparer la prière a un tapis de neige, quelle bonne idée!
Quelques photos de neige et de givre...
a slide show on the snow covered landscape
in my corner of the French Alps January 2009 here
Le grand meeting de Taizé a Bruxelles Dans une lettre introductive aux rencontres, Frère Aloïs, le successeur du fondateur de la communauté, Frère Roger appelle à "une Europe ouverte et solidaire". Grâce à ce "pèlerinage de confiance", il suggère de "raviver l'intuition et l'enthousiasme du début de la construction européenne : concrétiser la réconciliation entre les peuples en mettant en commun leurs ressources et leurs spécificités". Lu dans Le Monde ici .
Voir deux Taizé vidéos sur YouTube here part 1 and here part 2.
La loi naturelle, fondement de la morale chrétienne On la croyait disparue, victime de la sécularisation, de Mai 68 et autres « interdit d'interdire ». Il n'en est rien ! La loi naturelle , ce vieux concept gréco-romain, remis en lumière par saint Thomas d'Aquin, fait son retour dans l'Église comme fondement de la morale. La problématique de la loi naturelle est en effet au cœur du pontificat de Benoît XVI, constate la théologienne Geneviève Médevielle, professeur de théologie morale à l'Institut catholique de Paris . Aux yeux du pape, cette notion est capable de répondre à la crise de sens de notre monde. Face à un relativisme qui met tout sur le même plan sans pouvoir donner une échelle de valeurs, « il est important de créer dans la culture et dans la société civile et politique les conditions indispensables pour une pleine prise de conscience de la valeur incontournable de la loi morale naturelle », explique-t-il en décembre 2008, devant la Commission théologique internationale. Lire la suite ici sur le site de La Croix
Que savez-vous réellement sur le sujet Création / Evolution ? Questions : 1) Que savez-vous sur l'évolution ? 2) Connaissez-vous des arguments pour réfuter cette théorie ? 3) Que dit la Bible sur la création ? 4) Comment comprenez-vous ce que dit la Bible ? 5) Et les dinosaures ? L'évolution est une théorie inventée par Darwin pour nier l'existence de Dieu. Cette théorie décrit l'origine de l'univers et de l'homme sans l'aide de Dieu. C'est un bel exercice de style, mais Darwin s'est heurté à de nombreux problèmes... Bien que cette théorie ait eu du mal à "tenir la route", elle est passée "comme une lettre à la poste" partout dans le monde.... Lire la suite ici.
Le 1er mai c'est la fete de Saint Joseph, le travailleur, le charpentier. Joseph était "un homme juste", il fit "ce que l'ange lui avait prescrit", il fut le guardien de la Sainte Famille, il est le patron des artisans, il répond toujours a nos prières et c'est pourquoi il est d'une grande aide pour la vie interieure et il a même son propre site internet ici grâce a La Famille de Saint Joseph (www.fsj.fr) avec articles, prières et devotions. Pour une tres bonne liste internationale de Josephologie: voir ici.
Anima Christi
Âme du Christ, sanctifie-moi,
Corps du Christ, sauve-moi.
Sang du Christ, enivre-moi,
Eau du côté du Christ, lave-moi.
Passion du Christ, fortifie-moi.
O bon Jésus, exauce-moi.
Dans tes blessures, cache-moi.
Ne permets pas que je sois séparé de toi.
De l'ennemi, défends-moi.
À ma mort appelle-moi,
Ordonne-moi de venir à toi,
Pour qu'avec les saints je te loue,
Dans les siècles des siècles.
Amen

La priere Anima Christi ici en anglais, en francais et en latin.
Une vidéo sur la prière Anima Christi,
avec musique, en français, sur un site jésuite ici .

La Basilique Papale Saint-Paul-hors-les-murs Un bon site avec des photos, des textes et des descriptions de la Basilique et de son histoire, l'Année Saint-Paul, et aussi des textes sur toutes les étapes de la vie de Saint Paul, en plusieurs langues ici
Une liste de sites à voir: Lourdes, Jubilate, Le site de l'année paulienne, en différentes langues; la nouvelle version du site de la Conférence des évêques de France; Liturgie de la Parole avec les enfants; L'Evangile au quotidien; Prière du Temps Présent en ligne; La traduction liturgique de la Bible enfin en ligne; Arcabas : la galerie d'art avec nos amis dominicains du Canada; Marie de Nazareth : son mystère, son musée, son site; Un superbe musée à domicile : insecula.com; Le site pour découvrir Madeleine Delbrêl; le site de Taizé; etc... Une tres bonne liste de liens utiles ici sur Notre Dame du Web.
Le trésor du silence. Tout homme qui se plaît dans l'abondance des paroles, même s'il dit des choses admirables, est vide au-dedans. Si vous aimez la vérité, soyez un amant du silence.... Lire plus ici sur le site de Dominique Le Tourneau
Une tres bonne vidéo que je recommande chaudement! La chanson est en anglais (Stand by me) mais le language de la musique est universelle et cette (courte) vidéo reflècte bien cette qualité universelle et fraternelle de la musique. Sur "vimeo" ici .
San Francisco et sa région.
Je retourne à mes premiers amours: la photo en noir et blanc!
Le pont du Golden Gate, photo prise au sud du pont; la plage au bout de ma rue: Ocean beach; le musée d'Art Modern dans le centre ville; un oiseau tres serieux qui bloque le pont de la baie; une fleur dans le park du Golden Gate; vue générale sur la ville avec Market Street au milieu; le pont du Golden Gate en février, par mauvais temps; et finalement, San Francisco vue de Sausalito.
Et d'autres photos ... ici
Check my page with my latest black and white photos!
Lettres à un jeune chrétien par Gérard Defois. Durant votre jeunesse, porté par la famille et les amis, en général vous étiez entouré. Cette ambiance collective fut un soutien. Elle fut peut-être aussi un artifice. Désormais vous savez que vous devrez vous porter vous-même. Et il est indispensable d'en passer par la. Assumer sa solitude est le point de départ de relations saines. Seuls ceux qui sont capables de solitude et de responsabilité de leur vie, en particulier de leurs échecs, peuvent avoir avec autrui des relations libres et libérantes. Ce qui ne veut pas dire nécessairement un repli sur soi, maïs l'humilité vis-à-vis de soi. Elle permet à l'autre d'exister et à soi-même d'être soutenu par la confiance que l'on exprime a notre égard.
La fin du monde. Voici un site fascinant et qui est tout entier concentré sur la théologie eschatologique: "La Révélation chrétienne est explicite pour enseigner que le monde ne durera pas toujours. Dieu sait combien d'êtres humains doivent naître. A l'heure dite, celle que lui seul connaît, il mettra fin au monde terrestre. Cette heure n'a rien à voir avec... " Lire plus ici sur le site http://eschatologie.free.fr/
Malade du sida, Dominique Morin remercie le Pape d'avoir brisé un tabou. Pour famillechretienne.fr, il réagit à la polémique et explique pourquoi le préservatif répond à une logique de peur. "Aujourd'hui, les jeunes pensent qu'une sexualité pulsionnelle, instinctive, est leur seul horizon. Or, derrière leur demande "Dis-moi comment avoir une partie de jambes en l'air tranquille" se cache une aspiration profonde, le désir d'aimer sans savoir comment s'y prendre. Dire qu'un jeune est obligé d'avoir des relations sexuelles pour se découvrir et apprendre à aimer correspond à la logique freudienne, qui est fausse. Pour des catholiques, faire de Freud un docteur de l'Eglise en dit long sur leur vision de l'homme ! Il existe une autre voie que celle de la pornographie, la masturbation, les relations instables. Oublier de leur dire cette vérité revient à leur mentir. Celui qui leur dit d'utiliser un préservatif se lave les mains et s'offre une bonne conscience à peu de frais." Lire plus ici
Le Carême : Temps de purification du Temple intérieur . L'évangile de Jean en ce 3e dimanche de Carême nous présente Jésus sous un autre angle. L'interprétation traditionnelle de son geste consiste à dire qu'il chassait des voleurs et des forbans, des gens malhonnête, fourbes et irrespectueux des lieux. Une autre interprétation plus théologique fait aussi cours. Celle où Jésus aurait voulu signifier la fin du culte sacrificiel. Car jusque là, tous ces gens pratiquaient un commerce licite et utile au culte. Marie et Joseph avait bien acheté un couple de colombes pour présenter en sacrifice lors de la présentation de Jésus au temple... Lire plus ici sur U N M O M E N T S A C R É
MANIFESTE DE CAREME : « BENOIT, J'AI CONFIANCE EN TOI ! » Dans les tempêtes médiatiques successives qu'essuient l'Eglise catholique et son représentant Benoît XVI, nous, simples baptisés et paroissiens oubliés des medias, poursuivons notre Carême en disant humblement mais publiquement notre foi, notre fidélité et notre confiance dans l'Eglise fondée par Jésus-Christ, et confiée par Lui à Benoît XVI, successeur de l'apôtre Pierre. Signer le manifeste: ici
Le texte de la lettre du Pape aux Evêques, avec ses raisons, ses explications et ses conseils pour " contribuer ainsi à la paix dans l'Église ". En voici des extraits:

" Le fait que le cas Williamson se soit superposé à la levée de l'excommunication a été pour moi un incident fâcheux imprévisible. Le geste discret de miséricorde envers quatre Évêques, est apparu tout à coup comme totalement différent: comme le démenti de la réconciliation entre chrétiens et juifs, et donc comme la révocation de ce que le Concile avait clarifié en cette matière pour le cheminement de l'Église. Que cette superposition de deux processus opposés soit advenue et qu'elle ait troublé un moment la paix entre chrétiens et juifs ainsi que la paix à l'intérieur de l'Église, est une chose que je ne peux que déplorer profondément.

cette mesure était-elle nécessaire? Constituait-elle vraiment une priorité? N'y a-t-il pas des choses beaucoup plus importantes? Conduire les hommes vers Dieu, vers le Dieu qui parle dans la Bible: c'est la priorité suprême et fondamentale de l'Église et du Successeur de Pierre aujourd'hui. D'où découle, comme conséquence logique, que nous devons avoir à cœur l'unité des croyants.

À notre époque où dans de vastes régions de la terre la foi risque de s'éteindre comme une flamme qui ne trouve plus à s'alimenter, la priorité qui prédomine est de rendre Dieu présent dans ce monde et d'ouvrir aux hommes l'accès à Dieu. Non pas à un dieu quelconque, mais à ce Dieu qui a parlé sur le Sinaï; à ce Dieu dont nous reconnaissons le visage dans l'amour poussé jusqu'au bout en Jésus Christ crucifié et ressuscité. En ce moment de notre histoire, le vrai problème est que Dieu disparaît de l'horizon des hommes et que tandis que s'éteint la lumière provenant de Dieu, l'humanité manque d'orientation, et les effets destructeurs s'en manifestent toujours plus en son sein."

(Récemment)" j'ai dû interpréter et commenter le passage de Galates 5, 13-15.: "Que cette liberté ne soit pas un prétexte pour satisfaire votre égoïsme; au contraire mettez-vous, par amour, au service les uns des autres. Car toute la Loi atteint sa perfection dans un seul commandement, et le voici: Tu aimeras ton prochain comme toi-même. Si vous vous mordez et vous dévorez les uns les autres, prenez garde: vous allez vous détruire les uns les autres!" Mais malheureusement ce "mordre et dévorer" existe aussi aujourd'hui dans l'Église comme expression d'une liberté mal interprétée. Est-ce une surprise que nous aussi nous ne soyons pas meilleurs que les Galates? Que nous devions toujours apprendre de nouveau le juste usage de la liberté? Et que toujours de nouveau nous devions apprendre la priorité suprême: l'amour? "

Lire le texte en entier sur Chiesa ici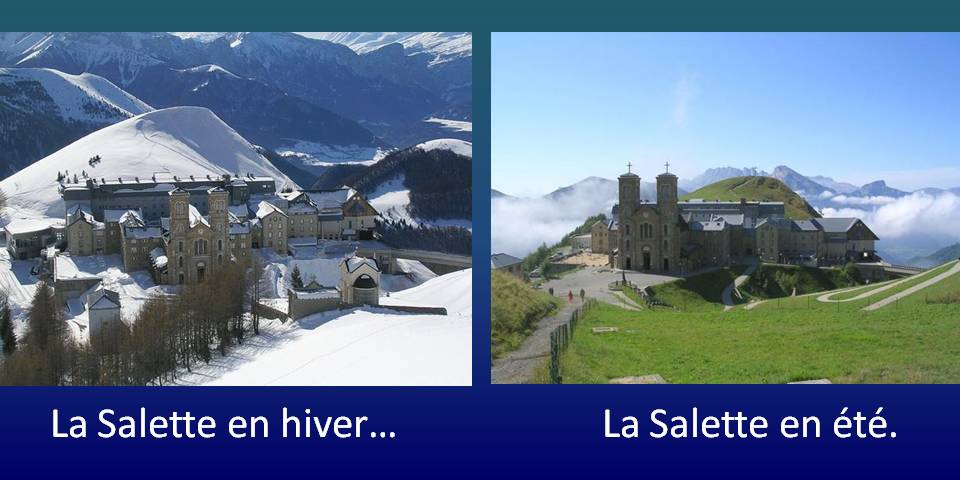 PELERINAGE au Sanctuaire NOTRE DAME DE LA SALETTE. C'est un reportage tres complet avec des photos magnifiques! Aller faire un tour sur ce site: ici et vous verrez ce que je veux dire. Il y a des photos récentes prises en janvier 2009, avec La Salette sous la neige, et des photos souvenirs d'un autre pèlerinage en 1960. Vous y trouverez aussi un historique de l'apparition de Notre Dame aux deux jeunes enfants: Maximin et Mélanie, ainsi que le texte des messages.
Un site entier dedié a Saint Michel! Avec les prières et neuvaines, les fêtes et les apparitions, les ecrits et les dévotions pour la propagation du culte de Saint Michel. "Pour les chrétiens, Saint Michel est vénéré avant tout comme le plus puissant défenseur contre le démon. Pour cette raison l'iconographie, tant orientale qu'occidentale, le représente comme un guerrier qui, avec l'épée ou la lance, frappe à mort le dragon sous ses pieds". Lire plus ici
Jeûner: avoir faim de Dieu. Demain, c'est le mercredi des Cendres, c'est le début du carême 2009!
Un moment privilégié pour nous détacher de la nourriture, nous détourner du péché
et nous concentrer sur l'amour et la miséricorde de Dieu. C'est tout un programme, une vraie aventure !

Voir une belle page sur le jeûne dans la tradition orthodoxe: Qu'est-ce que le jeûne pour nous, chrétiens ? C'est notre incorporation à cette expérience du Christ lui-même, par laquelle il nous libère de notre entière dépendance envers la nourriture, la matière et le monde. Jeûner ne signifie qu'une chose : avoir faim, jusqu'à la limite de la condition humaine qui dépend entièrement de la nourriture, et là, ayant faim, découvrir que cette dépendance n'est pas toute la vérité au sujet de l'homme, que la faim elle-même est avant tout un état spirituel et que, finalement, elle est en réalité la FAIM DE DIEU.... lire en détail ici
LE JEÛNE COMME COMBAT SPIRITUEL,
ENSEIGNEMENTS DE JÉSUS SUR LE JEÛNE,
DEUX FAÇONS DE JEÛNER,
LA JOIE DE L'ÂME,
GUIDE DU JEÛNE DANS L'ÉGLISE ORTHODOXE,
LES CONSÉQUENCES DU JEÛNE: Notre jeûne, si limité soit-il, s'il est un vrai jeûne, conduira à la tentation, à la faiblesse, au doute et à l'irritation. En d'autres termes, il sera un réel combat et probablement nous succomberons bien des fois. Mais l'aspect essentiel du jeûne est justement la découverte de la vie chrétienne en tant que lutte et effort. Une foi qui n'a pas surmonte les doutes et la tentation est rarement réelle. Aucun progrès n'est, hélas, possible dans la vie chrétienne sans l'amère expérience de l'échec. C'est précisément lors de cette première chute que se situe le véritable test : si, après avoir faibli et donné libre cours a nos appétits et a nos passions, nous nous remettons courageusement à la tâche, sans abandonner, quel que soit le nombre de fois où nous faiblissons, tôt ou tard, notre jeûne produira ses fruits spirituels. Il n'y a pas de raccourci pour aller à la sainteté ; on doit payer le prix de chaque pas en avant. Père Alexandre Schmemann

Zenit - Qu'apporte le jeûne sur le plan spirituel ? J.-C. Normand - Il y a un enjeu authentique de conversion sur le plan spirituel. Les gens qui viennent, parfois non-croyants, sont en quête. Une quête qui va prendre corps pendant la semaine et qu'ils ne savent pas toujours nommer. Face à un enjeu de changement, le jeûne donne des ressources pour faire face à un passage. Pour les aider, un temps d'accompagnement individuel avec un moine est proposé et conseillé, même si rien n'est imposé. Les personnes qui viennent ont besoin d'être guidées. Durant la retraite, un travail considérable se fait en chaque personne... Lire plus ici sur Zenit.

Message de Benoît XVI pour le carême 2009: Redécouvrir le sens chrétien de la pratique du jeûne. Saint Pierre Chrysologue écrit : « Le jeûne est l'âme de la prière, la miséricorde est la vie du jeûne. Donc, celui qui prie doit jeûner ; celui qui jeûne doit avoir pitié ; qu'il écoute l'homme qui demande, et qui en demandant souhaite être écouté ; il se fait entendre de Dieu, celui qui ne refuse pas d'entendre lorsqu'on le supplie » De nos jours, la pratique du jeûne semble avoir perdu un peu de sa valeur spirituelle et, dans une culture marquée par la recherche du bien-être matériel, elle a plutôt pris la valeur d'une pratique thérapeutique pour le soin du corps. Le jeûne est sans nul doute utile au bien-être physique, mais pour les croyants, il est en premier lieu une « thérapie » pour soigner tout ce qui les empêche de se conformer à la volonté de Dieu. Lire plus ici
Quel beau temoignage d'amour et de foi! Quelle est belle l'histoire de la conversion de Rosy, de sa decouverte de l'amour du Seigneur, et comme elle s'exprime bien quand elle parle de son mariage avec François ici Regardez cette vidéo trouvée sur le site de Jeunesse-Lumière.
Acte de Foi
Mon Dieu, je crois fermement toutes les vérités, que vous nous avez révélées et que vous nous enseignez par votre Eglise, parce que vous ne pouvez ni vous tromper, ni nous tromper.
La foi est la force qui attache ton âme à Dieu. Par la foi, tu crois que Dieu existe. Tu sais que tu es créé par lui et que tu dois aller au ciel. Par la foi, tu crois que Jésus est venu sur la terre pour sauver les hommes et leur apprendre à connaître et aimer Dieu. Avec l'aide de l'Esprit Saint, l'Eglise continue à dire aux hommes ce qu'ils doivent faire pour aller au ciel.Dieu sait tout. Il est le créateur de toute chose. Il ne peut pas se tromper et ne veut pas nous tromper. Même si tu ne comprends les mystères de Dieu, tu y crois grâce à la foi que Dieu a mise dans ton âme depuis ton baptême. Priere trouvee sur le site: mission-theresienne ici
Photos de Cuisine et Photos de Nature! Je viens d'ajouter deux nouvelles sections a ce site,
avec mes recettes preferrees et plusieurs albums de photos de nature,
photos prises en generale en Haute-Savoie ou bien en Californie.
Les recettes ici et la nature ici