2011 - Sharing the faith… in English:
"An indifference to God leads to an indifference to evil". "It's our very sleepiness to the presence of God that renders us insensitive to evil: we don't hear God because we don't want to be disturbed, and so we remain indifferent to evil." Read more here on the Catholic News site.
For a listing of prayers, articles,
recipes & nature photos on this site,
see the Site Map
New Birth Portrait Series: Eric Metaxas. See this fascinating video about his "conversion"... He is a writer (he just wrote a book about "Bonhoeffer: Pastor, Martyr, Prophet, Spy") and he had the most interesting dream... Read more here .
Eternal Father, you gave us the Easter mystery as our covenant of reconciliation.
May the new birth we celebrate show its effects in the way we live.
We ask this through our Lord Jesus Christ, your Son,
who lives and reigns with you and the Holy Spirit, one God, for ever and ever.
(Morning Prayer, Friday within the octave of Easter, Liturgy of the Hours).
Easter 2011! I put all my recent photos and my recent comments on the glorious season of Easter here .
Viva Cristo Rey See the trailer for the upcoming movie here
First pastoral message to the youth of His Beatitude Sviatoslav. As the Primate of the UGCC indicates, a custom has been established within the Catholic Church that on Palm Sunday special attention is paid to our youth. On this day young people from all over the world gather for a prayer with the Holy Father on St. Peter's square. "Taking this opportunity, I would like to address you through this message, assuring you in my special care and inviting you to a dialogue with the Word of God which the Holy Church preaches us." Read more here on the Ukrainian Greco-Catholic Church site.
I had written something about the confused perversity of "assisted suicides" and in the light of what is going on in Switzerland right now, it seems appropriate to repost it . Such requests are actually a cry for help. What we need to do is to help them with managing pain and help them cope with loneliness and fear. We need to find ways to assist them in alleviating their sense of being a burden, of feeling useless, of having no hope. Around terminally ill patients, we should also invest millions of dollars to build a "virtual barrier" that will protect them from any tragic move; it would be a good decision to spend the time and resources needed to accomplish this as well. Read more here.
Faith and happiness and joy... There's a Special Kind of Faith That Makes Us Happy: Father Cantalamessa Gives 2nd Lenten Sermon. This, then, is a call to faith, Father Cantalamessa noted, but "it is a question of a special faith: faith-astonishment, incredulous faith -- a paradox, I know, but true! -- a faith that does not know how to equip itself with what it believes, even if it does believe it. How is it possible that God, supremely happy in his quiet eternity, had the desire not only to create us, but also to come in person to suffer among us? How is this possible? Look, this is faith-astonishment, the faith that makes us happy." Read more here on the Zenit site.
The "Courtyard of the Gentiles" of Paris. An exchange between Cardinal Ravasi and the agnostic Julia Kristeva. And with them, dozens of other thinkers, believers and nonbelievers. In Chicago, in Quebec, in Stockholm, the next stages of the dialogue desired by Benedict XVI. See the article by Sandro Magister. Read more of this fascinating exchange here on the Chiesa Expresso site.
And in the face of the moral deregulation of the world of entertainment and capitalism, which interprets everything in a productive sense, we risk losing the sense of the vulnerability of the person. We need Christian tenderness, and we must enlist Christianity to defeat that world which wants to negate suffering.
Saint Claude La Colombiere:
My God, I believe so firmly that you watch over everyone who hopes in you and that we cannot lack anything when we expect all things from you that I am resolved to live from now on without any anxieties and to offer you instead all my worries.
I love this prayer! And I find it very useful to read it and pray it again and again and to ask for Saint Claude's intercessions because I have a tendency to forget about this beautiful "ultimate and complete trust in God"... (By the way, the translation above is mine) Read more here
My latest article on the Communion of Saints! Once in that wonderful territory of the communion of saints, I understood better the implication of its premise. It extends to all believers in Christ...
Read more here and see my own communion of saint google map!
Introducing Jesus: A Crash Course in Christology . John L. Gresham begins with common questions such as "Why didn't Jesus write a book?" answering them with distinctly Catholic character by drawing richly on Scripture, Tradition and magisterial documents. The second chapter, in which Gresham examines the names and titles ascribed to Jesus in Scripture, is worth the whole book, for its scholarly elucidation of how such differing ideas of God were consummated and surpassed by Jesus' entrance into history. Further chapters illumine the events of Christ's life, the early heresies and councils about him, and how he entrusts his life's mission to the Church. Calm yet confident, Gresham confronts in each chapter contemporary questions facing Christology... Read more. here on the National Catholic Register site.
Dancing with the saints: Retreat master says that's the key to Lent. Carmelite Father Francois-Marie Lethel led the pope and his top aides in their Lenten reflections. He chose: Sts. Therese of Lisieux, Teresa of Avila and John of the Cross, St. Catherine of Siena and St. Joan of Arc. Read more here on the Catholic News Service site.
Abortion: A Failure to Communicate. This article explains very well how much "perception" matters and how it is better to entice people to see things in a positive light, to find a good solution, rather than just hammer them over the head with your slogans. "The report suggests that women do not see any "good" resulting from an unplanned pregnancy. Instead they must weigh what they perceive as three "evils," namely, motherhood, adoption, and abortion. Unplanned motherhood, according to the study, represents a threat so great to modern women that it is perceived as equivalent to a "death of self." While the woman may rationally understand this is not her own literal death, her emotional, subconscious reaction to carrying the child to term is that her life will be "over." This is because many young women..." Read more here on Catholic.org.
The Just War Criteria: while watching the current international coalition against Lybia, I was wondering how does it fit with the Just War Criteria. I understand that it was voted by 10 nations at the UN (with 5 abstentions and no vetos), I can also read what what is said in most western medias and I checked two blogs: the one by Bernard Henry Levy who is a strong voice for using military force here and the one by Georges Malbrunot who is a more prudent voice here . But what I wanted to do is to review the "Just War" ethics and I found them very well explained in this Standford Encyclpedia of Philosophy:
1. The Ethics of War and Peace. Three traditions of thought dominate the ethics of war and peace: Realism; Pacifism; and Just War Theory (and, through just war theory, International Law). Perhaps there are other possible perspectives but it seems that very few theories on the ethics of war succeed in resisting ultimate classification into one of these traditions. They are clearly hegemonic in this regard. Before discussing the central elements of each tradition, let's declare the basic conceptual differences between "the big three" perspectives. The core, and controversial, proposition of just war theory is that, sometimes, states can have moral justification for resorting to armed force. War is sometimes, but of course not all the time, morally right. The idea here is not that the war in question is merely politically shrewd, or prudent, or bold and daring, but fully moral, just. It is an ethically appropriate use of mass political violence. World War II, on the Allied side, is always trotted out as the definitive example of a just and good war. Just war theory can be meaningfully divided into three parts, which in the literature are referred to, for the sake of convenience, in Latin. These parts are: 1) jus ad bellum, which concerns the justice of resorting to war in the first place; 2) jus in bello, which concerns the justice of conduct within war, after it has begun; and 3) jus post bellum, which concerns the justice of peace agreements and the termination phase of war. Read more here on the SEP site.
A loyal friend is a powerful defense: whoever finds one has indeed found a treasure.
A loyal friend is something beyond price, there is no measuring his worth.
A loyal friend is the elixir of life, and those who fear the the Lord find one.
Whoever fears the Lord makes true friends, for as a person is, so is his friend too.
Ecclesiasticus/Sirach 6:14-17
I have discovered another beautiful and faithful blog by Beverly Larson here . I highly recommend it if you need inspiration and encouragement. Check out the page and prayer on "Do you want to be well?"
"If God is God, then God is".... I've always loved this quote! And I just found a terrific and informative page on Saint Bonaventure, see the link below. Lots of food for thought there. "Since science exists as an intellectual habit in the mind of the knower, the efficient cause of any book of theology is the author who wrote it, Peter Lombard in the case of his Sentences, Bonaventure himself in the case of his commentary. Lombard was no mere scribe, compiler, or commentator; he was an "author," and the same is true of Bonaventure himself. This simple point distinguishes faith, whose sole efficient cause is God working through grace, from both philosophy and theology, whose efficient cause is the human mind, though even here God has a role to play. When he came to clarify the end of theology, Bonaventure understood that Aristotle had sharply distinguished practical science—whose end is deeds—from theoretical science—whose end is knowledge. So he asks whether theology is "for the sake of contemplation or for the sake of our becoming good." The answer is that theology is more perfect than any philosophical science because it breaks through the bounds of this Aristotelian dichotomy. Neither theoretical knowledge nor practical deeds get to the center of the moral life, which is love—both the "affection" of love and the theological virtue of charity. The kind of intellectual virtue that prepares the mind for charity is a "wisdom" that "involves knowledge and affection together." The "knowledge that Christ died for us," for example, is far different from the knowledge of the geometer or the knowledge of the general. Consequently, theological wisdom is both "for the sake of contemplation and also for our becoming good, but principally for the sake of our becoming good" through enlivening our knowledge and deeds with Christian "affection". Read more here on the Stanford Encyclopedia of Philosophy site.
Let Scripture Guide Treatment of Immigrants : Cardinal Mahony said: the ethical injunctions of Scripture require "compassion for the stranger, the alien, and the worker. Whatever economic, political or social policies we discuss—and whatever discussion of constitutional rights and liberties— we cannot turn our backs to this biblical legacy of hope." Coadjutor Archbishop Jose H. Gomez of Los Angeles also drew on Scripture to explain that "the church's approach to immigration—like the church's approach to every social issue—is never about politics. It is about preaching the good news of God's love for all peoples. It is about transforming the city of man into the family of God." Read more here
I put all my recent panoramic photos of my corner of Haute-Savoie here .
The truth about Bastille Day. What a sobering text! "Bastille Day marks the beginning of the greatest organized persecution of the Church since the Emperor Diocletian, and the explosion onto the world of ideologies that would poison the next two centuries: socialism and radical nationalism. ... And the first such modern genocide in the West took place in France, beginning in 1793. It was undertaken by modern, progressive apostles of Enlightenment and aimed at Catholic peasants, and by its end up to 300,000 civilians had been killed by the armies of the Republic. Read more here but, beware, it's a gruesome account of the atrocities done in the name of freedom and justice, during the French Revolution - from the De Fide Catholica blog.
See the little cat from the farm's next door... and how delicately he cleans himself, on a sunny afternoon, at the end of February: here
St Charles Borromeo website. From the St Charles Borromeo Parish in Picayune, Mississippi, comes a terrific website, a little treasure of information and references about the faith, about the Church, about the Bible, about Catholic Apology and Saints and much more... I needed to check paragraphs of the English version of the CCC (which I left in CA) and I easily found them on their site. Check it out for yourself here .
Your Journey Through Life: Overcoming Our Doubts. A wonderful and inspiring article on the need to place our trust in God more than in ourselves. A very practical article on the ways to do it, as a couple, as a family. "Sacred Heart of Jesus, I place all my trust in you" is a prayer that has come down from one generation to the next. Read more here on the Holy Spirit Interactive ONLINE site.
An Interview with Bishop Guy Gaucher re: St Thérèse of Lisieux . Mgr Gaucher said : The story of the Doctorate for Thérèse is an old one. We could say, to a certain extent, that it goes back to the time of Thérèse herself, as she had wished to be a doctor. « I feel the vocation of the warrior, the priest, the apostle, the doctor, the martyr… Ah ! In spite of my littleness, I would like to enlighten souls as did the prophets and the Doctors. » Read more here on the Sanctuaire de Lisieux site.

The Litanies of the Sacred-Heart. With the Scripture origins for every incantation and with a little bit of information on their creation and their history. Read more here on this site, in the "Prayers" section.
Catholic San Francisco published my commentary "Of Scriptures and prayers, Facebook and food "
on February 4, 2011, click here and go to page 14 and Voila!
or read it directly on this site: Of Scriptures and prayers, Facebook and food
I just spent two days in Paray-le-Monial, a terrific and blessed place in so many ways...So much history, such a key place for the communion of saints. An entire town whose official mission is to develop and support devotion to the Sacred Heart of Jesus? It's pretty cool. It's amazing. And the work of the Emmanuel community at this very specific place is a terrific testimony to the grace of God.
See my own photos of Paray-le-Monial: here
"I am with you always" By Fr. Benedict J. Groeschel, C.F.R. A Study of the History and Meaning of Personal Devotion to Jesus Christ for Catholic, Orthodox and Protestant Christians. I would LOVE to read this book! I haven't yet but I"m sure I will soon. In the meantime, I still recommend it because I know and trust Fr. Groeschel. See more here on Ignatius Insights.
Saint Philomena helped me again yesterday.... And one day, I'm going to have to write about all those "moments" where she came to my rescue. I have already told some of these stories to my friends. In the meantime, I highly recommend her, she is a great intercessor. Did you know she was one of Saint Jean Vianney's favorite saint? See a site devoted to her here
St. Catherine of Bologna: "Seven Weapons in the Fight Against Evil" Speaking in the third person, she states that she entered God's service, "illumined by divine grace... with an upright conscience and great fervour", attentive to holy prayer by night and by day, striving to acquire all the virtues she saw in others, "not out of envy but the better to please God in whom she had placed all her love"... In 1431 she had a vision of the Last Judgement. The terrifying spectacle of the damned impelled her to redouble her prayers and penance for the salvation of sinners. The devil continued to assail her and she entrusted herself ever more totally to the Lord and to the Virgin Mary. In her writings, Catherine has left us a few essential notes concerning this mysterious battle from which, with God's grace, she emerged victorious. She did so in order to instruct her sisters and those who intend to set out on the path of perfection: she wanted to put them on their guard against the temptations of the devil who often conceals himself behind deceptive guises, later to sow doubts about faith, vocational uncertainty and sensuality.
She identifies seven weapons in the fight against evil, against the devil:
1) always to be careful and diligently strive to do good;
2) to believe that alone we will never be able to do something truly good;
3) to trust in God and, for love of him, never to fear in the battle against evil, either in the world or within ourselves;
4) to meditate often on the events and words of the life of Jesus, and especially on his Passion and his death;
5) to remember that we must die;
6) to focus our minds firmly on memory of the goods of Heaven;
7) to be familiar with Sacred Scripture, always cherishing it in our hearts so that it may give direction to all our thoughts and all our actions.
Read more here on the Zenit site.
The Holy Rosary. Here is a terrific site with a dozen types of Rosaries and meditations and prayers, in a dozen different languages! Read more here on The Holy Rosary ON LINE site.
Two slide shows with recent photos in the valley of the Haut-Giffre, in Haute-Savoie, France.
Especially in black and white, snow scenes are beautiful!
(Black & White: here and in color: here )


Liturgy of the Hours, morning prayer, January 8:
For Wisdom is a reflection of the eternal light,
an untarnished mirror of God's power,
the image of his goodness.
And she, who is only one, can do all things,
and renews the world as she endures;
And passing into holy souls from age to age,
she produces friends of God and prophets,
for God loves none but those who dwell with Wisdom.
She is indeed more splendid than the sun,
she outshines all the constellations;
compared with light, she takes first place,
for light must yield to night,
but against Wisdom
evil cannot prevail.
Popes, Atheists and Freedom. Secularists should recognize that the pope's fight is their fight. In his homily the pope invariably pleads for peace, but on Friday evening a viewer could not have missed the meaning when Benedict XVI twice mentioned "garments rolled in blood," from Isaiah 9:5. The image, as befits Isaiah, is poetic and disturbing. Benedict surely intended it so: "It is true," he said, "that the 'rod of his oppressor' is not yet broken, the boots of warriors continue to tramp and the 'garment rolled in blood' still remains." Read more here on the Wall Street Journal site.
Self Inflicted Wounds : the most puzzling form of which is the crippled intellect – crippled by a refusal - a rejection – a refusal to believe – a rejection of belief. In particular I'm puzzled... Read more of Stephen Sparrow quick reflection on the possibilities - and/or dangers - of faith vs. atheism (I love his very last sentence!) here on facebook.
Have you heard about the "Vagabond Bishop" whose evangelization work is seeing terrific results? Mgr. Michael Hoang Duc Oanh, Bishop of Kontum has seen over 50,000 conversions in his diocese in the last couple of years... The Bishop of Kontum was banned from celebrating Christmas Mass with Montagnards (in central rural Vietnam). Mgr. Hoang is known as "the vagabond bishop" among his friends for many miles he travels up and down his diocese to visit his community. Although hampered, he has not lost his sense of humor. Commenting on his sleeping outdoors under the stars he says: "I sleep in a hotel with a million stars. Read the article here on the site of Asia News.
Vatican emerges from WikiLeaks as a key player on global scene If there's one clear conclusion that can be drawn from the Vatican-related WikiLeaks disclosures, it's that the United States takes the Vatican and its diplomatic activity very seriously... "The Vatican is second only to the United States in the number of countries with which it enjoys diplomatic relations (188 and 177, respectively), and there are Catholic priests, nuns and laypeople in every country on the planet. As a result, the Holy See is interested and well-informed about developments all over the globe," it said. Since that memo was written, the Vatican has established full diplomatic relations with Russia, bringing the total to 178 countries. That leaves only about 16 countries off the list, places such as China, Saudi Arabia and Afghanistan. The Vatican also maintains delegations to nearly 20 international institutions, including the United Nations.... In a broader sense, unlike other ambassadors, the papal nuncio is promoting a moral agenda, not the commercial or political interests of his government. A primary focus of papal diplomats in recent decades has been human rights, peaceful resolution of conflicts and protection of core social values. Read more here on Catholic News.
Catholic San Francisco has published my Advent meditation "A Season of Grace and Gratitude".
I'm thrilled! Go check it out, click here and go to page 17 and Voila!
Confess your sins before Christmas! This is a wonderful (and so important) "pep talk" on Going to Confession before Christmas. "Let go of past hurts. Forgiveness is a key to letting things pass. Let go of anger. That emotion destroys you more than whoever you are angry with. Let go of past lusts. Often, lust is the obstacle to grace (and causes a blockage in your heart). If you have trouble loving or praying from the heart, lust could be the "log." Let go of phobias, wrong attitudes, habits, routine, grudges, inferiority, fear of failure, wrong friendships... Make a list (and check it twice).... Be born anew (with Jesus) this Christmas. Don't let your mind be a broken record. Read more here on the Spirit Daily site.

Ice formation in a small ditch. Nature palette.
The Light of the World. I'm reading (in French) the book of interviews with Benedict XVI. I loved the following paragraphs on "progress and freedom"(p 66 / my own quick translation):

"God saw everything he had created and said it was good" is written in Genesis. We might be taken back by what has happened since this dream of a planet. The question is the following: is the earth simply not able to support the enormous potential development of our species? It is possible that it was not made for us to stay here forever… Or we are handling this very poorly".

We will not stay here for ever and Scriptures and the Saints have told us so, as experience is telling us too. But there must be something that we are doing wrong. I think that the question being asked here is all about the concept of progress. Modern times has tried to open up a way based on the basic principles of progress and freedom. But what is progress? We see nowadays that progress can also be destructive. It is why we must reflect on what to do to make sure that progress is real progress.

There was originally two aspects to the concept of progress: one one hand, it was a progress of knowledge. We meant it to be: the understanding of reality. This is what happened and, in an incredible manner, thanks among other things to the junction of an understanding of the world based on mathematics and experimentation. Today we are therefore capable to reconstitute DNA, the structure of life, as the structure of how reality works - to the point of being capable of re-assemble it in parts and to start to create life ourselves. In this way, this progress has also brought new possibilities to man.

The fundamental idea was: progress is knowledge.

And knowledge is power. Which means that I can also use what I know. Knowledge brought power but in such a way that this power which is ours allows us to destroy this world which we thought we were penetrating.

It becomes obvious that there is an essential point of view missing in what we have nowadays, in the concept of progress made of knowledge and power: the common good. The question is: what is good? To which ends is knowledge giving us the power to go? Is it only a question of being able to use things, or must we ask what are the interior criteria, what is good for man, for the world? Here, it seems to me, is what has not happened enough.

Therefore the ethical aspect, which is the part of responsibility that we have toward our Creator, is in the end largely absent. If we only exercise our own power based on our own knowledge, this type of progress will become destructive.

What are the consequences now?

We must engage in a grand examination of conscience. What is really progress? Is it a progress to be able to destroy? Is it a progress to be able to make, select and eliminate human beings? How can progress be mastered in terms of the ethical and human point of view? But this is not only the criteria of progress that must be considered now. Besides knowledge and progress, we must also address the other fundamental concept of modern times: freedom, understood as the freedom to do anything. (p 68)

From this idea, we get the pretension that science is not divisible (restrainable, liable?). Meaning that what we can do, we should do. Any other attitude would be contrary to freedom.

Is that true? I think that it is not. We see to which degree the power of man has reached monstrous proportions. And what has not grown at the same time, it is his ethical potential. This inequality is reflected today in the fruits of progress which is not thought out morally. The big question is how can we correct the concept of progress and its reality so as to master it in a positive interior manner? A great fundamental reflection is here necessary.

Follows a question & answer on the planet and the climate.

Facing the threat of a catastrophe, we are all becoming aware that we must make some moral decisions. There is also the awareness more or less acute of a global responsibility, an awareness that ethics must not only be for our own group or our own nation but must keep in sight the earth and all humans.
Today is the Feast of the Immaculate Conception, which is a most beautiful and wonderful Feast.
As a special grace from God, (and to her alone out of the whole human race), Mary was kept free from original sin and she was "filled with grace" from the very beginning and for ever. Original sin is the stain of a corrupt nature that we all carry within us. God's grace is the light that washes away the stain (when we welcome him) and God's grace will then illuminate our life. And most of life is a constant struggle to turn away from our own arrogance (or apathy) toward the goodness and beauty of love, the love of God and love of neighbor. And in God's plan (which is called the economy of salvation), Mary's Immaculate Conception was a most crucial tipping point. This was my two minutes Basic Theology course for you…. :)
This is what I emailed a non-Christian who happens to be very dear to me about this Feast of the Immaculate Conception and I also put it on my facebook status. But I have found a page from Fr. William P. Saunders which explains it even much better! He looks at what is in Scriptures on the Immaculate Conception of Mary, in the original Greek texts, he explains the history of the dogma, quoting what the Fathers of the Church wrote about it, what the Saints said and what Mary herself said in many apparitions. It's very well written, I highly recommend it. I want to single out one specific paragraph, which applies so much to today:
"Pope Pius also saw the spiritual malaise of the world where the rationalist school of philosophy had denied truth and anything of the supernatural, where revolutions were causing social upheaval, and the industrial revolution had threatened the dignity of the worker and family life; therefore, Pope Pius wanted to spiritually recharge the faithful and saw no better way than presenting again the beautiful example of our Blessed Mother and her role in salvation history. On December 8, 1854, Pius IX solemnly defined the dogma of the Immaculate Conception in his bull Ineffabilis Deus.
Read more here on the Holy Spirit On line site.
I would like to add one more thing: this is a Feast shared by Catholics and Orthodox.
Saint Ephraim and Advent. In Pope BENEDICT XVI's book on "The Church Fathers" (which I highly recommend!) there is a wonderful chapter on Saint Ephraim. Pope Benedict starts with the spreading of Christianity in the world, then he introduces Saint Ephraim (historically, geographically, then his writings: on Scriptures, on theology, his hymns and sermons) and quotes parts of his most beautiful hymn to the role of Mary in salvation history and to the mystery of the Incarnation:
See my own page on Saint Ephraim with his most famous prayer: here .
"Even devils in their craftiness and beastly manners
and with their arrogant minds
become like dust
when facing a modest and humble person."
St. Isaac the Syrian
For a listing of prayers, articles, recipes & nature photos on this site,
see the Site Map
'Give them exactly what they want': The Meditation on the Two Standards Roger Dawson SJ. There is a contemporary version of the Two Standards that I read a while ago in which the first thing that Lucifer instructs the demons to do is to 'give them exactly what they want': everything they ask for, give it to them; don't hold back on anything. This is one of the Two Standards. The other 'standard' that Ignatius puts before us is that of Jesus. How does he work and what strategy does he use? Jesus tells his disciples to convert the world to him by first of all, 'drawing people to the highest spiritual poverty'. In other words, we should not look to wealth and status for security, but to God. Read more here on Thinking Faith site.
Time to End the Execution of Children in the Womb and of Adults by Capital Punishment. A good article on these two state-supported but not Catholic-inspired legal issues, which will only be changed once enough voters have a change of heart; but once they do, we, as a whole, as a nation, we will be better in sync with truly Christian values. Read the article by Deacon Keith Fournier here on the Catholic On Line site
An Agreed Statement on the Sanctity of Marriage. For Christians of both the Orthodox and Roman Catholic Churches marriage is a sacrament. Through the prayers and actions of our wedding rites we profess the presence of Christ in the Spirit and believe that it is the Lord who unites a man and a woman in a life of mutual love. In this sacred union, husband and wife are called by Christ not only to live and work together, but also to share their Christian life so that each with the aid of the other may progress through the Holy Spirit in the life of holiness and so achieve Christian perfection. This relationship between husband and wife is established and sanctified by the Lord. As a sacred vocation, marriage mirrors the union of Christ and the church (Eph. 5:23). Read more here on the ByzantineCatholic site: Welcome to byzcath.org!
Living Liturgically: Feast of Christ the King, Thanksgiving and Advent as a Way of Life. A beautiful article on the crucial need to follow the liturgical calendar - as if our life depends on it - because it does! Read the article by Deacon Keith Fournier here on the Catholic On Line site.
"As it is, to this day, whenever Moses is read, their hearts are covered with a veil, 16 and this veil will not be taken away till they turn to the Lord. 17 Now this Lord is the Spirit and where the Spirit of the Lord is, there is freedom. 18 And all of us, with our unveiled faces like mirrors reflecting the glory of the Lord, are being transformed into the image that we reflect in brighter and brighter glory; this is the working of the Lord who is the Spirit." 2 Corinthians - Chapter 3
"12 The word of God is something alive and active: it cuts more incisively than any two-edged sword: it can seek out the place where soul is divided from spirit, or joints from marrow; it can pass judgement on secret emotions and thoughts. 13 No created thing is hidden from him; everything is uncovered and stretched fully open to the eyes of the one to whom we must give account of ourselves. 14 Since in Jesus, the Son of God, we have the supreme high priest who has gone through to the highest heaven, we must hold firm to our profession of faith. 15 For the high priest we have is not incapable of feeling our weaknesses with us, but has been put to the test in exactly the same way as ourselves, apart from sin. 16 Let us, then, have no fear in approaching the throne of grace to receive mercy and to find grace when we are in need of help. " Hebrews - Chapter 4
Pope Benedict's general prayer intention for November 2011 is "That the Eastern Catholic Churches and their venerable traditions may be known and esteemed as a spiritual treasure for the whole Church."



The Holy Father's mission prayer intention for November 2011 is
"That the African continent may find strength in Christ to pursue justice and reconciliation
as set forth by the second Synod of African Bishops."
See a very good page on these two prayer intentions: here on catholicism.about.com.
Elizabeth of the Trinity. I have been intrigued for a while by this French Carmelite, about whom I do not know much yet, but here is a good place to start. What attracted me so much about Elizabeth Of The Triniy is that "getting" the Most Blessed Holy Trinity right seems to me the highest goal of the Christian life. Read more here on Praise of Glory blog.
Pope Benedict: Three days that changed the world. In his homily Pope Benedict pondered the mystery of death, read in the light of the 'three days' that passed between Christ's death on the Cross, his descent into the 'abyss of death' and his resurrection. He said : "faced with death, we can not but feel the feelings and thoughts dictated by our human condition. And we are always surprised and superseded... Read more here on the Vatican News site.
Autumn 2011 photos here .
Here you can find all my nature - and local - photos of this gorgeous and flamboyant Autumn season we are having in Haute-Savoie: http://www.leblogdelabergerie/Photos/Autumn2011.htm .
"Everyone of us will have to give an account of himself before God. Therefore we must no longer pass judgment on one another. Instead you should resolve to put no stumbling block or hindrance in your brother's way…The Kingdom of God is not a matter of eating or drinking but of justice, peace and the joy that is given by the Holy Spirit. Whoever serves Christ in this way pleases God and wins the esteem of men. Let us, then, make is our aim to work for peace and to strengthen one another".
Romans 14:12-13, 17-19
This morning Liturgy of the Hours.
Yes, this was exactly my goal when I started this French-American Catholic site 5 years ago:
Do not be a stumbling block for your brother, work for peace and strengthen one another.
"Offer it up for them because it is for them that you suffer." "What an astounding spiritual insight! She likes to refer to these kinds of things as "God's 2x4's" and the analogy is so apropos"... Read more here on the Deeper Truth blog.
For a listing of prayers, articles, recipes & nature photos on this site,
see the Site Map
What a spiritual director and an MBA taught me about being overwhelmed. Since we're approaching prime burnout season with the Fall in full swing and the holidays just around the corner, I thought I'd share what I've learned: "The 4-Step Burnout Gas Mask"... Read more here on the Conversion Diary site.
I just added my recipe for Apple Custard Tart with candied orange & lemon slices
in the cooking section. See here

The Spirit of Distributism: What Occupy Wall Street and the Tea Party Have in Common. By Kevin Gilbert Mauer. "Since the onset of the global economic crisis, there has been a growing sense from both the right and the left that the distribution of wealth is not just, that people are not free to chart their financial futures, and that economic misfortune is often the result of decisions made beyond one's own control". Read more of this very good article here on the Christian Democracy and America's Future blog.
Writing to a person sentenced to death. Several hundreds are the prisoners sentenced to death who, thanks to the Community of Sant'Egidio, correspond with friends from all over the world. They are prisoners living in the prisons not only of the USA, but also of other countries, like Trinidad and Tobago, Cameroun, Zambia, or where, like in Russia, all the death sentences were commutated in life inprisonment. Read more here on the Saint Egidio site.
The Blessings & Curses of the Beatitudes by Mark Brumley. A beautiful reflection and analysis of the Beatitudes, the Way To A Christian Life par excellence. "The Beatitudes strike some people more as poetry than theology. Tell them the Beatitudes are more than pleasant thoughts or good wishes, and you'll often lose them. Pious ideals or kind sentiments are fine, but please don't bring theology into it. But the Beatitudes are about God's Kingdom, which means we can't avoid theology. The first word of each Beatitude–"blessed"– teems with theological significance, if only we attend to it".... Read more here on the Ignatius Insight site.
The Devotion to the Sacred Heart of Jesus. Saint Margaret Mary, pray for us! "For all Catholic men and women, families and young people troubled by the many afflictions of modern life...... .Discover the greatest source of spiritual and temporal help, graces and blessings for those who truly love the Sacred Heart of Our Lord, Jesus Christ, and practice His requested Devotion with the essential prayers and acts, including the "First Friday"and the "Nine Fridays" promises"... Read more here on the site of sacred heart devotion.
A battle to the death against moral relativism. By Michael O'Brien. This is a terrific article! Full of little gems. I highly recommend that you read it all. Here are some extracts to get you started: " If I had to encapsulate it in a thumbnail, I would say that everyone is fighting a battle to the death with a dictatorship of moral relativism. This struggle is waged primarily regarding national laws to protect the unborn and to protect various aspects of life, but it's on every other level of culture as well. Confusion is created everywhere through media. Media is the primary shaper of consciousness of our times. In every nation that I visited it was the primary concern of apostolic people—clerics as well as lay apostles. The unprecedented power of film, television and Internet is something we Christians have never had to deal with before on this scale. And it was encouraging to see that new strategies are being initiated everywhere in every country where I went... We have in the West tended to see the battle between Life and the culture of death as falling into two political categories, that is, conservative or liberal. But the nature of the war is changing. Left/right, conservative/liberal, neo-conservative/neo-liberal and so forth, can be misleading templates when applied to the great war in which we are all immersed... As the voice of the watchman, you must speak with unwavering clarity and conviction, and you must do it in a spirit of love—Caritas in Veritate. You must love mankind as a community of persons, not only the innocent, not only those who are falling victim to abortion and euthanasia and, probably soon, assisted suicide and all the other ways the culture of death is pushing the frontiers. You are also to love our enemies. Read more here on lifesitenews site.
The Holy Fire. By Robert Payne. In his "Great Catechism", Gregory of Nyssa begins with a discussion on the nature of faith and how Christianity stands at the point midway between Hellenism and Judaism. But Christianity has added a new dimension: the Trinity where all is mystery, yet the human soul of its own accord half-divines the mystery. Man is created in the image of God, in the image of the the Trinity… Why was man created? Gregory answers that it was simply an act of charity: man was formed out of the abundance of God's love, "for it was not right that light should remain unseen, or glory unwitnessed, or goodness unenjoyed, or that any aspect of the divine nature should remain idle with no one to share it"… But someone says that there is so much evil in the world, where is the body's freedom from suffering, where is eternal life? And Gregory replies that man was endowed with the gift of liberty and free will and brought this suffering on himself. It is not God's fault. "If a man in broad daylight of his own free will closes his eyes, the sun is not responsible for his failure to see".
The sin of Gluttony. All of us are born with a big gaping hope within us. It's a hole that God himself placed so that we would search for Him and find Him. Some of us don't realize this, however, and try to fill the emptiness with food, alcohol, sex, tobacco, anti-depressants, and other things of the world. This hole, however, is a God-sized hole, and the only thing that can fill a God-sized hole is God Himself, which means that anything else that we do simply won't compensate. The belly may be stuffed, but the heart is hollow. Read more here on the Holy Spirit Interactive site.
For a listing of prayers, articles,
recipes & nature photos on this site,
see the Site Map
Filled with Joy and Gratitude. More than anything, our lives as Christians should be lives of joy. This is a great gift we have been given - the gift of redemption, the gift of freedom, the gift of being co-workers with Christ in the Kingdom of God. Growing in a realization of the greatness of this gift leads to a deep sense of gratitude, a gratitude that imbues our every prayer, even in times of distress and turmoil. This gratitude leads to an overflow and superabundance of joy. Again Paul writes: "Always be joyful, then, in the Lord; I repeat, be joyful. Let your good sense be obvious to everybody. The Lord is near. Never worry about anything; but tell God all your desires of every kind in prayer and petition shot through with gratitude, and the peace of God which is beyond all understanding will guard your hearts and your thoughts in Christ Jesus". (Phil 4:4-7) This prayer in gratitude is the key, for by giving thanks to God in all things, sufferings as well triumphs, we attune our hearts to the richness of God's mercy and the beauty of his love. With our hearts so attuned, we are able to "let your minds be filled with everything that is true, everything that is honorable, everything that is upright and pure, everything that we love and admire - with whatever is good and praiseworthy" (Phil 4:8). This purity of heart opens us up to receive the superabundance of God's grace so that the perfect joy of God becomes our natural disposition - it simply emanates from the store of goodness within us. Then we truly live up to our image as God's work of art.
Today is Saint Therese de Lisieux Feast! "The power of prayer is really tremendous. It makes one like a queen who can approach the king at any time and get whatever she asks for. For me prayer is an upward leap of the heart, an untroubled glance towards heaven, a cry of gratitude and love which I utter from the depths of sorrow as well as the heights of joy. It has a supernatural grandeur which expands the soul and unites it with God".
(Saint Theresa of Lisieux).
The picture is from the Chapel of Sainte Therese in Notre Dame des Victoires in San Francisco and most of the flower photos are from the Rose Garden in the Golden Gate Park (with one photo from my parents garden in the Alps). A while back, I made a short flash movie on Saint Therese here
Sainte Therese, pray for us!

Saint Athanasius. Writing on Athanasius, Robert Payne said that "There were other Fathers of the Eastern Church who wrote more profoundly or more beautifully, but none wrote with such a sense of authority or were so little plagued with doubts. Athanasius wrote directly, always cutting to the heart of a problem. He had no gift of style. He wrote Greek as though those flowing syllable were lead pellets, and though sometimes tenderness would break through it does so only occasionally and then against the grain. His wit was mordant. He did not often employ the weapon of sarcasm, but when he did, no one ever forgot it. (The holy fire).
Holy Card Heaven. This is such a lovely site! She has assembled quite a big collection of prayer cards. And there is something so simple and so beautiful at the same time in the miniature art of devotion and prayer cards, where everyone of them is a labor of love. See more here on the Holy Card Heaven site.
In a few days, I'll be going back to the French Alps for the winter. Knowing I will not see the local treasures of the Pacifc coast for a while, I have been driving down Highway 1 on a few occasions and checking the waves and the ocean, the beaches and the plants of this corner of the world and taking lots of photos.

Dialogue With Others. This country has a long history of cooperation between different religions in many spheres of public life. Interreligious prayer services during the national feast of Thanksgiving, joint initiatives in charitable activities, a shared voice on important public issues: these are some ways in which members of different religions come together to enhance mutual understanding and promote the common good. Americans have always valued the ability to worship freely and in accordance with their conscience Read more here on the USCCB site.

Black & White photos in the San Juan Colorado mountains. see more here on Jack Brauer site.
Fr. David Anderson's class on the Fathers of the Fourth Century. Last night we had our first class and Fr. David gave us an overview of the upcoming serie, the Greek and the Desert Fathers he will speak about, Saint Anthony, Saint Athanasius, Saint Ephraim, Saint Basil, Saint Gregory of Nazianze and Saint Gregory of Nicea etc. First he spoke about the setting of this extremely important period in the Church, of this watershed century where the central doctrines, the Creed, the 7th Council, the cristallization of the liturgy, the canon of scriptures, all these things happened trying to answer the question asked by our Lord: "But who do you say that I am?"... It was a great class. See more info here on this site.
It has pleased the Father to reconcile all creation in himself through the Blood of Christ. From the morning prayer of the Liturgy of the Hours.
On Catholic Social Justice doctrines and why Californians - Catholics or not - should be asking for a Death Penalty Moratorium now. "In the public discourse that we are going to have, sooner or later, regarding the validity of capital punishment in our own wealthy, free and open societies of the West, the secularists will use the angle of race or poverty or human rights (which are very valid) but Catholics have a responsibility to push for a bigger picture by phrasing it as a culture of life issue and by stressing the inherent dignity of the human person. Nothing matters more than choosing life - even when death is deserved. When faith illumines our lives, we do not see death as the ultimate punishment anymore but rather we understand better that the ultimate threat is to be cut off from God. Nothing matters more than the love of God and repairing our relationship to God when it has been hurt. Very little repair is allowed once "rigor mortis" has set in". I wrote this a little over 5 years ago and there is no moratorium yet! But I still hope that hearts - and votes - can be changed and this is why I'm reposting this. Read my article against the Death Penalty here.
From the Summa Theologiae. "The incarnation of the Son fitted the sin it was remedying: for Adam sinned by craving knowldedge, and man is brought back to God by the Word of true wisdom." Part III the road to God.
Fear, Courage, and Late-Found Resolve . By A.G. Harmon. Peter, typically garrulous, steps up to opine: "You are the Christ; the son of the living God." For his perceptiveness, Jesus gave Peter the keys to the kingdom and made him the rock upon which the Church is built. His new job also brought him a future of being sent to jail a great deal, vilified, flogged, starved, and crucified upside down; but work's work, and such things come with the territory, I guess. Read more here on Image site.
Marginalizing Marriage. Why This Trend Threatens Society. By Father John Flynn, LC. One of the factors behind the recent riots in England, according to a number of commentators, is the breakdown of marriage and family life. If this is so then the conclusions of a recent report on marriage present a worrying situation. Read more here on Zenit news site.
Economic Woes Seen as a Test of Faith . "our faith gives us a particular way of looking at this broken economy. From the prophets of the Old Testament to the example of the early Church recorded in the New Testament, we learn that God cares for the poor and vulnerable, and he measures the faith of the community by the treatment of those on the margins of life. Jesus in his time on earth taught us about the dignity of work and said we would be judged by our response to 'the least of these' (Mt 25). Christians need to study carefully what Jesus taught about the use of money and wealth, a spirit of stewardship and detachment, the search for justice and care for those in need, and the call to seek and serve the reign of God". Read more here on the Zenit news site.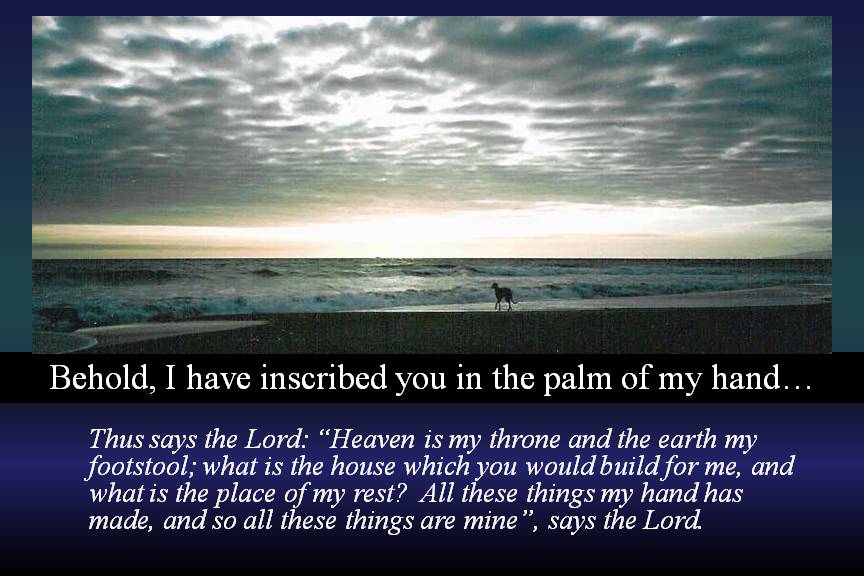 God's gratuitous presence. Every authentic religious experience, in all cultural traditions, leads to an intuition of the Mystery that, not infrequently, is able to recognize some aspect of God's face. On the one hand, God is seen as the origin of what exists, as the presence that guarantees to men and women organized in a society the basic conditions of life, placing at their disposal the goods that are necessary. On the other hand, he appears as the measure of what should be, as the presence that challenges human action — both at the personal and at the social levels — regarding the use of those very goods in relation to other people. In every religious experience, therefore, importance attaches to the dimension of gift and gratuitousness, which is seen as an underlying element of the experience that the human beings have of their existence together with others in the world, as well as to the repercussions of this dimension on the human conscience, which senses that it is called to manage responsibly and together with others the gift received. Proof of this is found in the universal recognition of the golden rule, which expresses on the level of human relations the injunction addressed by the Mystery to men and women: "Whatever you wish that men should do to you, do so to them" (Mt 7:12)[23].
Read more of GOD'S PLAN OF LOVE FOR HUMANITY here from the COMPENDIUM OF THE SOCIAL DOCTRINE OF THE CHURCH on the Vatican site.
Is Apple Catholic and PC Protestant? The fact is that the world is divided between users of the Macintosh computer and users of MS-DOS compatible computers. I am firmly of the opinion that the Macintosh is Catholic and that DOS is Protestant. Indeed, the Macintosh is counter-reformist and has been influenced by the ratio studiorum of the Jesuits. It is cheerful, friendly, conciliatory; it tells the faithful how they must proceed step by step to reach – if not the kingdom of Heaven – the moment in which their document is printed. It is catechistic: The essence of revelation is dealt with via simple formulae and sumptuous icons. Everyone has a right to salvation.
DOS is Protestant, or even Calvinistic. It allows free interpretation of scripture, demands difficult personal decisions, imposes a subtle hermeneutics upon the user, and takes for granted the idea that not all can achieve salvation. To make the system work you need to interpret the program yourself: Far away from the baroque community of revelers, the user is closed within the loneliness of his own inner torment. Read more here
38 For I am certain of this: neither death nor life, nor angels, nor principalities,
nothing already in existence and nothing still to come, nor any power,
39 nor the heights nor the depths, nor any created thing whatever,
will be able to come between us and the love of God, known to us in Christ Jesus our Lord.
Paul Letter to the Romans chapter 8
Saint Jean Vianney stressed how important it is to exercise our soul every day and he gave us very practical and useful hints:
- before work: offer your efforts and your fatigue for the expiation of sins, yours and the world's;
- before meals: always be grateful for what you are going to eat;
- during meals: if you find yourself absent-mindedly stuffing food in your mouth, stop and turn to God, beg him to forgive you, thank him for showing you how easily you can get suck in to worldly pleasures;
- in difficult times: recognize that God's ways are different from your wishes and accept them, in tender submission;
- in moments of temptation: turn immediately to Christ and cry out for help! Saint Catherine herself used to say when faced with temptation: I put my trust in you, Jesus, and not in my own will;
- while walking: associate every step to the Lord's walk on this earth including his climb on Mount Calvary;
- when bad thoughts arise in your heart: plead our Lord to answer your prayer and deliver you from the torments of temptation so that your heart and mind will become a temple worthy of the Spirit.
Note that there is not a moment, day or night, when on this earth there is not a multitude of pious souls sending to God their fervent supplications and petitions, which is why it will be very useful to unite your prayers to them, so you can join into the great symphony of praise, where even the smallest voices are welcomed with mercy.
(Catholic Hours of Ars: prayers of a servant of God)
A different kind of "To Do" list. This is a list of Dos and Don'ts when dealing with dementia or anyone suffering from memory loss or cognitive problem, all of this viewed as the love of God in the love of neighbor, all of this embraced in the Light of Christ. See my full list here .
Today's Gospel reading was the parable of the unforgiving servant. And in the context of our national debt and global markets in turmoil, I understood this in a new light. We (all of us, in the West) have been the richest & most powerful nations on earth, granting loans to poorer nations, sometimes even writing off their debt. Well, for the first time in a long time, we are now facing ourselves a debt "we have no means of paying" and I wonder… Are we going to learn from this moment? Are we going to grow in mercy and patience? Or should we go the way of wickedness, "seizing the weaker ones by the throat and throttling them"?...
Immigration and the 'Next America': Perspectives From Our History, by ARCHBISHOP GOMEZ. This is a terrific article on the Catholic missionary role in the beginning of this country and the crucial need for us to understand this and to go beyond the "liberal" or "conservative" labels: "The 19th-century historian John Gilmary Shea said it beautifully. Before there were houses in this land, there were altars: "Mass was said to hallow the land and draw down the blessing of heaven before the first step was taken to rear a human habitation. The altar was older than the hearth." This is the missing piece of American history. And today, more than ever, we need to know this heritage of holiness and service — especially as American Catholics.... Read more here on the National Catholic Register site.
My own tribute to a wonderful Saint: le Curé d'Ars! On this occasion of his Feast Day and on the closing of the Year For Priests, I remember fondly the pilgrimage I did a year ago and I reflect on the amazing life of this most humble priest... Read more here.
The Theologian and the Cardinal. An American Story. By Sandro Magister. The censure of a book about God provokes not rupture, but dialogue. The progressive magazine "America" holds out the olive branch. A lesson by Pope Benedict on what "true" theology is.... Read more here on Chiesa. (Have I mentioned yet how much I appreciate this site? I love it! Go check it out, it is well worth it).
For a listing of prayers, articles, recipes & nature photos on this site,
see the Site Map
Suffering, hardship, torments, debilitating confusion… A friend of mine posted a very good comment on facebook on this very subject and what to do about it: "When the devil whispers discontent in your ear and throws obstacles into your day to make you stumble in ingratitude for God's gifts, illuminating everything that is wrong, throw a wrench in the devil's spokes: Thank God for the chance to unite with Christ in suffering. Thank you Lord for crosses". On one hand, you have the question of suffering and evil and it is such a huge one, a crucial - and unending one - for humanity … and, on the other hand, you have the Good News from Jesus Christ and when these two meet, everything is changed, everything becomes possible, the unbearable can be endured, for that matter, through sacrifice and forgiveness and love, not only it can be endured but it can be embraced and it will be transformed and transforming, it will be transcended and become a conduit for grace, for our salvation and the salvation of the world. This is absolutely the heart of Christianity and the reason for life on this planet of ours! I have written more on this subject ici .
Is there a Catholic approach to the debt ceiling debate? By Anthony Stevens-Arroyo. " I think it is important for Catholic America to quickly recognize that the unseemly partisan fighting about whether the deficit will be reduced when the rich will loose tax loopholes (most Democrats) or when only spending will be cut (most Republicans) is a surrogate argument about the social fabric of the United States. Is Capitalism in America to be unbridled? Or should the people rely on elected government to limit the power and wealth of the few in the papal call for Social Democracy? I believe the answer to that question transcends partisan politics..." Read more here on the Washington Post site.
The Wrapper Distracter, by Marcellino D'Ambrosio, Ph.D A very good article on the alternative to the "progressive vs. conservative" dilemma which is instead the test of the Kingdom: "But for the Christian, the ultimate question is not personal preferences of style, or whether something is old or avant garde. It is, rather, whether or not it fits into the Kingdom of God. To discern what fits with the Kingdom, we first need to know what that Kingdom is all about. First of all, we know that God is truth..." Read more here on the Catholic Exchange site.
Stow Lake and roses... I have put together a few photos taken recently on a walk in this beautiful spot in the Golden Gate Park. See them here on the "Photos" part of this site.
Hope for Oprah. By Patrick Novecosky. "I have to confess that prior to the Sisters' appearance, I had never watched a full episode of The Oprah Winfrey Show. I had seen snippets here and there, but I made it a point to set my DVR for the Sisters' two appearances last year. Not only was the first episode fair, it was glowing... Some people refuse to watch Oprah or her new network because of her politics or her openness to other spiritualities. There's no question that we need to be vigilant against anything that would lead us away from our faith..." Read more here on the Legatus site.
Stay awake and be vigilant! "Conscious of his imminent death on the cross, he felt great anguish and the closeness of death. In this situation an element is seen that is of great importance also for the whole Church. Jesus said to his own: Stay here and watch; and this call to vigilance refers in a precise way to this moment of anguish, of menace, in which the betrayer arrives, but it concerns the whole history of the Church. It is a permanent message for all times, because the somnolence of the disciples was not only the problem of that moment, but is the problem of the whole of history. The question is what this somnolence consists of, and what is the vigilance to which the Lord invites us. I would say that the disciples' somnolence in the course of history is a certain insensitivity of soul to the power of evil, an insensitivity to all the evil of the world. We do not want to let ourselves be too disturbed by these things, we want to forget them: We think that perhaps it is not so grave, and we forget"... Read more of the Dies Irae reflection by Pope Benedict XVI here on Chiesa Expresso site.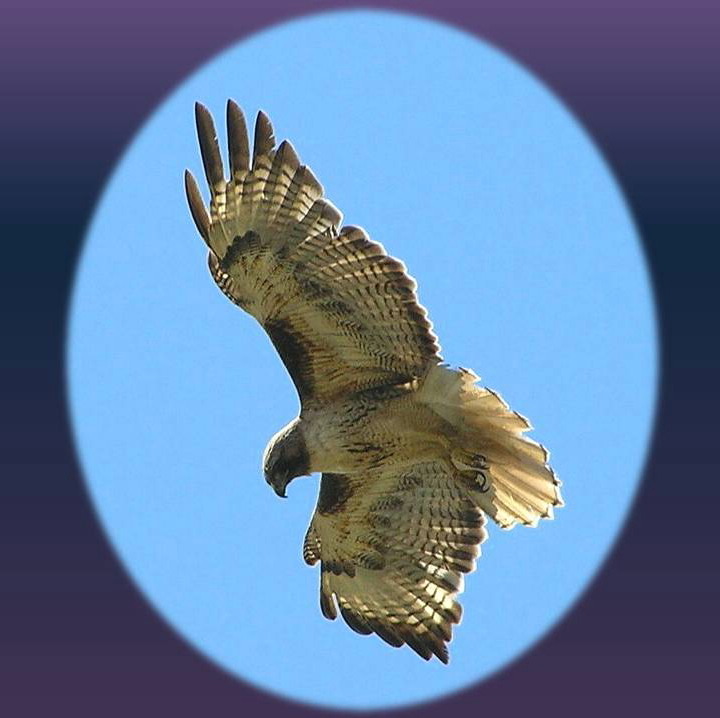 Red tail hawk in the Sunset district.
Former San Quentin warden leads campaign to end death penalty. Woodford, newly appointed as executive director of Death Penalty Focus, a San Francisco-based nonprofit dedicated to eliminating the death penalty in favor of prison terms without the possibility of parole, is not a recent convert to the cause. A lifelong Catholic, she long opposed capital punishment on moral grounds... Read more here on the Catholic San Francisco site.
Peter and Paul. By Deacon Keith Fournier. These two great pillars of Christianity were both martyred for the faith. Their Feast is celebrated together. Priests and deacons throughout the entire world wear Red at the Liturgy, symbolizing that the blood of the Martyrs, as the Second Century Church Father Tertullian so clearly proclaimed, "is the seed of the Church." Read more here on the catholic.org site.
Little "windows" on the stages of Life. I wrote an article on the stages of life, on the continuum of life from conception to birth, from growth to much more, to the goal, the promise, the hope of eternal life. And I even illustrated it with pictures and photos, icons and collage! Read more here on this site.
John The Baptist, pray for us! A little while ago, I read a very good book about John and it changed the way I looked at him, it certainly enriched my understanding of him, him who was the "the bridge from the Old to the New testament", "the call to repentance, the witness to the Trinity", the cousin of Jesus, the one who jumped up and down in Elizabeth's womb and yelled "It's him! It's him"... Read it here .
Against Idolatry by Mark Shea. The apologetics subculture in the Church is a place with both rewards and dangers. The rewards are plain enough: People write you sometimes and tell you that something you said... Read more of this very good - with good timing - piece here on the National Catholic Register site.
Simplifying our spiritual vocabulary by Father RonaldRolheiser. "Thus, as we get older, we can trim our spiritual vocabulary down to three words: Forgive, forgive, forgive! To age into and then die with a forgiving heart is the ultimate moral and religious imperative. We shouldn't delude ourselves on this. All the dogmatic and moral purity in the world does little for us if our hearts are bitter and incapable of forgiveness. We see this, for instance, in the sad figure of the older brother of the prodigal son. He stands before his father protesting that he has never wandered, never been unfaithful, and that he has stayed home and done the family's work. But, and this is the issue, he stands outside the father's house, unable to enter into joy, celebration, the banquet, the dance. He's done everything right, but a bitter heart prevents him from entering the father's house just as much as the lustful wanderings of his younger brother took him out of that same house. Religious and moral fidelity, when not rooted inside of gratitude and forgiveness, are far from enough. They can leave us just as much outside the father's house as sin and infidelity. As Jesus teaches forcefully in the Lord's Prayer, a non-negotiable condition for going to heaven is forgiveness, especially our forgiving those who have hurt us".... Read more here on page 18 of the Catholic San Francisco of June 10, 2011.
The forming of consciences. Pope Benedict XVI made this simple, profound and crucial statement (in the recent trip to Croatis): "It is by forming consciences that the Church makes her most specific and valuable contribution to society. It is a contribution that begins in the family and is strongly reinforced in the parish." How true it is! Read more here on Zenit news.
Pentecost Reflection: The Holy Spirit and Pentecost and me! I'm thrilled to say that Catholic.org just posted a little piece I wrote: The Holy Spirit has been somewhat elusive to me, more fleeting, harder to grasp and to articulate. On the other hand, I love the feast of Pentecost and I have no problem basking in this glorious moment every year. I understand it as a mega-epiphany moment where all the light switches where turned on for the disciples... Read more here.
For a listing of prayers, articles,
recipes & nature photos on this site,
see the Site Map
Divine abundance. By Woodeene Koenig-Bricker. Because we are drawn more to the outside this time of year, I believe that summer is the ideal time to take a new approach to our spiritual lives ... so here are a few ideas for seeing the abundance of God in these months... Read more here on Our Sunday Visitor site (very clever ideas too, I must admit!).
A Lesson from the Cherubim, Sing When it Hurts. By Sonja Corbitt.
A beautiful essay on suffering and praise...
Life is hard. Sometimes dark. There are times when troubles pile so high we fear we might suffocate under them. We are lonely. We are scared. We are burdened. These are wintery, cold spiritual seasons when there seems to be no light, no help, no relief, no comfort in any direction. It's at these times, when we are most discouraged, most weary, that the angels teach us what we must do. We must SING!
Read more here on the Catholic Exchange site .
A lesson from the Visitation. In this very nice reflection on traveling and kids and why we do it, Ginny Kubitz Moyer wrote with love (and wit!) about Mary and Elizabeth' reunion in the Visitation and why they should be our models in any travel we undertake... Read more here on the Mary and me blog.
There is a beautiful recap of salvation history tucked at the end of an article on the poet Richard Wilbur and I loved it so much, I'm going to quote it here:

"It is clear to Wilbur that the words of the disciples' reflexive acclamation, recalling as well the angels' song to the shepherds in Luke 2, add a powerful frisson to Jesus' reply: "I tell you, that if these should hold their peace, the stones would immediately cry out". His poetic juxtaposition of these passages forms a beautiful meditation on the the wondrous intricacy and beauty of the divine poet redemptive artistry, by which a lamp, lighted in a humble Palestinian stable for the improbable birth of the King of Kings, the quaint and clichéd crèche at which we sing our carols, the Palm Sunday hosannas which declare "his kingdom come," and, yes, the agony of that terrible Friday we dare to call Good, all are woven together to charge the Bethlehem moment with a timeless significance:
But now, as at the ending,
The low is lifted high
The star shall bend their voices,
And every stone shall cry,
And every stone shall cry
In praises of the child
By whose descent among us
The worlds are reconciled.
This hymn articulates as well as anything in historical exegesis of the nativity account once central concern of Luke's Gospel, namely to show how political power is inclined to suppress transcendence, to miss that the good in the evangel has to do with the reconciliation of fallen humankind with its divine Author. Wilbur's poem, like the gospel itself, foregrounds the primacy of truth and love, qualities to which politics is often both deaf and blind".

( Found in the article "God's patient stet" by David Lyle Jeffrey, in FirstThings, June 2011).
The true light that enlightens everyone. The fundamental theme of the encyclical is Johannine: truth as light. John Paul II waits only one paragraph before broaching the topic of the legacy of sin and disobedience: Sin hampers our capacity to know the truth, as well as our will to act in accordance with it. When in the shadows of sin, we still search for freedom — the difference is that we seek it apart from the truth, lest our deeds of darkness be brought into the light. The good news is that the aspiration for truth is never destroyed.... Read more here on "The Weight of Glory" blog.
Letting go of your baby. When I was a junior in college, I studied in Paris for a semester. As I boarded that plane at San Francisco International Airport, hauling my comically overstuffed Samsonite, I was nervous and excited... Read more here on this wonderful insightful blog: Mary and me.

Waters of the oceans and streams of faith.
Whoever thirsts will drink freely of live-giving water, alleluia.
Worship the Lord who made the heavens and the earth, springs of water and the mighty sea, alleluia.
The saints will rejoice in glory, alleluia.
In this morning prayer of the Liturgy of the Hours, I saw a wonderful golden thread running through it and it answers all the big questions of life: first, there is the statement about God's creation (the ocean), then the new life in Christ for every Christian (the living waters) and then finally holiness and joy (which is both the goal and the way)...
Read more here. With photos.
Charity is the queen of virtues. I have already said how much I enjoy "How Christ changed the world" by Msgr. Luigi Civardi. This is a terrific and short compendium of Catholic Social Teachings and I keep coming back to it. Here is the beginning of the chapter on "Charity": Justice and Charity are the two foremost social virtues, inasmuch as they dispose our minds to the fulfillment of our duties toward society, so that, after having considered the teachings of Christianity with regard to justice, we are now to treat of charity, called the queen of virtues. Charity is the theological virtue that inclines us to love God for Himself and our neighbor for the love of God. Charity must not only be affective [prompted by feeling and sentiment], but also effective [productive of effects and of works]. Works are the test of charity. It is not enough to wish good to our neighbor; it is also necessary to do good to him, according to his needs. Charity has to be converted into kindness and mercy. It was this that Our Lord taught by the parable of the Good Samaritan, who "seeing him, was moved with compassion" [affective charity], and forthwith "he went up to him and bound up his wounds." etc. [effective charity). And the parable ends with an admonition to imitate the Good Samaritan who "showed mercy to him." [Lk. 10:25-37]. Read more here on the Catholic Tradition site.
A terrific article on the virtues of patience and fortitude and more. Here are a few passages:
An emotionally healthy life is one in which the emotions are moderated by right reason … Now the greatest achievement of love is to learn to love the other as another self. But love is difficult to achieve. It is difficult because love is channeled through virtue and virtue is difficult. And it is difficult more specifically because specific difficulties arise that become obstacles in the quest for the Supreme Good. Hence, the need for a host of virtues (such as temperance and fortitude, patience, charity and hope) that will enable us to overcome these obstacles.

Emotional health, in other words, demands that we aspire to something higher than ourselves and our own personal comfort. It demands that our life become a quest for the Supreme Good, that is, for God. We are what we love, and it is really only by loving that which is larger than ourselves that we actually become enlarged and enriched … Now a human person is what he chooses. We become what we choose. Our character is established by the choices that we make. In making an unjust choice, I become an unjust man. In choosing to lie, I become a liar, a person who is untrustworthy.

Life brings with it all sorts of hardships, many of which are inflicted by others. Things rarely go our way … Hardships lead to sorrow, and sorrow in turn can beget anger. Anger can beget hatred, which in turn can lead to unjust injury, either verbal or physical. That is why the emotion of sorrow needs to be moderated according to reason. The virtue of patience is that habit by which we endure hardship so that we maintain the course of action set out by reason. The patient man is not inordinately saddened by the things which cause him hurt. The defect of patience is, of course, impatience, which is an inability to bear hardship, and which involves a loss of self-possession. This results in the forsaking of the good on account of the sorrow caused thereby.

Read more here on Catholic Education site.
Cool Discovery About the Birth of Christ! Here is a very good article from Jimmy Akin on the EXACT DATE of the Birth of Our Lord - and with some very pointed comments afterwards (I can tell you right away that I agree with the "masked chicken" and "Nick2"...). Thank God for Jimmy Akin, for this articulate and wise apologist... Read more here on his site.
Tenebrae. "And who (I thought) was this cast of characters but me and you! For we play out the Passion story not only during Holy Week but every week of our lives. I mean, the presence of Christ within me struggles with a Judas within me who pretends to love him but really is engaged in arresting his development, handcuffing my Christic potential. The presence of Christ within me looks with sadness upon a Peter within me..". Read more here on Geoff Wood Reflections blog.
On the Connection between Greed, Theft and Sexual Immorality. Over the years, as I have taught on the matter of sexual morality, to both young people and also couples getting ready for marriage, I have noticed a pattern in the Biblical texts: sexual immorality is quite often linked or closely associated with references to greed and theft. This link has become clearer and more understandable to me over the years. For, greed is excessive desire to possess wealth or goods, it is the insatiable desire for more. This is closely linked to lust which is an inordinate desire for the pleasures of the body. Thus the lustful, the sexually immoral and unrepentant person says, in effect: I want sexual pleasure for myself. I do not not want to pay any "price" for it by seeing it in relationship to other goods and people. I do not want to see it in relationship to the institution of marriage, or the love of a spouse, or family, or children. I do not want commitments or responsibilities. I merely indulge in sex because I want it. All that matters is that I want it. Read more here on the blog of Msgr Charles Pope.
Vassula Ryden. Last month the Greek Orthodox Church condemned and excommunicated a well known Eastern Christian Vassula Ryden. To many this was scandalous news for she truly had a positive message that many of us would like to hear about Church unity. What is unfortunate about the message is in the way it had been received, which was through the well known occult practice of automatic writing. Consequently, to accept her message you in turn would have to accept a practice long condemned by the Church ... Read more here on Eastern Catholics for Renewal site.
'Jesus, what have I done?': rock star Steve Tyler's traumatic encounter with abortion Tyler also reflects on his abortion experience in the autobiography. "It was a big crisis. It's a major thing when you're growing something with a woman, but they convinced us that it would never work out and would ruin our lives.... Read more here on the lifesite news site.
I love all the articles and stories, photos and videos of John Paul II's Beatification! What a blessed moment for all of us. I did see him once, only once, a few years ago: in May of 2004, I went to the Wednesday public audience in Rome, with my daughter; he was already very sick and frail, but he read a Psalm and he gave us a blessing, all of us, the 20,000 people who were there... And he said the blessing extended to all the ones we love and it made me very happy, I take these things very seriously. (I am talking about blessings and miracles, love and faith)! On that day back in 2004, the sun was shining, St. Peter's Square was packed, the various greetings were done in 7 languages at least and it was the most joyful and peaceful and patient crowd I had ever seen. Very diverse too. There were a bunch of teenagers from Southern Italy next to us doing the wave, there were an elderly group from a French parish in front of us and we chatted with them for a while, there were visiting Catholic groups from Sweeden and Argentina and all over the world and I even remember a Jewish group from a synagog in Brooklyn! Numerous newly married couples in their wedding gowns were on one side of the stage where was the Pope and numerous handicapped people in wheelchairs were on the other side. The atmosphere that day was very special, it was filled with faith, it was very festive and fun, but with a strong sense of "family", of belonging to the same large family of believers and supporters... I have never gone to a WYD but I assume it is the same. I have gone on pilgrimages before and I found it to be similar: when large groups of people are gathered for the common good and with the same transcendant focal point, then it brings the best out of each one of us. Yes, it is very special. In 2004, we had two wonderful days in Rome and I was extremely grateful to be there with my darling daughter. All throughout the last 12 years of my life, I have read and re-read John-Paull II writings, his encyclicals and his interviews and they have shaped my faith. Blessed John Paul, pray for us!
I am going to post the link here to the article I wrote just before his death, in 2005.
Sacred mysteries. As for the Great Scheme of Things....that's Sacred Mystery territory. If you are a regular reader you'll know what I mean by that. The Church defines a Sacred Mystery as that which we are not even meant to understand, God's wisdom that is beyond our capacity as humans to ever understand. I define it to mean, "Just let it go." I'll bet this didn't help you much. Just let it go. I'll admit that I am always very happy to do this. There is so much in this world which we must understand. Math, what causes obesity, what things infuriate or calm the people with whom we share oxygen, street signs that are just some kind of vague symbol, which way to turn the car wheels when parking on a hill, how long the milk will stay fresh if you leave it on the counter, what happens if you mix bleach and ammonia, why you should never mention the Korean War to Grandpa Bill, how come it's better to live a life of compassion and forgiveness as opposed to one of judgement and competition, what Jesus meant when he said, "Consider the lilies"... Read more here on Ask Sister Mary Martha blog.
Signs of the Times, Is Antichrist Near? A very interesting article on a difficult subject… Watch the video and read the comments too! I like Sonja Corbitt's point about "the imminent arrival of the Antichrist and the Second Coming. This idea has distinct emotional appeal in our troubled times, since one way or another, it would all end soon, and possibly without our having to "do" anything".
That's a good point! And I'm glad that she adds, right away: "Although the prospect relieves us of our sense of personal responsibility to become or remain involved in an immoral world which despises a Christian moral message, according to the historic Tradition of the Church and the direction of her leadership, it would be a tragic error for several reasons".
Read it all, as I said, it's very interesting, although I do wish she would give better references for a couple of points such as the "period of unprecedented Catholic peace will reign over the whole earth, both in government and in the Church, in what may seem like a renaissance of the Holy Roman Empire", where did she get this? Maybe I'll ask her directly... And I'm also not convinced about being only in a "minor chastisement" period before the big one… I just don't know. But her advices are sound: repent and pray, fear not and evangelize! "We must be prepared to offer "an explanation for the hope that is within us" when waves of people search for God in the chaos. We must be able to offer stability, sanity, hope, truth".
Read it all here on the Catholic.org site.
For a listing of prayers, articles,
recipes & nature photos on this site,
see the Site Map
2011 - Le partage de la foi… en français:
Saint Claude La Colombière " Mais, mon Seigneur, à qui vous adressez-vous ? A une si chétive créature et pauvre pécheur, que son indignité serait même capable d'empêcher l'accomplissement de votre dessein ! Vous avez tant d'âmes généreuses pour exécuter vos desseins ". " Eh! pauvre innocente que tu es, ne sais-tu pas que je me sers des sujets les plus faibles pour confondre les forts, que c'est ordinairement sur les plus petits et pauvres d'esprit sur lesquels je fais voir ma puissance avec plus d'éclat, afin qu'ils ne s'attribuent rien à eux-mêmes ? " En lire plus sur ce merveilleux saint: ici sur le site jesuites.com
Une page avec plusieurs idées pour profiter du temps du Carême:
En lire plus ici sur le site du Diocèse d'Annecy.
LA NATURE ET LA MISSION DE L'ÉGLISE. Une consultation théologique interorthodoxe chargée d'étudier un document du Conseil oecuménique des Eglises (COE) sur " la nature et la mission de l'Eglise " a eu lieu, du 3 au 9 mars, au monastère d'Ayia Napa, près de Famagouste (Chypre). En lire plus ici .
Apocalypse now? Une bonne reflexion sur la catastrophe au Japon et notre perception de "l'apocalypse" en tant que chrétien... " D'un point de vue chrétien, exclure la possibilité des catastrophes revient à nier la Bible, où les catastrophes sont une conséquence des fautes de l'homme. Dans la Genèse (4, 11), le sol lui-même se révolte contre Caïn le fratricide. Dans Jérémie et Ezéchiel, la chute de Jérusalem est la sanction de l'idolâtrie... Exclure la possibilité de catastrophes serait nier la responsabilité humaine devant Dieu..." En lire plus ici sur le blog de Patrice de Plunkett.
Un ami fidèle est un puissant soutien qui l'a trouvé a trouvé un trésor.
Un ami fidèle n'a pas de prix, on ne saurait en estimer la valeur.
Un ami fidèle est un baume de vie, le trouveront ceux qui craignent le Seigneur.
Qui craint le Seigneur se fait de vrais amis, car tel on est, tel est l'ami qu'on a.
Ecclésiastique (or Siracide), chapitre 6, versets 14 à 17.
Pour une liste alphabétique des articles,
prières, photos et recettes,
sur ce site: Site Map
Retour du pèlerinage 2011 sur les pas d'Edith Stein: Témoignages. "J'ai marché aux côtés d'une orante qui me redit combien la prière est le lieu tout privilégié de rencontre avec le Dieu Vivant. Enfin j'ai traversé l'Allemagne et la Hollande avec une européenne, consciente de sa responsabilité civile à une époque ou le droit et la vérité avaient laissé place au mensonge et au pouvoir de la mort"... "Plus quelqu'un est attiré vers Dieu, plus il doit ensuite sortir de lui-même pour aller vers le monde, afin d'y porter l'amour divin." (Edith Stein, lettre du 12-2-1928 à Sœur Callista Kopf) En lire plus ici sur le site du diocèse de Paris .
Heidi de Johanna Spyri. Un de mes livres préférés, quand j'etais petite!


"Heidi s'achemina vers le chalet. Le soleil du soir illuminait l'Alpe verte. L'enfant s'arrêtait tous les deux pas pour contempler les hautes montagnes. Un rayon rouge tomba devant ses pieds. Tous les rochers du Falkniss flamboyaient dans le ciel, le glacier était incandescent, des nuages rouges passaient dans l'air. Le pâturage était baigné dans une lumière d'or. Elle restait immobile au milieu de cette splendeur. Elle pleurait de ravissement et de joie, elle joignit les mains vers le ciel en remerciant le bon Dieu de l'avoir ramené ici "… extraits du chapitre XIII
la nouvelle évangélisation... "Anuncioblog se veut aussi être promoteur des rassemblements d'évangélisation tels que Communion-Evangélisation, mais aussi de façon plus large. Nous donnons ainsi la parole à tous les intervenants, de toutes les sensibilités, pourvu qu'ils nous parlent… d'évangélisation ! Partenaire du journal l'Homme Nouveau et d'Il est vivant! pour certains contenus, le blog se renouvelle quotidiennement. L'animation est chapeautée par Jean-Baptiste Maillard, auteur en 2009 du livre Dieu est de retour, la nouvelle évangélisation de la France". En lire plus ici sur le beau site d'Annuncioblog.
Il fait gris, il fait froid, l'hiver est revenu, avec de la pluie et des flocons de neige et beaucoup de brumes.
Jésuites du XXe siècle. Une tres belle page sur tous les serviteurs de Dieu récents, ces disciples de Jesus, qui ont travaillés pour l'Eglise, chacun a leur propre manière et dans des circomstances differentes, mais nous donnant de bels exemples de foi en action.... ici .

Ma propre recette de Clafoutis aux poires, aux pommes. Pour la recette en francais, ici .
For the English version of the same recipe, click here .
Les Litanies du Coeur de Jesus. Avec les versets de la Bible qui sont l'inspiration derriere chaque incantation, avec un peu de l'histoire de cette priere. En lire plus ici sur ce site dans la section "Prayers".
See my Slideshow on Ice in the Creek and Job 37:5-13 here
Diaporama sur les dentelles de glace dans le torrent et le chapitre 37 de Job versets 5-13
Claude La Colombière. Je connaissais deja (un peu) Sainte Marguerite-Marie Alacoque et durant mon récent sejour (trop court) a Paray, j'ai surtout découvert (avec grande joie) la vie et les écrits de Claude La Colombière. Vous pouvez en lire plus sur lui ici sur le site du Vatican, ou bien ici sur le site des Jesuites a Paray. Voici une merveilleuse priere à Saint Claude La Colombière:
Ô fidèle serviteur et parfait ami de mon Seigneur Jésus-Christ,
enseigne-moi le chemin de la confiance;
apprends-moi le parfait oubli de moi-même,
à renoncer à me rechercher dans ce que je fais,
pour que je puisse contempler en tout l'amour de Dieu,
établissant ma demeure dans le Coeur sacré de mon divin Seigneur.
Apprends-moi à le servir avec tout ce que je suis,
sans réserve, comme toi,
afin que tout en moi et par moi contribue à sa gloire et au bien de mes frères,
avec sa grâce et selon son dessein.
Amen.
Le pape enseigne aux diplomates l'ABC de la liberté religieuse Et montre du doigt l'Irak, l'Égypte, l'Arabie Saoudite, le Pakistan, l'Inde, la Chine... Mais l'Occident étouffe aussi, à sa manière, le droit de professer sa foi. En lire plus ici sur le site Chiesa Espresso.
Le Sénat rejette la proposition de loi sur l'euthanasie Les sénateurs ont rejeté la proposition de loi en faveur de la légalisation de l'euthanasie, dans la nuit de mardi à mercredi, par 170 voix contre 142 En lire plus ici sur le site de Liberté Politique
Sainte Catherine de Bologne: "sept armes dans la lutte contre le mal." En parlant à la troisième personne, elle affirme qu'elle est entrée au service de Dieu « illuminée par la grâce divine [...] avec une conscience droite et une grande ferveur », attentive nuit et jour à la sainte prière, s'appliquant à conquérir toutes les vertus qu'elle voyait chez les autres, « non par envie, mais pour plaire davantage à Dieu en qui elle avait placé tout son amour » ... En 1431, elle a une vision du jugement dernier. La scène terrifiante des damnées la pousse à intensifier les prières et les pénitences pour le salut des pécheurs. Dans ses écrits, Catherine nous laisse quelques notes essentielles sur ce mystérieux combat, dont elle sort victorieuse avec la grâce de Dieu. Elle le fait pour instruire ses consœurs et ceux qui veulent s'acheminer sur la voie de la perfection : elle veut mettre en garde contre les tentations du démon, qui se cache souvent sous des apparences trompeuses, pour ensuite insinuer des doutes sur la foi, des incertitudes sur la vocation, la sensualité. Dans le traité autobiographique et didactique, Les sept armes spirituelles, Catherine offre, à cet égard, des enseignements de grande sagesse et de profond discernement. Elle parle à la troisième personne, en rapportant les grâces exceptionnelles que le Seigneur lui donne, et à la première personne lorsqu'elle confesse ses propres péchés. De ses écrits transparaît la pureté de sa foi en Dieu, sa profonde humilité, sa simplicité de cœur, son ardeur missionnaire, sa passion pour le salut des âmes. Elle identifie sept armes dans la lutte contre le mal, contre le diable.
Elle identifie sept armes dans la lutte contre le mal, contre le diable :
1) faire preuve de soin et d'attention en accomplissant toujours le bien;
2) croire que seuls nous ne pourrons jamais faire quelque chose de vraiment bon;
3) avoir confiance en Dieu et, par amour pour lui, ne jamais craindre la bataille contre le mal, que ce soit dans le monde, ou en nous-mêmes;
4) méditer souvent les événements et les paroles de la vie de Jésus, surtout sa passion et sa mort;
5) se rappeler que nous devons mourir;
6) garder à l'esprit la mémoire des biens du paradis;
7) connaître les Saintes Ecritures, en les portant toujours dans son cœur pour qu'elles orientent toutes les pensées et toutes les actions.
En lire plus ici sur le site de Zenit.
L'Union Eucharistique. Pro Mundi Vita. Un site avec beaucoup d'articles, de témoignages et de ressources sur l'Eucharistie, sur l'Adoration, sur les mouvements, les personalités, les lieux de pèlerinage. En lire plus ici sur le site de l'Union Eucharistique org.
Quelques photos récentes prises dans la vallée du Haut-Giffre, en Haute-Savoie, France. Même en noir et blanc, les paysages de neige sont magnifique!
(En noir & blanc: ici et en couleur: ici )

Claudel et la Bible. L'œuvre exégétique. Claudel a consacré vingt-sept ans de sa vie, de 1928 à sa mort en 1955, à s'occuper quotidiennement de la Bible qu'il appelle, à la suite des Pères de l'Église, l'Écriture Sainte. Il avait déjà produit quelques brefs essais plutôt théologiques, et dès 1917 s'était lancé dans une recherche thématique et lexicale sur "L'eau dans l'Écriture Sainte". En 1928, c'est une proposition de préface sur l'Apocalypse... En lire plus ici sur le site de Paul-Claudel.net.
Petit Jésus. Une page pleine de belles (et traditionelles) images de prière.
En voir plus ici sur le site de Holy Card Heaven (en anglais et en français).
Le Psaume 8 et des photos de nature en montagne. J'ai réuni quelques photos récentes d'automne et d'hiver sur une seule page avec le texte du Psaume 8 ici (en anglais et en français).
Ils se battent pour rester chrétiens. "De l'Irak à la Chine et de l'Algérie au Pakistan, le christianisme est aujourd'hui, dans l'indifférence quasi générale, la religion la plus constamment et la plus violemment persécutée". Lire la suite de ce tres bon article (avec photos et une carte) ici sur le site du Figaro.
La Communauté de Sant'Egidio fait un tres bon travail avec les personnes âgées Et quand on pense que ce sont des problèmes si courants de nos jours... "L'amitié est devenue la route qui nous a aidés à pénétrer en profondeur dans le continent des personnes âgées ". En lire plus ici sur le site de Sant'Egidio.
Lumière du monde, extraits du très beau chapitre 15: Vous l'avez exprimé en termes très forts: le destin de la foi et de l'Eglise ne se décide nulle part ailleurs que "dans le contexte de la liturgie". En tant que personne extérieure on pourrait se dire : savoir quels mots sont prononcés au cours d'une messe, quelle attitude on doit avoir, quels actes sont accomplis, tout cela est une question plutôt secondaire?

L'Eglise est visible pour les hommes par beaucoup de biais, dans la Caritas, dans les projets de mission, mais le lieu ou on l'éprouve le plus souvent comme une Eglise est la liturgie. Et c'est bien comme cela. Apres tout, le sens de l'Eglise, c'est de nous tourner vers Dieu et de laisser entrer Dieu dans le monde. La liturgie c'est l'acte dans lequel nous croyons qu'Il entre et que nous le touchons. Elle est l'acte dans lequel se produit le singulier : nous entrons en contact avec lui - et nous sommes éclairés par lui.
Nous recevons ici directive et force sous une double forme : d'une part dans la mesure ou nous entendons sa Parole, si bien que nous l'entendons réellement parler et que nous recevons ses directives. D'autre part, dans la mesure ou il s'offre lui-même a nous dans le pain devenu son Corps. …

Ce n'est pas nous qui faisons quelque chose, ce n'est pas nous qui montrons notre créativité, c'est-à-dire tout ce que nous pouvons faire avec. La liturgie n'est justement pas un show, un théâtre, un spectacle : c'est l'Autre qui lui donne vie. Il faut aussi que ce soit clair. C'est la raison pour laquelle le caractère donné de la forme religieuse est tellement important. Cette forme peut être revue dans le détail, mais elle ne peut pas être produite à chaque fois par la communauté. Comme je l'ai dit, il ne s'agit pas de se produire soi-même. Il s'agit de sortir de soi et d'aller au-delà de soi-même, de se donner à Lui et de se laisser toucher par Lui.

Cela signifie-t-il que l'on est condamné a la passivité ?
Non. Car cette approche est justement pour nous une provocation à nous laisser arracher à nous-mêmes, a la pure situation de l'instant ; a nous adonner a la totalité de la foi, a la comprendre, a y prendre part et a donner à la messe une forme digne d'elle, celle qui la rendra belle et en fera une joie. …

S'il est vrai, comme nous le croyons, que le Christ est réellement présent dans l'eucharistie, il s'agit tout simplement de l'événement central. Pas seulement l'événement d'une seule journée, mais celui de l'histoire du monde dans son ensemble, en tant que force décisive, d'où peuvent ensuite venir des transformations. L'important, c'est que, dans l'eucharistie, la Parole et la Présence du Seigneur dans les signes ne font qu'un. Que nous recevons aussi l'événement sous forme de mots. Que nous y répondons dans notre prière, et que de cette manière la progression de Dieu et notre progression avec Lui. La manière dont nous nous laissons transformer, se font écho afin que se produise cette transformation de l'homme qui est la principale condition de toute transformation positive du monde.

Si nous voulons que quelque chose aille de l'avant dans le monde, nous ne pouvons y parvenir qu'en nous fondant sur la norme de Dieu, qui nous parvient sous forme de la réalité. Dans l'eucharistie, les gens sont façonnés de telle sorte qu'il advienne quelque chose de nouveau. C'est la raison pour laquelle les grands personnages qui ont accompli de véritables révolutions du Bien tout au long de l'histoire sont les saints qui, touchés par le Christ, ont lancé de nouvelles impulsions dans le monde.

Quelles sont les principales fêtes à la Vierge Marie ? Par son parfait consentement aux œuvres de Dieu en elle et en son Fils, Marie est le modèle achevé de notre participation à la liturgie. Voir la liste des Fêtes à la Sainte Vierge ici sur le portail de la liturgie catholique.
8 décembre : l'Immaculée Conception de la Vierge Marie L'Immaculée Conception est l'affirmation selon laquelle Marie est née préservée du péché originel par la grâce de Dieu. Quant à sa conception, elle n'a rien d'extraordinaire : Marie est née de l'union normale d'un homme et d'une femme. Cette affirmation, devenue dogme à la fin du siècle dernier, s'est en fait imposée très tôt. Le concile d'Ephèse en 431 posait la question suivante : peut-on dire que Jésus est vraiment fils de Dieu ?... Le concile en affirmant que Jésus est à la fois homme et Dieu posa donc de façon nouvelle la question de Marie. Celle-ci reçut le titre de Mère de Dieu, qui est aussi une affirmation christologique. ... Mais à partir d'Ephèse se pose vraiment le problème : Jésus a t-il pu être formé par quelqu'un en contact avec le péché ? En réponse, les catholiques affirmeront, en accord avec les orthodoxes, que Marie, depuis le début, n'a pas connu le péché. ... Marie est reconnue comme Mère de l'Eglise. Elle est notre avocate, elle intercède pour nous. Marie n'est pas médiatrice, puisqu'il n'y a qu'un seul médiateur, le Christ, et que tout vient de Dieu par le Christ. Par contre elle exerce une médiation maternelle d'intercession.
Lire l'article de Sophie de Villeneuve en entier ici sur le site du journal La Croix.
L'hymne émouvant de Saint Ephrem, le Syrien, sur La Nativité:
Le Seigneur vint en elle pour se faire serviteur.
Le Verbe vint en elle pour se taire dans son sein.
La foudre vint en elle pour ne faire aucun bruit.
Le pasteur vint en elle et voici l'Agneau né, qui pleure sans bruit.

Car le sein de Marie a renversé les rôles :
Celui qui créa toutes choses est entré en possession de celles-ci, mais pauvre.
Le Très-Haut vint en Elle (Marie), mais il y entra humble.
La splendeur vint en elle, mais revêtue de vêtements humbles.

Celui qui dispense toutes choses connut la faim.
Celui qui étanche la soif de chacun connut la soif.
Nu et dépouillé il naquit d'elle, lui qui revêt (de beauté) toutes choses.
(Hymne De Nativitate 11, 6-8)

inXL6 vous propose de découvrir Saint Ephrem à travers une catéchèse du Pape Benoît XVI: ici
Voir aussi ma propre page sur Saint Ephrem, un de mes saints préférés: ici .
Saint FRANÇOIS XAVIER Lettres de saint François-Xavier à saint Ignace de Loyola: Malheur à moi si je n'annonce pas l'Evangile ! Lorsque je suis arrivé dans ces villages, je les ai tous parcourus activement et j'ai baptisé tous les enfants qui ne l'étaient pas encore. C'est pourquoi j'ai fait enfants de Dieu une grande multitude de petits enfants qui, comme on dit, ne savaient pas même distinguer leur droite de leur gauche. En lire plus sur Saint François Xavier, sa vie, ici sur le site des Jesuites.com Pèlerin des océans, conquérant de l'univers, sans savoir où vogueront les caravelles de Dieu, tu t'enfuis toujours plus loin, enflammé de quel désir ? L'âme bénie du Christ te sanctifie de son feu ; le corps très pur du Christ te sauve de toute peur.
L'absence de liberté de religion en Chine. Dans les pays ou il n'y a pas de liberté de culte, il n'y a pas de liberté de la presse non plus. Et c'est typique des systèmes totalitaires.... Voici un article de Zenit news sur ce qui s'est passé il y a une semaine en Chine:
Le Saint-Siège ré-affirme sa disponibilité au dialogue avec les autorités de Chine populaire mais déplore que l'État chinois interfère dans les affaires de l'Église, et humilie la communauté catholique en lui imposant des évêques...
2. Le Saint-Siège rappelle que ces derniers jours plusieurs évêques ont subi, de la part des Autorités chinoises, des pressions et des restrictions quant à leur liberté de mouvement pour les forcer à participer à cette ordination épiscopale. De telles contraintes exercées par les Autorités gouvernementales et de sécurité chinoises constituent une grave violation de la liberté de religion et de conscience...
5. Plusieurs fois cette année, le Saint-Siège a fait part avec clarté aux Autorités chinoises de sa propre opposition à l'ordination du Rév. Joseph Guo Jincai. Malgré cela, les dites Autorités ont décidé de procéder de manière unilatérale, bafouant l'atmosphère de respect et de dialogue que s'efforce de créer péniblement le Saint-Siège et l'Église catholique à travers les récentes ordinations épiscopales. La prétention de vouloir se mettre au dessus des évêques et de vouloir guider la vie de la communauté ecclésiale ne correspond pas à la doctrine catholique, elle offense le Saint Père, l'Église de Chine et l'Église universelle, et accentue les difficultés pastorales existantes.
Lisez la suite ici sur le site de Zenit.
La liberté religieuse dans le monde en 2010. Rapport annuel de L'Aide à l'Église en Détresse sur la liberté religieuse 2010 - sortie internationale. « Si des conflits locaux ont pris fin depuis la parution du dernier rapport en 2008, comme au Burundi, on ne constate que peu ou pas du tout d'amélioration à Cuba, en Iran, en Israël ou encore au Pakistan. De plus », ajoute-t-elle, « ce qui s'est passé il y a près d'un mois en Irak est venu rappeler que le fondamentalisme religieux est toujours puissant. Un événement qui devrait réveiller la communauté internationale sur cette montée qui crée des ghettos et mène aux actes d'intolérances observées dans ce rapport. »
En lire plus ici sur le site de Church in Need ici .
Extrait de mon Abrégé de l'Histoire Sainte (ce livre date de 1878) :
De quelle utilité est l'étude de l'Histoire Sainte?
Réponse : L'utilité en est si grande que quiconque saura s'y appliquer avec foi et humilité apprendra tout ce qu'il faut savoir pour être honnête homme et bon chrétien.
Aujourd'hui, c'est la fête de saint Clément, troisième Pape de l'Eglise, auteur d'une Lettre aux Corinthiens, et dont saint Irénée de Lyon dit que "Clément a connu les bienheureux apôtres et conversa avec eux ; il avait encore dans l'oreille la prédication apostolique et leur souvenir devant les yeux".
En lire plus ici sur le site Missel.free.fr Et lire sa Lettre magnifique de charité, d'humilité et de piété, d'amour des Saintes Ecritures et qui est aussi un merveilleux appel à notre conversion constante ici sur le site du Vatican:
Convertissez-vous! "Fixons nos regards sur le sang du Christ, et comprenons combien il a de valeur pour son Père, puisque, répandu pour notre salut, il a procuré au monde entier la grâce de la conversion... Voilà ce qu'il a fixé par sa volonté toute-puissante, parce qu'il veut faire participer tous ceux qu'il aime à la conversion. C'est pourquoi nous devons obéir à sa magnifique et glorieuse volonté. Implorons humblement sa miséricorde et sa bonté, prosternons-nous, tournons-nous vers sa compassion en abandonnant les préoccupations frivoles, la discorde et la jalousie qui conduisent à la mort. Ayons d'humbles sentiments, mes frères, rejetons tous les sentiments de jactance, d'orgueil, de folie et de colère, et agissons selon l'Écriture. "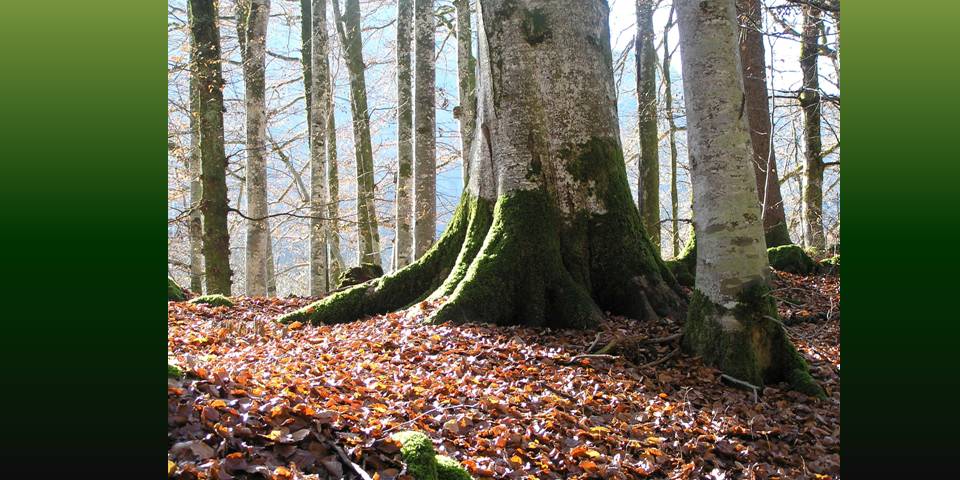 Les arbres dénudés, le tapis de feuilles mortes,
c'est le silence dans la forêt;
l'automne est déjà bien avancé.
On attend les premières chutes de neige.
Benoît XVI se livre sans détour. "Si Jean-Paul II, observe-t-il, dans une situation critique précise, marqué par le marxisme, s'est attaché à « ouvrir une percée à la foi, la montrer comme le centre et le chemin », lui se donne pour mission de « maintenir en vie la parole de Dieu comme parole décisive, et en même temps de donner au christianisme cette simplicité et cette profondeur sans lesquelles il ne peut agir ». C'est le grand défi de ce qu'il appelle la « nouvelle Évangélisation », avec ces deux piliers qu'il ne cesse de rappeler, le lien entre foi et raison, et la centralité du Christ comme unique voie de salut. D'un bout à l'autre du livre, on est frappé par la cohérence d'une pensée persuadée que le monde ne peut s'en sortir sans la rencontre avec Dieu, avec l'Autre : « Tant de problèmes doivent être résolus, mais aucun ne le sera si Dieu n'est pas au cœur et ne redevient pas visible dans le monde". En lire plus ici sur le site du journal La Croix.
Le pape soutient la pratique du ski. Benoît XVI a fait lundi l'éloge de la pratique du ski. Une nouvelle qui a étonné et réjoui les pros de la montagne en Suisse. En lire plus ici sur le blog christ roi.
"La Croix" publie une enquête de quatre semaines sur "Ce qui va bien en France" Voir toute une serie d'articles ici sur les sujets suivants: Nancy, ville ouverte aux personnes handicapées; L'hôpital Saint-Louis soigne l'écoute des malades; La responsabilité pastorale accordée à des laïcs; Bienvenue chez les Ch'tis de l'animation: Valenciennes, Supinfocom; Concours Lépine, la fine fleur des inventeurs; La recherche a trouvé ses têtes: L'École nationale supérieure de Lyon ; Jean-Paul Delevoye : " Il faut recréer une espérance collective "; Sous le pessimisme, l'énergie des Français : Malgré la crise, entreprendre et recréer des solidarités de proximité.
Le « secret » de la transmission de la foi. Benoît XVI souhaite que les baptisés manifestent une foi personnelle solide : le témoignage personnel de la rencontre de Dieu est en effet le « secret » qui permet la transmission de la foi...Le « secret » de la foi, consiste en ceci que « pour rencontrer Dieu, il faut rencontrer quelqu'un qui l'ait rencontré ». Et la grande responsabilité des fidèles laïcs, c'est de préparer les conditions de cette rencontre, dont les conséquences sociales aussi sont importantes. En lire plus ici sur le site de Zenit.
L'Eglise en questions . Un bon article pour nous aider a comprendre - et a vivre - avec l'Eglise, fondée par le Christ pour nous aider, pour nous soutenir durant notre vie ici-bas. Et de nos jours où l'Eglise est constament attaquée - de l'exterieur et même parfois de l'interieur - il est urgent de retrouver une vision claire du pourquoi et du comment vivre en Eglise ici sur le site de la Conférence des Evêques de France.
Le sens de la vieillesse. Il y a toujours davantage de personnes âgées qui restent longtemps en bonne santé, et sont autonomes. La vieillesse n'est pas synonyme de dépendance. Cependant, beaucoup de nos contemporains refusent d'accepter cette période de la vie et la perçoivent comme la perte de tout ce qui les honorait durant leur vie active. Le manque d'amitié, de solidarité entre les générations, l'éloignement des réseaux de relations sont dus à l'image déformée, pleine de préjugés et de stéréotypes que l'opinion publique a de la vieillesse. En lire plus ici sur le site de Sant'Egidio.
La souffrance rédemptrice du Christ .Le Christ – sans qu'il ait commis aucune faute – s'est chargé du mal total du péché. L'expérience de ce mal a déterminé la mesure incomparable de la souffrance du Christ, qui est devenue le prix de la Rédemption. C'est ce que dit le chant du Serviteur souffrant dans Isaïe. En leur temps, les témoins de la Nouvelle Alliance, conclue dans le Sang du Christ, le diront aussi. Voici comment s'exprime l'Apôtre Pierre dans sa première lettre : « Sachez que ce n'est par rien de corruptible, argent ou or, que vous avez été affranchis de la vaine conduite héritée de vos pères, mais par un sang précieux, comme d'un agneau sans défaut et sans tache, celui du Christ ». Et l'Apôtre Paul, dans sa lettre aux Galates, dira : « Il s'est livré pour nos péchés afin de nous arracher à ce monde actuel et mauvais », et dans la première lettre aux Corinthiens : « Car le Seigneur vous a achetés très cher. Rendez gloire à Dieu dans votre corps! ». C'est ainsi, ou par des pressions semblables, que les témoins de la Nouvelle Alliance parlent de la grandeur de la Rédemption qui s'est accomplie par la souffrance du Christ. Le Rédempteur a souffert à la place de l'homme et pour l'homme. Tout homme participe d'une manière ou d'une autre à la Rédemption. Chacun est appelé, lui aussi, à participer à la souffrance par laquelle la Rédemption s'est accomplie. Il est appelé à participer à la souffrance par laquelle toute souffrance humaine a aussi été rachetée. En opérant la Rédemption par la souffrance, le Christ a élevé en même temps la souffrance humaine jusqu'à lui donner valeur de Rédemption. Tout homme peut donc, dans sa souffrance, participer à la souffrance rédemptrice du Christ.
ici sur le blog Totus Tuus.
EDITH STEIN et la souffrance. En 1917, Edith apprend la mort de son ami, le professeur Adolphe Reinach. Avec appréhension, elle va rencontrer la jeune veuve, et elle est étonnée par la façon dont Anna traversa sa souffrance Ce fut ma première rencontre avec la croix et avec la force divine qu'elle donne à ceux qui la portent. Je vis pour la première fois l'Eglise, née de la souffrance rédemptrice du Christ dans sa victoire sur l'aiguillon de la mort, visible devant moi. Ce fut l'instant où mon incroyance s'effondra, mon judaïsme pâlit et le Christ étincela, le Christ dans la lumière de la croix Edith est en marche vers le Baptême, elle écrit à son ami le philosophe polonais Roman Ingarden, lettre 53 du 10-10 1918 Je m'oriente de plus en plus vers un christianisme positif. Cela m'a libérée de la vie qui m'avait abattue et m'a donné du même coup la force d'accueillir à nouveau la vie avec reconnaissance. Je peux donc parler dans un sens plus profond d'une « renaissance ». Mais la nouvelle vie est si imbriquée pour moi avec les évènements des dernières années que je ne peux aucunement en parler à part E. Przywara cité par Olivier de Béranger « Edith Stein et la chasteté des choses » dans Nouvelle revue Théologique N° 114 (1992) page 540 Ce père qui aura l'occasion de travailler longuement avec Edith sur les traductions des textes du cardinal Newman ou de saint Thomas d'Aquin donne par deux fois le témoignage suivant : « C'est lors d'une promenade au bord du Rhin, à Spire, qu'elle me raconta , comment elle avait trouvé, encore athée, un exemplaire des « Exercices » (de Saint Ignace)chez son libraire. Elle s'y intéressa d'abord en tant que psychologue Mais elle découvrit très vite qu'on ne pouvait pas se contenter de les lire et qu'il fallait les faire. Ainsi entrait-elle comme athée, dans les grands Exercices, pour en sortir après trente jours avec la décision de la conversion » La lecture des Exercices par la phénoménologue née qu'était Edith Stein, a permis à cette âme assoiffée de vérité de mieux connaître le Christ et de mieux se connaître elle-même. Elle écrit plus tard : « Je rencontre dans mon être un autre Être qui n'est pas le mien mais qui est le support et le fondement du mien, en soi inconsistant et instable. Au fons de mon être, là où je me rencontre moi-même, je puis par la foi reconnaître l'Être éternel » Être fini, être éternel P 64 C'est au cours de l'été 1921, alors qu'elle est de passage chez son amie Edwige Conrad Martius, que la reconnaissance complète et définitive va se produire. Un soir Edith prend un livre dans la bibliothèque. Il s'agit de la vie de Sainte Thérèse d'Avila. En une nuit, elle en achève la lecture et referme le livre au petit matin en affirmant « là est la vérité ». Edith a rencontré le Christ Jésus. C'est par lui et pour lui qu'elle va vivre désormais. Un de ses derniers écrits l'atteste magnifiquement : « Une nouvelle année dans la main du Seigneur – sans savoir si nous vivrons la fin de cette année. Mais si nous buvons chaque jour à la source du Sauveur, alors chaque jour nous entraînera plus profondément dans la vie éternelle » ESW1 du 6-1-1941
En lire plus ici sur le site du Carmel en France.
L'Inconnu en chemin. La spiritualité chrétienne en cinq étapes. Si chaque étape a été plus vivement mise en lumière à telle période, rien n'a été découvert qui ne fût présent, rien n'a été oublié de ce qui avait été saisi. Simplement les besoins de chaque époque entrent en résonance avec telle ou telle facette du mystère du Dieu-homme. Avec justesse, le P. Olivier-Marie présente ainsi les avancées récentes en exégèse dans la première partie, le témoignage des carmélites victimes de la Terreur révolutionnaire française illustre la seconde sur les premiers martyrs, Dostoïevski nous aide à comprendre la vie chrétienne comme confrontation au mal et accueil du salut (troisième partie). Puis Péguy (en quatrième partie) nous aide à réconcilier en profondeur révolution et tradition, élan missionnaire et vie intérieure : « Une révolution revient essentiellement à fouir plus profondément dans les ressources non épuisées de la vie intérieure » (cité p. 421). Enfin, petite Thérèse, la modeste Normande, répond à sa manière aux ébranlements opérés par Marx, Freud et Nietzsche. En lire plus ici sur le site d'Esprit Et Vie.
La loi naturelle, fondement de la morale chrétienne. Ce concept fort ancien est remis en lumière par le pontificat de Benoît XVI, pour expliquer les positions de l'Église catholique en matière de morale, et notamment de bioéthique En lire plus ici sur le site de La Croix.
LE JOUR DES MORTS On fait une prière pour les défunts le jour des morts à la messe et au cimetière. On demande à Dieu de leur donner le repos éternel. Ensemble prions: Seigneur Jésus-Christ, avant de ressusciter, Tu as reposé trois jours en terre, et depuis ce jour-là, la tombe des hommes est devenue, pour les croyants, signe d'espérance en la Résurrection. Nous Te prions, Toi qui es la Résurrection et la Vie: donne aux morts de reposer en paix dans ce tombeau jusqu'au jour où Tu les réveilleras, pour qu'ils voient, de leurs yeux, dans la clarté de Ta face, la lumière sans déclin. Toi qui règnes pour les siècles des siècles. Amen!
Vive la Toussaint, vive la Communion des Saints! " Je passerai mon ciel à faire du bien sur la terre... " Sainte Thérèse de Lisieux. " La sainteté est une force communicative " Saint Ambroise. "La loi a été donnée pour que nous demandions la grâce; la grâce nous est donnée pour que nous observions la loi" Saint Augustin. " Seigneur et Roi, donne-moi de voir mes fautes et de ne pas juger mon frère, car tu es béni aux siècles des siècles". Saint Ephrem. Saint Denis The Aeropagist, pray for all seekers! Saint Francis of Assisi and Saint Francis of Sales, guide us in peace and faith! Saint Philomena, please help us, Sainte Therese intercede for us... Thank God for the Communion of Saints!
Pour une liste alphabétique des articles, prières, photos et recettes,
sur ce site: Site Map
La prière de saint Éphrem le Syrien. Commentaires d'Alexandre Schmemann: Pourquoi cette courte et si simple prière occupe-t-elle une place aussi importante dans la prière liturgique du Carême ? C'est qu'elle énumère d'une façon très heureuse tous les éléments négatifs et positifs du repentir, et constitue en quelque sorte un aide-mémoire pour notre effort personnel de Carême. Cet effort vise d'abord à nous libérer de certaines maladies spirituelles fondamentales qui imprègnent notre vie et nous mettent pratiquement dans l'impossibilité de commencer même à nous tourner vers Dieu. En lire plus ici sur le site des pages orthodoxes.
L' EGYPTE COPTE: 2000 ans de christianisme. Nos frères Coptes souffrent en ce moment... Ils ont besoin de nos prieères, de notre aide financière et de notre soutien politique, ils ont besoin de nous!
Voici un film passionant ici sur le site de l'Orthodoxie Copte en France;
ou bien: A la rencontre des coptes d'Egypte ici sur le site de La Croix;
Riposte catholique, portail de réinformation. Allez faire un tour sur ce site, c'est tres interressant. Je viens juste de le decouvrir. Pro-vie, l'Eglise, un peu de politique et beaucoup de foi... En lire plus ici sur le site de Riposte catholique.
Ecrire à un condamné à mort. Grâce à la Communauté Sant'Egidio, plusieurs centaines de condamnés à mort écrivent avec des amis dans le monde entier. Il s'agit de détenus vivant dans des prisons aux Etats-Unis, mais aussi dans d'autres pays, comme au Trinidad et Tobago, au Cameroun, en Zambie. En lire plus ici sur le site de Santegidio.
Relire ma journée à la lumière des Béatitudes. Méditer les Béatitudes. C'est un passage important de l'évangile. Il met en cause les manières spontanées dont nous envisageons la vie, et ses valeurs. ...- Voilà ce que nous promet le Christ : c'est la "JOIE SPIRITUELLE" appelée également la paix intérieure. La sérénité que je ressens au fond de mon cœur lorsque je vis en harmonie avec l'amour de DIEU. En lire plus ici sur le site de Inx16.
Sainte Marguerite Marie, priez pour nous! Le message de Paray-le-Monial: "parler du Cœur de Jésus, c'est bel et bien pénétrer dans le mystère de Dieu qui prend corps, se fait homme sans pour autant cesser d'être Dieu... La blessure du Cœur de Jésus: Il est étonnant de voir que le Christ ne se plaint pas tant du péché que de l'indifférence des hommes, une indifférence qui les ferme à l'offrande de Jésus sur la Croix et la rend comme inutile. C'est pour cela que le message de Paray-le-Monial contient un appel à la réparation et à la consolation du Cœur de Jésus. Réparer = aimer pour ceux qui n'aiment pas. En lire plus ici sur le site du sanctuaire de Paray-le-Monial.
Sainte Marguerite Marie et les douze promesses. Notre Seigneur a fait les douze promesses suivantes à sainte Marguerite Marie afin d'encourager la vraie dévotion au Sacré Cœur de Jésus qui est également la dévotion au Saint-Sacrement. En lire plus ici sur le site de Deo Juvante.
Marguerite Bays. Homélie de Jean-Paul II lors de la béatification: "Une autre catholique suisse a elle aussi mené le bon combat de la foi. Marguerite Bays était une humble laïque, dont la vie était cachée avec le Christ en Dieu (cfr Col 3, 3). Il s'agit d'une femme toute simple, avec une vie ordinaire, en qui chacun de nous peut se retrouver... Nous découvrons ainsi la place importante de la prière dans la vie laïque. Elle n'éloigne pas du monde. Bien au contraire, elle élargit l'être intérieur, elle dispose au pardon et à la vie fraternelle. La mission vécue par Marguerite Bays est la mission qui incombe à tout chrétien..." En lire plus ici sur le site de la Fondation Marguerite Bays.

la nature en beauté, les couleurs d'automne, le temps qui passe.



Homélie contre les usuriers, par Grégoire, évêque de Nysse. D'excellentes lois, de sages préceptes, règlent la vie des personnes qui aiment la vertu et qui veulent se conformer à la sainte parole ; on y voit la pensée du législateur tendre vers deux grands buts : il détourne des choses défendues ; il anime à la pratique du bien. Il est impossible, en effet, d'arriver à une vie sage et bien réglée, si l'on ne fuit le vice de tout son pouvoir, et si l'on ne recherche la vertu, comme l'enfant sa mère... En lire plus ici sur le site de gregoiredenysse.com.
La Resurrection. Il s'agit d'un projet missionnaire, artistique et culturel qui se déroule de Pâques à la Pentecôte 2011. Voyez cett diaporama fascinante de 74 d'oeuvres d'art sur La Resurrection... ici sur le site du diocese de Paris.


Sainte Thérèse de Lisieux, priez pour nous!
Voyez mon mini-film sur Sainte Thérèse de l'Enfant Jésus et de la Sainte Face ici
La souffrance transfigurée. Thérèse a compris très jeune que la souffrance faisait partie de sa vie. Elle ne l'a pas choisie, mais elle l'accepte dans la foi comme une réalité. Cette foi lui fait comprendre qu'elle peut la vivre comme un chemin de communion avec Dieu dans le Christ.
En lire plus ici sur le site du Carmel en France.

Thérèse est allée chercher au plus profond d'elle-même,
dans l'extrême sentiment de sa faiblesse, de sa petitesse,
la puissance infinie de l'amour divin
et elle l'a exploitée avec une audace incomparable,
à la mesure de sa confiance,
de sa foi qui ne reposait plus que sur Dieu seul,
en Jésus.

Me voici revenue en Haute-Savoie! Les montagnes, la foret, les couleurs d'automne qui commencent... la nature est tres belle. J'ai dit "Au revoir" à la Californie et l'océan Pacifique, du moins pour un moment.
L'écoute musicale comme exercice spirituel. Comment la musique peut-elle s'accorder à l'interpellation du Verbe fait chair ? Tous les styles musicaux sont-ils équivalents au regard de l'expérience spirituelle ? Y a-t-il un principe de discernement dans la quête spirituelle sur les chemins de la musique ? En lire plus ici sur le site de la Communauté du Chemin Neuf.
Colloque Famille et société La Croix est partenaire du colloque Familles et société "quels choix pour demain ?" les 1er et 2 octobre Colloque de Paris - Programme. Voici le programme prévisionnel des 1er et 2 octobre 2011 En lire plus ici sur le site du blog familles 2011.
Saint Athanase d'Alexandrie. Texte de la catéchese de Benoit XVI, audience générale du 20 juin 2007 : "Athanase est sans aucun doute l'un des plus importants Pères de l'Église antique et des plus vénérés, mais surtout ce grand saint est le théologien passionné de l'incarnation du Logos, le Verbe de Dieu..." ici sur le site de Patristique.org.
Les étudiants du prof. Ratzinger réfléchissent à la nouvelle évangélisation Deux invités : une femme, laïque, Mme Hanna-Barbara Gerl-Falkowitz, spécialiste de Romano Guardini, et des rapports entre philosophie et culture, professeur à Dresde – ancienne Allemagne de l'Est – et familière des milieux sécularisés (cf. Zenit du 21 juillet 2010 pour son interview), et un laïc, membre autrichien de la communauté de l'Emmanuel, Otto Neubauer. En lire plus ici sur le site de la Communauté de l'Emmanuel.
Infections sexuellement transmissibles : émergence inquiétante d'une super-bactérie. Parmi les agents pathogènes transmis par voie sexuelle, les gonocoques préoccupent de plus en plus les autorités sanitaires des pays développés. Affectant désormais l'ensemble de la population sexuellement active et non seulement des groupes à risque, ces germes, dont une souche résistante à tous les antibiotiques vient d'être découverte au Japon, menacent de manière inédite la santé et la fertilité humaine En lire plus ici sur le site de Liberté Politique.
Le chemin de la 'perte de soi-même'. « Quand la réalisation de la vie n'est orientée que vers le succès social, le bien-être physique et économique, on ne raisonne plus selon Dieu, mais selon les hommes (v. 23). Penser selon le monde, c'est mettre Dieu de côté, ne pas accepter son projet d'amour, presque l'empêcher d'accomplir sa sage volonté », a expliqué Benoît XVI. sous le signe de la croix, comme le chemin de la 'perte de soi-même', nécessaire pour l'homme et sans lequel il ne lui est pas possible de se trouver lui-même En lire plus ici sur le site de Zenit.
Tour de France spirituel: la section Rhône-Alpes. Une liste à bien garder sur les lieux d'accueil, les sanctuaires, les églises, les pèlerinages, festivals, expositions... dans ma region préférée ici sur le site de Croire.com.
Combien sot, en effet, est le voyageur qui, remarquant d'agréables prairies sur son chemin, oublie d'aller où il voulait. « Les brebis du Seigneur trouvent des pâturages, puisque tous ceux qui le suivent d'un cœur simple se rassasient en pâturant dans des prairies éternellement vertes. Et quels sont les pâturages de ces brebis, sinon les joies intérieures d'un paradis à jamais verdoyant ? En lire plus dans la section: Textes / Pères de l'Eglise ici sur le blog Notre Dame des Neiges.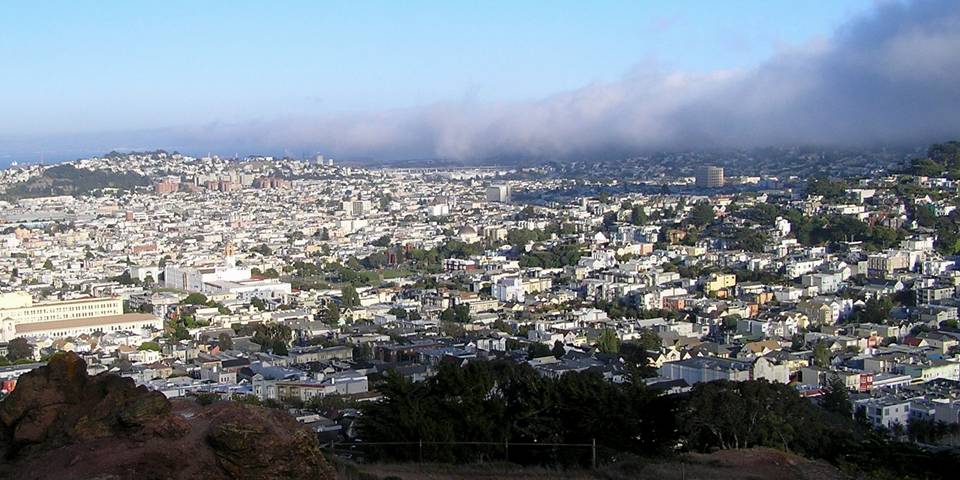 Le brouillard sur la ville de San Francisco.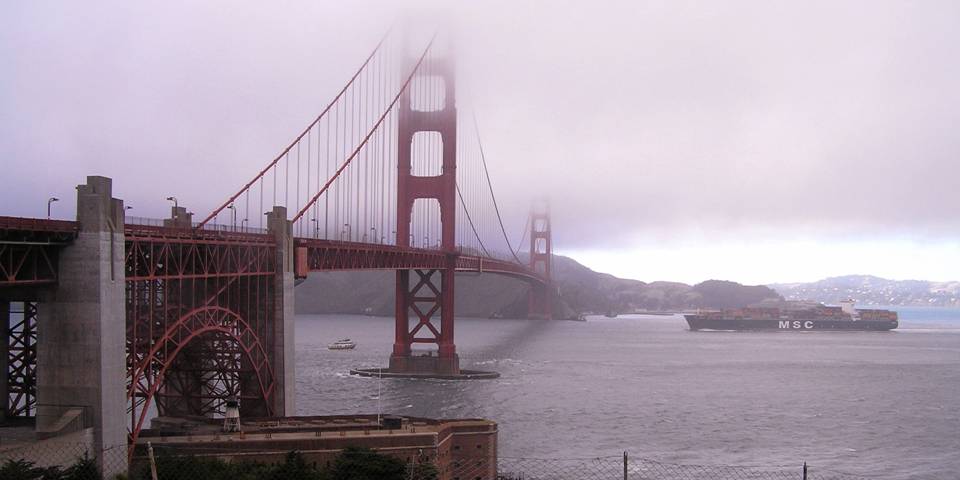 Prier avec saint Jean-Marie Vianney. Acte d'amour du Saint Curé - Prier pour les prêtres - Prière au saint Curé d'Ars Prière pour les vocations avec le saint Curé d'Ars - Prière à sainte Philomène Propositions de prières en lien avec le Saint Curé et en communion avec ce qui se vit à Ars. Ces prières sont extraites du livret de prière éditée par le Sanctuaire... En lire plus ici sur le site du sanctuaire d'Ars.
LETTRE ENCYCLIQUE DE SA SAINTETÉ LE PAPE JEAN XXIII A L'OCCASION DU CENTENAIRE DE LA MORT DE SAINT JEAN-BAPTISTE VIANNEY Nous bénissons donc la bienveillante Providence, qui par deux fois déjà se plut à réjouir et à illuminer les grandes heures de Notre vie sacerdotale par l'éclat de la sainteté du Curé d'Ars, de Nous offrir à nouveau, dès les premiers temps de ce suprême Pontificat, l'occasion de célébrer la si glorieuse mémoire de ce pasteur d'âmes. Vous ne vous étonnerez pas, d'autre part, qu'en vous adressant cette lettre, Notre esprit et Notre coeur se tournent spécialement vers les prêtres, Nos fils très chers, pour les exhorter tous instamment – et ceux surtout qui sont engagés dans le ministère pastoral – à méditer les admirables exemples de leur frère dans le sacerdoce, devenu leur céleste patron. En lire plus ici sur le site du Vatican.
Montre-moi, de chaque homme, la face ensoleillée. Seigneur, accorde-moi aujourd'hui cette grâce : Que rien ne puisse troubler ma paix en profondeur, Mais que j'arrive à parler santé, joie, prospérité, A chaque personne que je vais rencontrer, Pour aider à découvrir les richesses qui sont en elle. Decouvrez le reste de cette reflexion sur le site de l'Aumonerie scolaire de l'Ain ici .
Pour une liste alphabétique des articles et des prières, des recettes et des photos de nature sur ce site: Site Map
Psaume 18
Les cieux racontent la gloire de Dieu,
et l'œuvre de ses mains, le firmament l'annonce;
le jour au jour en publie le récit
et la nuit à la nuit transmet la connaissance.
voir le psaume 18( je croyais que c'etait 19?) et commentaires sur le site de Notre Dame du Web. ici .
Saint Jean Maximovitch de Shangaï et San Francisco. "Il arriva à San Francisco le jour de la fête de l'Entrée au Temple de la Très-Sainte Mère de Dieu, liturgiquement le même jour que lors de son arrivée, bien des années auparavant, à Shanghai. Tout d'abord, il seconda son aîné âgé et affligé d'infirmités, l'archevêque Tikhon. Ensuite, après le décès de Mgr Tikhon, l'archevêque Jean devint évêque titulaire du diocèse d'Amérique du Nord. Une fois de plus, l'archevêque Jean se retrouvait face au défi d'un chantier inachevé, celui de la cathédrale de San Francisco, et une fois de plus, tout comme en Chine, il avait à dénouer de graves dissensions. Pour l'archevêque Jean, la priorité était la reprise des travaux de construction de la nouvelle cathédrale consacrée à la Mère de Dieu, apparue en son icône de la « Joie de tous les affligés »"... En lire plus ici sur le blog de Spiritualité Chrétienne.
La mission de l'Eglise. " L'Eglise a pour unique mission de rendre Jésus Christ présent aux hommes. Elle doit l'annoncer, le montrer, le donner à tous. Le reste n'est que surcroît. A cette mission, nous savons qu'elle ne peut faillir. Elle est et sera toujours en toute vérité l'Eglise du Christ. Je suis avec vous jusqu'à la consommation du siècle (Mt 28, 20)... " En lire plus ici sur la citation d'Henri de Lubac, s.j., sr le site des Pères de l'Eglise.
A la découverte des Pères de l'Eglise. Une trés bonne page avec une liste chronologique des Pères et de leurs écrits. Une vraie référence a ne pas manquer, avec beaucoup de ressources, de citations. Voir ici sur le site des Pères de l'Eglise.
Saint Paul relu par les Pères de l'Église, par Stefan Munteanu. "L'importance accordée à l'œuvre et à la vie de Saint Paul fait que la littérature patristique nous transmet certaines informations sur l'Apôtre qui ne se trouvent pas dans le Nouveau Testament (du moins explicitement). Ainsi, par exemple, Jérôme (qui le tiendrait d'Origène) affirme que Saint Paul est d'origine galiléenne et que très jeune il quitta la Galilée avec sa famille pour s'installer à Tarse ; Tertullien, Origène, Augustin et Jérôme partagent l'opinion que Saint Paul était chaste ; Clément de Rome, quant à lui, nous dit qu'avant son martyre, l'Apôtre a prêché l'Évangile jusqu'en Espagne ; enfin, Eusèbe de Césarée nous rapporte la tradition du martyre par décapitation de Saint Paul à Rome au temps de Néron et l'information que les reliques sont conservées sur la route d'Ostie. À côté de ces renseignements, nous devons également mentionner un autre point important. Il s'agit du destin posthume de Saint Paul et de son œuvre dans l'Église ancienne. En effet, contrairement à ce que l'on peut croire, Saint Paul n'a eu d'influence prédominante qu'à partir du IIe siècle..... En lire plus ici sur le site de Bible service.net.
Pour une liste alphabétique des articles,
prières, photos et recettes,
sur ce site: Site Map
Comment vivre la Communion des Saints. Une bonne reflexion pour nous aider a discerner et a pratiquer: " Le sens de ce passage est évident , et il signifie que les souffrances du Christ bien que subies entièrement pour le rachat de nos péchés, nous laissent la possibilité de nous associer aux souffrances de la Croix (Col 1 :24). C'est là un mystère d'amour incroyable que de pouvoir s'associer en tant que « co-médiateur », non seulement de notre propre salut, mais plus particulièrement encore du salut de ceux qui n'ont pas eu la chance de connaître l'Évangile. Dieu désire le salut de tous les hommes et qu'ils parviennent à la connaissance de la Vérité ... Ainsi donc l'Eglise nous enseigne que nous devons prier les uns pour les autres , que cela n'est pas seulement une possibilité , si j'en ai le cœur ou l'envie , mais que c'est un réel devoir de charité En lire plus ici sur le site des "passionistes de polynesie".
PRIONS EN CHANSON. Chants sur le Saint Esprit. En latin, en français, avec des videos. En lire plus ici sur le site de prionsenchanson.blogspot.
Un (très bon et très détaillé) sanctoral quotidien:
Les saints du 2 juillet:
SAINT BERNARDIN REALINO (+ 1616) Bologne.
SAINT JEROCHE (7ème s.) Curé dans la Brie française, honoré à Rebais en Seine-et-Marne.
SAINT MARTINIEN (4ème s.) geolier de saint Pierre.
SAINTE MONEGONDE (+ 570) Tours.
SAINT OTHON DE BAMBERG (+ 1139) Bavière.
SAINT SWITHUN (+ 863) Angleterre.
SAINT LIBÉRAT (+ 484) et compagnons martyrs, a Carthage.
SAINT LIDAN (+ 1118) près de Sezze dans le Latium.
Bienheureux PIERRE DE LUXEMBOURG (+ 1387) Évêque de Metz.
Bienheureux JEAN ET PIERRE BECCHETTI (+ 1420) Italie.
Bienheureuse EUGÉNIE JOUBERT (+ 1904) région parisienne.

Les saints du 3 juillet:
SAINT THOMAS (1er s.) Apôtres.
SAINT ANATOLE (+ 283) Alexandrie, Syrie.
SAINT GELDUIN (+ 1123) Douai, France.
SAINT GUNTHIERN (6ème s.) Pays de Galles, Bretagne.
SAINT HELIODORE (+ 390)Antioche, Altino, Aquilée.
SAINT IRENEE (+ 273) Diacre et martyr en Toscane.
SAINT JEAN, FOL EN CHRIST (+ 1589) Moscou.
BIENHEUREUX RAYMOND LULLE (+ 1316) franciscain né à Majorque.
SAINT MEMNON (3ème siècle) Centurion, en Thrace.
SAINTS MARC ET MUCIEN (4ème siècle) Martyrs en Mésie.
SAINT HÉLIODORE (+ 390) évêque d'Altinum.
SAINT ANATOLE (+ 458) Patriarche de Constantinople, Concile de Chalcédoine.
SAINT LÉON II (+ 683) Pape. 3ieme Concile de Constantinople .
SAINT RAYMOND GAYRARD (+ 1118) Toulouse.
SAINT JOSEPH NGUYEN DINH UYEN (+ 1838) Martyr. Cochinchine.
SAINT PHILIPPE PHAN VAN MINH (+ 1853) Prêtre et martyr, Vietnam.
Bse MARIE-ANNE MAGAS FONTCUBERTA (+ 1886) Religieuse espagnole.
SAINT PIERRE ZHAO MINGZHEN (+ 1900) et saint Jean-Baptiste Zhao Mingxi, martyrs, en Chine.
En lire plus ici sur le site du CEF.
écrivains croyants d'expression française... Je viens de découvrir ce site et je le trouve très intéressant! Les articles les plus récents sont sur Lanza del Vasto (que j'ai rencontré, en Ardèche, il y a bien longtemps), Marie Noël, poète, et beaucoup d'autres que je ne connais pas mais que je vais pouvoir découvrir. En lire plus ici sur le site de ecrivainscroyants.fr.
PERES MARISTES. Une page d'information sur les Maristes, leur histoire, leur spiritualite et leur mission. "Les Maristes sont persuadés que l'Eglise de ce temps a plus que jamais besoin d'hommes et de femmes qui continuent de dessiner son visage marial : celui de la simplicité, de la bienveillance, de la miséricorde, de l'espérance en chacun". En lire plus ici sur le site de CORREF, qui offre une longue liste des Instituts et Abbayes en France, par ordre alphabetique, avec une fiche d'information sur chacun d'eux.
une video trés émouvante sur Chiara Luce.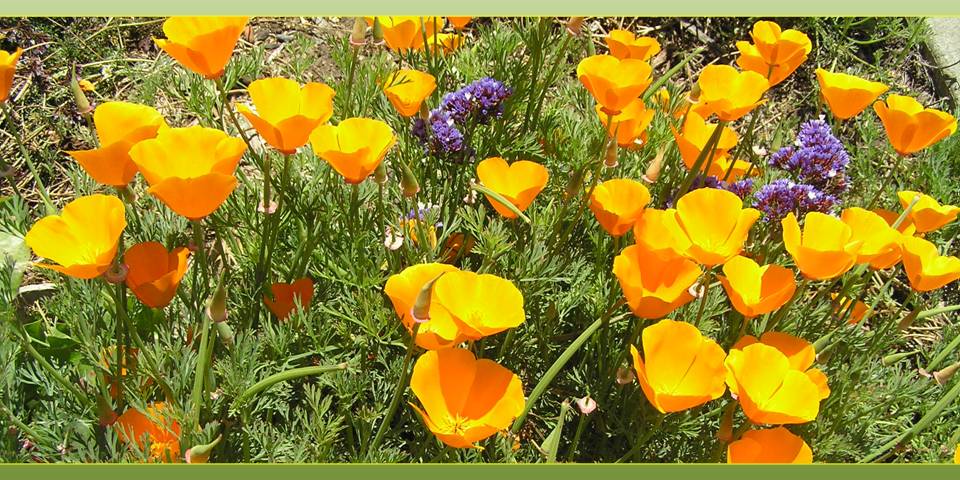 Des coquelicots en fleurs dans un jardin de mon quartier à San Francisco
Parents : faut-il refuser le diagnostic prénatal ? le professeur Didier Sicard, n'a pas hésité à conclure que « la vérité centrale (…) de l'activité de dépistage prénatal vise à la suppression et non pas au traitement : ainsi ce dépistage renvoie à une perspective terrifiante : celle de l'éradication."
« Le diagnostic prénatal est gravement en opposition avec la loi morale quand il prévoit, en fonction des résultats, l'éventualité de provoquer un avortement : un diagnostic attestant l'existence d'une malformation ou d'une maladie héréditaire ne doit pas être l'équivalent d'une sentence de mort. Aussi, la femme qui demanderait ce diagnostic avec l'intention bien arrêtée de procéder à l'avortement au cas où le résultat confirmerait l'existence d'une malformation ou d'une anomalie, commettrait-elle une action gravement illicite. En lire plus ici sur le site de Liberté Politique.
Saint Jean-Baptiste. Cette page est une bonne collection des oeuvres d'art sur Jean: ici . Par contre, le text apporte peu sur la mission de Jean Baptiste. Pour cela, lire pluto un bref résumé ici ou bien, ce qui est encore mieux, relisez (en entier) le premier chapitre de l'Evangile de Jean, car tout y est: ici
Jean lui rend témoignage et il clame : "C'est de lui que j'ai dit : Celui qui vient derrière moi, le voilà passé devant moi, parce qu'avant moi il était."
Lire le Notre Père avec les Pères. Les paroles du Pater ne sont-elles pas comme un joyau où se reflète toute la lumière de l'Evangile ? Des spécialistes de l'Antiquité se penchent sur l'histoire de ce trésor spirituel, des origines à l'an 600. En lire plus ici sur le site de patristique.org.
Saint Grégoire le Grand "L'humilité intellectuelle est la règle première pour qui tente de pénétrer le surnaturel à partir de l'Écriture. Ceci, qui n'exclut toutefois pas d'étudier sérieusement, permet d'atteindre des résultats spirituels utiles... Et puis, lorsqu'il s'agit de la Parole de Dieu, comprendre est inutile si cette compréhension ne porte pas à agir". Dans son commentaire de Job, où il suit la tradition patristique, Grégoire "examine le texte à la lumière de son triple sens, littéraire, allégorique et moral... L'idéal moral qu'il commente consiste toujours dans la réalisation d'une intégration harmonieuse entre parole et action, pensée et engagement, prière et service de son état... Ce grand Pape -a ajouté Benoît XVI- trace également pour le vrai croyant un complet projet de vie, qui fut durant le Moyen-âge une sorte de somme de la morale chrétienne". En lire plus ici sur le site de nominis.cef.
Vivre la compassion: la compassion, c'est le Coeur de Jésus en action.
Une clé de Compassion donnée par Dieu lui-même. Avant tout, avoir le désir personnel de l'aimer chaque jour davantage de tout notre coeur, de toute notre âme et de tout notre esprit. C'est la condition indispensable pour avancer sur le chemin de la compassion. Parallèlement, il nous faut travailler à apprendre à nous aimer nous-mêmes... En lire plus ici sur le site de la Communauté de l'Emmanuel.
L'Esprit de Dieu repose sur moi
L'esprit de Dieu m'a consacré,
L'esprit de Dieu m'a envoyé proclammer la paix et la joie...
pour ecouter cet hymn merveilleux sur YouTube: ici.

Le parcours spirituel d'Édith Stein ou Soeur Thérèse-Bénédicte de la Croix . Une tres bonne page sur une de mes sainte préférée! Ecrite par l'Abbaye Saint-Joseph de Clairval, qui est un site plein de ressources, allez faire un tour et voyez par vous-mêmes ici .
Pour une liste alphabétique des articles & prières sur ce site: Site Map
Anuncio au coeur du Festival de Cannes 2011. Après 14 heures de voiture, la Casa Anuncio a débarqué à Cannes pour préparer la deuxième édition du Festival de Cannes d'Anuncio. Installée chez la Famille Missionnaire de Notre-Dame... En lire plus ici sur le site Anuncio blog
31 mai - Visitation de la Vierge Marie. Le prêtre Zacharie d'Hébron, le père de Jean, était une espèce de pope ou comme l'un de nos curés, Car les prêtres dans ce temps-là avaient la permission de se marier. Et sans doute aussi qu'il avait un petit jardin derrière son presbytère.... En lire plus ici sur le site de mariedenazareth.com.
Education nationale : le Gender s'inscrit dans nos manuels Une fois inculquée aux élèves cette idée que la différence des rôles assignés à l'homme et à la femme dans une société donnée est produite par la culture, il est loisible de s'affranchir du modèle hétérosexuel et de relativiser l'inclination naturelle vers l'autre sexe. En lire plus ici sur le site de libertepolitique.com .
La morale et le renouveau de la vie sociale et politique: Devant les formes graves d'injustice sociale et économique ou de corruption politique dont sont victimes des peuples et des nations entiers, s'élève la réaction indignée de très nombreuses personnes bafouées et humiliées dans leurs droits humains fondamentaux et se répand toujours plus vivement la conviction de la nécessité d'un renouveau radical personnel et social propre à assurer la justice, la solidarité, l'honnêteté et la transparence. Le chemin à parcourir est assurément long et ardu ; les efforts à accomplir sont nombreux et considérables afin de pouvoir mettre en œuvre ce renouveau, ne serait-ce qu'en raison de la multiplicité et de la gravité des causes qui provoquent et prolongent les situations actuelles d'injustice dans le monde. Mais, comme l'histoire et l'expérience de chacun l'enseignent, il n'est pas difficile de retrouver à la base de ces situations des causes à proprement parler « culturelles », c'est-à-dire liées à certaines conceptions de l'homme, de la société et du monde. En réalité, au cœur duproblème culturel, il y a le sens moral qui, à son tour, se fonde et s'accomplit dans le sens religieux Lire l'encyclique Veritatis Splendor ici sur le site du Vatican.
Egypte : les coptes à nouveau pris pour cibles. Douze morts, 200 blessés, trois lieux de culte chrétien incendiés, quatorze maisons détruites et de nombreux commerces pillés : tel est le bilan des deux attaques perpétrées samedi 7 mai contre des églises du diocèse de Guizeh, en Egypte. En lire plus ici sur le site de l'Aide à l'Eglise en Détresse (AED).
Qui trahit la tradition? Le grand débat. La discussion s'enflamme à propos de la manière d'interpréter les nouveautés introduites par le concile Vatican II, surtout en ce qui concerne la liberté de religion. Les traditionalistes contre Benoît XVI. Un essai du philosophe Martin Rhonheimer en faveur du pape.
La "liberté de conscience" a toujours été comprise par le monde moderne comme la liberté de culte, c'est-à-dire comme le droit de l'individu et des diverses communautés religieuses à exprimer librement leur foi, de manière publique et communautaire, dans le cadre de l'ordre et de la morale publiques, sans que l'Etat ait le droit d'intervenir pour l'empêcher. Or cela correspond exactement aux revendications des premiers chrétiens à l'époque des persécutions. Ils ne revendiquaient pas la promotion par l'Etat de la vérité religieuse mais plutôt la liberté de pouvoir confesser leur foi sans être brimés par l'Etat. Il revient au Concile Vatican II d'avoir enseigné ce droit fondamental de la personne humaine à confesser sa foi sans préjudice....
Bref, la doctrine de Vatican II sur la liberté religieuse n'implique aucune réorientation dogmatique, mais plutôt une réorientation de la doctrine sociale de l'Eglise et, plus précisément, une correction de son enseignement sur la fonction et les devoirs de l'Etat. Les mêmes principes immuables sont repris donc de manière nouvelle dans le nouveau contexte historique. Il n'y a aucune doctrine de foi catholique et dogmatique sur l'Etat et il ne peut pas y en avoir, exception faite des éléments déjà présents dans la Tradition apostolique et dans l'Ecriture Sainte. Or, de ces écrits est totalement absente l'idée d'un "Etat catholique" qui serait le bras séculier de l'Eglise. Ils témoignent plutôt d'une séparation entre la sphère religieuse et celle politico-étatique.
En lire plus ici sur le site Chiesa de Sandro Magister.
La Parabole des deux fils:
Lc 15:18- Je veux partir, aller vers mon père et lui dire : Père j'ai péché contre le Ciel et envers toi ;
Lc 15:19- je ne mérite plus d'être appelé ton fils, traite-moi comme l'un de tes mercenaires. "
Lc 15:20- Il partit donc et s'en alla vers son père. " Tandis qu'il était encore loin, son père l'aperçut et fut pris de pitié ; il courut se jeter à son cou et l'embrassa tendrement.
Prier à partir d'une oeuvre d'art: Vitrail de la Cathédrale de Sens et " la Parabole des deux fils ".
En lire plus ici sur le site de Notre Dame du Web.
Béatification de Jean Paul II. Antoine faisait partie des 700 pèlerins qui sont allés à Rome en bateau depuis Toulon. J'ai fait le voyage à Rome dans le bateau de la compagnie Corsica Ferries affrété par le diocèse d'Aix en Provence, diocèse qui a instruit le miracle retenu pour la béatification de Jean Paul II. C'était un pèlerinage animé par les religieuses de la congrégation des maternités catholiques. En lire plus ici sur le site d'Opus Dei.
The UN refugee convention: still valid? This year, the UN refugee agency (UNHCR) marks the 60th anniversary of the 1951 Refugee Convention. Amaya Valcarcel, Jesuit Refugee Service International Advocacy Coordinator, considers the aptness of the law to deal with forced displacement today. The 1951 UN Convention relating to the status of refugees is rightly considered to be the cornerstone of refugee protection. However, 60 years after it was enacted, many question whether this law is now outdated. Certainly its definition of who is a refugee does not cover all modern displacement situations. En lire plus ici sur le site de Jesuit Refugee Service.
Une video merveilleuse sur Marie: sur La Dormition, l'Assomption, Marie, sa mort, elle rend son âme a Dieu, les traditions populaires, les évangiles apocryphes, le tombeau de Marie est vide, c'est une " anticipation " pour nous tous, préfigurant le salut de tout chrétien. Cathédrale Arménienne St Jacques, a Paris aussi, l'historique de célébrer Marie : la Mère de Dieu, Théotokos, hymnes de St Ephrem, encore chantés aujourd'hui à Paris, la merveilleuse spiritualité orientale, passer la nuit a chanter et prier, les icones, les 3 dimensions : le corps, l'esprit et l'ame, le scandale du tableau de Caravaggio, l'Occident et l'Assomption, une Vierge vivante, droite, debout, accueillit par la Trinité, le dogme de 1950 de l'Assomption, avant celui de son Immaculee Conception, et tout au debut ceux de sa Virginité Perpetuelle et celui de "Mère de Dieu". Regardez la vidéo ici sur le site de "Il est vivant".
Il pleut, il y a des orages sur les Alpes...
Une goutte d'eau, c'est trois fois rien.
Et pourtant, j'y trouve une certaine beauté, fragile, éphémère...

HOMÉLIE DU PAPE BENOÎT XVI À L'OCCASION DE LA BÉATIFICATION DU SERVITEUR DE DIEU JEAN-PAUL II. Un trés beau sermon, un vrai mini-catéchisme sur la foi, sur ce que JPII a apporté a l'eglise: "Il y a six ans désormais, nous nous trouvions sur cette place pour célébrer les funérailles du Pape Jean-Paul II. La douleur causée par sa mort était profonde, mais supérieur était le sentiment qu'une immense grâce enveloppait Rome et le monde entier: la grâce qui était en quelque sorte le fruit de toute la vie... En lire plus ici sur le site du Vatican.
Un moment de reflexion sur le Psaume 21 - et sur le Psaume 110...
2 Mon Dieu, mon Dieu, pourquoi m'as-tu abandonné?
Le salut est loin de moi, loin des mots que je rugis.
3 Mon Dieu, j'appelle tout le jour, et tu ne réponds pas;
Même la nuit, je n'ai point de repos.
Ce soir-la, le Père Milhomme débuta ce moment de réflexions en nous disant que le Psaume 21 est celui qui est le plus souvent mentionné dans le Nouveau Testament. On commença par le lire ensemble, chacun de nous lisant tour a tour quelques versets... Lisez la suite ici
"Où se trouve l'âme de mon fils, dans le coma ?" Lire la réponse du Saint-Père... ici sur le site de L'Evangile de la Vie : L'Evangile de la Vie, c'est en tout premier lieu le cri d'amour pour la vie, pour l'accueillir, la protéger, la célébrer, cri venu du cœur de Jean Paul II dans son Encyclique Evangelium Vitae.
Un geste d'une grande douceur ! À l'entrée de la Passion, voici un geste de grande douceur : l'onction d'une femme, Marie-Madeleine, à Béthanie… Tandis qu'elle est couverte de reproches, Jésus la loue pour la prodigalité de son amour. En lire plus ici sur le site Retraite dans la ville.
LES PRINCIPAUX SANCTUAIRES DE MARIE DANS LA SUISSE CATHOLIQUE Et quelle liste! C'est une trés longue liste... Pleine d'informations, un vrai trésor. Voir la liste ici sur le site de l'Abbaye Saint Benoit.
2ème lecture: Lecture de la lettre de saint Paul Apôtre aux Philippiens (2, 6-11)
Le Christ Jésus, lui qui était dans la condition de Dieu, il n'a pas jugé bon de revendiquer son droit d'être traité à l'égal de Dieu ;
mais au contraire, il se dépouilla lui-même en prenant la condition de serviteur.
Devenu semblable aux hommes et reconnu comme un homme à son comportement,
il s'est abaissé lui-même en devenant obéissant jusqu'à mourir, et à mourir sur une croix.
C'est pourquoi Dieu l'a élevé au-dessus de tout ; il lui a conféré le Nom qui surpasse tous les noms,
afin qu'au Nom de Jésus, aux cieux, sur terre et dans l'abîme, tout être vivant tombe à genoux,
et que toute langue proclame : « Jésus Christ est le Seigneur », pour la gloire de Dieu le Père.
Fabrice Hadjadj: "La foi des démons, ou l'athéisme dépassé" Une vidéo fascinante sur l'athéisme, la foi, l'ennemi de la foi, la conversion, la parole de Dieu. Le grand danger, la grande stratégie du démon c'est soi de présenter des erreurs, et en luttant contre l'erreur, on tombe dans l'erreur contraire, soi on combat l'erreur en restant dans la vérité, mais on perd la charité, on devient inquisiteur, ou bien on se tient comme une forteresse assiégée… on ne doit jamais perdre de vue l'amour du prochain… la vérité est une personne et doit se communiquer de personne a personne. En lire plus ici sur croireTV.
Silence et Vent, Cries et Beauté : La retraite des jeunes assistants à Nevers 2010. Témoignage d'un participant: un très beau témoignage... J'ai rencontré quatre choses à l'intérieur du couvent : le silence et le vent ; les cris et la beauté. Premièrement le silence. Un silence dynamique. A certains moments c'était rafraîchissant, taquin même : à d'autres moments dérangeant et insoutenable. Après j'ai entendu le vent. C'était un vent reposant, encourageant. Ce vent venait annoncer quelque chose. Ensuite ce sont des cris que j'ai entendus. Pendant les cinq jours de la retraite j'ai entendu crier des années de ma vie. En écrivant ces lignes j'entends les échos qui résonnent encore. Finalement j'ai rencontré la beauté. En lire plus ici sur le site de l'Arche.
Pour une liste alphabétique des articles,
prières, photos et recettes,
sur ce site: Site Map