from December 2012 to January 2012 - Sharing the faith… in English:
Merry Christmas! Joyeux Noël... Today is a new day, today is December 24th 2012, it is Christmas Eve ! And tonight is the birth of Christ, the mystery of the Incarnation unfolding in front of us. Here is the true and only theory of evolution and it is that the world is LOVE unfolding in 3 moments: the Creation, the Incarnation and the Resurrection which is the beginning of the Eschatological End. God created the world out of love for his Son and made us in his image, the birth of Jesus is the key moment where He comes among us and makes everything anew, and the End will be the fulfillment, the complete revelation of God's plan. The Incarnation changed time completely, it brought us the freedom from being subjected to its linear sense to a new total - and global - freedom where we hold, through love and faith, the three moments of time within our grasp. And where we can "enter" in its fullness by being Christ-like, again and again. Deo Gratias!
Read more of my ponderings Noël 2012 HERE
The Gender Identity Movement. "It is now becoming clear that the very notion of being - of what being human really means - is being called into question." "He quotes the famous saying of Simone de Beauvoir: "one is not born a woman, one becomes so" (on ne naît pas femme, on le devient). These words lay the foundation for what is put forward today under the term "gender" as a new philosophy of sexuality..." Read more of this insightful address to the Roman Curia on Thursday, December 21, 2012, by Pope Benedict XVI where he addressed the inherent falsity and social danger of what is being called Gender Identity Movement: here on Catholic Online (www.catholic.org).
Therese and the Death Penalty, by William Doino Jr. What a beautiful and thoughtful piece on intercession and repentance and the death penalty. Read more here on the First Things site.
We are all Newtown this morning. Those children are our children. Deacon Greg Kandra's homily:"It's a poignant image – and, I think, given the events of the last 48 hours, devastating. In those outstretched arms, we can't help but notice what is missing. I looked at that figure in the crèche on Friday night and thought of the empty arms of the mothers of Newtown...." Read more here on Coming Home: Dr. Gerard M. Nadal site.
On the Causes of the Russian Catastrophe by Archbishop Averky. A very good analysis of politics and culture and more.... "God and His manifest works have been blasphemed. Someone wrote me that in some newspaper Light, No. 88, blasphemies against the Mother of God were printed. The Mother of God has turned away from us; because of Her, so has the son of God; and because of Him, so have God the Father and the Spirit of God. Who is for us when God is against us?! Alas!" Read more here on the St. John the Baptist Church, the Canberra parish of the Australian Diocese of the Russian Orthodox Church (Abroad) site.
I've put a few recent photos here of the INCREDIBLE amount of snow we got in my corner of the world... And to think this is only early December. Winter is not even here officially.
Another Reason I'm Grateful to be Catholic. "Jesus is the friend of the poor and dispossessed. Only, here's the thing: an archangel is not a Magical Negro. A magical negro is a now-tiresome movie trope invented by well-heeled Hollywood screenwriters to alleviate guilt over racial injustice in the United States while not having to, like, do something besides go to a movie. He shows up, gives wise/mystical advice and sometimes literally disappears. An archangel, in contrast, is an *archangel* announcing the most important event in the history of the universe–which turns out to be the Incarnation of the Son of God, not the Civil Rights Act, good as that was..." Read more here on Mark Shea's blog.
Words are potent. God created the world by His Word. PROPHESY THE POSITIVE OVER YOUR LIFE AND FAMILY AND IF YOU CAN'T SPEAK POSITIVE, WALK IN SILENCE Be silent, be patient. Your time of diligence, faith, and waiting -- your "seven days" -- may be different than Joshua's. A "day" can be quick -- an hour. Read more here on Spirit Daily web site.
Why Catholics for Israel? A very interesting site... I just discovered it so I'm not sure what to think yet. So far it seems faithful and orthodox but I"m not sure. If anyone else knows more about it, please let me know. Read more here on the Catholics for Israel site.
The sermons on the fall of Rome. We are NOT citizens of the world but instead we are citizens of the City of God... "In a series of sermons, Augustine told his flock not to worry, that they were not citizens of Rome or denizens of earth but that they were citizens of the heavenly city of Jerusalem. Since the fall of Adam, said Augustine, the loyalties of the human race had been divided between two great symbolic cities. One city, the heavenly city of Jerusalem, served God along with his loyal angels. The other city, Babylon, represented by Rome, served the rebel angels: the devil and his demons. He said that although Jerusalem and Babylon appeared mixed they would be separated at the Last Judgment. The righteous, he said, would return to the heavenly city of Jerusalem just as the prophets had foretold of the return of Jews to their homeland".... " Although Augustine saw God as the creator of all, he believed with other Christians that the world was also influenced by devils. Pagan gods, he believed, were devils. He described devils as vile beings, as the evil spirits of which the apostles had spoken. Augustine turned the struggle against devils inward. Men, he believed, got the demons they deserved. Augustine believed that people were at times their own devil. He saw victory over evil as depending upon an inner strength, the source of which was an inner attachment to Jesus Christ".
It's pretty easy to think of what's going on today... Isn't it?
Read more here on the macrohistory site.
"Noël and the mystery of the Incarnation" by Raymond Winling. I'm reading this terrific book (in French) and it is really a little gem, it is resting very solidly on Scriptures and the Fathers of the Church and it covers the history of the development of this crucial Christian feast, it explores the reasons why and how, when and where, and I'll talk more about it very soon. In the meantime, I'll only put a link to the book (sorry but it's in French...) here on the Cerf edition site.
A couple of years ago, I posted this stained-glass of Saint Isaac Jogues on my facebook status when it was his Feast Day. I love this wonderful French Jesuit Saint, his courage and perseverance, his zeal at evangelization. I discovered him when I read "A Saint Among The Savages" which I highly recommend by the way! This book is an amazing account of Isaac' life and ministry and it touched me deeply when I first read it. Saint Isaac is one of the reasons that I am able to live in California today! If it was not for his love of God and love of the country (North East US and Canada) and love of the people, the state of California would not exist.... Well, this is how I see the unveiling of the world and the economy of salvation and I have written about it here here .


The stained glass above is a photo from Loci Lenar who has quite a good collection of photos, a fascinating serie on autumn photos and he has an extremely large and beautiful collection of stained-glass photos. Check his work here Loci Lenar poetry on flickr
The Five "Conciliar" Days of the Pope. By Sandro Magister. With six statements on Vatican II, fifty years after its beginning. Followed by a commentary by Pietro De Marco on the "external paradigm" that influences the interpretation and reception of that event.
- The saints are "the pioneers and bringers of the new evangelization."
- "We cannot make the Church, we can only know what He has done. The Church does not begin with our 'doing,' but with the 'doing' and the 'speaking' of God.
- God is present, he cares for us, he answers us. And on the contrary, when there is a lack of faith in God, there is the collapse of that which is essential."
- The encounter with the great themes of the modern epoch ... happen in two documents "Dignitatis Humanae" on religious freedom and "Nostra Aetate" on relations with the non-Christian religions.
- "I have often insisted on the need to return to the 'letter' of the Council – that is to its texts – also to draw from them its authentic spirit...
- "In these fifty years, we have learned and understood that original sin exists and is translated ever anew into personal sins that can even become structures of sin..."
Read more here on the Chiesa site.
Humility and the will of God. It's always "surprising" when you read something that was written exactly for you... Here it is:
"It seems to me that our Lord's earnest desire to have his Sacred Heart honored in a special way is directed toward renewing the effects of redemption in our souls. For the sacred heart is an inexhaustible fountain and its sole desire is to pour itself out into the hearts of the humble so as to free them and prepare them to lead lives according to his good pleasure. From this divine heart three streams flow endlessly. The first is the stream of mercy for sinners; it pours into their hearts sentiments of contrition and repentance. The second is the stream of charity which helps all in need and especially aids those seeking perfection to find the means of surmounting their difficulties. From the third stream flow love and light for the benefit of his friends who have attained perfection; these he wishes to unite to himself so that they may share his knowledge and commandments and, in their individual ways, devote themselves wholly to advancing his glory. This divine heart is an abyss of all blessings, and into it the poor should submerge all their needs. It is an abyss of joy in which all of us can immerse our sorrows. It is an abyss of lowliness to counteract our foolishness, an abyss of mercy for the wretched, an abyss of love to meet our every need. Therefore, you must unite yourselves to the heart of our Lord Jesus Christ, both at the beginning of your conversion in order to obtain proper dispositions, and at its end in order to make reparation. Are you making no progress in prayer? Then you need only offer God the prayers which the Savior has poured out for us in the sacrament of the altar. Offer God his fervent love in reparation for your sluggishness. In the course of every activity pray as follows: "My God, I do this or I endure that in the heart of your Son and according to his holy counsels. I offer it to you in reparation for anything blameworthy or imperfect in my actions." Continue to do this in every circumstance of life. And every time that some punishment, affliction or injustice comes your way, say to yourself: "Accept this as sent to you by the Sacred Heart of Jesus Christ in order to unite yourself to him." But above all preserve peace of heart. This is more valuable than any treasure. In order to preserve it there is nothing more useful than renouncing your own will and substituting for it the will of the divine heart. In this way his will can carry out for us whatever contributes to his glory, and we will be happy to be his subjects and to trust entirely in him".
the humble, the three flows: mercy, charity and enlightment; blessings, joy, humility and the will of God? How could she possibly know that I had to hear this today of all days....St Margaret Mary, pray for us! Read more here on her site.
How to Kick Satan Out of Your Home. Fight for it Mama! You may not always catch it right away. Incrementalism is also a tool of Satan's minions. The discontent happens slowly, while you think yourself quite fine, and then one day you realize you do not recognize the bitter, screeching, heathenistic mess, obsessed with stupid nonsense, that you have become. Read more here on the catholicsistas site.
Dogmatic Theology: Matthias Scheeben . The May edition of First Things had a wonderful article on the dogmatic theologian Mattias Scheeben. For some reasons, they do not permit to read it on line so I've only got a few bits and pieces here and there but it's a very inspiring article and it makes me want to read more of Scheeben! So there, you have it, I'm intrigued. To make my point, I"ll post the beginning of the article:

"Catholics in the last fifty years or so have almost completely ceased to do dogmatic theology. Save for a handful of admirable holdouts, we have practically given up the fruitful enterprise of a millennium: the believing mind's effort to understand the Christian mysteries. The deep things of God, the mysteries of his own life opened up to us in Christ, we now think we need not, or fear we cannot, search out. Unless this development is reversed, the consequences of this unwelcome development for the Church and for Catholic life are likely to be grave. Whether dogmatic theology fares better in the Protestant world I will leave for others to say. For Catholics, Matthias Joseph Scheeben, more than any modern theologian, can show us how to get started again."
Here is another wonderful paragraph:
"His theology is, moreover, charged with speculative boldness, even audacity. He seeks the deepest possible understanding of the mysteries of Christianity, not simply one by one but as a whole and in their luminous interconnection, what he calls their "wondrous harmony." Important as the virtues of disciplined argument and speculative courage are, even more important for our time are three further qualities everywhere manifest in his work. First, Scheeben habitually talks about God, focusing intently on the supernatural mysteries of God's own nature and life. Second, he is an immensely learned theologian with an intimate and sympathetic knowledge of the theological traditions of the Church. Finally, Scheeben undertakes theology in humility, with reverence, joy, and submission before the divine mysteries he seeks faithfully to serve. Today we need to recover these three virtues--supernatural focus, sympathetic learning, and humility--if we are to restore dogmatic theology..."
It's very clear and very good, isn'it? I'm going to have to get a hold of some of his work.
Gentleness in the Midst of Suffering. Persecution is nothing new: it is the "normal" of those who would follow Jesus. Nonetheless, we find in these readings that the hope of resurrection empowers us to be both joyful and gentle in the midst of the sufferings we experience. Read more here on the sacred page blog.
Note with pastoral recommendations for the Year of Faith. This year will be a propitious occasion for the faithful to understand more profoundly that the foundation of Christian faith is "the encounter with an event, a person, which gives life a new horizon and a decisive direction." Read more here on the Vatican site.
Torah Revealed and Withheld: Part One. Had I been in Abraham's sandals, I wouldn't have obeyed. And if, God forbid, somehow, by some mysterious power or force one day I am commanded to offer any one of my children (two stepdaughters, one son), I won't do it, not even if I know in advance the reward. Not that I'm a rebel—temperamentally disposed to resist or oppose authority. Honestly, I don't even have the courage to stand up, when I disagree, even strongly disagree, with most human authorities. Agreeable, compliant: That's me. But even I have my limits. Read more here on patheos.
The Church's canonical discipline and its irreplaceable role in the work of the new evangelization. "Whole countries and nations where religion and the Christian life were formerly flourishing and capable of fostering a viable and working community of faith, are now put to a hard test, and in some cases, are even undergoing a radical transformation, as a result of a constant spreading of an indifference to religion, of secularism and atheism..." Read more here on Zenit News.
Where there is no love, put love, and then you will find love (St John of the Cross). In his book on "Surrender ! The life-changing power of doing God's will" Fr. Larry Richards has a great chapter on loving the ones we don't even like and, nevertheless, seeing God in them. He quoted Dorothy Day: "I really only love God as much as I love the person I love the least"… Then he adds: "Love is hard. It is not like we hear in all our modern love songs. Love begins when you are willing to lay down your life for the person on the bottom of your list, the one you can't stand. That is love. " See this book here on amazon.com
Russian Orthodox patriarch and Polish Catholics sign reconciliation message to evangelise the world. Warsaw (AsiaNews/Agencies) - Whilst the world media focused yesterday on Pussy Riot trial, the real news of the day came from the Polish capital where Russian Orthodox Patriarch Kirill and Archbishop Jozef Michalik, president of the Catholic Bishops' Conference of Poland, signed an historic joint statement calling on their respective believers to erase centuries of violence and prejudice and work together for a society informed by Christian witness. Read more here on the Asia News site.
St. Seraphim and Renewal . At times we can go astray when understanding the simple message of our Lord Jesus Christ. When this happens our spiritual lives become dull, cold and introverted. Not being able to recognize our weakness we tend to often find fault in others or in our churches to why we are not experiencing a fruitful spiritual life. We even go as far to make it our mission to fix these problems that we see.... The true Christian life according to St Seraphim is not as complicated as we often make it. The same could be said for the spiritual renewal that we long to see in our churches. We can't always expect ideal conditions when it comes to the spiritual atmosphere that we find ourselves in. On the other hand, there is nothing stopping us from "acquiring the Spirit of God".... Read more here on the Eastern Catholic Spiritual Renewal blog.
Is Benedict the 'Green Pope'? "The most obvious difference between Pope Benedict and the Green movement is that for the Pope, the human person is at the center of his worldview," said Sam Gregg, director of research at the Acton Institute for the Study of Religion and Liberty, a Michigan-based think tank. "Human beings have dominion and stewardship over the natural world. We are intrinsically superior, but we don't have the right to do whatever we want with nature." The Holy Father also speaks of "human ecology" with regard to the environment. He draws a parallel between the harm of polluting the natural world and the harm of engaging in immoral behavior, which causes real suffering to human beings. Read more here on the Legatus site.
Nigerian Woman Responds to Gates' Contraception Campaign. What a beautiful letter! What a lovely tribute to African women. Read Obianuju Ekeocha's letter and learn the truth - which is completely opposite to what Melinda Gates is trying to do, using her personal fame and fortune to contracept the world. Growing up in a remote town in Africa, I have always known that a new life is welcomed with much mirth and joy. In fact we have a special "clarion" call (or song) in our village reserved for births and another special one for marriages. The first day of every baby's life is celebrated by the entire village with dancing (real dancing!) and clapping and singing - a sort of "Gloria in excelsis Deo." All I can say with certainty is that we, as a society, LOVE and welcome babies... Read more here on the Catholic Free Press site.
Blessed be Saint John Vianney and Saint Philomena! Forever linked together and connected to us through their faith in Christ and their friendship. I put all what I have written about them here in the links at the bottom of the page.
Find balance and remember: negativity not only stymies your life but is also usually a lie. Life on earth is a constant struggle to find our equilibrium. On our way to that balance, God sends us favors (as indications). Most are small. They add up. There are also the little admonishments. Some are not so little... Read more here on the Spirit Daily site.
"For the multitude" not "for all". The Pope wants to change the translation of the phrase pronounced during the consecration of the bread and wine at the liturgy back to the original expression "for many". Read more here on the Vatican Insider site .
Olympic games and religion. Paul Cartledge explores the differences between today's interpretation of the Olympic Games and their significance in the ancient world "It was indeed the Greeks who invented the idea of competitive games or sports. Their word agon, meaning 'competition', gives us our word 'agony', which is a fair indication of the spirit of ancient Greek competitiveness. But they did so within a specifically religious context"... Read more here on the History Today site.
"To understand the world we must understand religion". ...talking about the transformational power of faith in modern societies is not simply an abstract concept... The main aim of the dialogue initiative launched by the U.S. Department of State, Diaz said, is to expand relations with communities of faith throughout the world. "We cannot wait for a tragedy to occur – we must forge ties so that when there is a crisis, there is a network of relations, of friends whom we can turn to and say: "Let's work together to deal with and solve this situation." ... Read more here on the Vatican Insider site.
Caring for Time's Survivors. More and more, churches are paying attention to their survivors and their needs. The generic person once called ''the man in the pew'' is really ''the woman in the pew." and she is growing older. Read more here .
The 9 Ways of Being an Accessory to Another's Sin. It's a short list but it's a crucial one ... It's so easy to think "I haven't done anything wrong so I'm fine". It's so important to be able to examine our conscience in full. Read more here on St. Peter's List site.
The Calling of the Apostles By Metropolitan Anthony of Sourozh. It is a relationship so deep, so perfect and complete that they cannot leave Him even if terror comes upon them. When Christ tells His disciples that He is going to Bethany because Lazarus has died, His disciples say: 'Are you going back into Judaea? Were not the Jews about to kill you?' And one of them says, 'Let us go with Him and die with Him.' And that one is Thomas, the one who so often is thought as a doubter. (Read more here on the Pravmir site).
Links to Iconography and Art. For a good listing of sources, please check this page on the Byzantine Catholic site: here.
The Icon of the Sign and the Prologue of John. I have a special love for the Icon of the Sign and I already wrote about it last year, looking at it from the continuum of life and a pro-life angle… here
I chose this particular icon as my very first icon (under the guidance of a local and very good iconographer) but this time I linked it with the prologue of St. John. The reason why I did this is because each one of them (the Icon of the Sign, the Sign being Christ) and the prologue of the beloved disciple give us this most complete and coherent and harmonious view of the mystery of the creation AND of the Incarnation AND of the economy of salvation! It's all there, wrapped up in one Icon, the Sign being Christ, and one text, the mother of all texts, the magnificent - and formative - Gospel: The Word came into the world and planted his tent among us; Jesus Christ is the real light that gives light to everyone, the Word made flesh, through whom all things came into being.
Finding a saint help me with rest, relaxation, and the pursuit of pleasure? I LOVE Sister's answer! She is absolutely right on: " The problem for me is finding you a patron saint. Because basically, I can't think of any saints who put themselves first in any way, rested, relaxed or in some cases, even slept much. St. Catherine of Sienna only slept for about 2 hours a night. She fasted continually, sometimes surviving on only the Host. She didn't live long at all..." Read more here on Sister Mary Martha's blog.
Pope: Reject a culture where truth does not matter. "Renouncing the glamour of Satan in today's age means rejecting a culture where truth does not matter," the Pope said, referring to a part of the Baptismal Rite... He said we also must keep in mind that this relationship begins with God. "Yes, my decision is necessary, but ultimately, it is an act of God within me," he explained. "I do not decide to become a Christian. I am … chosen by God, and by saying "yes" to this action of God, I become a Christian." Read more here on the Vatican News site.
Tiananmen, a "watershed" for China's conversion to Christianity. A Chinese scholar who closely followed events in 1989 sees a major shift in the country's outlook following the crackdown against the pro-democracy movement. Communism's betrayal, the gap between the regime and the people and the need for spirituality "led many of us to Christianity, which alone can respond to these needs." Read more here on the AsiaNews.it site.
Life goes on and I'm starting to read books again and take photos, and make quick visits to facebook and even find again the desire to update this site, talking about God and his angels and his saints and sharing the faith. Although I'm not sure if I'll be able to do it, I've been overwhelmed by the recent changes in my life. But we'll see. This is a great opportunity to put all my trust in God rather than rely on my own capacities!...
Ten Catholic women who changed the world. Mary O'Regan profiles ten Catholic women who transformed the planet with their holiness, untiring work and incredible creativity.
1. Phyllis Bowman; 2. St Thérèse of Lisieux; 3. St Hildegard of Bingen... Read more here on the "Refreshing News" blogspot.
Cherish the sanctity of marriage! All people of good will who cherish the sanctity of marriage are urged to read the following excerpt from Pope Benedict's June 3rd homily at the 7th World Meeting of Families: Dear married couples, in living out your marriage you are not giving each other any particular thing or activity, but your whole lives. And your love is fruitful first and foremost for yourselves, because you desire and accomplish one another's good, you experience the joy of receiving and giving. It is also fruitful in your generous and responsible procreation of children, in your attentive care for them, and in their vigilant and wise education. And lastly, it is fruitful for society, because family life is the first and irreplaceable school of social virtues, such as respect for persons, gratuitousness, trust, responsibility, solidarity, cooperation... Read more here on the Catholic Exchange site.
Pope Benedict XVI: Homily at 7th World Meeting of Families. "God's plan for the human couple finds its fullness in Jesus Christ, who raised marriage to the level of a sacrament. Dear married couples, by means of a special gift of the Holy Spirit, Christ gives you a share in his spousal love, making you a sign of his faithful and all-embracing love for the Church. If you can receive this gift, renewing your "yes" each day by faith, with the strength that comes from the grace of the sacrament, then your family will grow in God's love according to the model of the Holy Family of Nazareth... Read more here on the Vatican site.
1) When you have done everything that was commanded of you say, 'We are useless servants''we have done what it was our duty to do."
2) "Well done, good and faithful servant. Enter into your Master's joy."
There is such a paradoxical tension, such a challenge, between these two calls to be "servant"… And we need to hold both of them in front of us, the first one infused with humility and duty, dedication and generosity. And the second one is the promise – and the reality – of LOVE and REST and JOY.
You brought confusion on the guards at your tumb, but joy to your disciples,
grant the fullness of joy to all who serve you.
– Save us, Lord, through your victory.
(Liturgy of the Hours, morning prayer, Monday April 22, 2012)
Isn't it interesting how the very same events can be seen and misunderstood and bring confusion
or seen more clearly and understood more profoundly and bring joy!
(and to think that some people say that faith has no relevance to today... think again, think of the guards at the tumb! Or, another way to drive the same point home is: are we a guard or a disciple? Not that guards are not needed, of course they are, they were doing their job. We need guards. But we need disciples even more. Our call, as Christians, as followers of Jesus Christ, is discipleship. Love and meekness. Christ wants us to be his disciples).
You have visited the earth and brought life-giving rain to fill it with plenty, alleluia! (Psalm 65)
I read this verse this morning and it got me to think of something I wrote last year. I added more photos and here it is: A photo essay and an article on the waters of life on earth on one level and the life-giving streams of faith on another one and how the two are forever connected: "Waters of the oceans and streams of faith" here .
Perpetual Adoration in the Sacre-Coeur in Paris. I was blessed with having the possibility to spend a night in the Sacre-Coeur during Holy Week. It was a very special, moving and fruitful experience which I highly recommend. Once the doors are closed to the general public, once the lights have been turned off, except for one on our Lord, and one on the altar and the ambon, then you realized how special this place - and this moment - is. You can hear the noises of the city, one of the most famous city in the world, but the noises are softened, filtered, and it feels like you are in a huge vessel (as the Benedictine Sister said, the one who introduced our group to Adoration in the basilica) suspended between the world (and its noises and its distractions) and the infinite, and you are there, alone with the Lord, the Son of God, the Word made Flesh, the Prince of Peace... For more information, check out this video: here on the basilica site.
Useless Servants! Put On Your Aprons! As I proclaimed those lines and began to preach I could see people cringing and grimacing at this piece of "good news." I have struggled with this reading often wondering over its meaning and this time, a glimmer of insight was given. It has to do with the aprons! Yes, the aprons!...
"There is an old Jewish story about a man who was born into the mines and lived there below ground until he was in his twenties. Then one day the King's attendant died and he was brought up from the mines and chosen to be the King's attendant. Overnight his life was radically altered. He lived in sunlight, and ate and was clothed in fine garments and dwelled close to the king. The king and he became friends and so, in a short period of time he was not just the king's personal servant, but friend, advisor and counselor, even given the keys to the king's treasury. And so, in his fast rise to power and influence, he made enemies. These enemies kept telling the king that he was being taken advantage of, and that the servant was stealing from him. Everyday he went into the treasury and locked himself into the vault with all the king's jewels, gold and valuables, stayed there for about an hour and came out. They were sure that he was filling the hidden pockets of his long vest and garments with jewels. The king refused to believe them, but finally he had a hole drilled in the wall of the safe so that he could spy on his servant-friend and see what he was doing in his treasure house. He watched and the man entered, locked the door and took out a bundle from inside the safe area…he took off his garments and redressed in the clothes that he had worn when he came from the mines. He lit a candle and began to pray. "O Lord, help me remember that I am your servant only. I may be the king's servant and have more power than I ever imagined but it is you alone that I serve." And he prayed like this for nearly an hour. Then he undressed and put back on his fine garments, wrapped the old ragged ones up in a bundle and placed them back in the safe. He pulled himself together, unlocked the door and walked out into the corridor. The king was waiting for him there. And it was the king who bowed low before his servant and spoke to him: "My servant-friend, my court has warned me repeatedly that you are a thief and that you spend your days stealing from me and I did not believe them. But you are a thief! You have stolen my heart! You have reminded me as no one else ever has that though I may be the king, before God I am only his worthless and useless servant and that is what I will be judged as when I stand before God. Please, you must promise me that you will remind me of this always so that I too will serve God alone."
Read more here on Megan McKenna site.
What a beautiful and inspirational story! It's all about the love between a father and son, it is all about relationships, about being able to "see" the potential in our children and therefore to see it in our neighbors too. Yes, really, it is all about the grace of God, which is the love of God for us, his children and all the gifts he offers us. We are not always able to see grace and love, we walk around with blinders and ear plugs for most of the time and we are usually in our own little bubble, imprisoned by our own prejudices, but, once in a while, love breaks through and grace will shine and illuminate our surroundings (and enlighten us interiorly too) and this is what is recorded in this short video!
Ant. If your virtue does not surpass that of the scribes and Pharisees,
you will never enter the kingdom of heaven.
INTERCESSIONS
Thanks be to Christ the Lord, who brought us life by his death on the cross.
With our whole heart let us ask him:
– By your death raise us to life.
Teacher and Savior, you have shown us your fidelity and made us a new creation by your passion,
keep us from falling again into sin.
Help us to deny ourselves today,
and not deny those in need.
May we receive this day of penance as your gift,
and give it back to you through works of mercy.
Master our rebellious hearts,
and teach us generosity.
(Morning prayer of the Liturgy of the Hours, March 2, 2012)
I'm reading a wonderful book "The Sign of Jonas" by Thomas Merton. I had not read Thomas Merton in quite a long time and I'm absolutely delighted with this book. It is his diary after he entered the Abbey of Our Lady of Gethsemani, a Trappist monastery, recording the daily details of alternating tasks and prayers in the monastery and his own spiritual and intellectual journey. Fascinating!
THE TRUE NATURE OF FASTING. Here is a wonderful article on why we should fast in preparation for Easter and on how to do it, exteriorly and interiorly. I truly love the way the Orthodox faith insist again and again on how we cannot but be profoundly changed by our religion, on the outside and the inside, how they stress the intellectual and mystical quality of the Christian life. The article is a little long and the same thing could be said in a more condensed manner (what can I say, I'm Catholic!...). But I do love the way Bishop Ware links the crucial importance of "praying, almsgiving" and "fasting", warning us that if all three are not combined, itcan be disastrous, it can allow"pride" to sneak in our fasting. His detailling of the five misconceptions about fasting is very informative. " This sense of resurrection joy, so vividly described by Bishop Nikolai, forms the foundation of all the worship of the Orthodox Church; it is the one and only basis for our Christian life and hope. Yet, in order for us to experience the full power of this Paschal rejoicing, each of us needs to pass through a time of preparation. 'We waited,' says Bishop Nikolai, 'and at last our expectations were fulfilled.' Without this waiting, without this expectant preparation, the deeper meaning of the Easter celebration will be lost. So it is that before the festival of Easter there has developed a long preparatory season of repentance and fasting, extending in present Orthodox usage over ten weeks..". Read it all here on the Greek Orthodox American site.

Lord, may everything we do
begin with your inspiration,
continue with your help,
and reach perfection under your guidance.

Morning prayer, Liturgy of the Hours, Thursday after Ash Wednesday
I don't why exactly, but this year, more than ever, I could hardly wait for Lent to start! I see it as a great opportunity for my soul and my life.... My own reflections on Lent 2012 here
Everyone's Way of the Cross. About 10 years ago, while taking a silent Lenten retreat in St Clare's Retreat in the mountains above Santa Cruz, I discovered this most wonderful, reflective, moving and very encouraging, Way of the Cross, from Clarence Enzler. I have gone back to it again and again and I love it so much, I translated it and put it all on one page here.
MARRIAGE AND RELIGIOUS FREEDOM: Fundamental Goods That Stand or Fall Together. An Open Letter from Religious Leaders in the United States to All Americans. As religious leaders across a wide variety of faith communities, we join together to affirm that marriage in its true definition must be protected for its own sake and for the good of society. We also recognize the grave consequences of altering this definition. One of these consequences—the interference with the religious freedom of those who continue to affirm the true definition of "marriage"—warrants special attention within our faith communities and throughout society as a whole. For this reason, we come together with one voice in this letter. Read more of this terrific letter on the USCCB site here .
Against disease, which is evil's doing, we must have faith in God's love, pope says. "The four Evangelists agree that in addition to his preaching, Jesus' main activity consisted of healing people from sickness and infirmities. Sickness is a sign of evil in the world and man, whilst healing shows that the Kingdom of God is near. Jesus came to defeat evil at its root; his healing anticipated his victory, which came with his Death and Resurrection." "However, sickness is a typical human condition," he added, "which shows us our lack of self-sufficiency and our need for others. In this sense and paradoxically, sickness can be a healthy moment to experience the attention of others and pay attention to others." "Still, it is a trial that can be long and difficult... Read more here on the Asia News site.
The Vocation of Flannery O'Connor; by Father Damian Ference. I have already said on more than one occasion how much I love Flannery O'Connor and how much I am thankful for her faith (and her writing skills). Here is a very good introduction to her, to her work and her "vocation". One of the greatest disciples of the twentieth century was neither a priest, nor a religious, nor a married person. She was a celibate, single woman who spent the last 13 years of her life battling lupus while writing some of the best fiction the world has ever known... Read more here on the Word On Fire site.
Today is the Feast of the Presentation of the Lord in the Temple ! It is such an amazing moment of the reality of the world being embraced and infused with a new light by the reality of the divine, it is such a beautiful meshing of the visible and the invisible world : the parents (the inner circle of the family) taking their newborn baby (the Lord of Creation) to the Temple (the house of worship) to be circumcised (the love and respect of tradition) and the Priest Simeon (the holy servant of God ever present to God's message) holding in his arms the child (the Savior of the world) and recognizing Him and proclaiming it to these ever widening circles:
- to the parents (to Mary the Theotokos, to Joseph the Guardian of the Redeemer),
- to Anna the prophetess (the devout and pious lay woman who ran out and told everyone),
- to the whole world (the promise to Israel is now unfolding and extended to all nations on the planet),
- to us today right here and now (think of the direct link going from that moment in the temple to each Mass today, anywhere in the world; going from the prayers of that day in the temple to the heart of each Christian praying today)… It was - and is, till the end - the process of the sanctification of the world!
Blessed be God!
Yoga - Health or Stealth? I am a very Christocentric Catholic and therefore I greatly appreciated the concluding paragraphs of this article (plus I'm already convinced of the hidden manipulations in "yoga"). But if you are using such Eastern practice as an exercise program or a relaxation method, unaware of what's behind the program and the method, please do read the whole article here on the Cross and the Veil site.
Internet mini-retreats. A friend recommended this link to me saying it was "powerful and spiritualy enriching" and I tried it, I liked it, so I am passing it on... here by Loyola press.
True submission and its power for good. "It is one of the paradoxes of creation that we gain control by submission." (Fulton J. Sheen) Yet submission's reputation is worse than any four-letter word currently in use. Feminist groups and others have denigrated the concept of submission without considering its merits. Children submit to the authority of their parents, teachers, religious and community leaders. Adults submit to the laws of the land, their employers, the demands of their state in life, to various rules and organizations that serve their purposes. All of these things make for good children, good parents, and good citizens. Read more of this intriguing article by Dan Shea here on Catholic.org.
Romans chapter 8 verses 38-39 For I am certain of this: neither death nor life, nor angels, nor principalities, nothing already in existence and nothing still to come, nor any power, nor the heights nor the depths, nor any created thing whatever, will be able to come between us and the love of God, known to us in Christ Jesus our Lord. Today on the Feast of the Conversion of Saint Paul, I can only say Thank you Paul!
Why I love religion AND I love Jesus! Here are 6 terrific videos explaining (sometimes very movingly and always truthfully and faithfully) how the love for Jesus needs to be coupled with the love for His Church.
What would you think of a father who would say I love my kids but I hate this "family" thing?
What would you think of a husband who would say I love my wife but I hate marriage?
It's the same for the Son of God and religion. I find it very appropriate to post these videos today, on the Feast of the Conversion of Saint Paul, because what are the most beautiful and famous Epistles in the world if not love letters to Jesus and His Church?
- Why I love religion and love Jesus by Fr. Claude (Dusty) Burns here
- A Response to "Why I Hate Religion, But Love Jesus" by Defense 4 the faith, a young man here
- Catholic Response to "Why I Hate Religion but Love Jesus" by Ryan at Franciscan here
- RE: Why I hate religion, but love Jesus (A plea) by Madeline Marie a young girl here
- Why I Love Religion and I Love Jesus by Fr. Brian Carpenter. here
- Why I Hate Religion But Love Jesus - A Catholic Response By make a friar … here
For a listing of prayers, articles,
recipes & nature photos on this site,
see the Site Map
Saint Nilus of Sora. The subject of the Skete Rule is primarily not the outward order of the monastery, but the inward activity of the monk. The Holy Fathers call this activity the "Mental work", which means the practice of the Orthodox spiritual life, centering on the Prayer of Jesus. After an introduction emphasizing that all outward, bodily labors are precisely for the purpose of purifying the "inner vessel", St. Nilus gives an outline of the inward spiritual battle, which occurs in the mind, in the realm of thoughts. The victory or defeat which the Orthodox Christian sustains here is then translated into the virtues or vices which can be observed outwardly. Five degrees can be distinguished in the battle as one is led away from God-pleasing purity of mind:... Read more here on the Hermitage Journal org.
Humans as Reconcilers of Heavens and Earth by Matthew Tsakanikas. A terrific article on faith and freedom and why we are here and what we should do while here. "The trials and chastisements God permits, and even sends, are not because God hates us. God is love and loves us more than we love ourselves. He revealed this in Christ. Chastisements are aspects of God's providence within creation and they are difficult to understand by reason alone. Their understanding requires faith and revelation because God's ways are so high above ours. By faith we must accept that God is love and that God wills that the souls of all men be saved. Otherwise trials and chastisements become incomprehensible to rational creatures. Ultimately, trials and chastisements are about us facing our selfishness and choosing to love so that we grow in virtue..." Read more here on the Catholic Lane site.
Prayer Request: Presbyterian Elder Wants to Become Catholic. I love the catholic faith. However, I'm an elder in my Presbyterian church, and my wife reacted with absolute horror and anguish when I told her of my interest in Catholicism. She literally cried for almost a week. Yet I also find my fellowship with my evangelical brothers stimulating and encouraging, even life changing. So for now I'm kind of in a spiritual no-man's land. At adoration, I remember the Syrophoenician woman, pray a sincere act of contrition, and ask that Christ would come spiritually into my heart Read more of this fascinating journey here on the blog: Young, Evangelical and Catholic.
Unconditional parental love, by Father Tadeusz Pacholczyk, Ph.D "In part these pressures are the natural temptation to avoid the burdens of care for the handicapped .... In part, however, they are the pressures of cultural attitudes, assimilated by many Christians, toward the child." He continues: "For many it has become merely quaint to think of each child as a unique gift of God; children are more like planned acquisitions in our culture, acquisitions which should fit into our expectations about how our lives should go, about the ease and enjoyments that should characterize our lifestyle. A child who might threaten our ease may, if he or she is viewed as an acquisition, be thought of as a replaceable acquisition. And indeed genetic counselors will tell parents: You can terminate this pregnancy and try again for a 'normal child.'" Read more of Fr. Tadeusz very thoughtful article here on the site of Catholic San Francisco.
Glimpses of Divine Humor by Andrew M. Seddon, M.D. "On the rare occasions when I attempt the impossible task of imagining what heaven might be like, I envision saints — but not the dour, stern, serious saints of so much artwork. I imagine smiling saints with a humorous twinkle in their eyes. Saints such as Aidan, Cuthbert, Columba, and Patrick; an eighth-century pilgrim to the Holy Land from Byzantium (more of him later); and closer in time and experience, Blessed John Henry Cardinal Newman. Why smiling saints? Because, looking back along my path to the Catholic Church, I can see the instances of humor that God used along the way, glinting like flecks of gold sprinkled in a vein of quartz".... Read more of this fascinating conversion story here on the Coming Home network site.
Claude Newman & his conversion through the intercession of the Virgin Mary. The remarkable true story of the miraculous intercession of the Virgin Mary in 1944 to prisoner Claude Newman of Mississippi - The Virgin Mary appears in a series of visions through the intercession of the Miraculous Medal and converts two men on death row. Claude Newman was an African American man who was born on December 1, 1923 to Willie and Floretta (Young) Newman in Stuttgart, Arkansas.... Read more here on Mystics of the Church site.
The Many Meanings of Christmas. Expert on St. Francis Considers the Crib and Other Elements of Jesus' Birthday. The account of Jesus has been given within the coordinates of history, that is, in a place and time: the place is that of Palestine and the time is -- as we say in the Creed -- "under Pontius Pilate." However, this isn't enough because many saw his humanity, listened to his word, admired also the miracles he wrought, but only some believed in his divinity. As St. Francis of Assisi says ... Read more here on Zenit.org site.
Love is Born on Christmas Morn - and the Whole World Begins Again. By Deacon Keith Fournier. "The Eternal Word, coexistent with the Father and the Spirit in the perfect unity that is Trinitarian Love, became a real man in real time and real history. He understands who we are. He truly entered into entirety of the human experience and in Him it has been forever transformed. Love is born today and in Him the world begins again. The One through whom the Universe was created entered into time and the world is recreated anew in Him". Deacon Keith has the gift to be able to write about the reality of the faith in a wonderful, clear and reasonable way and it gives us courage for the journey. Read more of this beautiful - and true - article here on the Catholic.org site.
The Mystery of the Incarnation. Mystery means something very specific in this context. It's not exactly about a thrilling novel with a surprise ending, but it's actually close. Mystery is about a plan that God is working through the course of everyday human events: People falling in love and getting married. Kids being born, growing up and themselves having kids. One nation warring against another. All these things you can see. But there is a hidden purpose of God that is being accomplished underneath it all and through it all. Read more here on The Integrated Catholic Life site.
My own P'tite Bûches de Noël... here .
"You can kill us but you cannot destroy us," the Martyr Justin said to the Roman judge who sentenced him to death.
Homily on the Transfiguration, by Saint John Chrysostom. I am reading this most beautiful homily! I have already said how much I love the Feast of the Transfiguration, I already once wrote how much Saint Ephraim's comments helped me. The reason why the Transfiguration matters so much is because HIS transfiguration is OUR hope, HIS glory shown to Peter, John and James (before his Passion and Resurrection) is a gift to us, a token of his love for OUR own good; it is a little taste of the fullness of peace, a quick preview of paradise. And as the Golden Mouth said: it was done to strengthen us. Read it here on the site: The Divine Lamp.
The Contemplatives of Saint Joseph. Have a look at the order founded by Fr. Vito Perrone: here What a blessing it is, what a blessing it will be, for the Bay Area and for the world. To find out more about Fr. Perrone and how this new order of contemplative men came about, read this very good article on Catholic SF: here .
I write about myself and about the discovery of faith, I tell the story of this great adventure filled with little miracles that keep unfolding themselves in each blessed moment of "kindness" and how easily I almost overlooked them... here
For a listing of prayers, articles, recipes & nature photos on this site,
see the Site Map
De decembre 2012 a janvier 2012 - Le partage de la foi… en français:
Une méditation sur le mystère de l'incarnation. Noël est une fête qui rappelle une multitude d'émotions : ?la Joie d'une Bonne Nouvelle qui prend corps.... En lire plus ici sur le site du diocese de Lausanne.
Le réveil de l'Église de France. ROME, le 7 décembre 2012 – Personne ne l'aurait parié. Mais, après des décennies d'invisibilité et de torpeur, l'Église catholique française est revenue vigoureusement sur la scène publique...C'est bien là, en effet, que se trouve la nouveauté. Une résistance s'organise contre la loi en faveur du mariage homosexuel et elle est non pas confessionnelle mais humaniste, elle est le fait d'hommes et de femmes dont les visions du monde sont très diverses. ... En lire plus ici sur le site de Chiesa.espresso.
Le chapelet. Voici un site avec tous les chapelets, traditionels ou de devotions speciales, toutes les prieres possibles! « Le chapelet est ma prière préférée ; c'est une prière merveilleuse, merveilleuse de simplicité et de profondeur » En lire plus ici sur le site de Seigneur Jesus.
Le père Michel-Marie, une soutane dans le Marseille profond. Un curé dont les messes sont célébrées dans une église pleine à craquer de fidèles. Qui confesse tous les jours jusqu'à une heure avancée de la soirée. Qui a baptisé un très grand nombre de convertis. Qui porte constamment la soutane de manière à ce que tout le monde puisse le reconnaître comme prêtre, même de loin. En lire plus ici sur le site de Chiesa.
Je suis en train de lire le dernier livre du Pape Benoit XVI sur " L'enfance de Jésus " et cette lecture est une grande source d'encouragement personnel a mieux comprendre et apprécier l'incarnation et l'économie du salut. Par exemple, le passage qui suit commence sur un des mystères du rosaire (la Présentation au Temple) et finit avec une phrase-clé sur l'anticatholicisme d'aujourd'hui !

Le vieux prophète Siméon et la prophétesse Anne " poussés par l'Esprit de Dieu - apparaissent dans le Temple et saluent, en tant que représentants de l'Israël croyant, le " Christ du Seigneur " (Lc2,26). Siméon est décrit avec trois qualités : il est juste, il est pieux et il attend la consolation d'Israël. … Siméon est un homme qui espère et attend, et de cette façon, dés ce moment déjà, " l'Esprit Saint " repose sur lui. Nous pourrions dire que c'est un homme spirituel et par conséquent sensible aux appels de Dieu, à sa présence. … Le texte, ainsi transmis par Luc, est déjà liturgiquement composé… il appartient au patrimoine de prières…

Dans cet hymne se trouvent deux affirmations christologiques. Jésus est " lumière pour éclairer les nations " et il existe pour " la gloire de ton peuple Israël "… A l'essence même de sa mission appartient l'universalité, la révélation aux nations, auxquelles le Serviteur apporte la lumière de Dieu. …

Siméon, avec l'Enfant sur ses bras, après avoir loué Dieu, s'adresse avec une parole prophétique à Marie…. Jésus doit " amener la chute et le relèvement d'un grand nombre en Israël ; il doit être un signe en butte à la contradiction "… " Et toi-même, une épée te transpercera l'âme ". A la théologie de la gloire est inséparablement liée la théologie de la Croix. … Dieu et sa Parole - Jésus, la Parole vivante de Dieu - sont des " signes " et provoquent la décision. L'opposition de l'homme à Dieu imprègne toute l'histoire. Jésus se révèle comme le signe véritable de Dieu, en prenant sur lui, en attirant à lui l'opposition à Dieu jusqu'à l'opposition de la Croix. Ici, on ne parle pas du passé. Nous savons tous à quel point le Christ aujourd'hui est signe d'une contradiction qui, en dernière analyse, vise Dieu lui-même. Toujours de nouveau, Dieu lui-même est considéré comme la limite de notre liberté, une limite à éliminer afin que l'homme puisse être totalement lui-même. Dieu, avec sa vérité, s'oppose au mensonge multiple de l'homme, a son égoïsme et a son orgueil.

Dieu est amour. Mais l'amour peut aussi être haï, quand il exige que l'on sorte de soi-même pour aller au delà de soi. L'amour n'est pas une sensation romantique de bien-être. La rédemption n'est pas une sensation de wellness, un bain d'auto-complaisance mais une libération de l'être compressé dans son propre moi. Cette libération a pour pris la souffrance de la Croix. La prophétie sur la lumière et la parole sur la Croix vont de pair. (extrait des pages 119 - 122)
Le dernier Goncourt: Jerome Ferrari. J'ai acheté le dernier Goncourt parce j'ai entendu dire qu'il parlait des sermons de Saint Augustin sur Rome et que j'étais intriguée… Il faut dire que les circonstances de cet achat m'ont plu: je me trouvais dans un supermarché en train d'acheter mes petits yaourts Bio et mon café éthiquable, je cherchais aussi une boite de lessive et des sacs à poubelles et c'est à ce moment-là que j'ai vu le livre de Jérôme Ferrari... En lire plus ici .
"Après avoir, à maintes reprises et sous maintes formes, parlé jadis aux Pères par les prophètes, Dieu, en ces jours qui sont les derniers, nous a parlé par le Fils, qu'il a établi héritier de toutes choses, par qui aussi il a créé les mondes. Resplendissement de sa gloire, expression parfaite de son être, lui qui soutient l'univers par sa parole puissante, ayant accompli la purification des péchés, s'est assis à la droite de la Majesté dans les hauteurs, devenu d'autant supérieur aux anges que le nom qu'il a reçu en héritage est incomparable au leur".
Hébreux, chapitre 1 : 1-4. La Bible de Jérusalem.
Toute l'économie du salut, toute l'histoire du monde, pour chacun d'entre nous et pour l'humanité toute entière, le but vers lequel nous tendons et l'essence même de notre existence, tout est contenue dans ce premier paragraphe de la Lettre aux Hébreux!
"Que l'homme contemple donc la nature entière dans sa haute et pleine majesté, qu'il éloigne sa vue des objets bas qui l'environnent. Qu'il regarde cette éclatante lumière, mise comme une lampe éternelle pour éclairer l'univers, que la terre lui paraisse comme un point au prix du vaste tour que cet astre décrit et qu'il s'étonne de ce que ce vaste tour lui-même n'est qu'une pointe très délicate à l'égard de celui que les astres qui roulent dans le firmament embrassent. Mais si notre vue s'arrête là, que l'imagination passe outre; elle se lassera plutôt de concevoir, que la nature de fournir. Tout ce monde visible n'est qu'un trait imperceptible dans l'ample sein de la nature. Nulle idée n'en approche. Nous avons beau enfler nos conceptions au-delà des espaces imaginables, nous n'enfantons que des atomes, au prix de la réalité des choses. C'est une sphère dont le centre est partout, la circonférence nulle part. Enfin, c'est le plus grand caractère sensible de la toute puissance de Dieu, que notre imagination se perde dans cette pensée". (Les pensées de Pascal)
Raymond Winling, « Noël et le mystère de l'Incarnation ». Je suis en train de lire ce livre et je le trouve TRES BIEN! Il m'aide a agrandir et enrichir Noël pour moi et j'en parlerais plus en details tres bientot. Pour l'instant, je recommende ce commentaire sur ce site: sur l'orthodoxie sur l'internet. "Cet exposé, toujours simple et clair, est accessible à un large public. Il constitue une bonne synthèse sur le sujet, qui tient sa qualité du fait de prendre constamment appui sur la tradition patristique".
"Une réflexion théologique va en s'approfondissant et se poursuit des débuts du IIème siècle jusqu'au Vème siècle au sujet du mystère du Logos fait homme. Des essais d'explication toujours nouveaux sont proposés de divers cotés et ceux qui défendent la foi traditionnelle doivent réagir pour éviter que le mystère de l'Incarnation ne soit complètement dénaturé. Les controverses qui en résultent font prendre conscience de façon de plus en plus vive de l'importance fondamental de de l'Incarnation grâce a laquelle est assuré le salut de l'humanité. L'instauration de la fête de Noël contribue à officialiser une vérité de foi selon le principe " Lex orandi, lex credendi ". Noël et le mystère de l'Incarnation par professeur Raymond Winling. En lire plus ici .
Les cinq journées "conciliaires" du pape. Par Sandro Magister Avec six interventions à propos de Vatican II, cinquante ans après le début de ce concile. Ensuite, une note de Pietro De Marco à propos du "paradigme externe" qui conditionne l'interprétation et la réception de cet événement...
- "Les véritables protagonistes de l'évangélisation", ce sont les saints.
- "Nous ne pouvons pas faire l'Église, nous pouvons seulement faire connaître ce que Lui a fait. L'Église ne commence pas avec notre 'faire' mais avec le 'faire' et le 'parler' de Dieu.
- Dieu est présent, qu'il nous regarde, qu'il nous répond. Et que, au contraire, lorsque la foi en Dieu fait défaut, ce qui est essentiel s'écroule.
- la rencontre avec les grands thèmes de l'époque moderne ... sont dans deux documents mineurs la déclaration "Dignitatis humanæ" concernant la liberté religieuse et "Nostra ætate" concernant les relations avec les religions non chrétiennes.
- "J'ai insisté à plusieurs reprises sur la nécessité de revenir, pour ainsi dire, à la 'lettre' du Concile – c'est-à-dire à ses textes – pour en découvrir aussi l'esprit authentique
- Au cours de ces cinquante ans, nous avons appris et expérimenté que le péché originel existe et se traduit toujours de nouveau en péchés personnels qui peuvent aussi devenir des structures du péché.
En lire plus ici sur le site de Chiesa.
« Benoît XVI fera de l'Eucharistie un point essentiel du projet œcuménique ». Scott Hahn : Je crois qu'aucun théologien depuis Matthias Scheeben au 19e siècle nous avait montré l'interrelation profonde existant entre tous les mystères du christianisme. Pour le cardinal Ratzinger, on ne peut pas étudier ou présenter correctement la doctrine de l'Eucharistie en dehors de la doctrine de la Trinité, la doctrine de l'Incarnation et la doctrine de l'Eglise. L'Eucharistie elle-même est un mystère trinitaire ; on ne peut pas recevoir le Fils sans recevoir le Père qui l'envoya dans la chair et l'esprit à travers lesquels il est venu. La Trinité vient à nous dans l'Eucharistie. Et lorsque la Trinité vient à nous, nous sommes élevés à la présence même de la gloire divine. Ce mystère est lié à l'Incarnation car il ne s'agit pas d'un simple événement du passé, mais d'un événement qui continue à se produire - un mystère surnaturel - au milieu de nous. Tout se tient. En lire plus ici sur le site de PASAJ, la pastorale d'animation jeunesse catholique vaudoise.
Dans quelques jours commencera l' "Année de la foi"! Pourquoi une "Année de la foi" ? Que souhaite Benoît XVI en lançant l'Année de la foi (d'octobre 2012 a novembre 2013)? Mgr Jérôme Beau – Il s'agit d'une année particulière dans la vie de l'Église, car ce sont les cinquante ans de l'ouverture du concile Vatican II, qui donnent à une nouvelle génération d'en vivre la réception. C'est également le 20e anniversaire du Catéchisme de l'Eglise catholique, qui appelle les chrétiens à rendre compte de l'espérance qui est en eux. C'est en outre l'année du Synode sur la nouvelle évangélisation, qui nous invite à ne pas garder la foi pour nous mais à être des porteurs de Bonne Nouvelle pour le monde. La conjonction de ces trois éléments appelle chaque baptisé à être acteur de sa foi.... En lire plus ici sur le site du diocese de Paris.
Oeuvre de beauté: Les fileuses de Vélasquez. Quel beau commentaire d'une oeuvre d'art et quelle belle meditation sur "le travail"... Une composition élaborée qui réserve plus d'une surprise. Trois scènes différentes, sur des plans différents, sont effectivement aménagées au cœur de la composition symétrique de cette toile. Ce tableau aux scènes multiples est à déchiffrer comme un livre est à lire. En lire plus ici sur le site de ICHTUS.
" L'humilité est le fondement et la gardienne des vertus ". Humilité de Marie: " Apprenez de moi, nous dit-il, que je suis doux et humble de coeur " (Mt 11,29). La très sainte Vierge fut la première et la plus excellente disciple de Jésus-Christ, aussi fut-elle la plus parfaite imitatrice de son humilité, et c'est par cette vertu qu'elle mérita d'être exaltée au-dessus de toutes les créatures. En lire plus ici sur le site du Saint Rosaire.
La rentrée, c'est le travail! "Il faut toujours recommencer et recommencer de bon cœur. Ce que nous avons fait jusqu'à présent est bon, mais ce que nous allons commencer sera meilleur ; et quand nous l'aurons achevé, nous recommencerons une autre chose qui sera meilleure encore, et puis une autre, jusqu'à ce que nous sortions de ce monde… " Saint François de Sales à la Mère de Chantal.
LE TRAVAIL HUMAIN. LABOREM EXERCENS DU SOUVERAIN PONTIFE JEAN-PAUL II.
C'EST PAR LE TRAVAIL que l'homme doit se procurer le pain quotidien et contribuer au progrès continuel des sciences et de la technique, et surtout à l'élévation constante, culturelle et morale, de la société dans laquelle il vit en communauté avec ses frères. Le mot "travail" désigne tout travail accompli par l'homme, quelles que soient les caractéristiques et les circonstances de ce travail, autrement dit toute activité humaine qui peut et qui doit être reconnue comme travail parmi la richesse des activités dont l'homme est capable et auxquelles il est prédisposé par sa nature même, en vertu de son caractère humain. Fait à l'image, à la ressemblance de Dieu lui-même dans l'univers visible et établi dans celui-ci pour dominer la terre , l'homme est donc dès le commencement appelé au travail. Le travail est l'une des caractéristiques qui distinguent l'homme du reste des créatures dont l'activité, liée à la subsistance, ne peut être appelée travail; seul l'homme est capable de travail, seul l'homme l'accomplit et par le fait même remplit de son travail son existence sur la terre. Ainsi, le travail porte la marque particulière de l'homme et de l'humanité, la marque d'une personne qui agit dans une communauté de personnes; et cette marque détermine sa qualification intérieure, elle constitue en un certain sens sa nature même. En lire plus ici sur cette merveilleuse lettre encyclique de JPII sur le travail, sur le site du Vatican..
« Personne ne possède la vérité », car « c'est l'homme qui appartient à la vérité ». « Personne ne peut dire « j'ai la vérité » », insiste le pape. Le croyant ne peut que dire : « la vérité est venue parmi nous » et « dans l'Eucharistie, la vérité est venue pour tirer l'homme de ses misères, de son égoïsme, qui font ressembler le christianisme à un système de coutumes ». Pour rester dans la vérité, il faut « se laisser guider par elle », souligne-t-il, invitant à « se faire conduire par la vérité afin qu'elle puisse de nouveau briller pour le salut du monde » ici sur le site de Zenit.
LA VÉNÉRÉE MÈRE MARIE DE SALES CHAPPUIS. LA CONFIANCE ABSOLUE EN DIEU. Le 16 juin 1792, naît à Soyhières (Jura suisse) Thérèse Chappuis, la septième d'une famille de onze enfants. Son père, aubergiste du village, est un homme cultivé et un chrétien convaincu. Sa mère est la femme vaillante de la Bible, "elle surveille la marche de sa maisonnée et elle ne mange pas le pain de l'oisiveté" (Pr 31,27).... En lire plus ici sur le site suisse de l'Abbaye Saint Benoît de Port-Valais.
Choisir la vie malgré la mort. Tres bon article sur un sujet difficile... "Pour le soignant, il n'est pas toujours évident d'accepter que le patient dont on s'occupe mourra prochainement. De fait, Camille m'indiquait que pour des équipes médicales autres que celles des soins palliatifs (à savoir les services de chirurgie, de médecine....qui délivrent des soins curatifs), la mort est souvent vécue comme un échec. A contrario, les soignants des unités de soins palliatifs savent que les patients sont voués à mourir, ce qui ne les empêche pas de se sentir parfois bien impuissants face à la mort. Malgré tout, l'attachement que le soignant peut porter à son patient et inversement est assez variable, constatait Camille".... En lire plus ici sur le blog de "Isere Anybody" (titre tres cool!).
L'amour et la gratuité du don. Il existe des actions morales qui vont au-delà de la justice et qu'on appelle tout simplement charité. Exercer la charité est l'action la plus noble qui soit de la part d'un être humain, car elle est le témoin d'un amour sincère et véritable. En lire plus ici sur le site du Clos de la Charité.
L'Assomption de Marie. Préparons nous pour cette fête merveilleuse, pleine d'espérance, cette fête mariale par excellence, ce glorieux mystère du rosaire (l'avant dernier dans le chapelet) qu'est l'Assomption de Marie au ciel. Cette fête est appelée la Dormition chez nos frères orthodoxes. Le pape Jean Paul II avait écrit : "La tradition constante et unanime de l'Église met en évidence combien l'Assomption de Marie rentre dans le dessein divin et est enracinée dans la participation singulière de Marie à la mission de son Fils… Quand on regarde le mystère de l'Assomption, il est possible de comprendre le plan de la divine Providence concernant l'humanité: après le Christ Verbe incarné, Marie est la créature humaine qui réalise, la première, l'idéal eschatologique, anticipant la plénitude du bonheur promis aux élus avec la résurrection des corps". En lire plus ici sur le site de Marie de Nazareth.
L'abbaye de Hautecombe et l'évangélisation. Toute la semaine, près de 660 jeunes de 18 à 30 ans venus du monde entier, participent au Festival international de Hautecombe. La communauté charismatique du Chemin-Neuf est à l'origine de ce rassemblement œcuménique qui attire aussi orthodoxes et protestants. En lire plus ici sur le site de La Croix.
La Fête de l'Assomption approche... Et c'est une fête magnifique, pleine d'espoir et d'inspiration pour nous, petits pratiquants que nous sommes... Marie, prie pour nous, aie pitié de la pauvreté de notre foi, de l'isolement de nos coeurs! Voici comment ils vont feter ce jour a Lyon ici sur le site du diocèse de Lyon, du Rhône et du Roannais.
Jésus appelle, Matthieu répond. Mais, dans le très célèbre tableau du Caravage, qui est le futur apôtre? Est-ce l'homme barbu, ou le jeune homme qui ramasse les pièces de monnaie? Deux historiennes d'art confrontent ici leurs interprétations. Une controverse instructive dans la perspective de l'Année de la Foi ( par Sandro Magister ). En lire plus ici sur le site de Chiesa.
« Nous sommes tous responsables de la protection et du soin de la création. Cette responsabilité ne connaît pas de frontières. Selon le principe de subsidiarité, il est important que chacun s'engage à son propre niveau, travaillant afin que soit dépassée la suprématie des intérêts particuliers.» En lire plus ici sur le site de COMECE sur l'intervention du Cardinal Marx (Archevêque de Munich et Freising) à la Conférence des Nations Unies sur le développement durable (CNUDD) Rio +20.
Sainte Brigitte, priez pour nous! Sainte Brigitte de Suède, pieuse et dévote, ascétique et mystique, fut une femme étonnante dont la grande influence à multi-facette rayonne encore aujourd'hui ! Mariée très jeune (mariage arrangé), elle fut une épouse aimante et fidèle et construisit avec son jeune mari un mariage solide et une famille forte, toute entière bâtit sur l'amour du Christ. Elle eut 8 enfants (dont une sainte: Sainte Catherine). Au retour d'un pèlerinage a Compostelle, son mari tomba malade et mourut. Pour Brigitte commença alors la seconde partie de sa vie, jeune veuve (de 37 ans) elle reçut des révélations du Christ qui durèrent jusqu'à sa mort (40 ans plus tard). Elle vécut a Rome les dernières 35 années de sa vie et mit toute son énergie et son intelligence et sa foi au service de l'Eglise : elle fut une missionnaire infatigable pour l'unité de l'Eglise et l'évangélisation de l'Europe. De sa jeunesse à sa mort, elle était un bel exemple de charité en action pour les pauvres et les malades. Elle avait une grande influence à la cour de Suède au début et a Rome ensuite, elle fut l'amie des plus grands théologiens de son temps et la fondatrice du monastère Vadstena en Suède. Sainte Brigitte est une source d'inspiration pour nous, femmes modernes, qui sommes toujours en train de jongler notre vie de famille et notre vie professionnelle et intellectuelle, qui luttons constamment pour faire face au challenge de nos responsabilités de mère et d'épouse et à celles d'arriver a être une femmes d'affaire ou de femme de tête. Et surtout quand on pense qu'elle mettait ses responsabilités de chrétienne avant tout, cela me fait rêver.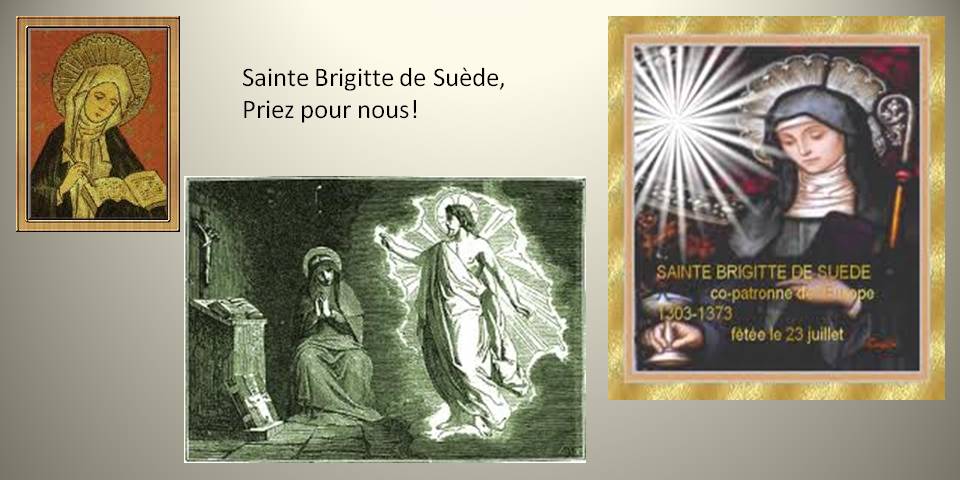 RETROUVER LE SENS DU PÉCHÉ. Présentation : Le péché consiste à préférer notre volonté à celle de Dieu, exprimée objectivement par ses commandements... La réalité du péché "Le péché est présent dans l'histoire de l'homme : il serait vain de tenter de l'ignorer ou de donner à cette obscure réalité d'autres noms... Reconnaître la règle objective du bien et du mal établie par Dieu Cet enseignement de Jean-Paul II dans son encyclique Veritatis Splendor (1993) complète utilement celui du Catéchisme sur le péché. Il mérite d'être médité et nous aidera à mieux comprendre ce qu'est le péché, sa place dans notre vie et comment trouver le remède dans la grâce... Quelques images concrètes du péché. Le péché est la maladie de l'âme. Pour pouvoir approfondir notre idée de ce qu'est le péché - et pour bien le faire comprendre aux enfants sous une forme concrète - nous en trouvons les images appropriées dans le récit des guérisons opérées par Jésus dans l'Evangile... Comment guérir du péché ? - Le sacrement de Pénitence C'est Jésus, et Lui seul, qui peut nous guérir, par sa grâce, par le don qu'Il nous fait de Lui-même... La connaissance de soi-même. Les conseils de saint Bonaventure. Pour vous aider à arriver plus intimement à cette connaissance, souvenez-vous que toutes nos fautes ont leur principe dans notre négligence, notre concupiscence ou notre perversité.... En lire plus ici sur le site de Prier en famille.
Hauts lieux spirituels de notre région. Voici quelques « hauts lieux » (au sens spirituel et souvent géographique) proches de la paroisse. On peut s'y rendre pour une journée, un week-end ou plus, seul ou en groupe. Ressourcement garanti. En lire plus ici sur le site de la paroisse La Sainte-Trinité, communauté catholique créée en 1999 à la suite du regroupement des paroisses de l'Isère. Et sur le même thème, n'oubliez pas d'allez voir la page du diocèse d'Annecy ici et cliquez sur un des choix du menu pour la Haute Savoie.
Dominicaine Missionnaire des Campagnes. Fondatrice des Dominicaines missionnaires des campagnes, Bernadette Beauté (future mère Marie de Saint-Jean), a été très active, dès 1902, dans sa paroisse d'Audincourt (diocèse de Besançon), à la tête d'une quinzaine de jeunes ouvrières des filatures qui s'organisent pour être le soutien de leurs compagnes de travail. C'est la Mutualité spirituelle. En lire plus ici sur le site de Marie de la Trinité .
L'icône du Signe et le Prologue de Saint Jean.

L'icône du Signe, le " signe " étant le Christ, comme nous le dit Saint Jean dans son prologue où le mystère de la Création et de l'Incarnation et toute l'économie du salut sont exprimés de la manière la plus cohérente et intelligente, harmonieuse et magnifique, toute imprégnée de charité et de grâce. Jésus Christ est l'amour de Dieu fait homme, la Sagesse de Dieu qui a planté sa tente parmi nous, par amour pour nous, pour nous sauver ! (Jn 1 :1-14)
Au commencement était le Verbe
et le Verbe était avec Dieu
et le Verbe était Dieu.
Il était au commencement avec Dieu.
Tout fut par lui, et sans lui rien ne fut.
Ce qui fut en lui était la vie,
et la vie était la lumière des hommes,
et la lumière luit dans les ténèbres
et les ténèbres ne l'ont pas saisie...

La première à ouvrir son coeur et à contempler " le Verbe qui s'est fait chair ", a été Marie, la Mère de Jésus. "Une fille humble de Galilée est devenue ainsi le " siège de la Sagesse " ! Comme l'apôtre Jean, chacun de nous est invité " à l'accueillir chez lui " (Jn 19.27), pour connaître profondément Jésus et en expérimenter l'Amour fidèle et inépuisable. (Paroles du Saint-Père avant la prière de l'Angelus)
Benoît XVI refuse une culture de la calomnie et du mensonge. Au fil de sa catéchèse, le Pape en est arrivé à parler du mal, d'une culture qui « vise seulement au bien-être matériel et nie Dieu » et il a demandé aux chrétiens de refuser « ce type de culture où la vérité ne compte pas, où comptent seulement la sensation, l'esprit de calomnie et de destruction, une culture qui ne cherche pas le bien, dont le moralisme est un masque pour confondre et détruire, où le mensonge se présente sous les habits de la vérité et de l'information ». En lire plus ici sur le site de Service Information du Vatican.
Légalisation de l'euthanasie : un choix politique, pas médical. En sa qualité de président du collectif Plus digne la vie, Emmanuel Hirsch réagit au dépôt d'une nouvelle proposition de loi pour la légalisation de l'euthanasie en France. ... Je crois que nous devons également nous tourner vers des pays comme la Belgique ou la Hollande qui ont déjà franchi le pas. Dans ces pays, les dérives autour de la fin de vie sont réelles. En Belgique, il est désormais question d'ouvrir ce droit à l'euthanasie aux enfants. ...
Craignez-vous une possible légalisation de l'euthanasie en France ?
La société française, vieillissante, va de plus en plus être confrontée à l'accompagnement de personnes atteintes de dégénérescence cérébrale, comme la maladie d'Alzheimer. Ainsi, dans l'hypothèse d'une légalisation de l'euthanasie, comment être certain que la volonté du malade sera respectée ? En lire plus ici sur le site de Familles Chretiennes.
La vie reprends son cours. Je recommence à lire des livres, à prendre des photos et faire de courtes visites sur facebook et je retrouve même le désir de mettre a jour ce site et de parler de Dieu, ses anges et ses saints et partager ma foi... Bien que je me pose des questions, je ne sais pas si je vais y arriver. Je suis un peu débordée par les événements, par les changements dans ma vie... Enfin, on verra bien. C'est une bonne opportunité pour mettre toute ma confiance en la miséricorde divine plutôt que dans mes propres capacités a gérer ma vie!
Bioéthique. La science est légitimement en quête d'efficacité, d'amélioration des techniques et de compréhension des causes des maladies et des handicaps pour les guérir. Les espoirs soulevés par des découvertes récentes semblent pousser la société à vouloir aller vers un contrôle systématique de la naissance, de la maladie et de la mort, vers la perfectibilité de l'être humain. Où se trouve la frontière entre ce que l'on peut faire et ce que l'on pourrait être capable de faire ?... En lire plus ici sur cette tres bonne page du site des Evêques de France.
Pour vivre au rythme de l'Eglise universelle. Une sorte de liste étonnante (avec carte) de tous les sites catho dans le monde... En lire plus ici .
Déroulement d'une journée au Sanctuaire de La Salette. Une journée de pèlerinage est rythmée par des propositions pastorales : en voici les principales... Moi, j'ai trop envie d'y aller.... Pour l'instant, je ne peux pas, mais un jour, j'y serais! Et en attendant, j'y pense et j'en rêve....
En lire plus ici sur le site officiel du Sanctuaire de Notre Dame de La Salette.
De la chair d'Adam à la chair du Christ : saint Irénée et Tertullien. Visibilité, consistance et bonté de la chair: Irénée voit en premier lieu dans l'incarnation le lieu de la manifestation, de la visibilité de Dieu par tous : « À tous le Père s'est révélé, en rendant son Verbe visible à tous, comme c'est aussi à tous que le Verbe a montré le Père et le Fils, puisqu'il a été vu de tous […] En lire plus ici. sur le site des Soeurs Apostoliques de Saint-Jean.
Adoration perpétuelle en la basilique du Sacré-Coeur à Paris. J'ai eu la tres grande chance de pouvoir y passer une nuit, durant la semaine Sainte, et c'est une experience étonnante, émouvante, et unique en son genre, et je la recommende chaudement! Une fois que les portes de la basilique sont fermées, une fois toutes les lumieres éteintes, sauf une sur le Seigneur, aur l'autel et l'ambon, et quelques bougies ici et là, on prend conscience d'être dans un endroit - et un moment - bénit, on entend les bruits de la ville (l'une des plus célebres au monde) mais les bruits sont feutrés, filtrés, et on se sent comme dans un vaisseau (comme l'a dit la soeur Benedictine qui introduisait notre groupe a l'Adoration dans la basilique) on est dans un moment de grâce, suspendu entre le monde (et ses bruits et ses distractions) et l'infini, chacun de nous face à face avec le Seigneur, le Fils de Dieu, le Verbe fait chair, le Prince de la Paix... Pour plus d'information, allez voir le site de la basilique ici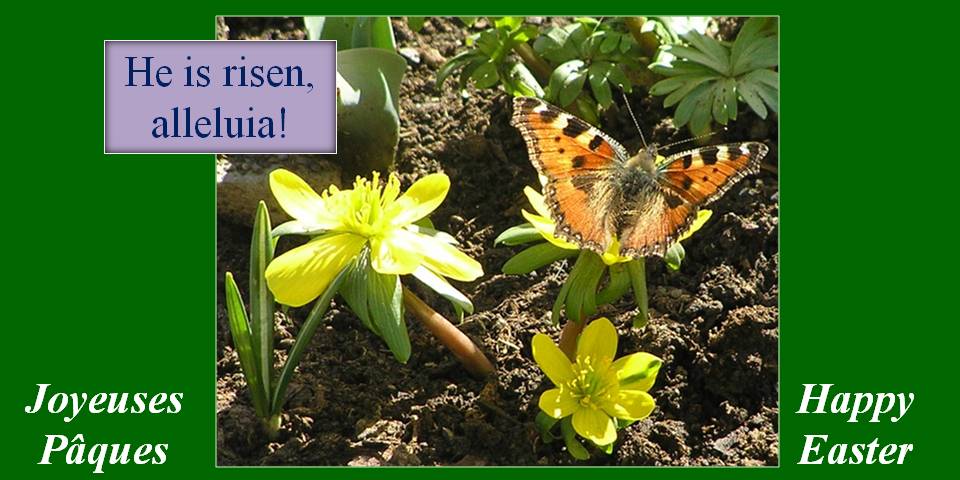 Le Christ est vivant. Créés dans le Verbe, nous cheminons dans le Christ depuis toujours. Il nous conduit à son propre accomplissement qui se produit à l'heure de sa Résurrection. Elle le fait passer, et nous en lui, de la vie "terrestre" à la vie de Dieu. En lui Dieu s'est fait homme pour que l'homme se fasse Dieu... En lire plus ici.
Celui qui demeure en moi porte beaucoup de fruit. L'abbé Pierre répétait souvent : "Lorsque nous arriverons à la fin de notre vie, on ne nous demandera pas si nous avons été croyants, mais si nous avons été crédibles", si nous avons vécu de façon cohérente nos engagements chrétiens. Notre foi peut se développer si elle est vivante, si elle joue un rôle actif dans notre vie de tous les jours, si elle porte du fruit. C'est pourquoi nous venons rencontrer le Seigneur chaque dimanche afin d'écouter sa parole et reprendre des forces pour la semaine qui commence. Porter du fruit ne veut pas dire faire des choses extraordinaires, ça veut dire faire bien les choses ordinaires. En lire plus ici sur le site du Père Yvon-Michel Allard, s.v.d., directeur du Centre biblique des Missionnaires du Verbe Divin, Canada.
L'humilité: " Qui s'abaisse sera élevé…". A travers les abaissements présentés comme les 12 degrés d'une échelle de Jacob dressée vers le ciel et par laquelle on descend en montant et l'on monte en descendant, saint Benoit veut conduire son disciple vers " la cime de la plus haute humilité ", synonyme, selon lui, de sainteté. Point de départ, 1er degré de l'humilité : la conscience aigue, mêlée de crainte, de l'universelle présence de Dieu. Plutôt qu'étapes successives d'un itinéraire, les degrés intermédiaires apparaissent comme les différents aspects complémentaires d'un même mouvement spirituel. Qu'ils s'agisse de renoncer à propre volonté (2ème degré d'humilité), d'obéir par amour (3ème degré), même dans les choses difficiles (4ème degré ), d'ouvrir son cœur au père abbé (5ème degré ), de se considérer comme un serviteur inutile (6ème degré), d'être convaincu de son état (7ème degré), de se conformer a la règle commune (8ème degré), d'aimer le silence (9ème degré), de rire modérément (10ème degré), de parler sans éclat de voix (11ème degré), de garder un maintien modeste et recueilli (12ème et dernier degré). Saint Germain de Talloires, un homme qui, à l'école de saint Benoit, sous la conduite de l'Esprit, est monté parce qu'il s'est abaissé devant l'Absolu de Dieu.
Extrait de " Dans la lumière de la règle, saint Germain de Talloires " par Henri Riguet.
" Un chemin de croix " très personnel, très actuel et très emouvant… La première fois ou je l'ai fais, c'était dans les collines au dessus de Santa Cruz, en Californie. Je faisais une retraite silencieuse chez les sœurs franciscaines de " St Clare Retreat ". Le chemin de croix monte à travers les arbres de la colline et le texte de ces méditations est attaché à chaque station, sur chaque croix. J'ai appris, bien des années après, que l'auteur de ces commentaires méditatifs est Clarence Enzler (1910-1976), un catholique américain, auteur de beaucoup de livres et pamphlets et recueil de prières, père de 13 enfants, qui travailla d'abord pour le Département de l'Agriculture puis pour " Catholic News Services ". Publié en 1970, ce petit livret de méditations de Carême (Everyone's Way of the Cross) a été vendu a des millions d'exemplaires. Le texte qui suit est ma propre traduction.
1. Jésus est condamné à mort.
Le Christ dit: Entre les mains de Pilate, ton autre " toi-même ", je vois la volonté de mon Père. Bien que Pilate ne soit pas juste, il est le gouverneur et il a tout pouvoir sur moi. Et ainsi le Fils de Dieu obéit… Si je peux me courber devant l'autorité de Pilate car telle est la volonté de mon Père, pourquoi refuses-tu d'obéir à ceux que j'ai placé au dessus de toi ?
Je réponds : Mon Seigneur Jésus, l'obéissance t'a couté la vie. Pour moi, c'est un acte de ma volonté - pas plus - et pourtant comme il m'en coute de me courber. Enlève les œillères de mes yeux que je puisse voir que c'est à toi que j'obéis dans tous ceux qui me commandent.
En lire plus ici dans la section "prayers" de ce site.
Pour une liste alphabétique des articles, prières, photos et recettes,
sur ce site: Site Map
Première Lettre de Paul aux Corinthiens 10, 31 - 11, 1 Frères, 10, 31 tout ce que vous faites : manger, boire, ou n'importe quoi d'autre, faites-le pour la gloire de Dieu. 32 Ne soyez un obstacle pour personne, ni pour les Juifs, ni pour les païens, ni pour l'Eglise de Dieu. 33 Faites comme moi : en toutes circonstances je tâche de m'adapter à tout le monde ; je ne cherche pas mon intérêt personnel, mais celui de la multitude des hommes, pour qu'ils soient sauvés. 11, 1 Prenez-moi pour modèle ; mon modèle à moi, c'est le Christ. Il y a au moins deux leçons dans ce texte : une affirmation théologique, d'abord, qui devrait nous faire voir notre vie quotidienne sous un autre jour ; et ensuite une leçon de comportement. L'affirmation théologique est la suivante : parce que Dieu n'a pas dédaigné de se faire homme, aucun des aspects de votre vie n'est méprisable ; Dieu vous a ressemblé en tout, vous pouvez lui ressembler en tout. Car agir « pour sa gloire », cela veut dire que chacun de nos gestes, même les plus ordinaires, peut être un point de ressemblance avec Dieu... Bien sûr, la liberté n'est pas la licence de faire n'importe quoi ! « Tout est permis, mais tout ne convient pas » dit Paul. J'aime beaucoup les commentaires de Marie Noëlle Thabut. Allez donc voir la suite de son commentaire sur la Lettre de Paul aux Corinthiens , vous le trouverez en bas de la page ici sur le site des Eveques de France.
Intentions de prière de Benoît XVI pour Février 2012, l'intention de prière universelle du pape Benoît XVI est pour l'accès à l'eau potable, son intention de prière missionnaire concerne les personnels de santé.
Universelle - L'accès à l'eau courante. Pour que tous les peuples aient plein accès à l'eau et aux ressources nécessaires à leur subsistance quotidienne.
Missionnaire - Les personnels de santé. Pour que le Seigneur soutienne l'effort des personnels de santé des régions les plus pauvres dans l'assistance aux personnes malades et âgées.
L'Icône du Christ Miséricordieux. Une page sur l'histoire et la signification de cette vision celebre de la soeur Faustine, le 22 février 1931... En lire plus ici sur le site suisse de Sainte Faustine.
C'est la semaine de Prières pour l'Unité des Chrétiens.
Montre nous Seigneur a quel point tu nous aimes
Et par la force de ton Esprit, rapproche les Chrétiens divisés,
Que ton Eglise apparaisse clairement comme ton signe au milieu du monde
Et que le monde attiré par sa lumière croie en Jésus ton envoyé.
Lui qui règne avec toi et le saint Esprit pour les siècles des siècles. Amen
Seigneur Jésus-Christ, tu as dit à tes apôtres: "Je vous laisse la paix, je vous donne ma paix";
Ne regarde pas nos péchés mais la foi de ton Eglise;
Pour que ta volonté s'accomplisse, donne-lui toujours cette paix,
Donne ta paix:
- aux église catholiques, aux églises orientales, aux églises orthodoxes et à leurs Patriarches,
- aux églises issues de la Réforme, à la Communion Anglicane, aux églises évangéliques,
- à toutes les assemblées chrétiennes qui invoquent ton Nom, et aux responsables de chacune de ces églises. Mets un terme à notre division et conduis-nous vers l'unité parfaite, Toi qui règnes pour les siècles des siècles.
Les Chartreux. Sur le dernier Courrier International, Il y a un article très intéressant sur un monastère de Chartreux, au Portugal. Comme je ne pouvais pas avoir accès à l'article en ligne, (car je ne suis pas abonnée), je suis allée voir le site des Chartreux directement et je me suis mise à lire leurs "statuts" ici : La solitude: Notre application principale et notre vocation sont de trouver Dieu dans le silence et la solitude. Là Dieu et son serviteur entretiennent de fréquents colloques, comme il se fait entre amis. Là, souvent l'âme fidèle s'unit au Verbe de Dieu, l'épouse à l'Époux, la terre au ciel, l'humain au divin. Mais longue est la route, arides et desséchés sont les chemins du pèlerinage vers la source d'eau vive...
Le petit Journal de Sœur Faustine sur l'au delà - Enfer, Purgatoire, Paradis. J'ai senti aujourd'hui, combien l'âme d'un agonisant désirait des prières. J'ai prié pour cette âme tout le temps qu'il lui fallut pour trépasser et jusqu'à je le ressente. Oh ! Combien les âmes des mourants ont besoin de prières ! Ô Jésus, inclinez les âmes à prier souvent pour les agonisants ! En lire plus ici sur le site de EUCHARISTIE SACREMENT DE LA MISÉRICORDE.
Pour une liste alphabétique des articles,
prières, photos et recettes,
sur ce site: Site Map
Vatican II et la Parole de Dieu. Samedi 21 janvier 2012 le sanctuaire Saint-Bonaventure organise, en partenariat avec l'Espace Saint-Ignace et l'Agora Tête d'Or, une journée consacrée au concile Vatican II. En lire plus ici sur le site du diocese de Lyon.
Mgr Yves Boivineau à la tête de Justice et Paix. Le conseil permanent de la Conférence des évêques de France (CEF) a nommé Mgr Yves Boivineau président de Justice et Paix France. Évêque d'Annecy depuis 2001, il succède à Mgr Michel Dubost, évêque d'Evry qui a été élu en novembre dernier président du Conseil pour les relations interreligieuses et les nouveaux courants religieux. Justice et Paix France a reçu de l'Église de France la mission de faire entendre, dans les grands débats de notre temps, une voix qui soit à la fois pertinente et évangélique et d'aider les chrétiens à être actifs et vigilants sur les questions de justice et de paix internationales. En lire plus ici sur le site du Dauphiné Libéré.
Un nouvel art d'aimer. Un autre aspect de l'art d'aimer, sans doute le plus exigeant, car il met à l'épreuve l'authenticité et la pureté de l'amour, demande que nous aimions les premiers, c'est-à-dire que nous prenions l'initiative d'aimer, sans attendre que l'autre fasse le premier pas. Une telle façon d'aimer nous expose personnellement. Pourtant, si nous désirons aimer à l'image de Dieu et faire grandir la capacité d'amour que Dieu a mise en nos cœurs, il nous faut agir comme lui. Il n'a pas attendu d'être aimé par nous et nous a montré de mille manières qu'il nous aime le premier, quelle que soit notre réponse. Extrait de Un nouvel art d'aimer (Nouvelle Cité, 2006), de Chiara Lubitch (1920-2008), fondatrice des Focolari. Trouvé sur le site de la paroisse du Bienheureux Pierre Favre des Aravis ici.
Les différentes spiritualités. "Le vent souffle où il veut" (Jean 3,8). Voici quelques critères qui permettent de parler véritablement d'un courant spirituel qui fait école : Accents et insistances particuliers sur tel ou tel point de la vie chrétienne, qui donne une cohérence d'ensemble à la démarche spirituelle...En lire plus ici sur le site de la Conférence des évêques de France.
Joyeux Noël ! Les crèches de croire.com Un choix superbe de crèches, du monde, du desert, de l'artiste, des saltimbanques, crèches interactives ou animée ou autres. A voir absolument ici .
Dix jeunes qui font bouger l'Eglise de France. Voici un article très intéressant! "La Croix" a choisi de donner un coup de projecteur - naturellement non exhaustif - sur dix jeunes, pour la plupart passés par les JMJ, qui participent aujourd'hui au renouveau de l'Église ... Lire l'article ici sur le site de La Croix.
Benoît XVI : la foi nourrit l'âme. Dec 3, 2011 | Malgré le consumérisme qui caractérise le temps de Noël, les traditions populaires de la foi ne disparaissent pas et créent un refuge pour l'âme, un espace où entre le silence, la réflexion, Dieu. C'est ce qu'a souligné Benoît XVI vendredi après-midi après le Noël artistique offert par la télévision bavaroise ... En voir plus ici
Un brin d'humour: Qui fait l'ange… fait la bête de com ! Une manière très originale de parler de l'Annonciation… Moi, ca me parait très vrai, bien dit et même marrant… En lire plus ici sur le site des Sacristains.
La Transfiguration expliquée par saint Jean Chrysostome. Je suis en train de lire un livre merveilleux: "Joie de la Transfiguration d'apres les Peres d'Orient". Saint Jean Chrysostome en a tres bien parlé: "Représentez-vous ce qui donne d'ordinaire le plus de terreur aux hommes : la mort, la pauvreté, l'infamie et cent autres choses fâcheuses, qui nous font plus peur que la mer n'en faisait alors aux Juifs. Cependant Jésus Christ les persuade de se raidir contre ces maux et de passer au travers de ces souffrances comme à pied sec et dans une pleine paix. Pour les fortifier donc, et pour les exercer dans cette pénible carrière, il fait venir en leur présence ces divins athlètes d'autrefois, qui s'étaient le plus signalés au temps de l'ancienne Loi".
Antienne:
Vous tous qui avez soif, venez vers les eaux !
Cherchez le Seigneur : il se laisse trouver, alléluia.

Psaume 41:
Comme un cerf altéré
cherche l'eau vive,
ainsi mon âme te cherche
toi, mon Dieu.

Mon âme a soif de Dieu,
le Dieu vivant ;
quand pourrai-je m'avancer,
paraître face à Dieu ?
Aujourd'hui, ici, il pleut, mais il a neigé juste au dessus de nous, a 300 mètres au dessus,
on voit la neige sur les montagnes autour de nous.
La "conversion" du Cardinal Martini.. C'est peut-être l'Esprit-Saint. Un article de Paolo Rodari, "Le rêve de Jérusalem" et quelques archives (7/1/2010). Bref, comme cela a été dit souvent dans ces pages, le cardinal a été recruté par les medias comme anti-pape (et non ante-pape, comme il s'est défini lui-même) et il est possible qu'au soir de sa vie, il en ait assez. Eh! oui, au soir de notre existence, quand la grande et la vraie et la seule EXIT montre le bout de son nez, on doit reviser pal mal de choses... En lire plus ici sur le site de Benoit et moi.fr
Pour une liste alphabétique des articles & prières sur ce site: Site Map
Le référenceur des meilleurs sites catholiques francophones