December 2014 - Sharing the faith… in English:
I am going to concentrate on the seasons of nature and the liturgical seasons. I will post photos and comments and thoughts on both of these subjects, on the visible and the invisible world and on the amazing moments when they meet and intertwine... Political thoughts ? postings about my opinions on various subjects? I'm not sure it matters that much ... but posting something which could bring hope and encouragement to someone else? Praising and thanking someone else for the guidance and help they brought me? Yes, for this I will strive.
* * * * * * * * * * * * * * * * * * * * * * * * * * *
The Pope says that 'quality of life' is a lie. Time given to the sick is holy, 'praising God'. Francis claims this in his message for the XXIII World Day of the Sick that will take place on the 11th February 2015. He addresses especially 'all of you who are burdened by illness and are united in various ways to the flesh of the suffering Christ, as well as to you, professionals and volunteers in the field of health care'... Read more here on the Vatican Insider site.
The mystery of the Incarnation. THE PROFESSION OF THE CHRISTIAN FAITH : I BELIEVE IN JESUS CHRIST, THE ONLY SON OF GOD. "HE WAS CONCEIVED BY THE POWER OF THE HOLY SPIRIT, AND BORN OF THE VIRGIN MARY". WHY DID THE WORD BECOME FLESH?
With the Nicene Creed, we answer by confessing: "For us men and for our salvation he came down from heaven; by the power of the Holy Spirit, he became incarnate of the Virgin Mary, and was made man."
The Word became flesh for us in order to save us by reconciling us with God, who "loved us and sent his Son to be the expiation for our sins": "the Father has sent his Son as the Savior of the world", and "he was revealed to take away sins": sick, our nature demanded to be healed; fallen, to be raised up; dead, to rise again. We had lost the possession of the good; it was necessary for it to be given back to us. Closed in the darkness, it was necessary to bring us the light; captives, we awaited a Savior; prisoners, help; slaves, a liberator. Are these things minor or insignificant? Did they not move God to descend to human nature and visit it, since humanity was in so miserable and unhappy a state?
The Word became flesh so that thus we might know God's love: "In this the love of God was made manifest among us, that God sent his only Son into the world, so that we might live through him.""For God so loved the world that he gave his only Son, that whoever believes in him should not perish but have eternal life."
The Word became flesh to be our model of holiness: "Take my yoke upon you, and learn from me." "I am the way, and the truth, and the life; no one comes to the Father, but by me." On the mountain of the Transfiguration, the Father commands: "Listen to him!" Jesus is the model for the Beatitudes and the norm of the new law: "Love one another as I have loved you." This love implies an effective offering of oneself, after his example.
The Word became flesh to make us "partakers of the divine nature":"For this is why the Word became man, and the Son of God became the Son of man: so that man, by entering into communion with the Word and thus receiving divine sonship, might become a son of God.""For the Son of God became man so that we might become God.""The only-begotten Son of God, wanting to make us sharers in his divinity, assumed our nature, so that he, made man, might make men gods."
Read more here in the CCC.
A Stormy Afternoon In December. I walked by the Pacific Ocean just before one of our big storms, in the series of storms we had before Christmas, and it got me thinking about life and death and history, about faith and reason and much more ... Read it here
Pastor's Laptop: Fear of Rain. Reflecting a culture empty of God, however, the media usually spreads anxiety. It trembles with panic at every change in the weather, or the economy, or the human condition. It fears change, because it does not fear God... Read more here on Fr. Illo's blog, Pastor at Star Of The Sea.
Eating Like Kings: A Thanksgiving Reflection, by Rachel Lu. Very interesting take on truly appreciating Thanksgiving and why only us, humans, can do it…. "Through custom and ceremony, humans can elevate the basic act of nourishing themselves to something far more meaningful. Thanksgiving goes beyond the calories, and yet, the nourishment is in no way incidental. A shared meal provides the perfect medium for rejoicing in our shared corporeal existence". Read more here on the Catholic Exchange site.
Why China's churches are full and communist leaders are furious. China's Communist government has been on an anti-Christian rampage of late, tearing down churches in the coastal city of Wenzhou and elsewhere, arresting underground bishops and home church leaders, and illicitly ordaining pliant priests as Catholic "bishops". But underneath this escalating campaign of repression - in fact, the reason for it - is a rapidly growing population of Christians. There are now an estimated 100 million plus Christians in the world's most populous country, with Catholics alone accounting for about 12 million of this number….
Read more here
On Pilgrimage to Lourdes, by Regis Martin. A wonderful reflexion on Mary and her "transparency". Because in travelling to this utterly remote grotto tucked thousands of miles away in the foothills of the French Pyrenees, it never crossed my mind that Mary, the Mother of God, had not actually appeared there to an illiterate fourteen year old by the name of Bernadette Soubirous living amid atrocious poverty in a jerkwater town now famously known as Lourdes... And if, after all, to see God in the flesh, and not then to die, crucially depends on the purity of one's heart, who possesses the greater claim to it than Our Blessed Lady, who from the first moment of her existence was spared the least complicity with sin? "The serpent," as St. John Damascas tells us, "never had access to this paradise." Steeped in the purity of sanctifying grace, her life bears a likeness to God so perfect that even the blessed in heaven shine with less luster than she who is Queen of All the Angels and Saints.... he describes purity as "a living transparency," that reveals "its strength and efficacy by passing through all uncleanness in the world without receiving any taint, but rather leaving in its midst its own radiance…." The state of one who is pure, he says, "is an act of presence to oneself and to the world."
Read more here
C'est la sainte Marguerite. Bonne Fête, Maman ! My mother's name was "Marguerite " and she died 3 months ago. She was a very good mother and I miss her daily and I pray for her and I know she prays for me. Today I want to pay tribute to her goodness, her humility, her steadfastness, her smile and easy personality and her dedication to her family. Today is her name feast day and, Maman, you are in very good company !


THE NAME FEAST DAY: In the Catholic Church, it is customary to celebrate the Saint of the Day by wishing " Bonne Fete " to everyone with the same name as the Saint. I think it's a wonderful tradition because: 1) it reinforces remembering the Saints and the Communion of Saints is a very practical and most useful way of "seeing and understanding" the true extent of God's grace; 2) it is a public admission of the importance of a person's first name; 3) by extending the blessings of the Saint of the Day to everyone with that particular name, it is truly "catholic" in nature, meaning universal, and it is definitively most charitable! 4) it is true that this tradition (especially in Europe, or at least in France, where I am right now) has slowly extended to everyone, whether they are believers or not. But that in itself is not bad at all. It says that everyone can easily recognize the benefits of saying "Happy Feast!" to one person, because of their name, sending good wishes and good thoughts to that particular person. And whether someone saying "Bonne Fête!" has a true and complete understanding of what they are invoking, well first of all, that could change any minute… And second of all, what's the point of criticizing people's intent like that? Let's start with myself: do I have a true and complete understanding of what I am writing right now? who knows ? But I have good intentions! I love many saints, I'm here today thanks to their fervor and courage, to their love of Christ, to their complete dedication to the faith. I've got a dozen favorites saints and they have greatly help me. Thanks be to God!
Read more here
Pope Francis greets members of Orientale Lumen Foundation on ecumenical pilgrimage Fr. David was in Rome in the last few day and met Pope Francis! "The Pope said on Friday there is no authentic ecumenical dialogue without being ready "for an interior renewal" and the quest for a greater fidelity to Christ and his wishes"....
Read more here on the Vatican news site.
And see a short video of this meeting here on the Rome Report site.
Your Soul Finds Rest in God. By Fr. Jean Nicolas Grou...." nevertheless we all long for rest; we seek it eagerly; and we wear ourselves out all our lives in this search without ever attaining the ob­ject of our desires"... Read more here on Catholic Exchange.
The Four Ends of Mass by Sam Guzman. "After a talk I gave a while ago, a young man came to me with a question. "I think I'm a good Catholic," he began, "but I don't go to mass. I hear it's a sin not to go, but I don't understand that. I guess I don't see the point. Can you give me any reasons why I should go?" His question was sincere, and it led to a long and healthy discussion..." Read more here
What Scares Us About Confession? Posted by Tylor Starkey. What terrifies us so much about our own sins? To the point that we often cast blame on others for our transgressions, we downplay their importance or even convince ourselves that they weren't really sins at all. Read more here on the catholic dormitory .
Minister All our problems
People We send to the cross of Christ
Minister All our difficulties
People We send to the cross of Christ
Minister All our sins
People We send to the cross of Christ
Minister All the devil's works?
People We send to the cross of Christ
Minister All our hopes
People We set on the risen Christ

May Christ the Sun of righteousness shine upon you and scatter the darkness from before your path: and the blessing of God Almighty, Father, Son and Holy Spirit, be among you, and remain with you always. Amen. (Prayer after communion, Kenyan Eucharistic Rite, Anglican Church)
I am in California! Indian summer, hot weather, but with alternating fog, as is usual in San Francisco at this time of the year. A small nature trail in the middle of the City, last evening, Golden Gate Heights in the Sunset district.
Psalm 32
1 Blessed is the one whose fault is removed,
whose sin is forgiven.
2 Blessed is the man to whom the Lord imputes no guilt,
in whose spirit is no deceit.
3 Because I kept silent, my bones wasted away;
I groaned all day long.
4 For day and night your hand was heavy upon me;
my strength withered as in dry summer heat.
5 Then I declared my sin to you; my guilt I did not hide.
I said, "I confess my transgression to the Lord," and you took away the guilt of my sin.
6 Therefore every loyal person should pray to you in time of distress.
Though flood waters threaten, they will never reach him.
7 You are my shelter; you guard me from distress;
with joyful shouts of deliverance you surround me.
GRATITUDE! Practicing it, making it a habit, right here and now: "How Gratitude Can Transform Your Life. Let Your Reasons to be Grateful Prompt Simple Acts of Kindness. With such a habit of gratitude well in place, we are less likely to be complainers (thereby making us more pleasant to be around), less prone to frustration, and less prone to self-pity and the self-indulgence that follows from self-pity..." Read about it here on Aleteia. This is an article by Fr Robert McTeigue, SJ.
ADORATION: The Art of Contemplative & Mystical Prayer by Romano Guardini. I'm a big fan of Romano Guardini! and here is a wonderful article on the singularity of Adoration. "In contemplation our mode of thinking changes. From its usual restlessness it becomes a quiet beholding and a comprehending, a watching and a witnessing. Our voice changes: it becomes softer and lower..." Read more here on Catholic Exchange.
For an alphabetical listing of articles and prayers on this site please see : Site Map
Décembre 2014 - Le partage de la foi… en français:
A partir de maintenant, je vais me concentrer sur les saisons de la nature et les saisons de la liturgie. Je mettrais des photos et des commentaires, des réflexions, sur ces deux sujets, sur le monde visible et sur le monde invisible et sur ces merveilleux moments où ils se rejoignent et s'entrelacent… Des pensées politiques ? Des postings sur mon opinion sur ceci ou sur cela ? Je ne suis pas sure que cela compte pour beaucoup. Mais présenter quelque chose qui puisse apporter de l'esperance ou de l'encouragement à quelqu'un d'autre ? Remercier quelqu'un pour les conseils et l'aide qu'ils m'ont apporté à moi? Oui, c'est ce que je souhaite faire dorénavant !
* * * * * * * * * * * * * * * * * * * * * * * * * * *
Une profonde reflection sur le baptême, sur le Christ, sur les conséquences de devenir des "petits Christs", pour nous, les chretiens. LE BAPTÊME D'APRÈS SAINT GRÉGOIRE DE NYSSE . " Nous sommes ainsi plongés par le baptême dans cette eau qui purifie et saint Grégoire nous dit que cette eau qui purifie passe par la mort, car nous sommes plongés dans la mort du Christ pour entrer, comme Lui, dans sa vie. C'est pour cela que saint Paul dit que tout ce qui n'est pas connaissance de Dieu est désavantageux, ne doit plus tenir dans notre vie, doit être écarté, doit être éliminé parce que tout cela nous empêche, comme un obstacle, de contempler non pas seulement le visage de Dieu mais son image dans notre propre être, au fond de notre cœur, au creux même de ce que nous sommes, ce creux qui a été comblé par le péché de toutes sortes de sédimentations qui nous dissimu­lent ce que nous sommes véritablement. En lire plus ici sur le site de la paroisse St Jean de Malte
Pauline de Vaux, psychiatre : "N'ayons pas peur d'annoncer le Christ". Psychiatre et profondément croyante... J'ai beaucoup aimé cet article: Qu'évoque, pour vous, la fête de Noël? Le Christ vient nous rejoindre. Dieu prend la condition d'homme. Un Dieu enfant… C'est magnifique?! L'incarnation, c'est l'expression totale de l'humanité du Christ. En lire plus ici sur le site de Pelerin.
"Le recruteur" de Genevieve Clay-Smith et Robin Bryan Thomas Howell doit passer un entretien d'embauche dans un cabinet d'avocats réputé. Quand il voit arriver le recruteur, son étonnement est sans bornes … En lire plus ici sur Arte. C'est un film étonnant, déstabilisant, qui donne a réfléchir - en anglais avec des sous-titres en français.
Marthe Robin me fascine. Et j'avoue que je me suis tournée vers elle, récemment, je lui ai demandé de m'aider, car il était tard, il faisait nuit, j'avais déjà conduis depuis plusieurs heures et maintenant il faisait noir, et je n'aime pas conduire la nuit, j'avais bien mal au dos - et m'etant perdue, tournant en rond, dans une ville inconue, fatiguée, énervée, j'ai soudain pensé à elle, je me suis dit: ne te plains pas, Marthe etait clouée dans son lit, et regarde tout ce que sa foi et la grace de Dieu lui a permit de faire, je lui ai donc addressée une priere lui demandant son aide…
VIDÉO. Ce que Marthe Robin a vraiment dit sur la France La célèbre mystique vient d'être déclarée vénérable par le Pape. A-t-elle prédit l'avenir de notre pays ? Explications du Père Bernard Peyrous, postulateur de la cause de sa béatification. En lire plus ici .
On se calme ! Livre de Olivier Revol Enfants agités, parents débordés. Agités, incapables de fixer leur attention, insatisfaits chroniques, les jeunes tête-en-l'air sont d'autant plus difficiles à gérer que les adultes eux-mêmes participent à la frénésie ambiante : bouger, zapper, consommer, et plus que tout faire barrage à l'ennui. Tous hyperactifs ? " Cette agitation n'est pas une maladie mais elle peut le devenir " et, dans les cas les plus sévères, pénaliser toute une vie et conduire à la spirale de l'échec. Sensible aux effets sur la santé des nouvelles technologies, hyperactif lui-même, le Dr Olivier Revol témoigne et appelle au calme. Résolument optimiste, il rassure cependant. Certains survoltés comme David Guetta, Maud Fontenoy, Florence Foresti ou le Dr Michel Cymes dont il analyse les cas, ont su faire de cette " hyperformance " l'atout de leur succès. A tous, enfants comme adultes, il propose des stratégies pour s'adapter aux diktats de l'urgence. Il livre un manuel de survie à l'intention des familles concernées et révèle les dernières hypothèses sur l'origine de cette pathologie. En lire plus ici
Une retraite en ligne : Avent dans la ville. La vidéo de lancement: " Voici, je me tiens à la porte! " Pour vous mettre dans l'ambiance de Noël et faire connaître " Avent dans la Ville " à vos amis, nous avons réalisé cette vidéo de lancement. En lire plus ici
Le seigneur est mon berger, lu par Jean-Damien Barbin
Le Seigneur est mon berger :
je ne manque de rien.
Sur des prés d'herbe fraîche,
il me fait reposer.

Il me mène vers les eaux tranquilles
et me fait revivre ;
il me conduit par le juste chemin
pour l'honneur de son nom...
En lire plus ici
La découverte de certains sites est un vrai trésor !
En voici un : Tous les psaumes. Retrouvez ici les 150 psaumes mis en ligne, avec pour chacun d'eux, les méditations par une équipe de frères et sœurs Dominicains. Goûtons cette Parole de saint Augustin : " "Comme le cerf altéré cherche l'eau vive, ainsi mon âme te cherche, toi mon Dieu !" ( Psaume 41). Qui donc parle ainsi ? C'est nous, si nous voulons. Pourquoi chercher ailleurs celui qui parle, quand tu peux être toi-même ce que tu cherches ? " En lire plus ici
L'accueil joyeux des carmélites de Bayonne."En pleine ville, à Bayonne, le carmel de l'Immaculée-Conception est un lieu de paix et de rayonnement spirituel. C'est aussi un modèle de cohabitation entre générations"... En lire plus ici sur le site de La Croix.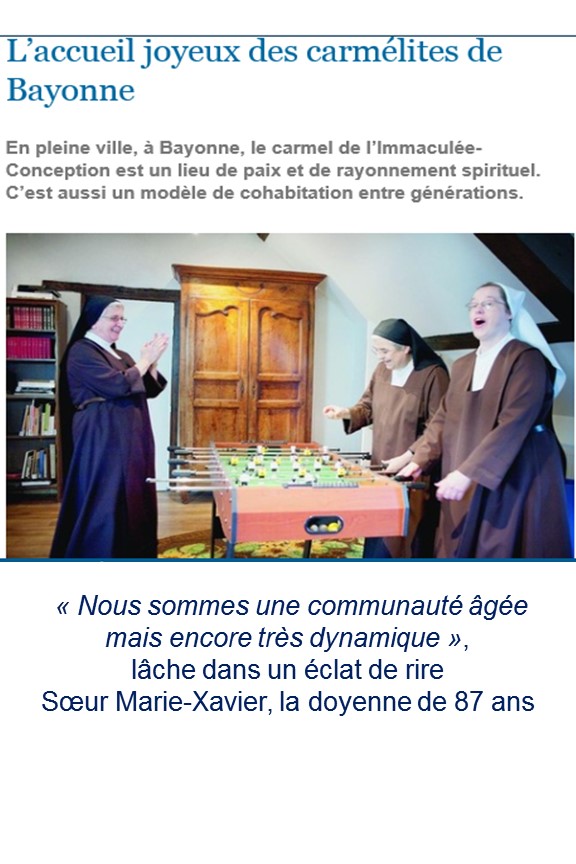 Le Pere David Anderson (de l'église catholique orientale de St Pierre à Ukiah, Californie) a rencontré le Pape Francois! "Pas d'avancée oecuménique sans renouveau intérieur". Cité du Vatican, 24 octobre 2014 (VIS). Ce midi, le Saint-Père a reçu une délégation de l'Orientale Lumen Foundation in America, en pèlerinage oecuménique à Rome. Tout pèlerinage chrétien, a-t-il dit à ses hôtes, "ne se limite pas à un déplacement géographique car c'est avant tout une occasion de renouveau intérieur à la rencontre du Seigneur... "
lire l'article sur le site de nouvelles du Vatican.
Et regardez une courte vidéo de cette rencontre ici sur le site de: Rome Report (en anglais).
Le sacrifice chrétien, moyen de rédemption. Caro mea vere est cibus, et sanguis meus vere est potus. Ma chair est véritablement une nourriture, et mon sang est véritablement un breuvage. (Jean, 1, 56.)... le concile de Trente en disant : « Tous les effets que la nourriture opère matériellement dans nos corps, l'Eucharistie les opère spirituelle­ment dans nos âmes. » lire l'article ici sur le site: Eschatologie: Fin du monde présent et mystères de la vie future.
Inigo Lib' – trouver Dieu dans ma vi(ll)e.
Quand ma vie quotidienne joue sur la clé de sol et ma vie spirituelle sur une clé de fa, pas toujours facile de les accorder ! Alors le temps d'un week-end répétons à 2 mains nos partitions : allons prier dans le métro ou contempler l'animation de nos villes, rencontrer les gens des rues ou jouer au foot avec les réfugiés…
Inigo Lib, de quoi s'agit-il ? Le cœur de ce rassemblement sera de vivre différents exercices spirituels en ville....
En lire plus ici

- - - - - - - - - - - - - - - -

Le pape François a ensuite énuméré cinq grandes tentations qui pouvaient menacer les Pères synodaux dans leurs travaux. Les cinq tentations qui menacent les évêques:

Première tentation?: « La tentation du raidissement hostile, c'est-à-dire de vouloir s'enfermer dans la lettre (…), à l'intérieur de la loi, dans la certitude de ce que nous connaissons et non de ce que devons encore apprendre et atteindre. Du temps de Jésus, c'est la tentation des zélotes, des scrupuleux, des empressés et aujourd'hui de ceux qu'on appelle des « traditionalistes » ou aussi des « intellectualistes ». »
Deuxième tentation?: « La tentation d'un angélisme destructeur, qui au nom d'une miséricorde traîtresse met un pansement sur les blessures sans d'abord les soigner, qui traite les symptômes et non les causes et les racines. C'est la tentation des timorés, et aussi de ceux qu'on nomme les progressistes et les libéraux. »


Troisième tentation?: « La tentation de transformer la pierre en pain pour rompre un long jeûne, pesant et douloureux (Lc 4, 1-4) et aussi de transformer le pain en pierre et la jeter contre les – pécheurs, les faibles, les malades (Jn 8,7) c'est-à-dire de les transformer en fardeau insupportable (Lc 10, 27). »
Quatrième tentation?: « La tentation de descendre de la Croix, pour contenter les gens, de ne pas rester à accomplir la volonté du Père, de se plier à l'esprit mondain au lieu de le purifier et de le plier à l'Esprit de Dieu. »
Cinquième tentation?: « La tentation de négliger le depositum fidei (ndlr?: le dépôt de la foi) en se considérant non comme les gardiens mais les propriétaires et les maîtres ou, de l'autre part, la tentation de négliger la réalité en utilisant une langue minutieuse et un langage pour dire tant de choses et ne rien dire. Nous appelons « byzantinisme » je crois, ces choses. »

Liser l'article en entier sur La Croix ici
The Pacific Ocean is gorgeous, it is a feast of nature. And quite a wonderful playground for surfers, right there at the end of my street. It is not an easy one, there is danger and you better know what you are doing. But when you do, when the sunset light illuminate those waves, it is quite a treat. I am not a surfer myself, actually, I'm afraid of the water, but I'm pretty sure that for the ones who have the courage and the skills to go do it, it's got to be close to a mystical experience to be riding a wave.
Christ, Roi du monde, toi, le Maître unique,
Né tel un homme, tu es notre frère :
Voir ton visage c'était voir le Père.
GLOIRE ET LOUANGE À TOI !
Christ, paix du monde, toi, douceur unique,
Celui qui t'aime doit aimer son frère ;
Lie-nous ensemble dans l'amour du Père.
GLOIRE ET LOUANGE À TOI !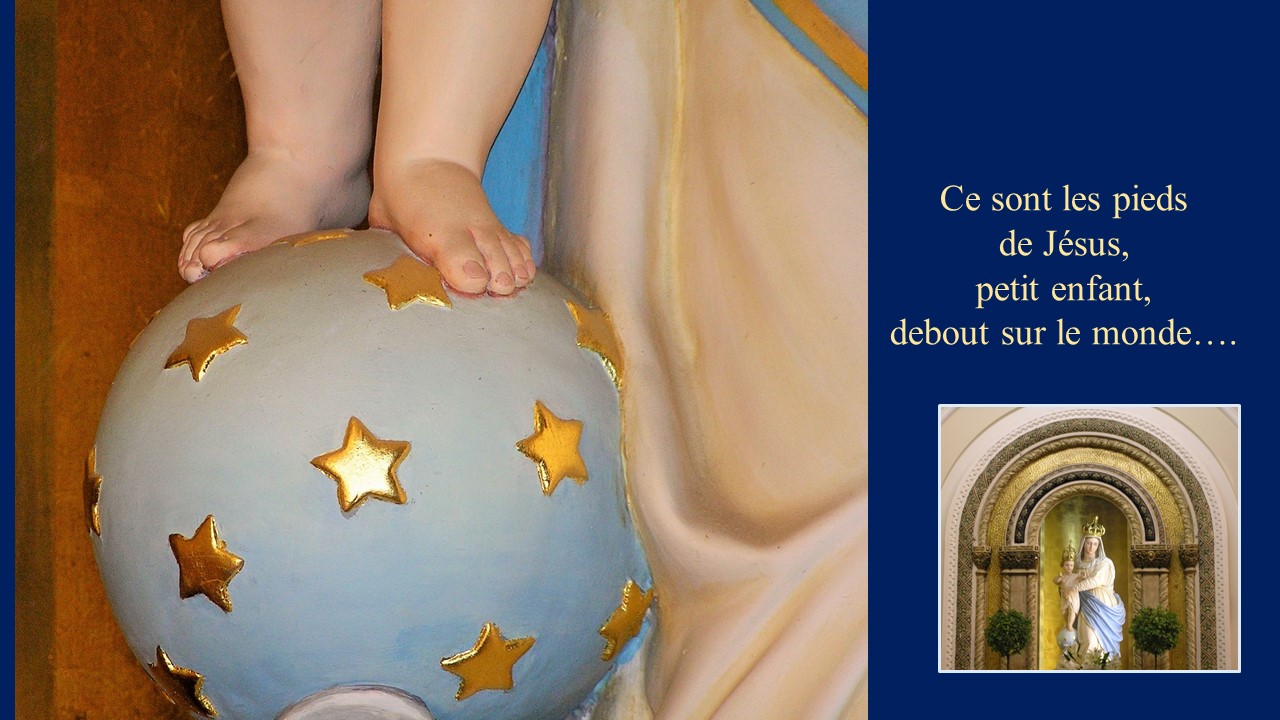 J'aime beaucoup cette statue (à Notre Dame des Victoires, San Francisco). Ces pieds sont touchants, ce sont vraiment des pieds d'enfant, si mignons mais si fragiles, et pourtant, il est debout sur le monde. Moi cela me fait rêver. Notre Seigneur, notre Sauveur, est venu à nous comme un enfant, et pourtant, il domine le monde, il soutient le monde, il nous appelle, il nous montre le chemin, il est le soleil non seulement de notre planète mais de l'univers!
Pour une liste alphabétique des articles & des prières sur ce site: Site Map