2016 - Sharing the faith… in English:
(fyi, all entries are in "reverse" order:
December 2016 is right below and
going back to January 2016 at the bottom of this column)
I have gathered in one page my recent reflexions, photos and collages on Advent and Christmas 2016 - Epiphany 2017: from the Feast of the Immaculate Conception, Gaudete, Christmas Eve, Christmas Day to Epiphany and the Baptism of Christ here
Fr Calloway and the power of the rosary Fr. Calloway said that the rosary is the culmination of the Biblical story of the woman and her offspring crushing the serpent. He stressed that contrary to modern belief, the rosary is not a human invention, but the work of a "divine blacksmith" creating a weapon for the woman and all her children…. He also said that it is a great means of protection. Calloway gave examples of miracles connected to devotion to the rosary, from overcoming terrorists in Nigeria to protection from serial killers in America….
Read more here on the site of the Troubadour on line.
Found on "Blessed is She" on Instagram. Advent reflection by Shauna Niequiest: "I believe deeply that God does his best work in our lives during times of great heartbreak and loss, and I believe that much of that rich work is done by the hands of people who love us, who dive into the wreckage with us and show us who God is, over and over and over. There are years when the Christmas spirit is hard to come by, and it's in those seasons when I'm so thankful for Advent. Consider it a less flashy but still very beautiful way of being present to this season. Give up for a while your false and failing attempts at merriment, and thank God for thin places, and for Advent, for a season that understands longing and loneliness and long nights. Let yourself fall open to Advent, to anticipation, to the belief that what is empty will be filled, what is broken will be repaired, and what is lost can always be found, no matter how many times it's been lost".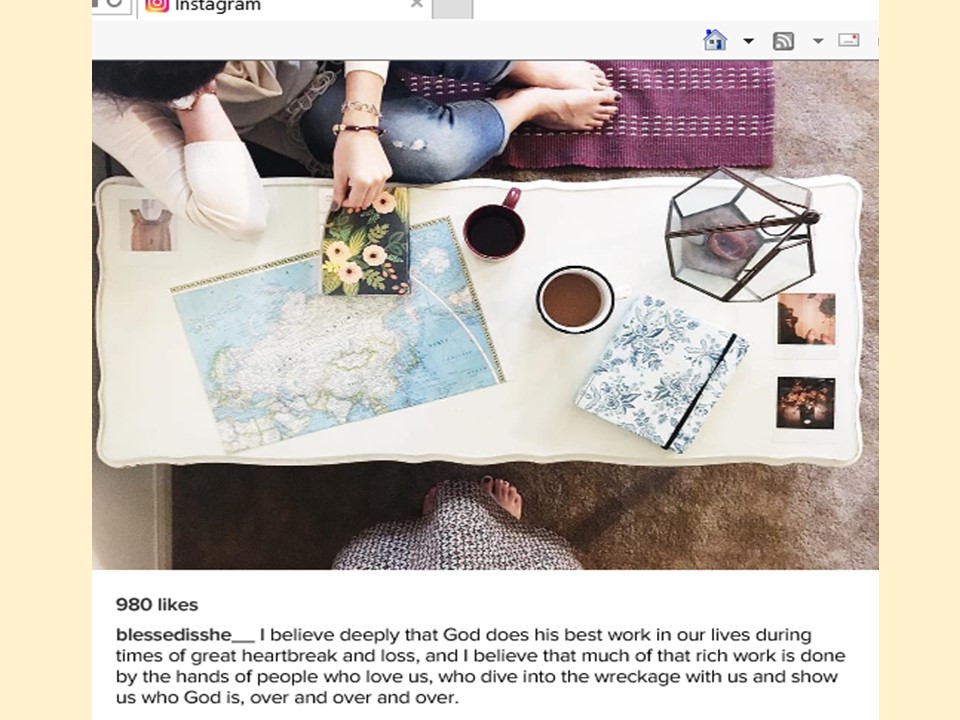 Famous Brazilian Catholic singer made headlines with this shocking announcement "I didn't understand why chastity would be so surprising," said Felipe Alcantara. He, of the Brazilian band Os Gonzagas, had already made a name for himself and his music after his group's appearance on the TV show Superstar... Read more here on the site of aleteia.org.
Stunned by Providence… by Michele Szekely. This is a short essay of mine on Divine Providence and how one line from a (very unusual) movie startled me. "But "Les Innocentes" is a little gem too, or so it turned out for me. I must admit I found a certain humor in the fact that my own faith in Divine Providence was deepened in that particular flight! I have known for some times now..." Read it all here .
"O Woody...." By Stephen Hand. A very good critic of Woody Allen and his descent ... "I've said more than a couple of times that I've been watching his movies for decades now, have found them entertaining and sometimes thought-provoking. I guess I would have counted myself as one who 'loved' his movies.. but something happened..." Read it all here on Culture, Arts and Trends.
The communion of saints
"Befriend the saints!" is the best advice that someone gave me when I first returned to the faith. "Read about them, see what they have done, turn to them in prayers, respectfully and lovingly, and you'll see how much they will help you." This was fairly new to me since my understanding of the communion of saints was very superficial in the beginning. But I followed this advice, turning to Saint Francis of Sales first (because he wrote so beautifully and so simply about loving God and what practical steps we can take to come closer to him - and because he is a local saint, from the French Alps, from Annecy, which is where I went to school). I kept finding so much encouragement and wisdom in the writings of Saint Paul that I started praying directly to him too. At about the same time, I read a little book about Saint Monica that just transformed my understanding of motherly tears and love when they are permeated with total trust in God, so I added her as well. Finally, since I now live in San Francisco, it was very fitting that I turned to this wonderful icon of charity and brotherhood, Saint Francis of Assisi! Here was a true champion of respect and care for the creation (centuries before our own green awareness) and a tireless peace-maker. A strong advocate of simplicity and poverty (which I find especially attractive as an antidote against hoarding and greed) Francis is a terrific role model for letting go of fear: the fear of the wolf, the fear of the leper, the fear of the other… And this is how I found myself with quite a solid and remarkable quartet of saints. But once I had entered this new country, this "land of saints", I became aware of the lesser-known ones and I found myself making new friends again and again. Right behind the front line of the mega saints, there is a huge cloud of witnesses… and they are all here to help us! Do you know the names of Philomena? Or Ponce de Faucigny or Ephraim the Syrian? Gianna Beretta Molla, Edith Stein or Christina the Astonishing?.... Read more here here
When the Transfiguration was finally fully explained (to me...) by Saint Ephraim.
Benedict XVI said that the real experts in opening up God's words, the true interpreters of scriptures are the saints and he is right. I can prove it! There is one verse that I have always found very puzzling and it is "There are some here who will not taste death before seeing the glory of God" (Mark 9:1). I heard it said before that he was referring to the end of the world and that with time passing by, with every Apostle dying one by one (they all eventually got to taste death), some people began to wonder what Jesus really meant. This riddle was just solved for me and it was done the way Benedict XVI pointed out. On Saint Ephraim's feast da , I ran a Google search and found various Orthodox sites with information on his life and samples of his writings and I discovered the most amazing explanation of the verse mentioned above. Ephraim, a Deacon in the second century in Syria, wrote that what this verse is talking about is the upcoming Transfiguration moment. I have a very special fondness for the Transfiguration: do you realize that he was transfigured before his Passion? Right there and then, his divinity is affirmed in front of the 3 Apostles by two OT witnesses, the Law and the Prophet. It is a fantastic "Trinitarian moment" with the Father's voice pointing to the Son like a laser beam, the Son reflecting the Father's glory like a mirror and the power and love of the Holy Spirit bathing this moment in the most dazzling light and, in the process, opening up the minds of the witnesses to the truth of what is going on. In a nutshell, that is what I see every time the Transfiguration is mentioned. So when I read what Saint Ephraim said:"The men whom he said would not taste death until they saw the image of his coming, are those whom he took and led up the mountain and showed them how he was going to come on the last day in the glory of his divinity and in the body of his humanity", a light went up in my mind! Eureka, I thought, that's what he was talking about! And so on the mountain he showed his Apostles the glory of his divinity concealed and hidden in his humanity".
see my full page on Saint Ephraim and the Transfiguration
here
See my page on Father Jacques Hamel and his funerals here
Various quotes and my photos of nature here
EARLIER IN THE SUMMER: This is such a good speech! For graduates, for anyone, for myself today! I just re-read it and it puts everything in the right perspective. Good advice is always good, in and out of season, sound spiritual directives should always be welcomed, it is very simple and direct, very grounded in the love of God and love of neighbor:
ARCHBISHOP CORDILEONE: "BELIEVE IN GOD FIRST, AND THEN YOU WILL ATTAIN THE ONE THING NECESSARY IN LIFE" Aquinas has stood the test of time because he was graced by God with great insight, because he was a man of prayer who was committed to the Church, and because he was unafraid to subject both Christian and non-Christian viewpoints to the critique of human wisdom. So, intelligence, prayer, commitment to the Church, and confidence in the power of human reason lead us to the truth. We live in an increasingly polarized and angry world. Nonetheless, like Thomas Aquinas, we are still called to profess the faith with conviction, intellectual rigor, and above all, charity...
Read ore here on the site of Thomas Aquinas College
Handle stress like a Saint: Use their 5 spiritual weapons
1. The saints gave up control. They realized that God was ultimately in control of everything and had faith in him. St. Clare told her sisters that the God who cared for the birds of the air would care for them, too!
2. The saints practiced self-control. How often are we our own worst enemies? We often bring stress upon ourselves. We procrastinate, bring about a stressful interpersonal situation by our own bad behavior, etc…. The saints realized that they couldn't control anything - but, with God's grace, they could control their own behavior. Thus, they cultivated mastery over their emotions and appetites by consistently obeying God's commandments, as well as by personal sacrifice and fasting...etc
Read more here on the blog Holy Heroes
Paglia: 'Transgender Mania' is a Symptom of West's Cultural Collapse
"Sex reassignment surgery, even today with all of its advances, cannot in fact change anyone's sex, okay. You can define yourself as a trans man, or a trans woman, as one of these new gradations along the scale. But ultimately, every single cell in the human body, the DNA in that cell, remains coded for your biological birth. "So there are a lot of lies being propagated at the present moment, which I think is not in anyone's best interest.
… "And I found in my study that history is cyclic, and everywhere in the world you find this pattern in ancient times: that as a culture begins to decline, you have an efflorescence of transgender phenomena.That is a symptom of cultural collapse. "So rather than people singing the praises of humanitarian liberalism that allows all of these transgender possibilities to appear and to be encouraged, I would be concerned about how Western culture is defining itself to the world.
Read more here on cns news.
The Annunciation: Antithesis of Terrorism and Nihilism by Constance T. Hull
God sends St. Gabriel to Mary in order to offer her an invitation. He asks her to become the mother of His Son. He is gentle and loving in His message. St. Gabriel tells her not to be afraid. This immediately flies in the face of terrorism and other ideologies that use fear to force people to submit. God does not desire to terrorize us. He does not desire to instill irrational, uncontrollable fear in us. No. He wants us to fall in love with Him. He is the Bridegroom in search of His Bride. He wants our love to come from our free will. He leaves us to freely choose Him or to turn our backs on Him. Love cannot be coerced or forced. It is not love if it is not of the individual's free will. The necessity of free will is apparent in the freedom of Mary's own question. She is free to seek clarification. She asks St. Gabriel how "this" is possible given that she has pledged perpetual virginity and has never been with a man. God does not rebuke her for the question. Instead, through St. Gabriel, He lovingly answers her inquiry. Radicals and ideologues do not allow for free thought or questioning. It is here that we see God's desire for our total freedom in responding to His call.
Read more here on the site of catholic exchange.
The Many Aspects Of Love
We all know the expression, from Scripture, that "love is patient, love is kind; love is not jealous; love does not brag and is not arrogant, does not act unbecomingly; it does not seek its own, is not provoked, does not take into account a wrong suffered, does not rejoice in unrighteousness, but rejoices with the truth; bears all things, believes all things, hopes all things, endures all things" (1 Corinthians 13:4-8). But there are other aspects to love (besides what is so brilliantly delineated in 1 Corinthians), some of which we may not associate with it. For example:
Love is appreciative.
Love apologizes.
Love opens the door for others.
Love is truth and sets us free.
Love laughs at one's own mistakes.
Love is also not easily slighted.
Love clarifies.
and many more...
Read more of this terrific text here on the site of Spirit Daily
Why My Grief Belongs on the Internet
By Jemar Tisby.
Public lament is more than just another hot take or social media rant.
Lament is anguish out loud. There is a time to process affliction in solitude, but there is also a time to reveal your ache to others. But lament communicates more than despair; it cries out for deliverance. In Psalm 44, the people of Israel plead with Yahweh to have mercy on them.
Awake, Lord! Why do you sleep?
Rouse yourself! Do not reject us forever
Read more here on the site of Christianity Today
I loved Cardinal Sarah's book "God or nothing" and I hold him in great esteem. The talk that he gave in Washington DC is brilliant! Thank you for saying out loud what so many of us are thinking and feeling, thank you for articulating it in such clear and practical language. Read all about the talk on Spirit Daily: here . Here is an excerpt:
"Rapid social and economic development in the past half century has not been accompanied by an equally fervent spiritual progress, as we witness what Pope Francis calls "globalized indifference."
It is the result of giving in to the delusion that we are self-sufficient, that man is his own measure in a pervasive individualism. It is manifested in the fear of suffering in our societies, our closing our eyes and hearts to the poor and vulnerable, and, in a very despicable way, in how we discard the unborn and the elderly.
When he prophetically announced the Second Vatican Council in the Apostolic Constitution Humanae Salutis, Saint John XXIII remarked that the human community was in "turmoil" as it sought to establish a new world order where humanity relies entirely on technical and scientific solutions instead of God.
Today we are witnessing the next stage — and the consummation — of the efforts to build a utopian paradise on earth without God. It is the stage of denying sin and the fall altogether. But the death of God results in the burial of good, beauty, love and truth. Good becomes evil, beauty is ugly, love becomes the satisfaction of sexual primal instincts, and truths are all relative. So all manner of immorality is not only accepted and tolerated today in advanced societies, but even promoted as a social good. The result is hostility to Christians, and, increasingly, religious persecution.
Nowhere is this clearer than in the threat that societies are visiting on the family through a demonic "gender ideology," a deadly impulse that is being experienced in a world increasingly cut off from God through ideological colonialism. "
Sunday February 21 , video of homily at yesterday's Mass for Scalia by his son Paul Scalia. What a wonderful and moving moment this was, what a great homily this was, very faithful and formative: do check it out : here or google Paul Scalia's homily.
"Scripture says Jesus Christ is the same yesterday today and forever. And that sets a good course for our thoughts and our prayers here today. In effect, we look in three directions. To yesterday, in thanksgiving. To today, in petition. And into eternity, with hope"...
"He was a practicing Catholic, "practicing" in the sense that he hadn't perfected it yet. Or rather, Christ was not yet perfected in him. And only those in whom Christ is brought to perfection can enter heaven. We are here, then, to lend our prayers to that perfecting, to that final work of God's grace, in freeing Dad from every encumbrance of sin"...
Here is a link with additional info on Paul Scalia, the son of Justice Scalia here
February 12, 2016:
10 Key Points of the Joint Declaration of Pope Francis and Patriarch Kirill. Church leaders deliver a thorough and prayerful assessment of the state of the world, by Diane Montagna. Giving thanks to God for "the gifts received from the coming into the world of his only Son," Pope Francis and Patriarch Kirill attested to sharing "the same spiritual tradition of the first millennium of Christianity. The witnesses of this tradition are the Most Holy Mother of God, the Virgin Mary, and the saints we venerate," including "innumerable martyrs who have given witness to their faithfulness to Christ and have become the 'seed of Christians.'" Noting that the "epochal change" now bearing upon human civilization has urged their meeting, they state jointly that, "Christian conscience and our pastoral responsibility compel us not to remain passive in the face of challenges requiring a shared response."
Read all about it here on aleteia.org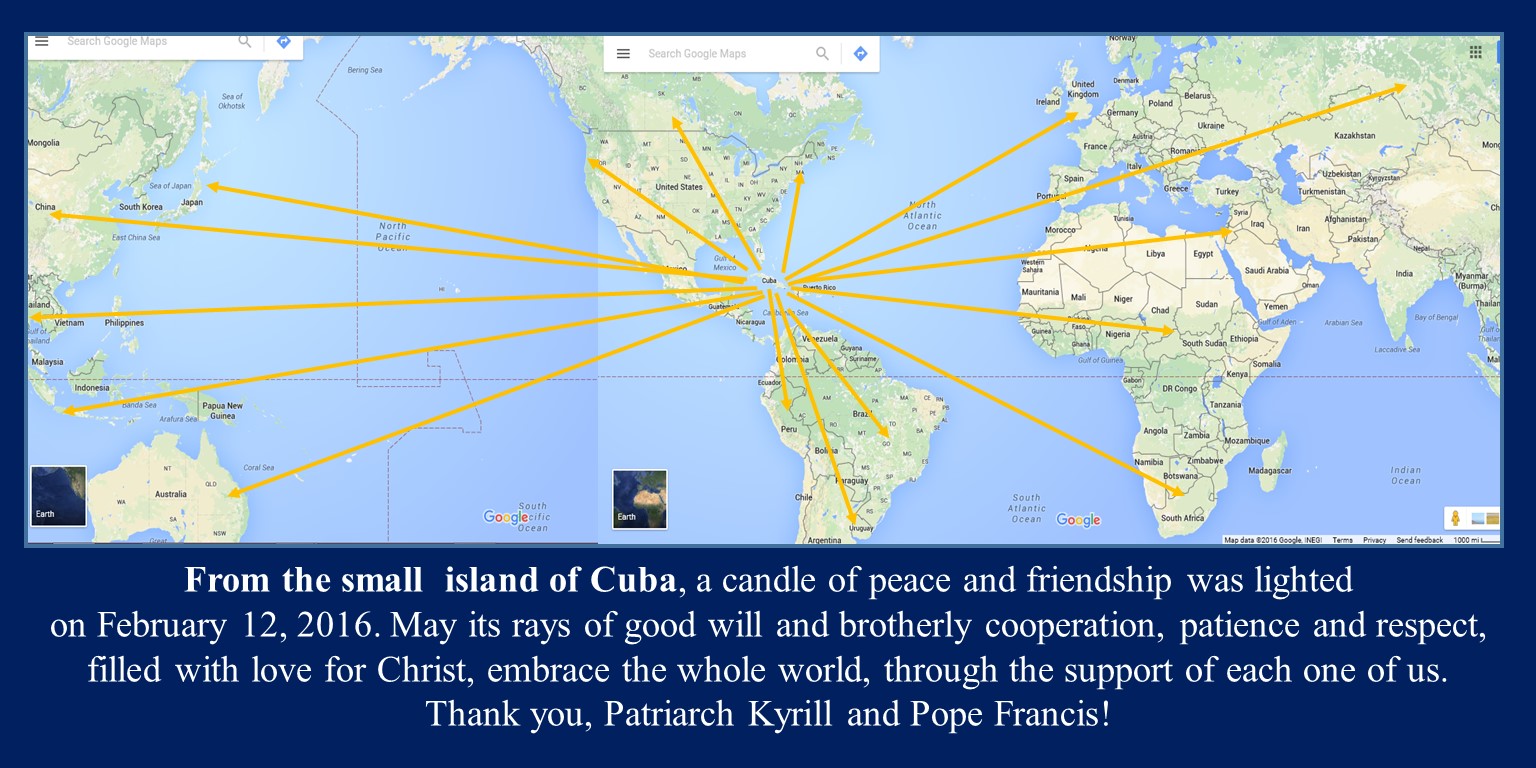 What 99% of Catholics Don't Know about the Mass. Any prayer, but especially the Holy Sacrifice of the Mass, when offered for any or all souls in purgatory, is appreciated far, far more than a starving person appreciates a banquet of delicious food. It exceeds our imagining! In spite of countless private revelations to visionaries, and even many apparitions of souls in purgatory about the value of Masses for the dead-supported by centuries of Church teaching-some further revelations and Church teachings are even more significant-namely, Masses offered for still-living persons (including yourself) are more beneficial than Masses offered for deceased persons.
Read all about it here on the site Catholic 365.
Thank God for the Journey of Lent!
"I look at it as a yearly trek, a sort of demanding pilgrimage, a true adventure in difficult territories and that the joy of Easter is ALWAYS the goal, which is what keeps me eager to start the journey, year after year. I was going to add that I feel well equipped..."
Read more of my own comments on this time of the year here on Catholic365.

Jan 26: Wonderful photos of the Sisters of Life and Franciscan Friars at Aquatic Park…. here
Jan 23 2016: Walk For Life West Coast here is an excerpt from their site with a follow up on the March, with testimonies and with lots of great photos! "As the Walk headed down Market Street, the lead, as always, was taken by youth. The front ranks were filled with members of Catholic High Schools from San Francisco and surrounding dioceses. College students were numerous as well: Thomas Aquinas College sent their largest-ever contingent: 220 students. They were joined by Arizona State Students for Life, students from Denver's Jesuit Regis University, students from the Newman Center of Oregon, and others. As always, protesters tried to disrupt the Walk. Three young women managed to sneak around to the northern side of the speaker's area and throw literature onto the stage while Daleiden was speaking. They then remove their tops and shouted obscenities. Although almost no one at the rally was aware of the attempted disruption, it did lead to one of the day's most memorable and charming moments: the Sisters of Life giving their cloaks to the half-naked girls so they would not catch cold…"
Read it all here
A beautiful Mass in an hotel ! Read about "A March They Will Never Forget" On Thursday, January 21st, 2016, youth and young adults from Chicago began an adventure of the rarest kind. The "Crusaders for Life" participate in the March for Life in Washington, D.C. every year, but this year would be different. See text and photos from here
A beautiful Mass in the snow, unplanned, but quite amazing and greatly appreciated and cherished by all involved, in the cold, on the side of the turnpike, with snow falling....
Read about it and see the photos and videos here on the churchpop site:
January 24 is Saint Francis of Sales feast day! What a wonderful saint and to think that he is from my corner of the world (well, one of the two corners, the other one being Northern California) but Saint François de Sales is FROM THE FRENCH ALPS. I wrote about him
and I put some quotes from him with my photos of nature or flowers here
January is the month of the various Walks for Life so it is appropriate to reflect on life, as I did in this short article on "The continuum of life, from conception to birth to growth to eternal life" which is about one very beautiful icon, about pregnancy, expectations and birth, about our world vision and whether it encompasses more than what we can see… Read it here .
And in this other article about "The 3 stages of life: my own reflection on the time-line of our life", which is about the stage In the Womb, then In the world, and finally In the One God... Read it here both articles and (photo collages) are mine and are on this site of Le Blog de la Bergerie.

When you have the morning blues... this is the exercise I recommend!
because He loved us first...
see it here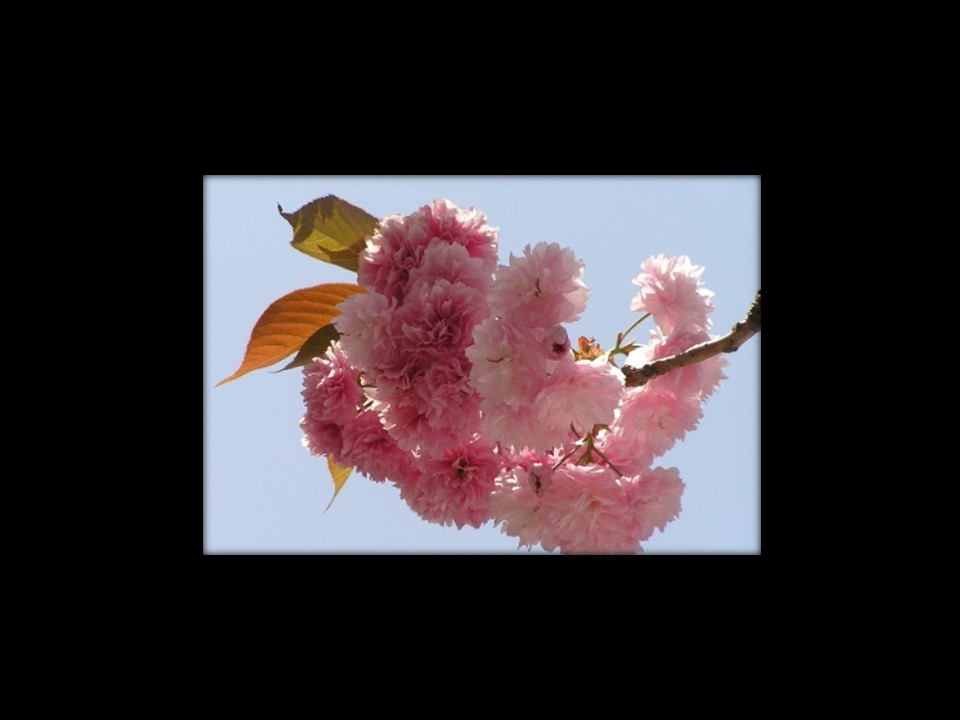 16 God is love, and whoever abides in love abides in God, and God abides in him. 17 By this is love perfected with us, so that we may have confidence for the day of judgment, because as he is so also are we in this world. 18 There is no fear in love, but perfect love casts out fear. For fear has to do with punishment, and whoever fears has not been perfected in love. 19 We love because he first loved us. 20 If anyone says, "I love God," and hates his brother, he is a liar; for he who does not love his brother whom he has seen cannot[a] love God whom he has not seen. 21 And this commandment we have from him: whoever loves God must also love his brother.
A very interesting interview with Fabrice Hadjadj where he says, among other things, that today's attraction to extreme djihadism is the result of the emptiness of the West. The link to the original interview in French is in my column on the right. Here are a couple of paragraphs of this interview which I translated myself:
"For you, is there a common thread in all these young people?
It is their youth. They have in themselves the aspirations of youth, its dreams, its energy, a kind of ungratefulness towards what their parents have built, but also a constructive drive to discover, to open history where their parents thought they had organized it all. Each following generation does not unfold itself in a linear progress, in a cumulative continuity. The son does not pick up the thread where its parents left it. Not only he must relearn and reinterpret everything but also because he is in possession of a critical freedom which must make him go outside of his family to start his own family, even if he must honor his father and mother, he must leave them."(...)
"What are young people searching for which they do not find in France and in general?
A story, an epic adventure, something that makes sense, something you can live for and die for. The happiness we truly seek is not in being content and comfortable but in generosity going all the way to sacrifice … To be alive is to be fully alive. What does it mean? To give life and to offer our lives. If we neglect this, which is the adventure of the light, then it is easy to fall it its absurd mockery, which is the unleashing of darkness, we bring death to others and we bring it to ourselves too".
Why Is God Omnipresent? By Stephen Beale. "To paraphrase another early Father, Origen, in what place could God possibly be shut up? The answer is, of course, nowhere. One could illustrate this by way of analogy with the air: we can't see it, or really touch it, but it is everywhere and-at least, under normal everyday circumstances-cannot be contained in any one place. The air I breathe in is, in a sense, the same air that brushes Mt. Everest and bubbles up from a submarine"... Read it all here on the Catholic Exchange site.
Praise and prayers : Brimming with life ! My own moment of praise: here on this site
A different tribute to David Bowie. I think Elizabeth Scalia said it well... "All for show? Who knows? The pop culture brings a lot of noise, a lot of beauty and often a lot of confusion to our world, and the breadth and reach of media helps us to believe that we know all about an artist based on what he or she produces. But artists only show us what they want us to see, and that means a great deal is often left quite hidden".
Read it here on Aleteia.org.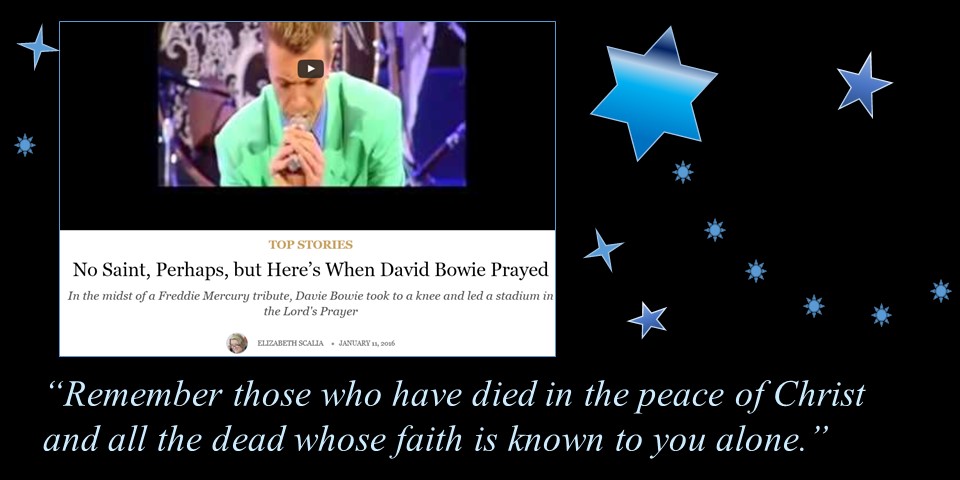 January 11: First reading The beginning of the book of Sirach 1:1-18
The mystery of divine wisdom
All wisdom comes from the Lord
and with him it remains forever.
The sand of the seashore, the drops of rain,
the days of eternity: who can number these?
Heaven's height, earth's breadth,
the depths of the abyss: who can explore these?
Before all things else wisdom was created;
and prudent understanding, from eternity.
To whom has wisdom's root been revealed?
Who knows her subtleties?

Divine Office

For an alphabetical listing of articles and prayers on this site please see : Site Map
2016 - Le partage de la foi… en français:
The Feast of the Immaculate Conception. Reflection on Mary: "Even if everyone spoke evil of us, she, the Mother, would say the good, because her immaculate heart is attuned to God's mercy," Benedict XVI said. "Thus, she sees the city not as an anonymous agglomeration, but as a constellation where God knows everyone personally by name, one by one, and calls us to shine with his light". If one wanted to indicate a theological treatise to which Mariology belonged as its concrete illustration, it would probably be the doctrine of grace, which of course goes to form a whole with ecclesiology and anthropology. As the true "daughter of Zion", Mary is the image of the Church, the image of believing man, who can come to salvation and to himself only through the gift of love - through grace. The saying with which Bernanos ends his Diary of a Country Priest - "Everything is grace" - a saying in which a life that seemed to be only weakness and futility can see itself as full of riches and fulfillment - truly becomes in Mary, "full of grace" (Lk 1:28), a concrete reality. She does not contest or endanger the exclusiveness of salvation through Christ; she points to it. She represents mankind, which as a whole is expectation and which needs this image all the more when it is in danger of giving up waiting and putting its trust in doing, which - indispensable as it is - can never fill the void that threatens man when he does not find that absolute love which gives him meaning, salvation, all that is truly necessary in order to live. ("Introduction to Christianity" by then Cardinal Ratzinger, chapter 2. Ignatius Press Edition).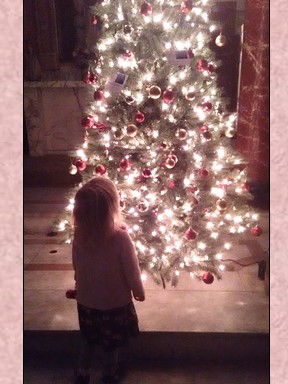 Avent 2016.
La petite fille
devant les lumières du sapin a dit:
"Que c'est joli!"
Notre Dame des Victoires,
San Francisco


L'HOMME EST UNE IMAGE DE LA ROYAUTÉ DE DIEU
Commentaires de Gregoire de Nysse sur la creation de l'homme, sur le fait qu'il existe en nous " une image divine", la beauté, la béatitude. En lire plus sur le lien: ici sur un site "francophone laïc, à vocation grand public destiné à faire connaître, partager et approfondir l'œuvre de Grégoire de Nysse".
Qu'est-ce que l'Immaculée Conception ? La sainte Vierge est dite « comblée de grâce ». Comme telle, elle a été entièrement préservée du péché originel dès sa conception. Cet enseignement transmis très tôt par les pères de l'Église sera promulgué définitivement en 1854 par le Pape Pie IX. Pour être la Mère du Sauveur, Marie « fut pourvue par Dieu de dons à la mesure d'une si grande tâche » (LG 56). En lire plus ici sur le site de Aleteia.fr.
Avent - Le pape et la 'doctrine sociale' de l'Eglise réelle Notre humanité s'enrichit beaucoup si nous sommes avec tous les autres et en quelque situation qu'ils soient. C'est l'isolement qui fait mal, et non le partage. L'isolement développe la peur et la méfiance et il empêche de jouir de la fraternité. Nous devons bien nous dire que l'on court plus de risques quand nous nous isolons que quand nous nous ouvrons à l'autre : la possibilité de nous faire du mal ne réside pas dans la rencontre mais dans la fermeture et le refus. En lire plus sur le blog de Patrice de Plunkette ici .
Une page souvenir en honneur du Père Jacques Hamel et des ses obsèques ici
Des citations et mes photos de nature ici
Un site étonnant avec des douzaines et des douzaines de prières, en français, pour tous les moments de la vie : ici , toutes les étapes de la foi, avec tous les saints ! Allez donc voir sur place et vous ressourcer.
De l'or dans les mains. Entretien avec Augustin Frison-Roche, peintre et sculpteur. Par Thomas Renaud 18 juillet 2016. Aleteia vous propose cet été de belles rencontres avec des artistes et artisans français qui se sont mis au service du Beau et du Vrai.
"On sent que la recherche d'une harmonie entre la Création et le divin sous-tend votre oeuvre… Est-ce une erreur de lire dans vos oeuvres la recherche d'un âge d'or perdu ?
- Non je cherche bien quelque chose qui semble perdu. Cet âge d'or n'est pas vraiment historique. Certes, le Moyen-Âge, à la suite des Pères de l'Église et des abbés de Cluny, est allé très loin dans la compréhension des liens entre le sacré et l'art, développant une véritable théologie de la Beauté qui a permis aux artistes de travailler dans les meilleures conditions. Mais l'âge d'or que je recherche et que recherchent consciemment ou inconsciemment la plupart des artistes et des poètes chrétiens n'est pas dans l'histoire mais avant la chute. Une capacité d'émerveillement, un rapport au monde primitif, où le transcendant donne un sens et une cohérence à toute chose".
En lire plus ici sur le site de Aleteia.fr.
Un beau site sur Marie, sur les apparitions, avec une chronique historique des apparitions, avec des prières, les textes officielles du Vatican, les plus belles pages sur Marie (textes de saints), le rosaire, les fêtes mariales, les dévotions et beaucoup de belles images ! C'est un vrai trésor.
Voir le site ici .
N'est-ce pas interressant cette tentation de certains Catho tradis de se comporter en neo-protestant, de se comporter a leur tour, quand cele les chante, comme des "Cafeteria Catholics", je prend ceci et je rejette cela, je suis humble et obeissante pour certaines choses mais surtout pas pour ce qui ne me plait pas... Lisez ce tres bon article:
L'allergie au pape François est un révélateur des turpitudes de certains milieux catholiques. By Louis Charles. Les paroles du Pape créent une difficulté chez certains catholiques, à lui prêter l'oreille sans critique. De même quand le pape François déclare que « l'Église doit présenter ses excuses aux personnes gays qu'elle a offensées », il ne fait que rappeler l'Évangile : il invite à la conversion ceux qui se sont comportés de manière non charitable envers les personnes homosexuelles et il s'inclut lui-même dans le lot. En revanche il ne change rien sur la position de l'Église à propos de l'homosexualité. En ce sens il n'a pas changé depuis qu'il a organisé l'opposition à la loi sur le mariage homosexuel en Argentine…. Pourtant certains catholiques se disent déstabilisés. Mais n'est-ce pas précisément leur réaction qui est déstabilisante ? Qu'y a-t-il de déstabilisant à prêcher aux catholiques la conversion du cœur et du regard ? Qu'y a-t-il de déstabilisant à leur dire que s'ils ont blessé un frère ou une sœur ils doivent lui demander pardon ?....
Catholiques ou néo-protestants ? La contradiction manifeste entre ce qu'ils disent être – à savoir des catholiques qui se veulent fidèles à l'autorité de l'Église parce qu'elle est guidée par l'Esprit saint –, et leur comportement de protestants – ils dénient au pape son autorité intellectuelle, spirituelle et morale – saute aux yeux de tous sauf d'eux-mêmes. Ils semblent les seuls à ne pas en être conscients. Lire l'article en entier ici sur le site de aleteia.fr
Les belles rencontres selon saint Luc
Lettré, Luc était aussi tout désigné pour mettre par écrit ses souvenirs. Et il le fait en présentant Jésus avec une belle humanité, étant le seul, par exemple, à évoquer vraiment son enfance. A-t-il pris le temps, pour cela, d'aller rencontrer Marie, la mère du Nazaréen?? Est-il, du coup, comme le dit une tradition ancienne, l'auteur du premier portrait peint de cette femme, ouvrant ainsi la porte au grand monde des icônes de l'Orient?? Le texte de l'Évangile de Luc, en tout cas, évoque à maintes reprises la figure de Marie, mais aussi de bien d'autres témoins qui n'apparaissent souvent que chez cet auteur. C'est le cas des huit personnes présentées dans notre dossier spécial (Pèlerin n°6960). De même, le récit de certaines paraboles inédites parmi les plus belles de l'enseignement de Jésus...
En lire plus ici sur le site de Pelerin.
RITUEL DU SOIR: 5 conseils pour inventer une histoire du soir.
Et si pour changer des livres, vous tentiez d'inventer une histoire pour la raconter à votre enfant ? Si vous pensez ne pas en être capable, ou manquer d'imagination, voici quelques conseils pour démarrer…
1. Une contradiction pour débuter. Pour instaurer un peu de suspense, débutez votre histoire avec une contradiction dynamique. Par exemple : " Il était une fois un oiseau qui ne savait pas chanter " ou encore " Il était une fois, un papillon qui ne savait pas voler ". En commençant avec un scénario inhabituel, vous appelez une résolution du problème et le reste de l'histoire sera plus facile à imaginer...
En lire plus ici .
Quand les enfants prient pour la France
Pourquoi faire prier les enfants pour la France ?
Le premier jour des apparitions à l'Ile-Bouchard, la " Belle Dame " a adressé cette demande aux voyants : " Dites aux petits enfants de prier pour la France qui en a tant besoin. " Elle ne demande pas directement aux trois petites filles de prier, mais elle les incite à en parler autour d'elles : la Vierge Marie a voulu transmettre au plus grand nombre son attachement à la prière des enfants, qui est particulièrement puissante.
En lire plus ici sur le site de Famille Chrétienne.
Psaume 99, Saint Francois d'Assise, la louange et la création.


En lire plus - et en voir plus - ici
Prions avec et pour les Orthodoxes pour la fête de Pâques! ici
Pendant cette journée les chrétiens orthodoxes se saluent par l'exclamation "Christ est ressuscité!"
à laquelle on répond "Il est vraiment ressuscité!"
Surtout en ce moment ou 3 églises orthodoxes et 1 monastère ont subit un incendie, ce qui fait 4 incendies en deux jours (New York, Sydney, Melbourne et Novodevitchi au nord de la Russie...).

Mars 2016: Le Pape est maintenant sur Instagram at "franciscus"!
Avec de nouvelles photos chaque jour!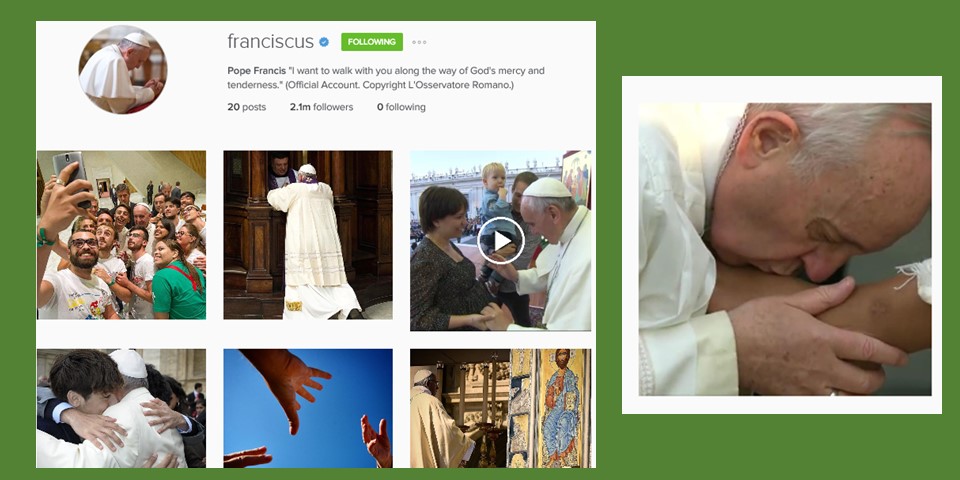 Couperin et sa bouleversante « Leçon de Ténèbres ».
Cheminez vers Pâques à l'écoute d'un des sommets de l'art lyrique...
Cliquer sur la video et liser l'article en écoutant ce chant émouvant


trouvé sur le site d'Aleteia.fr : ici
Twitts du pape François:
17/02/2016 : Jésus ne nous demanderait jamais d'être des assassins, il nous appelle disciples. Il ne nous enverrait jamais mourir, Lui qui est la vie.
Voir: ici
J'ai créé une page spéciale sur la très Sainte Vierge Marie, avec des photos de vitraux, d'icônes et des prières, en français et en anglais, en remerciement a Notre Dame ici

LITANIES DE LA SAINTE VIERGE..
Sainte Marie, priez pour nous.
Sainte Mère de Dieu, priez pour nous.
Sainte Vierge des vierges, priez pour nous.
Mère de Jésus-Christ, priez pour nous.
Mère de l'Auteur de la grâce, priez pour nous….
Vous, qui êtes l'arche de la nouvelle alliance, priez pour nous.
Vous, qui êtes la porte du ciel, par laquelle le Seigneur est venu à nous, priez pour nous.
Vous, qui êtes l'étoile du matin, qui avez annoncé la venue du soleil de la grâce, priez pour nous.
Vous, qui êtes le soutien des faibles et le salut des malades, priez pour nous

Les litanies complètes sont ici
Œcuménisme : plus rien ne sera comme avant ! Après la rencontre historique entre le Pape et le patriarche orthodoxe de Moscou, les réactions se multiplient, saluant "un geste audacieux" et "une obéissance évangélique" qui devrait "servir d'exemple"… Interrogé par Radio Vatican, le prieur de la communauté monastique œcuménique de Bosé, en Italie réagit avec joie et émotion à une rencontre qu'il dit attendue par tous les chrétiens " depuis 50 ans " et s'est réalisée " tout d'un coup, dans un lieu anonyme, sans foule pour les applaudir ". Enzo Bianchi voit cet heureux aboutissement " un miracle " dû à " l'entêtement " et " l'audace " de deux hommes profondément " œcuméniques " et " obéissants à l'Évangile "…. ils ont tout fait l'un et l'autre pour y arriver ".
En lire plus ici sur le site de fr Aleteia.org
Interview de Fabrice Hadjadj. Pour lui, l'extrémisme djihadiste qui sévit aujourd'hui est aussi le fruit du vide de l'Occident:
"Selon vous, y a-t-il un point commun entre tous ces jeunes gens?
Le point commun, c'est qu'ils sont jeunes. Ils ont en eux les aspirations de la jeunesse, ses rêves, son effervescence, une certaine ingratitude à l'égard de ce qu'ont bâti leurs pères, mais aussi une énergie inaugurale, qui rouvre l'histoire là où leurs pères croyaient avoir tout planifié. La suite des générations ne se déploie pas selon un progrès linéaire, dans une continuité cumulative. Le fils ne reprend pas le fil où l'ont laissé ses parents. Non seulement parce qu'il doit tout réapprendre et réinterpréter, mais aussi parce qu'il possède une liberté critique qui le fait sortir de sa famille pour en fonder une autre?: même s'il doit honorer son père et sa mère, il lui faut aussi quitter son père et sa mère…"
En lire plus ici sur le site de Famille Chretienne.
10 manières de dire que Dieu existe… sans le dire.
Ce sont ces expériences qui vous aideront à comprendre et à expliquer concrètement la présence de Dieu parmi nous. Par Sebastian Campos : " Nous vous proposons dix situations où vous pouviez vous rendre compte que Dieu est présent. Oui, car cela vous aura peut-être échappé mais croyez-nous, Il était bien là et très attentif. Nous sommes convaincus que vous avez vécu la présence de Dieu dans vos vies ".
En lire plus ici sur le site aleteia.org en français : ici
Baptêmes de masse au Katanga lors de la fête de la Théophanie.
Depuis quarante ans, l'Église orthodoxe du Patriarcat d'Alexandrie prêche la parole de Dieu au Congo, en toute liberté. Chaque année, plus de 1500 personnes entrent dans le sein de l'Église orthodoxe. En lire plus sur le site de l'Orthodoxie: ici
Sainte Marguerite de Hongrie, Princesse hongroise, moniale dominicaine (? 1270)
Je l'aime, je l'admire et je l'invoque ! Parce qu'elle était née une vraie princesse (fille du roi Béla IV de Hongrie et d'une princesse byzantine) mais qu'elle est devenue une vraie servante du Christ (très tôt et toute sa vie entière tournée vers lui, Dominicaine, humble, dévouée, pieuse, toujours au service de son prochain). Vous pouvez en lire plus sur elle ici
Vous pouvez aussi en apprendre plus sur elle par ce livre : Les petites fleurs de sainte Marguerite de Hongrie d' Alexis Léonas qui raconte son histoire, sa vie, ses dons. "Elle a compris le sens chrétien de la royauté : c'est en acceptant de servir qu'elle sera grande ; c'est en acceptant la pauvreté qu'elle sera riche " Sur Amazon, un commentaire l'explique tres bien : " Jamais instrumentalisée par le pouvoir, malgré de multiples tentatives, elle témoignage du caractère irréductible de la sainteté face aux jeux de pouvoir qui prétendent mener le monde. On comprend la popularité, en Hongrie, de cette sainte mal connue en France. J'ai aussi apprécié l'invitation répétée de l'auteur à regarder, autrement qu'avec les lunettes déformées qui formatent le jugement contemporain, cette époque et ses pratiques. Voilà une leçon d'ouverture, de tolérance et d'intelligence. " Sainte Elizabeth de Hongrie, priez pour nous !
La beauté et la bonté de la création…
Un paysage de neige, un sourire d'enfant : brève méditation ici sur ce site.
Hommage à David Bowie. La mort du célèbre artiste, dont le dernier album Blackstar est sorti vendredi 8 janvier, a provoqué un déluge de réactions. En lire plus sur le site de La Croix ici et voir en anglais l'article d'Elizabeth Scalia dans ma colonne de gauche.
"Souviens-toi de ceux qui sont morts dans la paix du Christ et de tous ceux dont la foi n'est connue que de toi."
Les Pères de l'Eglise commentent le baptême du Christ
Dans Les Sacrements et les mystères, saint Ambroise explique au nouveaux baptisés le baptême qu'ils ont reçu à Pâques et met en parallèle Naaman, le baptême du Christ par Jean Baptiste et le passage de la mer Rouge par les Hébreux :
J'aborde l'explication des sacrements que vous avez reçus. Il n'aurait pas convenu de la donner plus tôt, car chez le chrétien la foi vient en premier lieu. Aussi donne-t-on, à Rome, le nom de fidèles à ceux qui ont été baptisés, et notre père Abraham a été justifié par la foi, non par les œuvres. Vous avez reçu le baptême, vous avez la foi. Il m'est interdit d'en juger autrement, car tu n'aurais pas été appelé à la grâce, si le Christ ne t'avais jugé digne de sa grâce. […]
Nous avons dit qu'il y avait eu une figure anticipée dans le Jourdain, quand ce Naaman le lépreux fut purifié. Cette jeune servante d'entre les captifs, qui est-elle, sinon celle qui avait les traits de l'Église et représentait sa figure ? Il était captif, en effet, le peuple des païens. Il était captif. Je ne parle pas de cette captivité imposée à un peuple par un ennemi quelconque ; mais je parle de cette captivité qui est plus grande, quand le diable, avec les siens, impose une cruelle domination et soumet à son joug les pécheurs. […]
Maintenant donc regardons : le prêtre vient, il dit une prière près de la fontaine, il invoque le nom du Père, la présence du Fils et de l'Esprit-Saint, il se sert de paroles célestes. Ces paroles divines, ce sont celles du Christ disant que nous baptisions au nom du Père et du Fils et du Saint-Esprit. Si à la parole d'un homme, à l'invocation d'un saint la Trinité se trouvait présente, combien plus n'est-elle pas présente là où agit la parole éternelle ? Vous voulez être sûrs que l'Esprit-Saint est descendu ? Tu as entendu dire qu'il est descendu comme une colombe.
Pourquoi comme une colombe ? Pour que les incroyants soient appelés à la foi. Au début il a fallu qu'il y ait un signe ; dans la suite il faut qu'il y ait perfection.
Enlire plus ici ici sur le site de l'abbaye de la Chaise Dieu.
Pour une liste alphabétique des articles & des prières sur ce site: Site Map