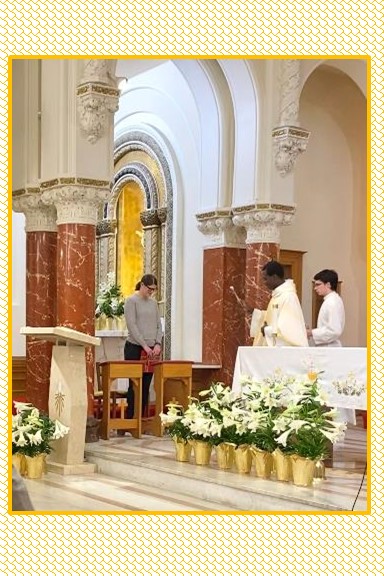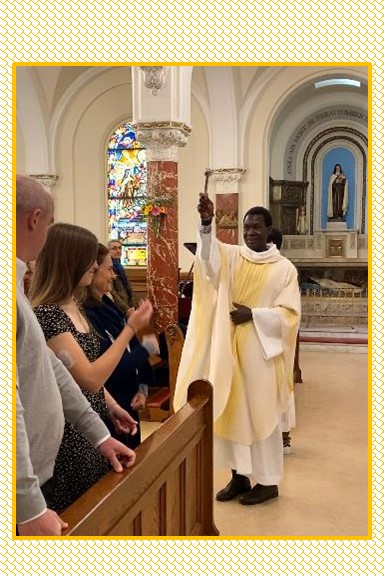 Christ est ressuscité !
Il est vraiment ressuscité, alléluia !

La célébration de la fête de Pâques est l'occasion pour les chrétiens de renouveler leur profession de foi baptismale. Étymologiquement, « Pâques » signifie « passage » : par ce passage de la mort à la Vie, le Christ a sauvé l'Homme du péché et l'a appelé à la vie éternelle. La Résurrection du Christ est l'accomplissement des promesses faites par Dieu à son peuple. C'est pourquoi la fête de Pâques, célébrée par une messe solennelle, est le sommet du calendrier liturgique chrétien. Ce jour d'allégresse est marqué dans les églises par la couleur blanche ou dorée, symbole de joie et de lumière. La résurrection est la source et le sommet de la foi chrétienne. Mais elle est toujours difficile à admettre, parce qu'elle fait entrer dans une nouvelle perspective : il ne s'agit plus de revivre, de retrouver la vie d'avant la mort, mais d'entrer dans une vie nouvelle dont Jésus est le premier vivant, qui nous ouvre un "passage", ce que signifie le mot "Pâques". Croire en la résurrection de Jésus, c'est croire aussi à notre propre vie éternelle, sous une forme encore inconnue, mais en sachant que nous serons toujours nous-mêmes. Et cette conviction revêt une importance vitale. La résurrection du Christ ouvre une brèche dans nos enfermements et dans nos morts. D'ailleurs, par de "petites résurrections", nous sentons déjà, dans l'existence quotidienne, que Dieu nous sauve dès aujourd'hui. Si Jésus seul a vécu pleinement la résurrection, comme témoignent l'Évangile et l'Église, il invite tous les hommes dans ce mouvement de vie éternelle. (extrait du site du diocese de Chartres).
Brefs extraits de la Liturgie du Dimanche de Pâques 2022
CHANT D'ENTRÉE
À toi la gloire, O ressuscité !
À toi la victoire Pour l'éternité.
Brillant de lumière, L'ange est descendu ;
Il roule la pierre Du tombeau vaincu.
À toi la gloire, O ressuscité !
À toi la victoire Pour l'éternité.

DEUXIÈME LECTURE
Lecture de la lettre de saint Paul apôtre aux Colossiens
"Frères, si vous êtes ressuscités avec le Christ, recherchez les réalités d'en haut : c'est là qu'est le Christ, assis à la droite de Dieu.
Pensez aux réalités d'en haut, non à celles de la terre..."

PSAUME 117
Voici le jour que fit le Seigneur,
qu'il soit pour nous jour de fête et de joie !

RENOUVELLEMENT DES PROMESSES DU BAPTÊME :
Tous, debout et tenant en main leurs cierges allumés, renouvellent la profession de foi baptismale.
Le prêtre s'adresse aux fidèles dans les termes suivants,
Le prêtre : Renoncez-vous à Satan ?
Tous : J'y renonce (…)
Le prêtre : Croyez-vous en Dieu… ?
Tous : Je crois. (…)

ASPERSION:
Ensuite, le prêtre asperge le peuple d'eau bénite (en circulant dans l'église). Pendant ce temps, on chante l'antienne Vidi aquam (J'ai vu l'eau vive)
"J'ai vu l'eau vive jaillissant du cœur du Christ, Alléluia ! Alléluia!""

BENEDICTION SOLENNELLE A LA FIN DE LA MESSE:
Pour le renvoi du peuple, le prêtre lui-même chante ou dit : "Allez, dans la paix du Christ, alléluia, alléluia."
Tous répondent : "Nous rendons grâce à Dieu, alléluia, alléluia."
Il en va ainsi chaque jour de la semaine de Pâques jusqu'au deuxième dimanche inclus.


Extraits de la Bénédiction Urbi et Orbi pour Pâques 2022:
"Laissons la paix du Christ entrer dans nos vies, dans nos maisons, dans nos pays ! Qu'il y ait la paix pour l'Ukraine martyrisée, si durement éprouvée par la violence et par la destruction de la guerre cruelle et insensée dans laquelle elle a été entraînée. Qu'une nouvelle aube d'espérance se lève bientôt sur cette terrible nuit de souffrance et de mort !"
Lire le texte en entier : Urbi et Orbi
Good Friday service at NDV (in English)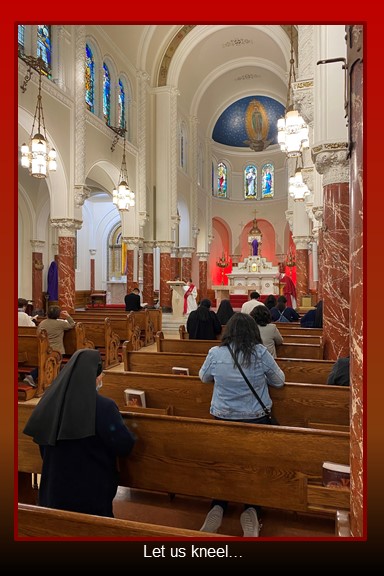 The service of Good Friday is a such a crucial liturgical moment, such a beautiful service, so moving, so formative, it is enriching to us, to the life of faith and the health of our soul! I am extremely grateful for it. I took a few photos. Here are some excerpts of the service:

1st Reading – Isaiah 52:13-53:12 13 See, my servant shall prosper, he shall be raised high and greatly exalted.
14 Even as many were amazed at him so marred was his look beyond human semblance and his appearance beyond that of the sons of man 15 so shall he startle many nations, because of him kings shall stand speechless; for those who have not been told shall see, those who have not heard shall ponder it.
1 Who would believe what we have heard? To whom has the arm of the LORD been revealed?
2 He grew up like a sapling before him, like a shoot from the parched earth; there was in him no stately bearing to make us look at him, nor appearance that would attract us to him.
3 He was spurned and avoided by people, a man of suffering, accustomed to infirmity, one of those from whom people hide their faces, spurned, and we held him in no esteem.
4 Yet it was our infirmities that he bore, our sufferings that he endured, while we thought of him as stricken, as one smitten by God and afflicted.
5 But he was pierced for our offenses, crushed for our sins; upon him was the chastisement that makes us whole, by his stripes we were healed.
6 We had all gone astray like sheep, each following his own way; but the LORD laid upon him the guilt of us all.

THE COVERING OF THE STATUES
The Covering of statues and images during Holy Week:To veil statues (and images and crucifixes) during Holy Week is a very practical (and graphically effective!) way of reminding us of the special days we are living. Veiled statues convey a definite solemn and somber atmosphere, it reenforces the sacred aspect of these objects, it is intriguing to children and up to us, adults, to explain the essential qualities of this journey, all in wait of the unveiling to come, of the glorious joy and beauty and goodness of the light brought by the Resurrected Christ! It is a very good exercise (for children and adults alike) in PATIENCE and TRUST and HOPE, all essential virtues, nowadays more than ever!

THE VENERATION OF THE CROSS
Le vendredi saint, au cours de la célébration de l'Office de la Passion, l'Eglise invite tous les fidèles à vénérer la Croix du Christ par laquelle nous sommes sauvés. Le célébrant chante alors à trois reprises, de plus en plus haut, l'invitation à adorer la croix, en la dévoilant progressivement : « Voici l'arbre de la croix du Christ notre Sauveur, sur laquelle est suspendu le Salut du monde. Que toute la terre s'avance ! »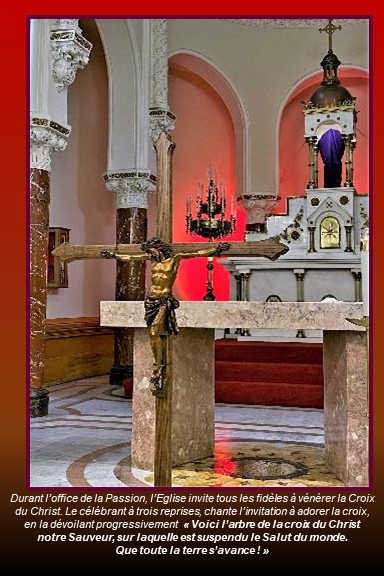 THE WAY OF THE CROSS: There was also after the service the Way of the Cross, following the wonderful booklet published years ago by Barton-Cotton, Inc. in Baltimore, Maryland. You can find it here in pdf format: The Way of the Cross
We listen, we watch, we pray, we open our heart and mind and soul, attentively and reverently, we kneel down, we stand or we sit, as told, we sing hymns or responses, it is a unique service in the liturgical year, the only one of this specific day: Good Friday.

I highly recommend this small booklet, with text from Scriptures.
SAMPLE: The end of the booklet, the fourteenth station:

Pr.: Let us pray.
Almighty and eternal God, on the edge of sadness when all seemed lost, You restored to us the Saviour we thought defeated and conquered. Help us, we beg You, so to empty ourselves of self concern that we might see your hand in every failure and your victory in every defeat. These things we ask in the name of your Son, Jesus Christ, who lives and reigns forever with You in the unity of the Holy Spirit.
All: Amen. (STAND)
Sing: Jesus, Risen, be our lover
In your Food and in our brother.
Lead us home to heaven with You.
This particular Good Friday service at NDV, followed by the Stations of the Cross, lasted from noon Good Friday 2022 NDV photosto 2pm, with possibilities for reconciliation.
Palm Sunday at NDV !
Our Lady Of Victories church
Downtown San Francisco, California

Notre Dame Des Victoires (NDV)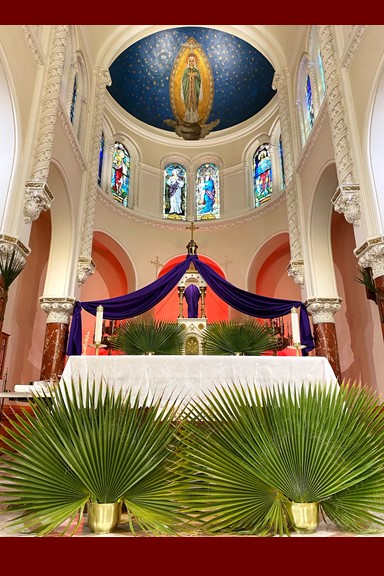 Images of Lent in St Cecilia, St Ignatius and NDV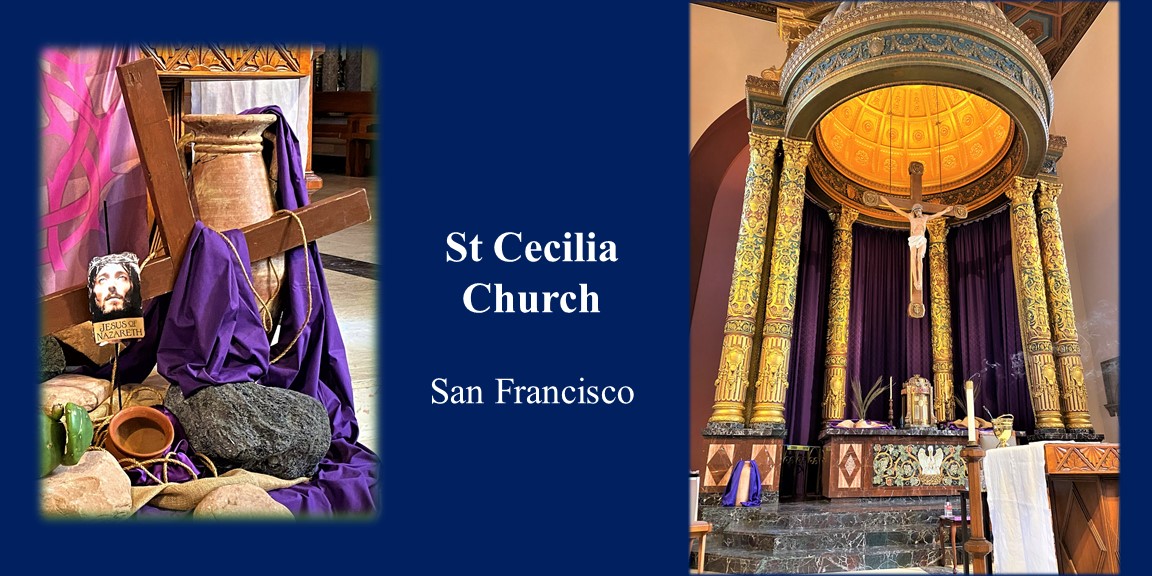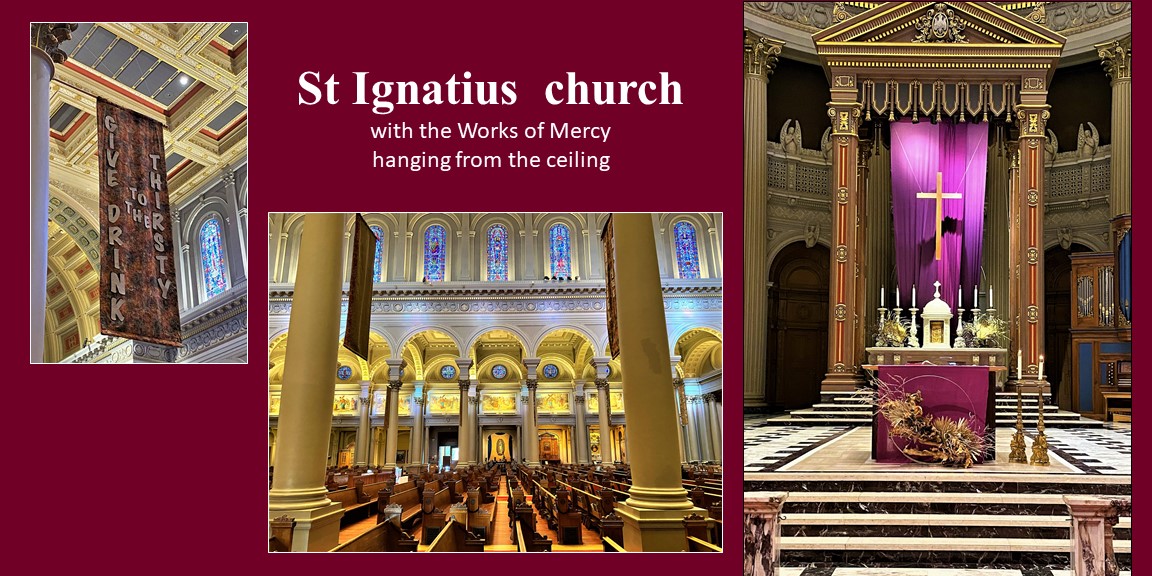 ---
Most of my writings and photos on the Seasons of Lent and Easter throughout the years:
The Journey of Lent Here
Seizing Lent Here
The Sorrowful Mysteries Here
Holy Thursday Here and A mini miracle in the morning and Holy Thursday service in the evening Here
The TRIDUUM Here
The Joy of Easter Here
Easter 2008 Here Easter 2009 Here Easter 2011 Here
The Glorious Mysteries.... Here.
Un monde nouveau Here