Le blog de la Bergerie
Un blog catholique et bilingue, franco-américain, sur la foi, la religion, le monde et la culture, avec des articles, des prières, des recettes de cuisine et des photos de nature.
A Catholic French-American worldview based on faith, reason and gratitude, with articles, comments and prayers, cooking recipes and nature pictures.
Reflexions on the MYSTERY OF THE INCARNATION
during the season of Advent and Christmas 2016
until Epiphany 2017

In chronological order:

If you have already checked some of the pages on this site, if you know me via facebook or in real life, then you must know I am prolife, pro children, pro family...
But I was thinking of all this again today as I was reading an article on the French site of Aleteia.fr . It is using one of the little story I myself used once in articles I wrote on this very subject.
- One I called The 3 stages of life where I described the stage in the womb, the stage in the world and the eternal life in ONE GOD.
- The other one Life continuum uses an ultra sound shot and an icône to illustrate the two stages (the one in the womb and the eternal one) which are a bit more "unknown" to us. I don't remember where I found this "twins in the womb story" (back in 2008) but it is such a good one to illustrate the various stages of life.

Re-reading all this today, I thought that to be more precise I should say that: I am pro life, but before it all, I am pro eternal life! It is important to articulate one's world view very clearly and to put all things in the appropriate perspective, right? Well, lucky for us, young children have a way of reminding us of what is truly essential, sometimes in the funniest and even slightly bizarre manner (see photo on the right). They had been working both on the snowman, then suddenly she throws herself on the ground and rolls around in the snow giggling so happily that it brings a smile to my face everytime I think about it... The smile of a child, their energy and innocence, the beauty of the snow and the mountains - or the immensity of the Pacific Ocean - and faith and prayers, all these work as terrific physical and spiritual reboots to me. In today's context (mid November 2016), this is exactly what is needed. I don't think I mentioned it yet but I am in the French Alps, I've been here 2 weeks already. We are both going back to California in a few days .



IT IS ALMOST THE BEGINNING OF ADVENT
FOR IT IS NOW THE FEAST OF CHRIST THE KING!

I am back in California! It had been raining since we got back Friday night, but today, in the early afternoon, it stopped so I went for a walk in my neighborhood and took photos of the flowers still blooming, covered with rain drops. Then later on I drove by the beach to check on the Pacific Ocean, since I was in France for the last 3 weeks. It is still there, huge and ominous, but also looking like a crepe, as its very edge comes resting on the beach, which is a sight I found surprising... Then I went to Saint Gabriel's church on 40th avenue for Mass. Today is the Feast of Christ, the King of the Universe! What a gorgeous feast. What beautiful readings about the Good Thief "O Lord Remember me when you get to your Kingdom..."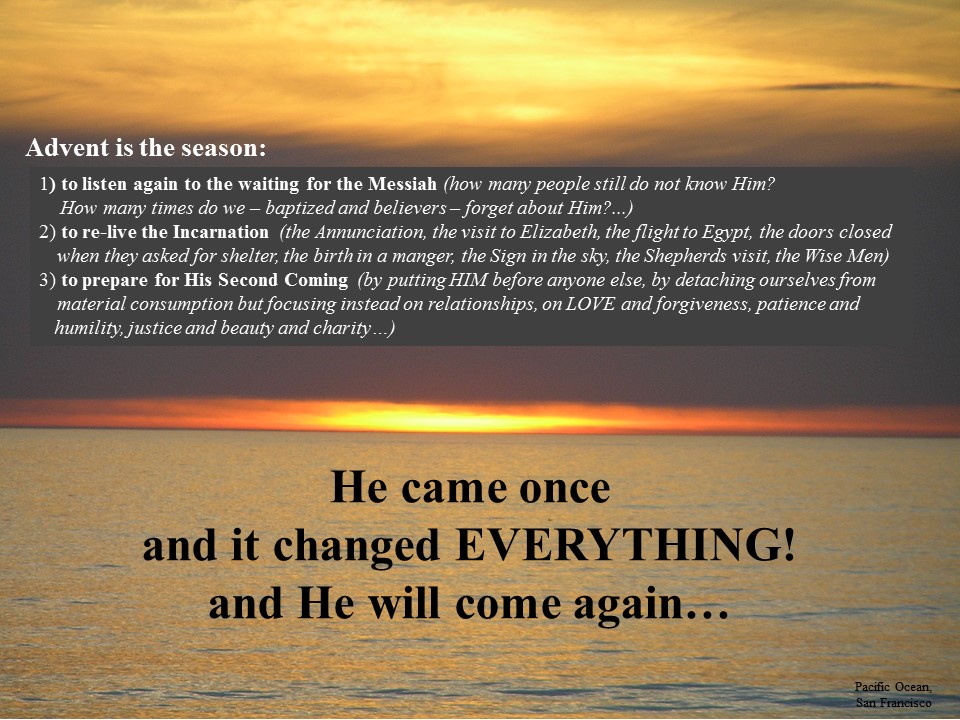 The FEAST of the IMMACULATE CONCEPTION



La Fête de L'Immaculée Conception.
A proper understanding of the economy of salvation, based on love and trust, faith and reason (with the help of great teachers, and priests and writers, plus many friends and the smiles of my two granddaughters) has greatly helped me grasp the fullness of many mysteries... Or so I like to think in my little collages!


| | |
| --- | --- |
| | GAUDETE SUNDAY: Rejoice and trust and see the peace starting from within... It does not matter how tired or dejected we feel, there is one truth SO BIG that it puts it all in the proper perspective. Because HE IS, He truly is, beyond all bounderies of time and place, but He also came on one specific night in one specific corner of our world and the liturgical calendar is making it very real all over the world, and finally, He is knocking on the door of my heart, every moment of every day, every one of my heart beats is an opportunity to welcome HIM. |



GETTING READY FOR CHRISTMAS...



Jennifer Nettles rendition of "Holy Night" is absolutely terrific. It is a very good version of the French Hymn "Minuit Chretien"! I just love this Christmas hymn and it needs to be sung radically and full force like she does. Here is the link to this video O Holy Night and here are the words of the hymn:

>O Holy night, the stars are brightly shining
It is the night of our dear Savior's birth
Long lay the world in sin and error pining
Till He appeared and the soul felt it's worth
A thrill of hope, the weary world rejoices
For yonder breaks a new and glorious morn
Fall on your knees
O hear the angel voices O night divine!
O night when Christ was born O night divine! O night, o night divine!

Minuit Chrétiens, c'est l'heure solennelle
Où l'homme Dieu descendit jusqu'à nous,
Pour effacer la tache originelle
Et de son Père arrêter le courroux :
Le monde entier tressaille d'espérance
À cette nuit qui lui donne un Sauveur
Peuple à genoux attends ta délivrance,
Noël Noël Voici le Rédempteur !
Noël Noël Voici le Rédempteur !
Peuple à genoux attends ta délivrance,
Noël Noël Voici le Rédempteur ! Noël Noël Voici le Rédempteur !




CHRISTMAS IS HERE!

I can't say enough how much I loved and appreciated and enjoyed the readings on Christmas Day. What a treat, what a joy, what a gift. Thank God for the Liturgy! And thank God for the gift of His Son!

MESSE DU JOUR DE NOËL
1ère lecture : " Tous les lointains de la terre ont vu le salut de notre Dieu " (Is 52, 7-10)
Lecture du livre du prophète Isaïe
Comme ils sont beaux sur les montagnes, les pas du messager, celui qui annonce la paix, qui porte la bonne nouvelle, qui annonce le salut, et vient dire à Sion: "Il règne, ton Dieu!". Écoutez la voix des guetteurs: ils élèvent la voix, tous ensemble ils crient de joie car, de leurs propres yeux, ils voient le Seigneur qui revient à Sion….

2ème lecture : " Dieu nous a parlé par son Fils " (He 1, 1-6)
Lecture de la lettre aux Hébreux
À bien des reprises et de bien des manières, Dieu, dans le passé, a parlé à nos pères par les prophètes ; mais à la fin, en ces jours où nous sommes, il nous a parlé par son Fils qu'il a établi héritier de toutes choses et par qui il a créé les mondes. Rayonnement de la gloire de Dieu, expression parfaite de son être, le Fils, qui porte l'univers par sa parole puissante, après avoir accompli la purification des péchés, s'est assis à la droite de la Majesté divine dans les hauteurs des cieux ….

Evangile: " Le Verbe s'est fait chair, il a habité parmi nous " (Jn 1, 1-18)
Au commencement était le Verbe,
et le Verbe était auprès de Dieu,
et le Verbe était Dieu.
Il était au commencement auprès de Dieu.
C'est par lui que tout est venu à l'existence,
et rien de ce qui s'est fait ne s'est fait sans lui.
En lui était la vie,
et la vie était la lumière des hommes ;
la lumière brille dans les ténèbres,
et les ténèbres ne l'ont pas arrêtée…







THERE IS SO MUCH MORE TO SAY ON CHRISTMAS! AND SOON IT WILL BE EPIPHANY...

IN THE MEANTIME, APPRECIATING THE JOY AND POWER OF NOËL: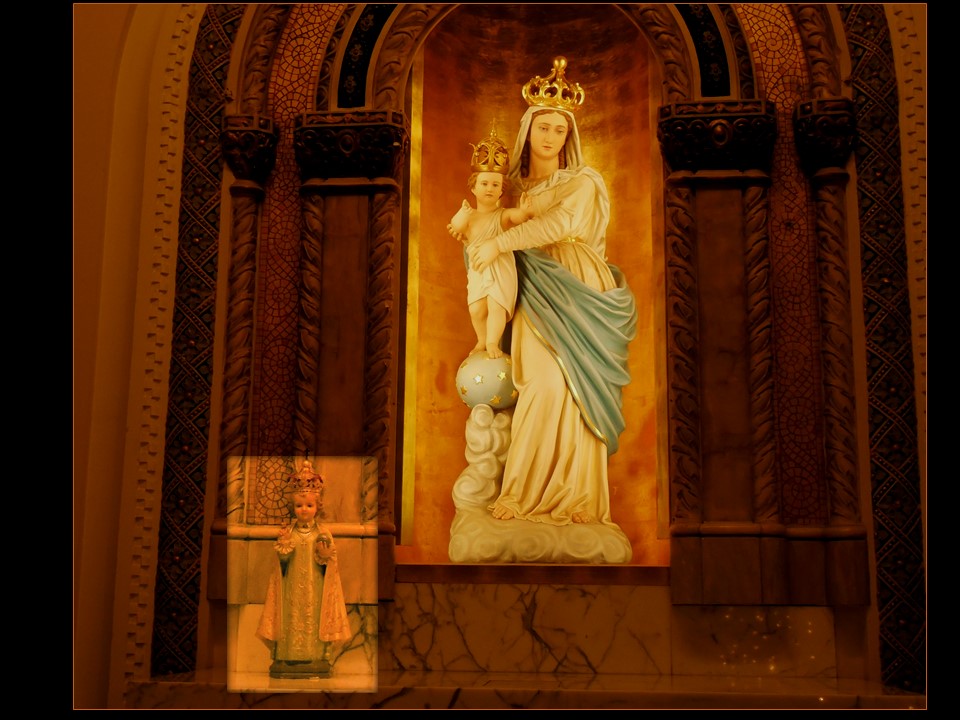 The statue is of Our Lady of Victories holding the Child Jesus standing on a globe. It can be found in Notre Dame des Victoires, the French Church in downtown San Francisco, California. Mary is standing up, holding tenderly the child Jesus to her right side, and Jesus is standing up on a blue globe with golden stars, representing the world, the universe! He is naked but wrapped in a little white tunic. He has a royal crown on his head, his arms are outstretched as in embracing us all, as in welcoming us all, as is his glance, staring straight ahead at us. Mary's dress is white, with lovely and feminine folds, we can (barely) guess a sort of white shawl over her shoulders but the most striking part of her clothes is a deep blue coat, with golden edges, wrapped around her, seeming to come from one shoulder and going to her back at the waist level. She is looking down, the features of her face are young and lovely, tender and humble at the same time. Her glance is downward. On her head is a crown. The close connection of Mother and Child, of Him being the Founder of the Church on earth and her being the Mother of the Church in Heaven is underscored by their two royal crowns and reveals their absolutely unique position in heaven, their exceptional and irreplaceable relationship in the economy of God! Devotions to Our Lady of Victory is linked to the Rosary, to the Miraculous Medal of Rue du Bac in Paris, and to the Immaculate Conception dogma.

Because we are in the Season of Advent and Christmas, the Infant of Prague statue has been placed close to the feet of Our Lady of Victories statue. It is usually in the Saint Therese of Lisieux chapel, but that is where the Creche is displayed right now. The Infant of Prague devotion (which surprised me and puzzled me when I first came back to the Church) is actually a profound devotion, the door to an amazing and all-encompassing view of Jesus Christ! It is an astonishing illustration of the Mystery of the Incarnation. It is best understood in the Liturgy of the last Sunday before Advent: the Feast of Christ the King of the Universe. Jesus *is* the Son of the Father, the Creator of heaven and earth, he *is* the Savior of the world, our Redeemer, and he *was* conceived by the Holy Spirit and born of the Virgin Mary! He is the Prince of Peace, the Light of the World, the Seat of Mercy. And he came among us as a little baby… As a poor, defenseless and frail little child. So much could be said about this most amazing mystery, this enormous gift to us all! So because of this incredible paradox (the frailty of a baby but the glory of a King), he has a crown on his head and regal vestments. He is holding a small globe in his right hand and blessing the world with his left one.

I think there are little gems in life, little moments and places blessed with so much goodness and hope, giving us so much encouragement and joy, that we just need to stand there, be open and trustful and soak it in. And during this season of Noel 2016, standing in the front of NDV, a little bit to the left of the altar, next to the Christmas tree and all its lights, I am happy and grateful and smiling!



Christ reveals himself to all peoples and to each category of persons with signs appropriate and comprehensible to them. To simple shepherds he sends an angel; to the wise who scrutinize the courses of the heavenly bodies he sends a star; to the Jews attached to signs, he gives a sign, that is, a miracle: He changes water into wine. With what signs does Christ manifest himself to the men of our time? The Second Vatican Council gave important attention to the "signs of the times" ("Gaudium et Spes," No. 11). Among these are the sense of solidarity and the interdependence that is developing between nations, Christian ecumenism, the promotion of the laity, the liberation of women, the new sense of religious freedom. When Jesus spoke of the "signs of the times," he meant above all the messianic signs: "The blind see, the lame walk, the lepers are healed, the deaf hear, the dead are raised, the poor have the good news preached to them" (Matthew 11:5). Are there such signs today? Certainly there are! The blind receive the light of faith and hope through contact with the word of God; the spiritually lame (and sometimes the physically lame) get up and walk; those who are prisoners in themselves, of evil, or of men, are freed from their chains; in sum, people are converted and live through the power of Christ and his Spirit. Jesus insists on one of these signs in particular: "The good news is announced to the poor" (Luke 7:22). Is not the concern, typical of our time, that the Gospel be preached to the poor, a sign that Christ is at work in the Church? (Father Cantalamessa on the Epiphany of the Lord, January 6, 2007) Read it here on Zenit.org
The Baptism of our Lord
in traditional Icon of the Theophany: from the Greek Orthodox Archdiocese of America website,
in stained glass: le Baptême du Seigneur par Saint Jean-Baptiste, Eglise Notre Dame de l'Assomption, Samoëns, France,
in tapestry: Los Angeles Cathedral, work of art by John Nava,
in Korean bliblical water colors by artist Woonbo Kim Ki-chang,
in an oil painting by G. Gray...
Baptism of our Lord (by Gayle Somers). In a most dramatic way, Jesus demonstrated that He did not come only to be human like us. That was accomplished in the Incarnation. He became flesh and blood so that He could step into the place of sinners and accomplish what John's baptism only symbolized. Water, all of its own, can't wash away the ocean of human sin! That could only happen with the death of sin itself, represented in baptism by the penitent's disappearance under the surface of the water. Sin's consequences mean death; man's rebellion against his Creator requires a just punishment. When that requirement is satisfied, the penitent is free. Jesus got baptized as His first public act of identification with man's sin and His first step to defeat it, releasing all those held captive by it. That, of course, would require Him to be submerged into death, into the grave, into the netherworld-the Cross. His victory over those would be accomplished by His Resurrection; here it is symbolized by the opening of heaven and the descent of the Holy Spirit. In the old order, death meant the end, a dissolution. In the new order Jesus established, death in the water of baptism means new life, a re-birth, a truly new and eternal start. here

Baptism: Holy Baptism is the basis of the whole Christian life, the gateway to life in the Spirit (vitae spiritualis ianua), and the door which gives access to the other sacraments. Through Baptism we are freed from sin and reborn as sons [and daughters] of God; we become members of Christ, are incorporated into the Church and made sharers in her mission: "Baptism is the sacrament of regeneration through water and in the word." [CCC 1213]
Pour une liste alphabétique des articles & des prières sur ce site check: Site Map