This page is a tribute to Father Jacques Hamel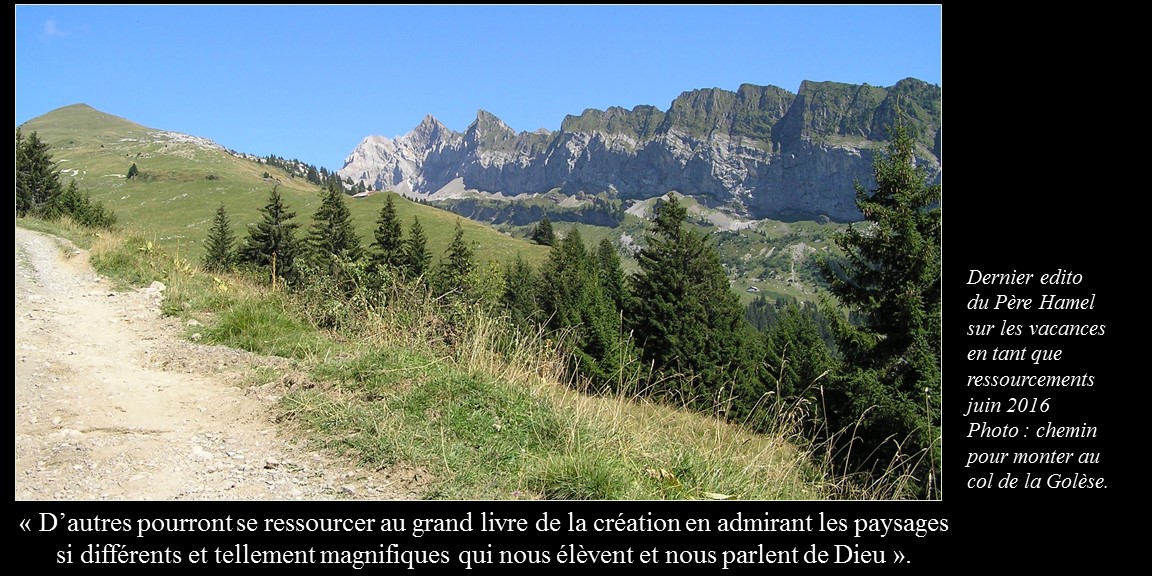 Les obsèques du Père Jacques Hamel, que j'ai regardé hier à la télé, étaient un vrai moment de grâce et de réconciliation. Les témoignages de sa sœur et de sa nièce étaient très émouvants et le sermon de Monseigneur Lebrun, très directe, simple et efficace, une réelle invitation à l'espérance. En voici des extraits :
EN FRANÇAIS :
A Pâques dernier, Jacques, tu écrivais pour tes paroissiens : " Christ est ressuscité, c'est un mystère, comme un secret, une confidence que Dieu nous donne à partager ". Peut-être ce mystère, ce secret, cette confidence au sujet du Christ ressuscité, trouve-t-elle sa racine dans l'expérience de la mort côtoyée en Algérie dont ta famille nous rappelle le souvenir. Peut-être ce mystère, ce secret, cette confidence est-elle en train de gagner des cœurs dans notre assemblée : oui, Christ est ressuscité. La mort n'a pas le dernier mot. (...)
Le mal est un mystère. Il atteint des sommets d'horreur qui nous font sortir de l'humain. N'est-ce pas ce que tu as voulu dire, Jacques, par tes derniers mots ? Tombé à terre à la suite de premiers coups de couteau, tu essaie de repousser ton assaillant avec tes pieds, et tu dis : " Va-t'en, Satan " ; tu répètes : " Va-t'en, Satan ". Tu exprimais alors ta foi en l'homme créé bon, que le diable agrippe. (...)
Vous que la violence diabolique tourmente, vous que la folie meurtrière démoniaque entraîne à tuer, laissez votre cœur, que Dieu a façonné pour l'amour, prendre le dessus ; souvenons-nous de notre maman qui nous a donné la vie ; priez Dieu de vous libérer de l'emprise du démon. Nous prions pour vous, nous prions Jésus " qui guérissait ceux qui étaient sous le pouvoir du mal ". (...)
Je me tourne aussi vers vous, communauté catholique. Nous sommes blessés, atterrés mais pas anéantis. Je me tourne vers vous les baptisés de notre Eglise catholique, surtout si vous ne venez pas souvent à l'église, si vous en avez oublié le chemin. Avec Mgr Georges Pontier, président de la Conférence des évêques de France, à mes côtés, je vous lance un appel aussi simple, comme un premier pas, aussi simple que la vie du Père Jacques Hamel :
En hommage au Père Hamel, nous vous invitons à visiter une église dans les jours qui viennent,pour dire votre refus de voir souiller un lieu saint, pour affirmer que la violence ne prendra pas le dessus dans votre cœur, pour en demander la grâce à Dieu ; nous vous invitons à déposer une bougie dans cette église, signe de résurrection, à vous y recueillir, à ouvrir votre cœur dans ce qu'il a de plus profond ; si vous le pouvez à prier, à supplier.
Le 15 août serait un jour propice. La Vierge Marie vous y accueillera avec tendresse. Souvenons-nous de notre maman.
Dieu, ne reste pas insensible à la détresse de tes enfants qui se tournent vers toi !
Dieu, poursuis dans nos cœurs ce que ton Fils Jésus a commencé !
Dieu, merci pour ton fils Jacques : console sa famille et fais lever parmi nous, parmi les jeunes des JMJ, de nouveaux prophètes de ton amour ! Amen !
+ Dominique Lebrun, Archevêque de Rouen.
En lire plus ici sur le site du diocese de Rouen.

IN ENGLISH :
During last Easter, Jacques, you wrote for your parishioners: "Christ is risen, it is a mystery, as a secret, a secret that God gives us to share." Perhaps this mystery, this secret, this confidence about the risen Christ, is rooted in the experience of death in Algeria which, your family reminds us, you encountered and knew so well. Perhaps this mystery, this secret, this confidence is right now winning hearts in our assembly: yes, Christ is risen. Death is not the last word. (...)
Evil is a mystery. It culminates in horrific moments that takes us beyond what is human. Isn't it what you meant, Jacques, with your last words? Having fallen to the ground after the first stabs, you tried to push your attacker with your feet, and you said, "Go away, Satan." Again you said, "Begone, Satan." In this you expressed your faith in man created good but gripped by the devil. (...)
You, who are tormented by diabolical violence, you who are lead to murder by a killing frenzy, let your heart, shaped by God for love, be transformed, let love win, let each one of us remember our own mother who gave us life, pray God to deliver you from the grip of demon. We pray for you, we pray to Jesus "who healed all those under the power of evil". (...)
I also turn to you, Catholic community. We are hurt, appalled but not destroyed. I turn to you who were baptized by our Catholic Church, especially if you do not come often to church, if you have forgotten the way to do it. With Bishop Georges Pontier, President of the Bishops' Conference of France, at my side, I extend an appeal to you, as simple as taking a first step, one as simple as the life of Father Jacques Hamel:
In tribute to Father Hamel, we invite you to visit a church in the coming days, to make it plain that you refuse to see desecration in a holy place, to be a witness that violence will not win in your own heart to ask for God's graces for this, we invite you in that church to light a candle, a sign of the resurrection; to recollect yourself and to open your heart to what is most profound; if you can to pray, to beg for mercy.
August 15, the Feast of the Assumption, will be a most appropriate day. The Virgin Mary will welcome you with all her tenderness. Let us remember our own mother and pray,
O God, do not turn away from the plight of your children who look up to you! God, bring to fulfillment in our hearts what your Son Jesus has begun! God, thank you for your son Jacques: console his family and raise up among us, among the World Youth Day participants, new prophets of your love! Amen
+ Dominique Lebrun, Rouen Archbishop
Read more here on the site of aleteia.org.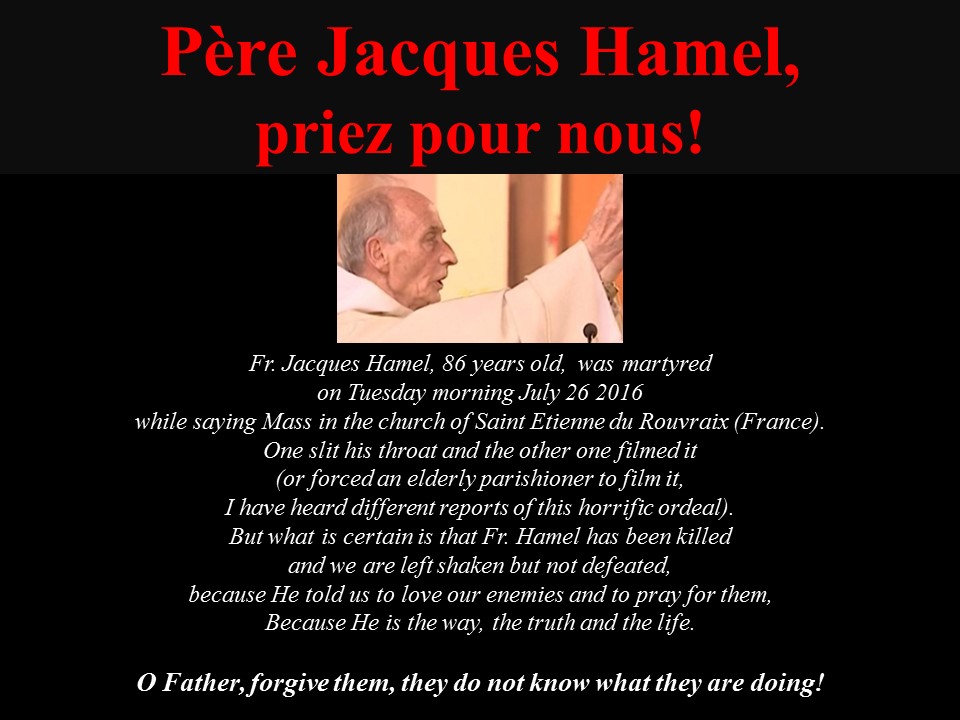 On Friday July 29, the French national day of fasting and praying for peace following Fr. Hamel's death, I went to the Church in Ruoms, Ardeche and lit a candle and prayed..




Copyright © August 2016 Michèle Szek




---